For our last meal in Rome, we knew we had to eat somewhere amazing, we just didn't know where.
Not wanting to suffer through another touristy spot, we consulted both the internet and our Airbnb hosts' recommendations. We'd found that a lot of places require reservations, and we knew we needed to figure out a few options in case we were turned away. After pouring over restaurant reviews looking at the map, we could only find one place that was open and looked amazing: da Enzo al 29.
We took the bus to Trastevere, and walked to the restaurant. They had just opened and it was early, but the place was packed. We spoke to the gentleman at the front, who wrote our names on his small notepad, and instructed us to come back in an hour to an hour-and-a-half.
We popped in for a cheap beer at Bar San Calisto in Piazza di San Calisto to wait out the time until our dinner. There were no tables left outside, though we did find two plastic chairs just outside of the patio entryway. We sat and people-watched, ordered another beer, and chatted about our experiences in Rome. Leaving a city in the middle of your itinerary is always bittersweet – you feel a mixture of sadness at leaving and the excitement of visiting the next place. Suddenly, a bar employee came over to us, speaking sternly in Italian. We couldn't understand what he was saying, but his very clear hand gestures told us to scoot out of our chairs, and so we did.
At this point we figured it was best to head back to the restaurant, and we were glad we did. A large crowd had gathered outside of the restaurant's patio seating area, groups chatting away and watching the diners to spot any sign of them leaving.
We waited a long time, maybe twenty-five minutes, to get the attention of the man with the magic list. Unfortunately we never did. We did however, witness a group of four get very angry with him, shouting that they should be seated at an available table. It turns out, the available table had five chairs, and a group of five was on the list. Although these guests had arrived after the four-person group, they were seated first. We weren't too surprised at this; after dining in Italy for a week we noticed that it is common practice to fill all seats at all available tables. Of course, we also know that yelling and screaming doesn't get you your way in Europe, so we kept our mouths closed. Eventually, our name was called on the list and we were seated. For once, we were happy to dine inside, away from watching eyes.
We ordered a half-litre of the house wine, and the burrata, which came already cream-soaked and oozing with the freshest tomatoes, basil, and olive oil.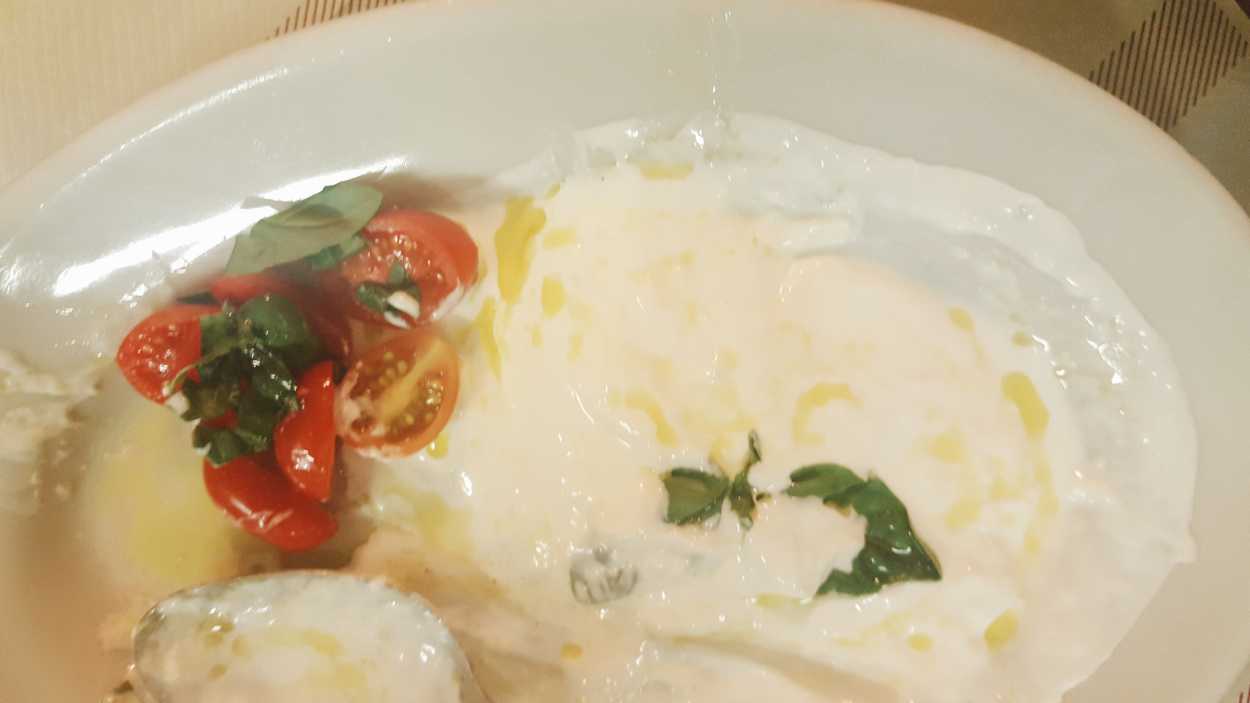 After our starter, we both received our mains: I ordered the lamb with grilled vegetables (the veggies were served ice-cold, a new one for me!) and Michael ordered the carbonara. We both argued over who would order the carbonara. He won.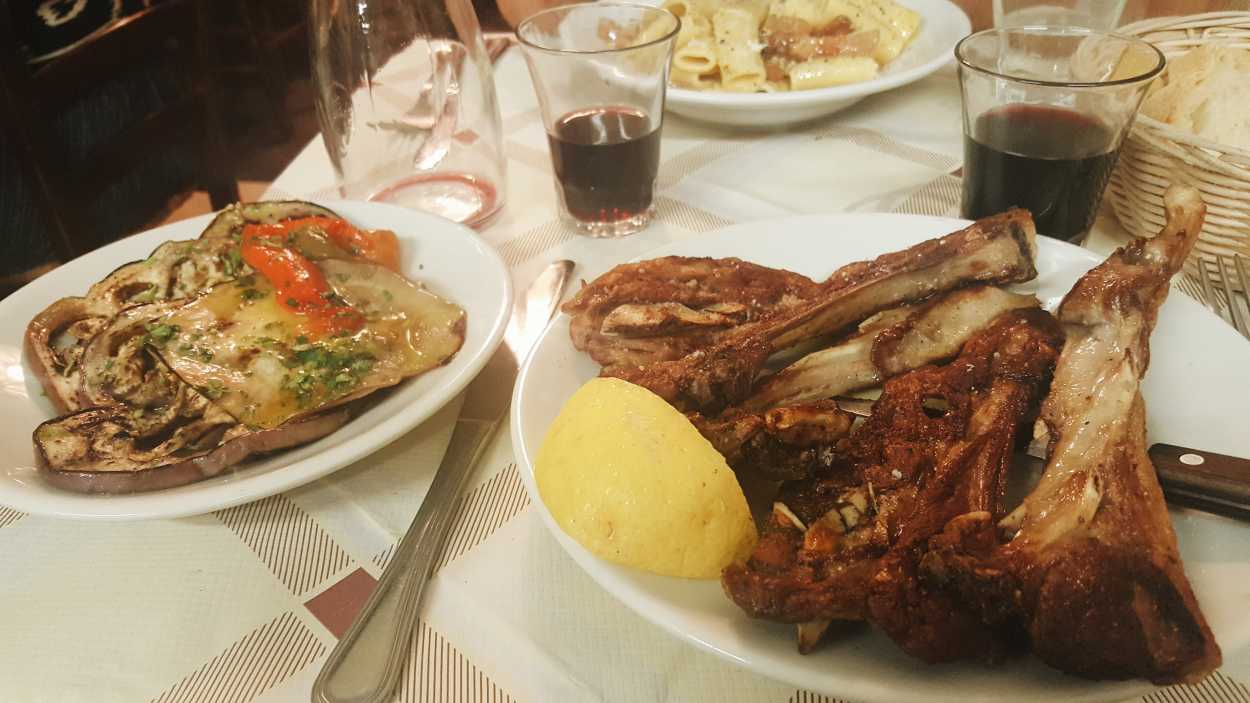 Halfway through the meal, though, we swapped plates. We were both so overwhelmed by the richness of our dishes, that we had to switch. I'm so glad we did; I honestly think this is the best pasta either of us have had.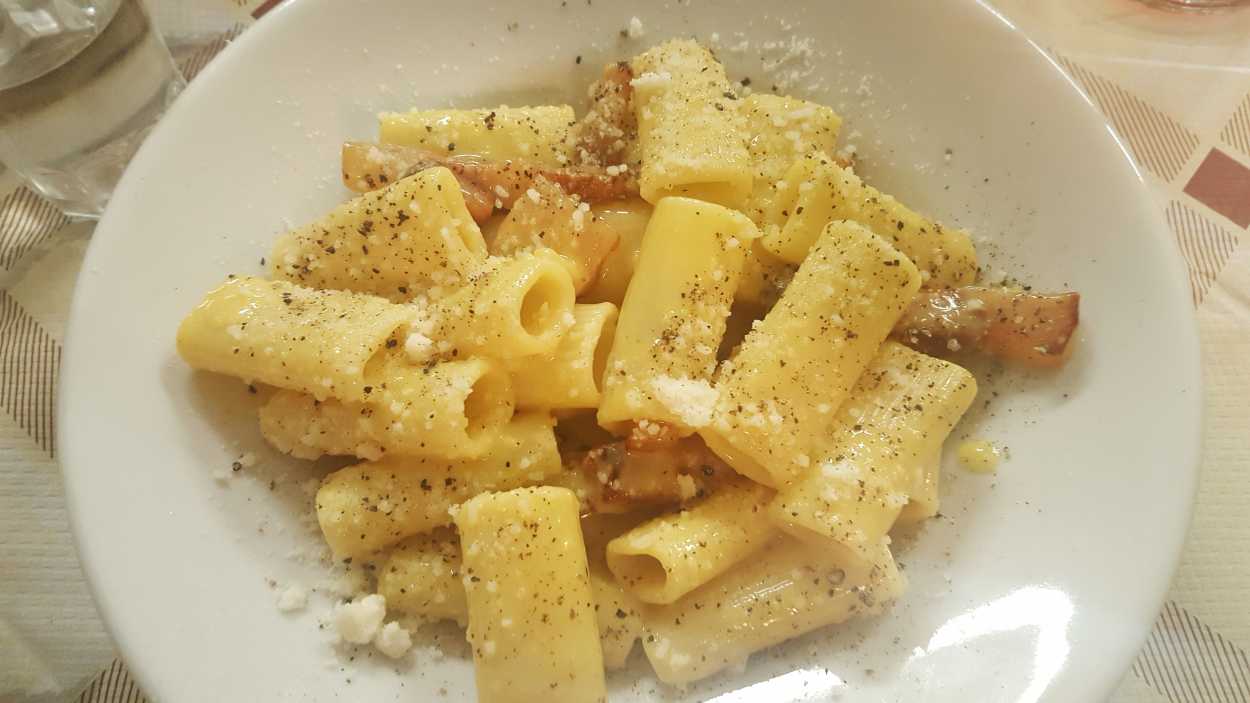 Despite being too full to finish all of the lamb and vegetables, we ordered another wine and also dessert (not pictured, because we ate it too fast!). The mascarpone mousse was studded with tiny wild strawberries, each one packed with more intense strawberry flavor than I've ever experienced on this side of the Atlantic. I regretted ordering only one to share.
Although service was a little rushed (to accommodate the hoards of hungry people lined up outside!), this meal was the highlight of our trip. We've been to many, many places that serve innovative cuisine, and while they always deliver something delicious and unexpected, I've found that small, local places who emphasize good quality ingredients and exhibit a mastery of their small menu are always the ones I remember most. Until next time, Roma.
---
What are some of your most memorable dining experiences while traveling? Let us know!