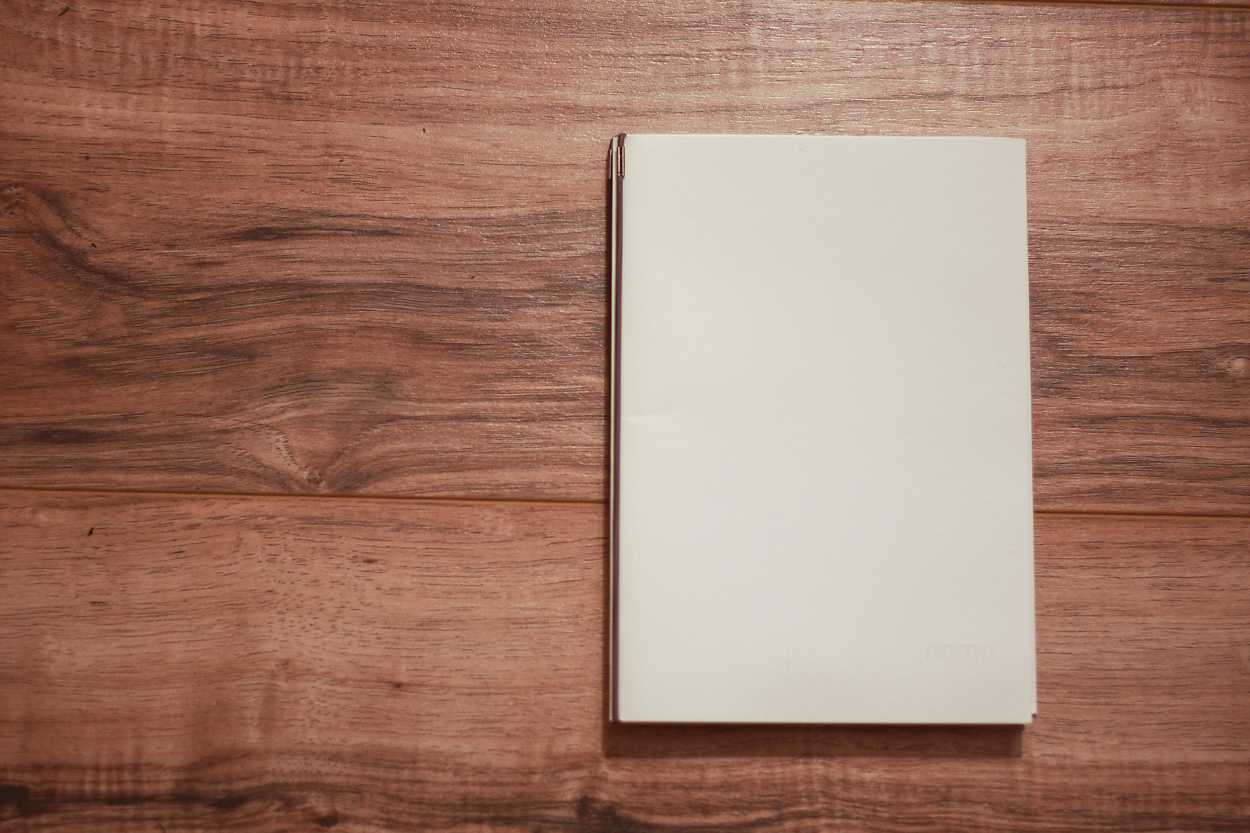 noma, the restaurant by New Nordic Cuisine pioneers Rene Redzepi and Claus Meyer, is reopening soon with a new concept, so I thought I'd share our experiences dining at the restaurant's first iteration back in June 2015.
We had a narrow window to decide whether to pursue a reservation as the system opened for  reservations one month at a time, three months in advance. The next booking time would open a week or two after we booked our flights into Norway and out of Copenhagen, and while we knew we would be ending our trip in Copenhagen, we still hadn't nailed down any dates. Ultimately, we decided to let the reservation system determine our fate: if we managed to get a booking for a date toward the end of our trip, we would save up the money specifically for the meal (that's a lot of babysitting) and if we didn't? No worries.
I dedicated an unimaginable amount of time to reading other blogs to find out how the booking process worked so we would be prepared on reservation day. Denmark is six hours ahead of our time zone, so we had to wake up around 4:30 a.m. to get ready for the system to open at 5:00 a.m. Once it was time for the system to open up, we each clicked in on our computers and were assigned a random number. The system would then go through the numbers and select users to access the booking calendar (supposedly the system didn't go in numerical order, but for us the lower number got selected first). We each picked a day of the week to select for a booking, as we could cancel if we ended up with two reservations. We both got into the system around the same time, and dates were already missing from the calendar. I booked a lunch on my designated day (dinner was already gone) and Michael snagged a dinner reservation on his day. Shortly after that, we could see that all possible reservations were gone for the month of June. From the time the system opened to the time we got confirmation emails, we'd been at the keyboards for a very anxious twenty-five minutes. After receiving my confirmation email, I immediately canceled the reservation to release it.
At the time we made our reservation, noma was number one on the World's 50 Best Restaurants list and held two Michelin stars. We were excited; after all, who doesn't want to eat at the world's best restaurant? We found out that the 2015 list would be announced the night before we visited. "Do you think they'll be named number one again?" we asked each other several times in the days leading up to our reservation.
It turns out they were not. On the eve of our reservation, Redzepi received the shock of noma being named number three restaurant in the world. I don't think we were imagining it when we were met with seemingly-forlorn staff the following day.
We arrived to noma's building on the water within Christianshavn a little early, despite walking thirty minutes in the rain from our Airbnb (i.e. not how you want to arrive to a fancy dinner). We'd considered a cab, but were worried about hailing one down and the costs associated with it. We snapped a few photos outside the building, which was as unassuming as you could possibly get.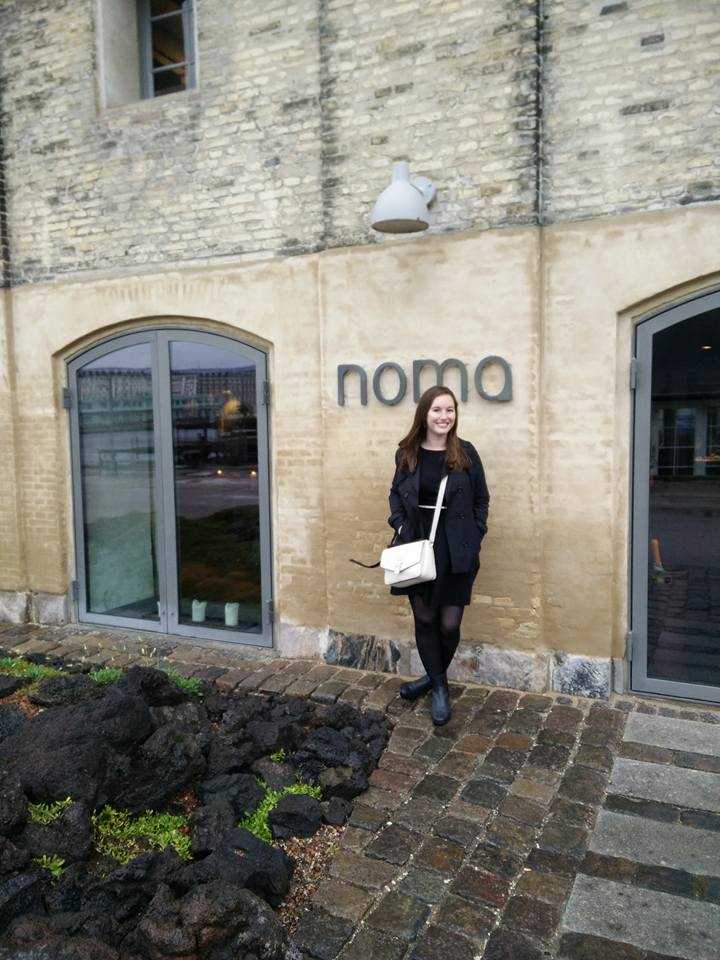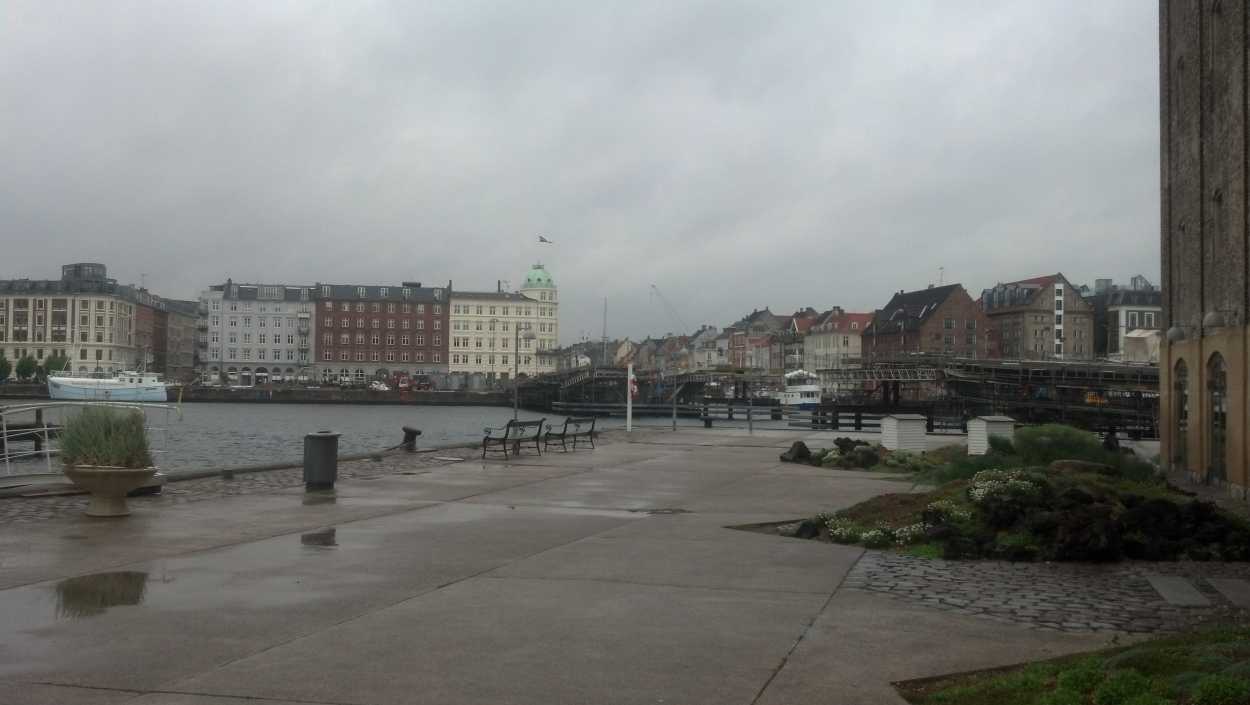 The entire staff welcomed us in promptly at opening time, albeit with much less gusto than they did for the large group of business men dining in a private area. Our coats were swiftly checked and before we knew it we were seated at our table. The interior had low lighting and dark wood furniture. Many of the seats had animal skins resting on the back. It was the epitome of hygge.
Reviews online suggested passing on the juice or wine pairing, as well as any coffee offered after dessert, so with that and the cost-savings in mind, we just opted for tap water along with our meal. I don't think missing any of those things impacted our experience negatively. Service was as-expected at a fine-dining restaurant: attentive servers, dishes brought out in unison and swept away as soon as they were emptied. Courses came quickly, too quickly. As each one was small, they disappeared in only a few moments, and the next was immediately brought out. This isn't quite how we like to dine, especially if we are spending a lot of money on a meal. We like to linger and chat, which is difficult when the staff are standing by to swap your plates.
All meals that evening included eighteen courses, which was difficult to explain to friends and family ("You're going to eat how many courses?"). As the restaurant changes the menu according to the season and what's available – everything is sourced locally through farms and foragers – we weren't sure what to expect. Though this blog would be born two years after our visit to noma, I did manage to photograph each course, however the photos aren't as clear as I would like: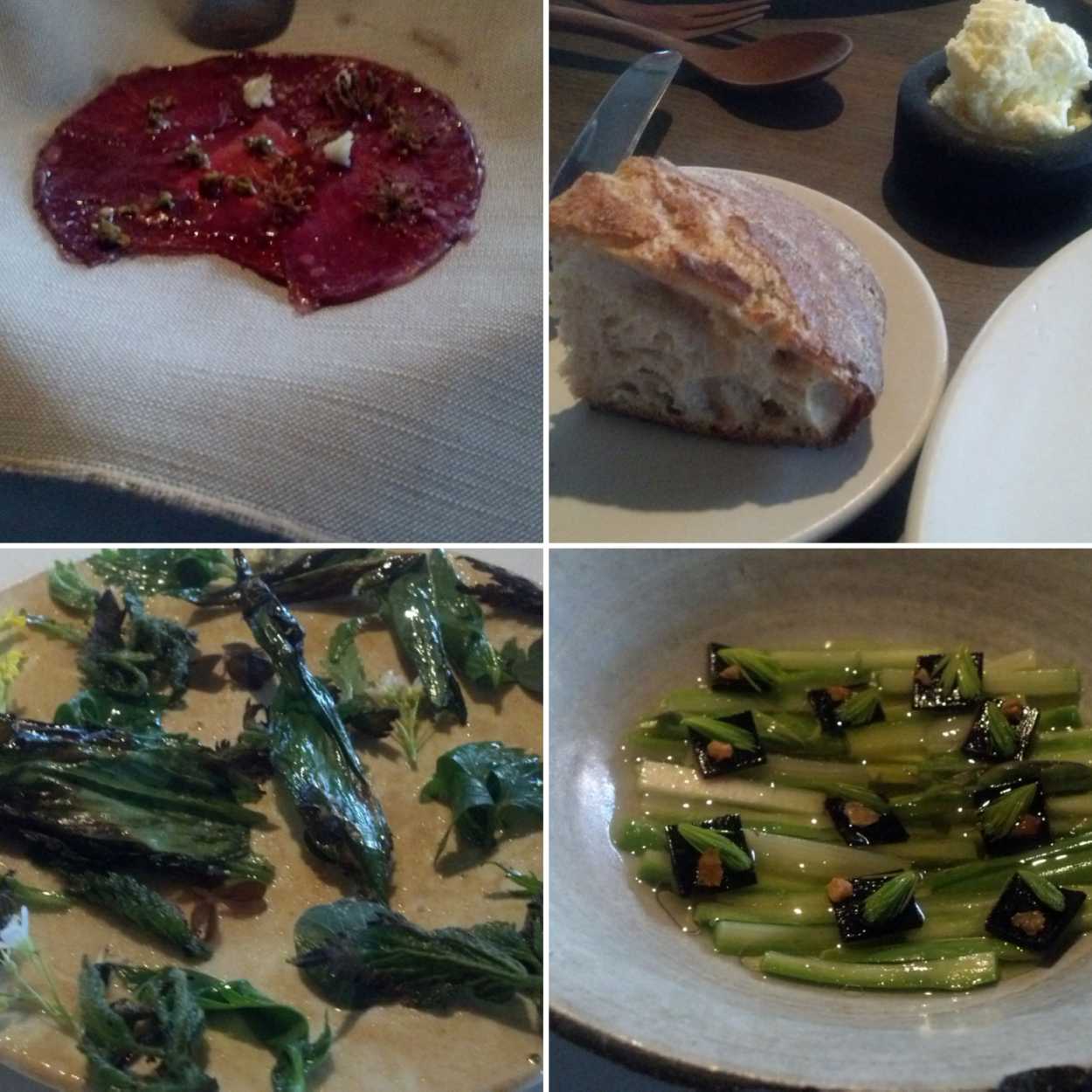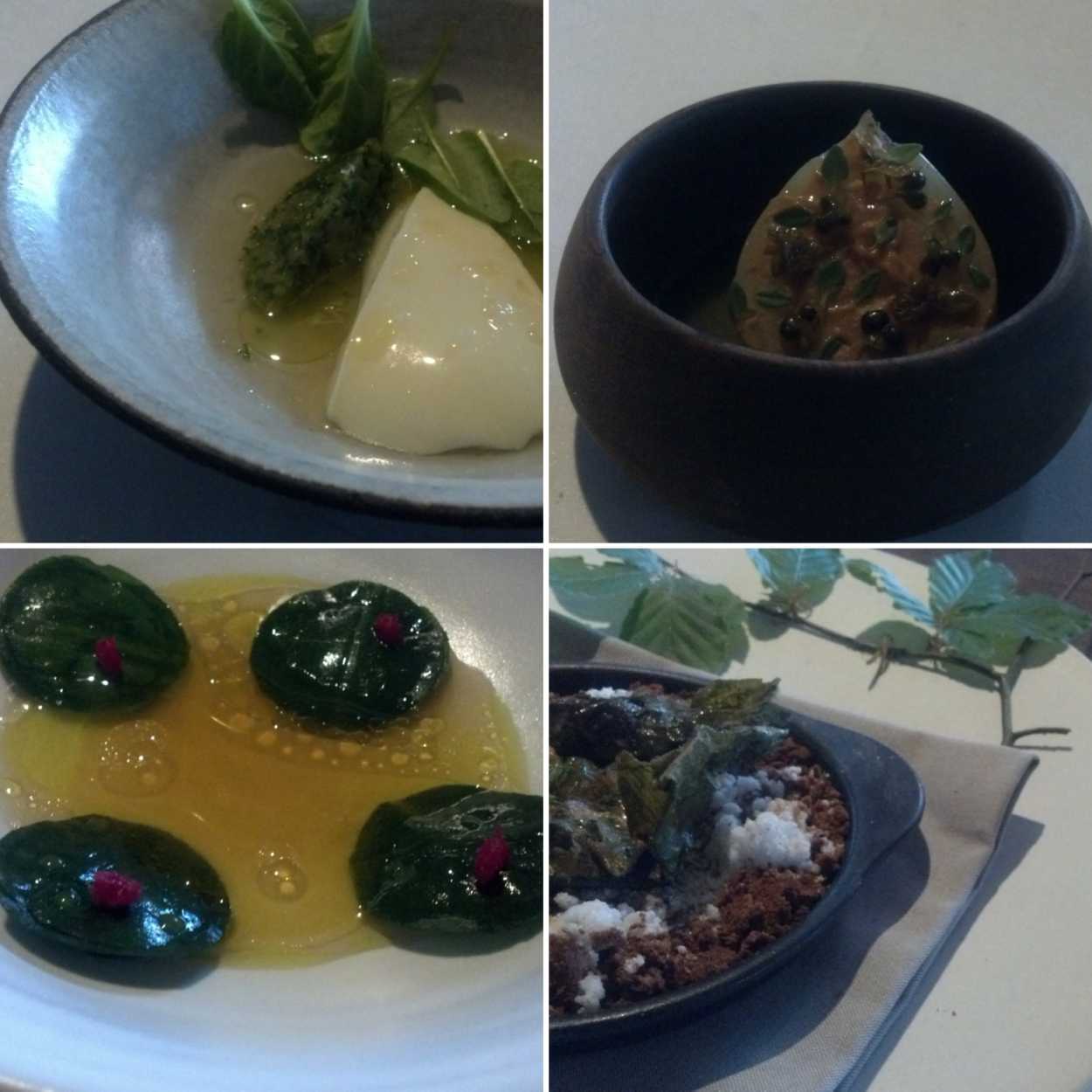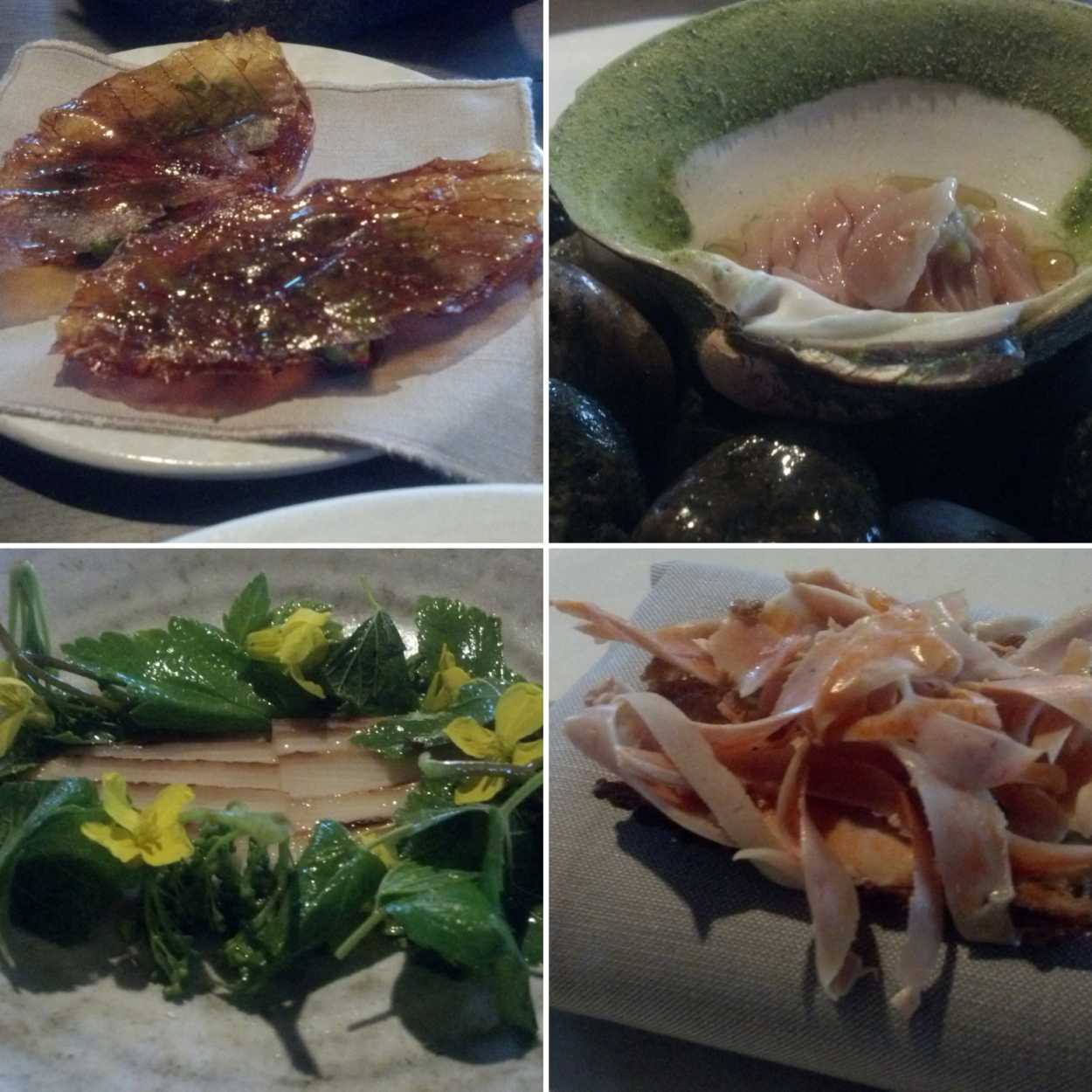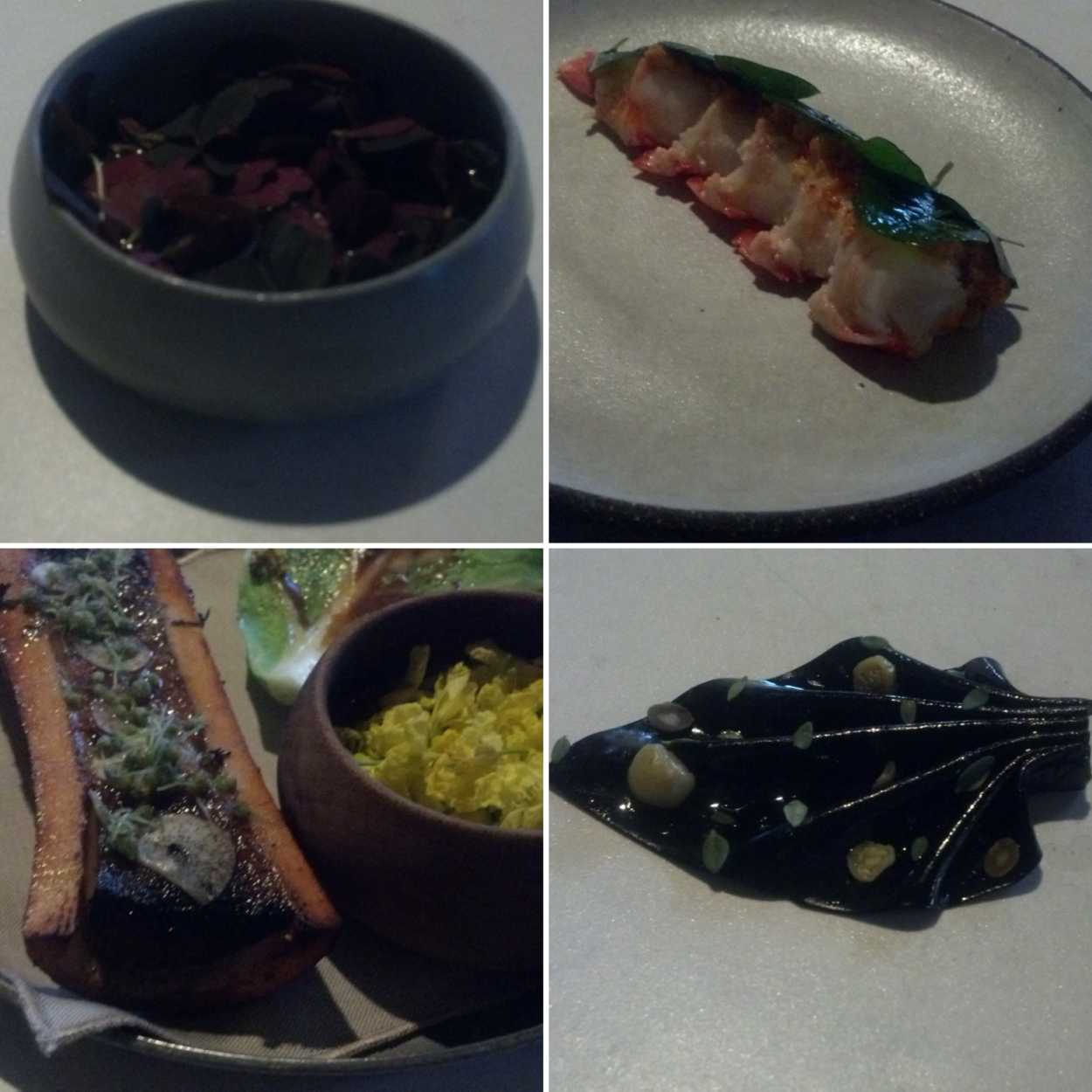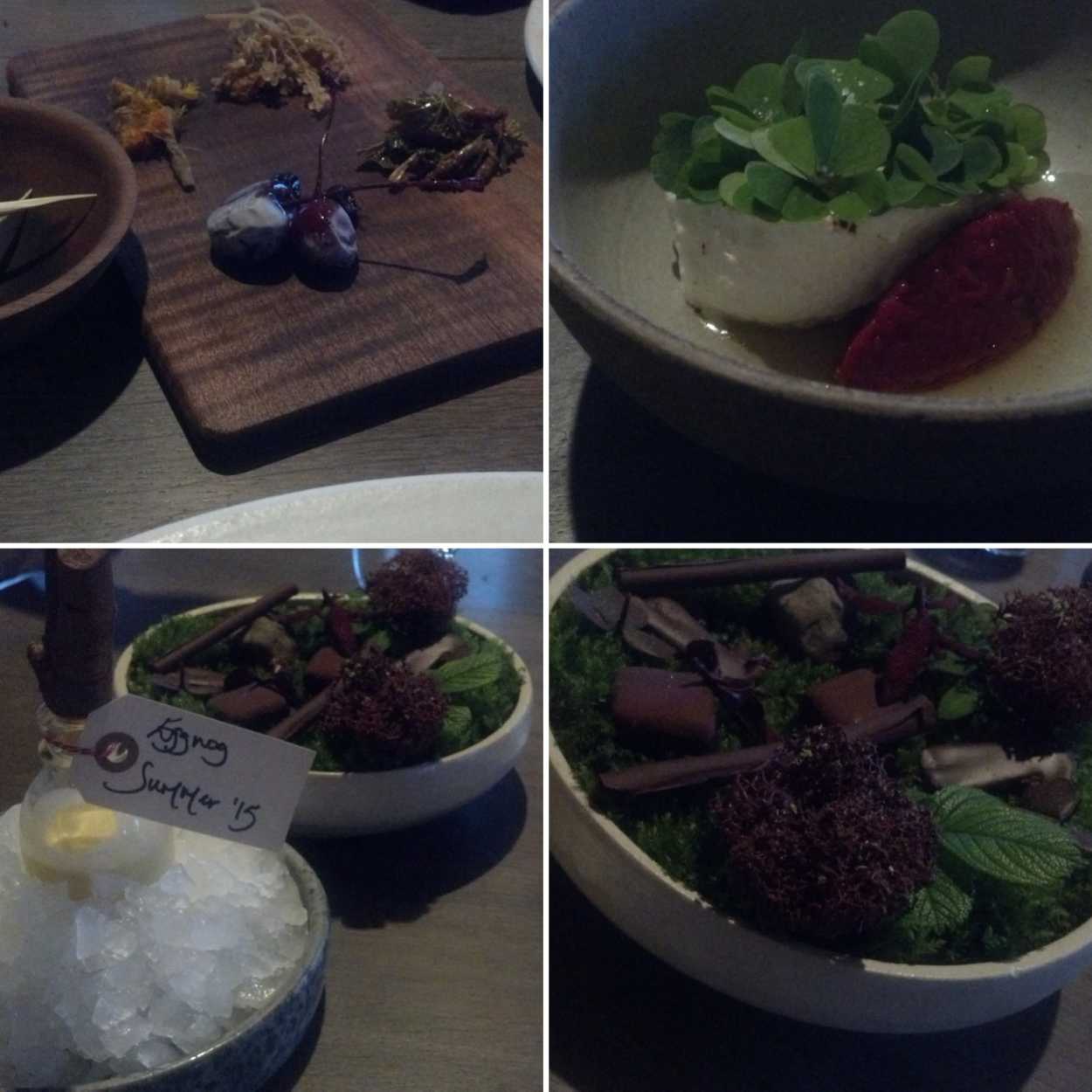 The meal challenged and surprised us in many ways. We both went in with an open mind, despite each of us having a few palate quirks. I detest onions in any form, and was faced with a course entirely dedicated to the vegetable. Michael discovered earlier in our trip that he can't stand rhubarb (a shame – I love it and it grows all throughout Scandinavia). The moldy cherries gave us pause, and the grasshopper powder made us a little uneasy. I had to take a deep breath before diving into the monkfish liver and bone marrow, which both have very fatty textures. Several of the courses utilized sticks and branches rather than conventional silverware, and one of mine came with a living resident still walking around its home. However, the care and precision that went into crafting the dishes was unmatched. I suspect that diners during the winter months experience more cured or pickled items, but I was still blown away by the number of preserved ingredients incorporated into our meal. There's something about being served an item that has been stored for a year or more, specifically waiting its time to make it to your plate. Our servers informed us that the moss served on the day we dined had to be carefully and painstakingly cleaned before serving, that cleaning the moss was the sole job of one person that day.
My choices for favorite dishes are easy to choose two years later – they are the ones I can still taste after looking through these photographs, the dishes I would like to eat again. The bitter but tender green shoots with savory scallop marinade (course three), the creamy curdled milk with garlic (course five), the sea-like lobster broth and lobster meat (course thirteen), the sweet and funky fermented garlic (course fifteen), and the forest flavors coated with chocolate (course eighteen). I would be forever grateful to be able to source daily the rustic bread served in the second course, with its creamy sour interior and chewy edges. We couldn't take any of these items with us, naturally, but they did provide a menu for us to remember the meal by.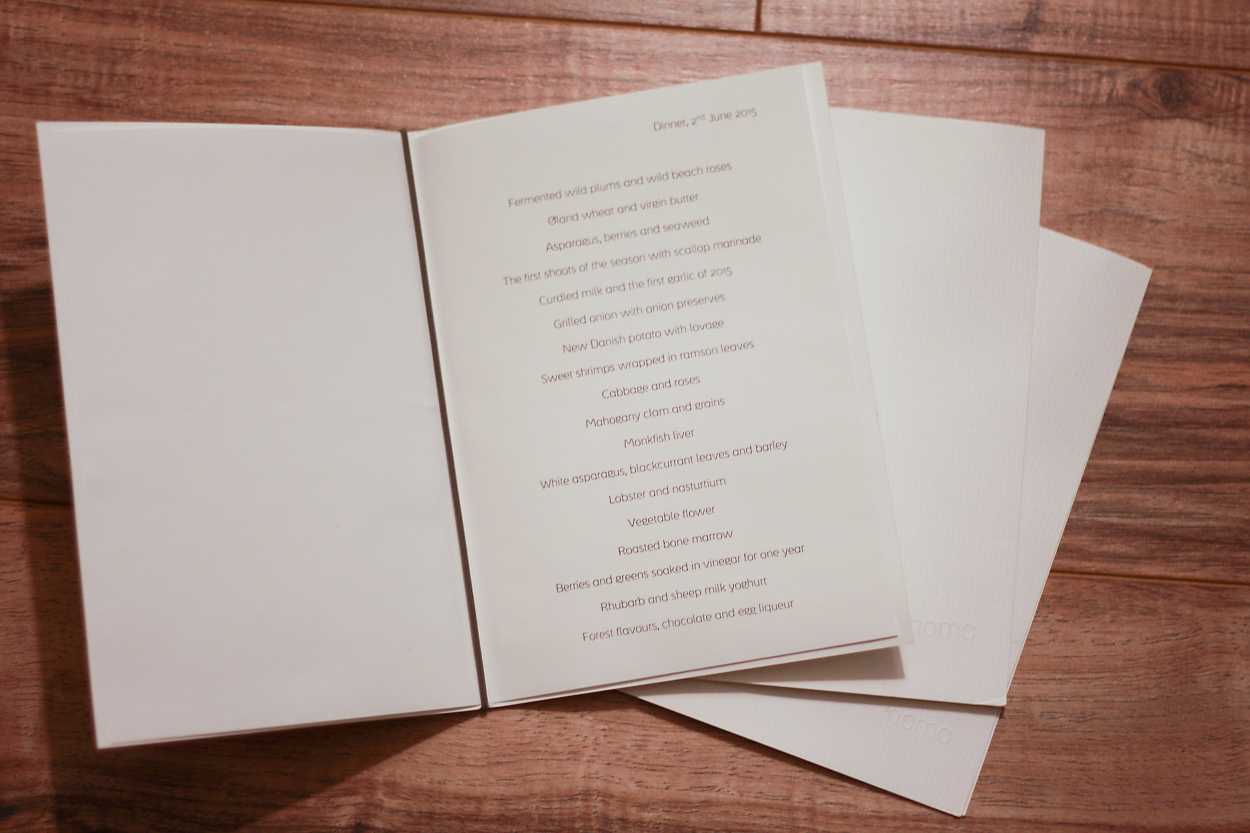 We've often been asked if it was worth the $250 USD price tag per person, and wholeheartedly, yes it was. It was an incredible experience we'll never forget. noma 2.0 opens in exactly one month, and unsurprisingly reservations were gone within minutes. A donation to MAD, Redzepi's nonprofit, will net you a number entries into a contest to win a free trip to Copenhagen and a table for two on opening night. Otherwise, reservations for May of this year are scheduled to open this Thursday, January 18, if you'll be making the trip to the Danish capital.
---
What's the most memorable meal you've ever eaten?
We'll see you Thursday with a preview post for another round of the 10×10 challenge! Are you in? Here are some tips to get you started, and here's a rundown of how things went for me last time.