So, what is a 10 x 10, and why is it being featured on a travel blog?
The 10 x 10 challenge was established by Lee of Style Bee as a way to expand a limited selection of garments' value by styling them in many different outfits. Specifically, you select ten items (clothes + shoes) and create ten different outfits to wear over ten different days, save for things like pajamas, lounge-wear, and workout gear. I plan on wearing my ten outfits to work over the next ten business days.
When we travel, it's important to pack lightly yet be able to cultivate a variety of outfits. The challenges I will face when completing this 10 x 10 at home are dressing for the same people everyday (I'm a serial outfit-repeater when we're away!), the fact that I'm dressing for work (to be honest, it gets a little boring), and my very-paired-down, currently-in-the-process-of-building wardrobe. The weather here in Florida will also make this feel less like a Fall 10 x 10, and more like a Summer 10 x 10 for most. Here's what the weather is supposed to be for the next ten days: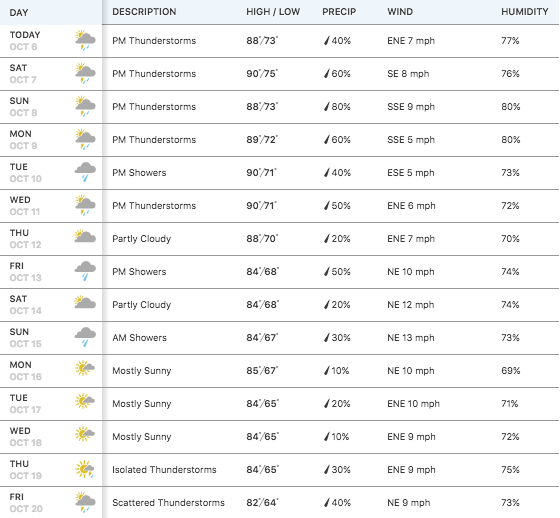 I actually planned my items the previous weekend, while riding in the car to visit family. I was surprised and delighted to find that my selections matched Lee's suggestion for a basic formula. I'm not entirely sure that my choices would have varied too much if I were home to physically pull my clothes from my closet. I suppose I already have a good sense of what pieces I like most, or at least the ones I find most versatile.
Without further ado, here are the clothes I will be wearing for the next ten work-days: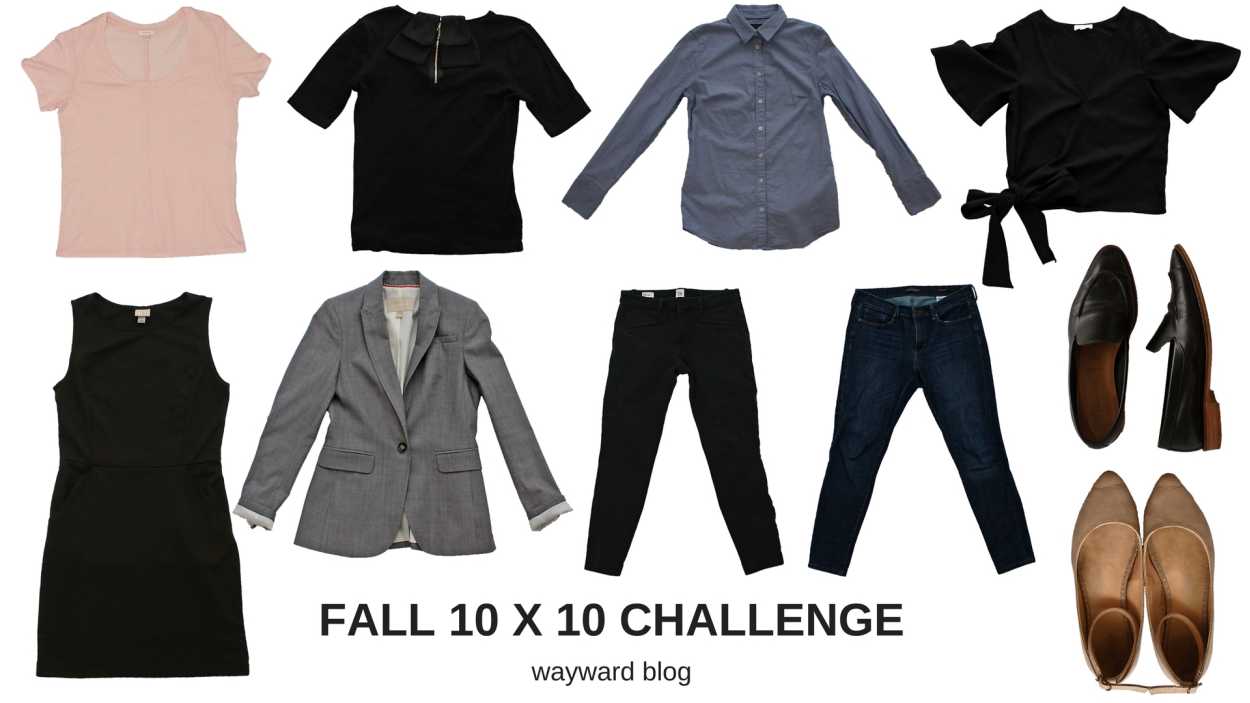 Tops
2 Black Bow Back Top (old from Ann Taylor; link to similar here, without bow detail)
3 Banana Republic Blue Button Down
4 Vetta Top in Black (sold out) Link to similar here and here
Bottoms
5 Gap Black Slim Ankle-Length Pants
6 Banana Republic Skinny Jeans
Dress
7 Target Sheath Dress in Black
Outerwear
8 Banana Republic Grey Blazer (old – linked to current style)
Shoes
10 Old Navy Nude Shoes (old) – Similar
---
Those are my ten items! Are there any that are surprising? What would you do differently? I expect to be sharing a mini-post each weekday with that day's outfit. The Monday after the 10 x 10 ends, I'll be sharing a full wrap-up with what I liked, didn't like, and what I learned. 
Are you joining in? Let me know! I can't wait to see how you style your items.