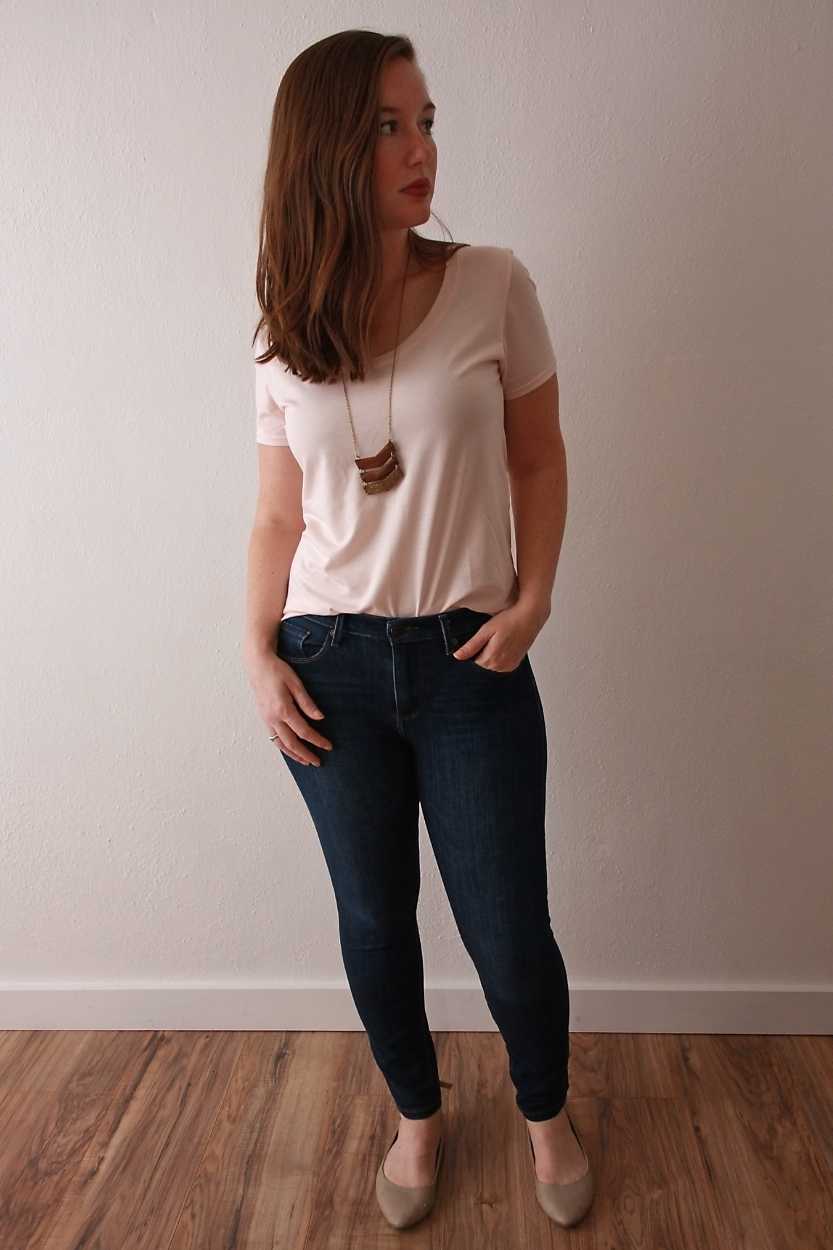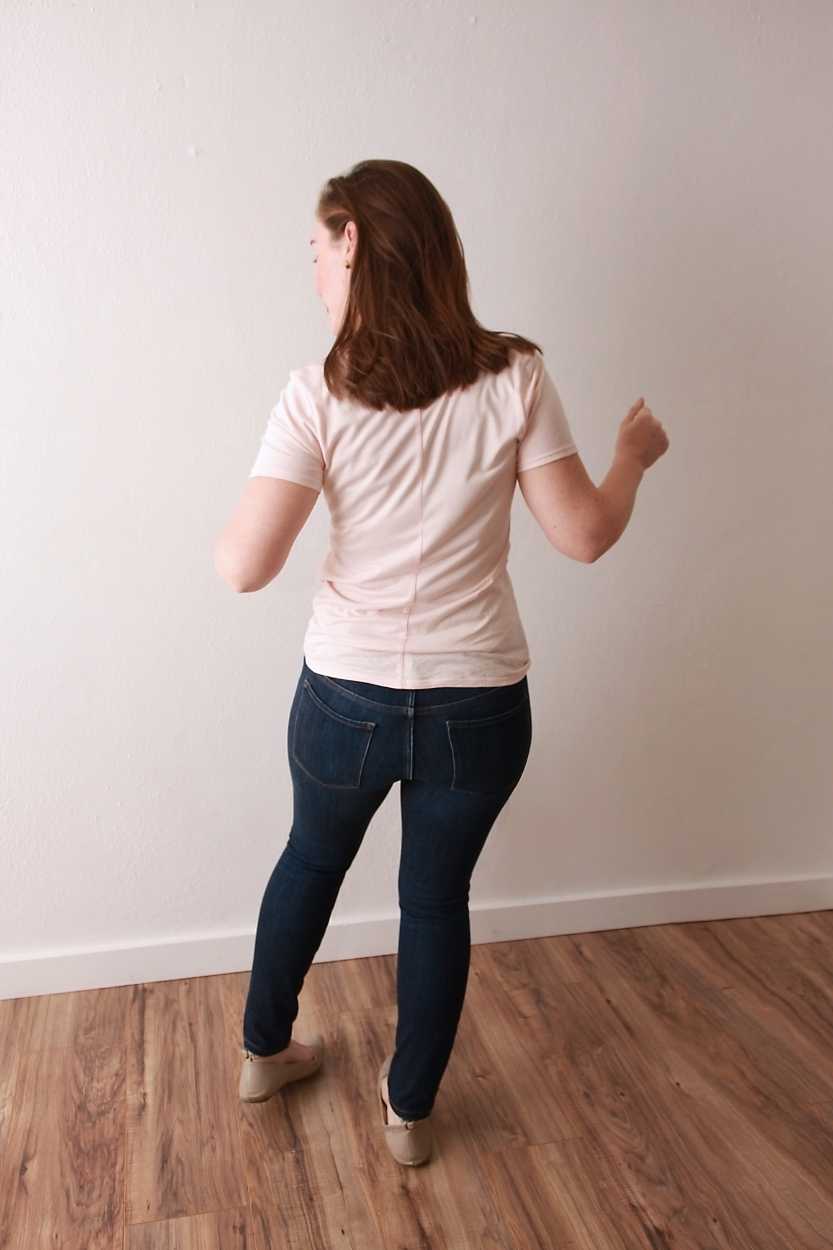 Halfway there!
I'm not feeling anxious about getting back to my full wardrobe yet, though I suppose it's because I haven't really re-worn too many of my items yet. I'll just have to wait until day nine or ten to see how I truly feel.
Anyway, it's Friday, Casual Friday, and it's now officially the weekend! Folks in my office typically wear denim on days other than Friday, but I try not to, and I never wear jeans more than twice in a week. Like I've mentioned before, working with college students I often find that I have to elevate my wardrobe slightly. I still get asked what my major is, what classes I'm taking, or have I taken all of my finals yet? I guess I should just be grateful and take it for as long as the questions come!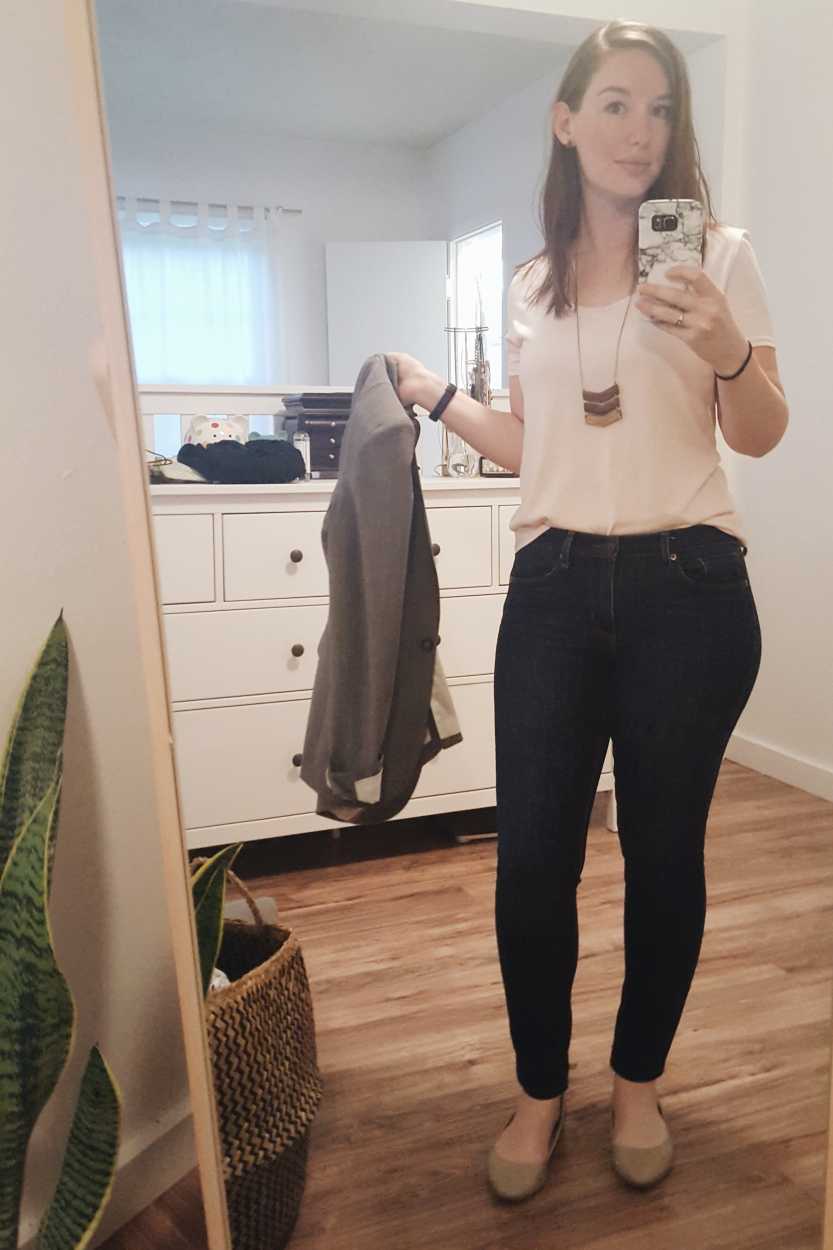 Thankfully today didn't take that turn that some Fridays do – where things pick up in the middle of the afternoon and get crazy busy. A couple of impromptu meetings with colleagues, and shooting some photos for our department's social media account made up most of the day. After work, I came home to get ready for tonight's Zumba class.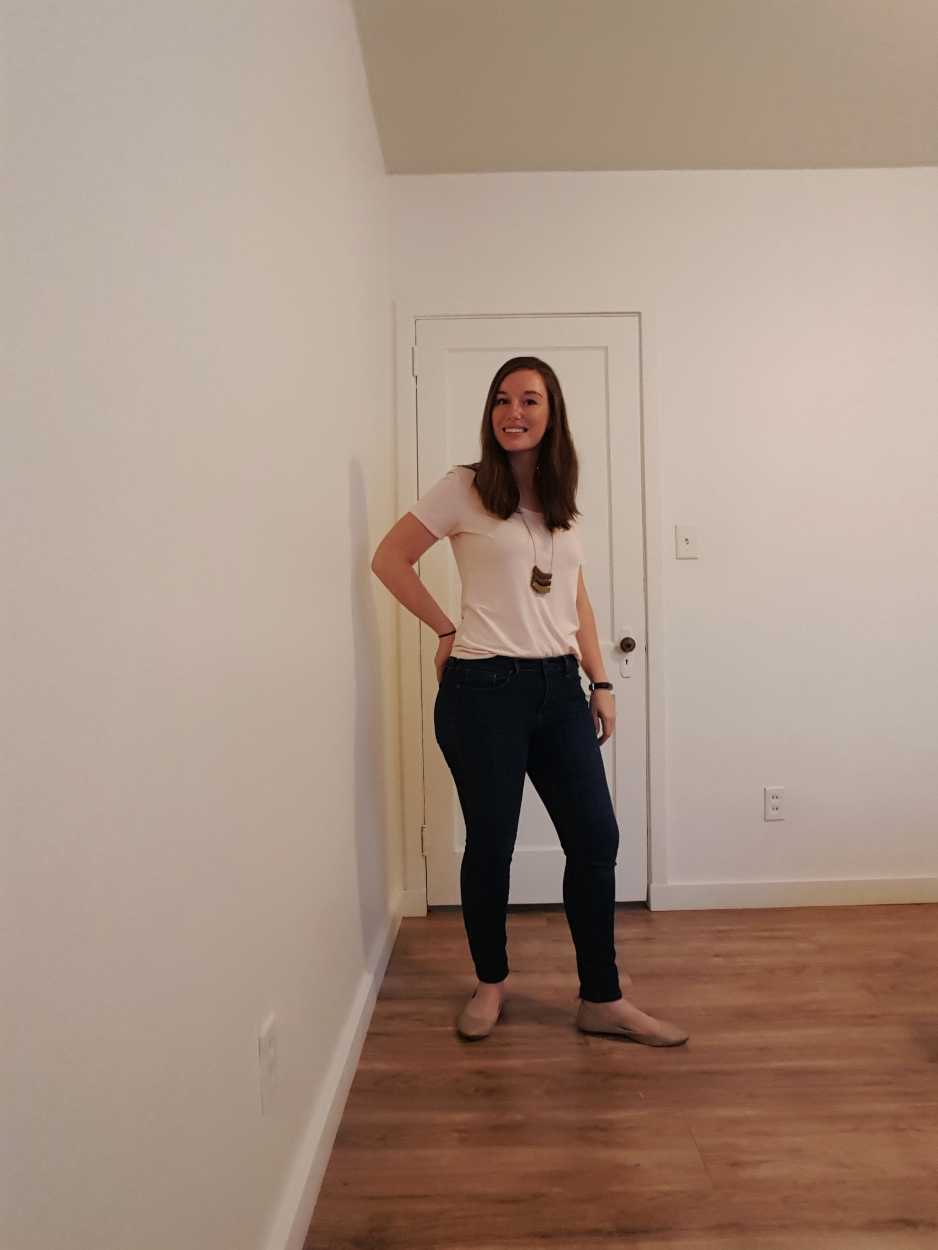 The outfit stayed pretty wrinkle-free throughout the day! The only struggles I had were pulling up my jeans a little and the front of the top got wrinkled when tucked in (fine since you couldn't see it, but once tucked, there was no going back). Only minor frustrations though, and I kept comfortable all day. I topped this outfit with my grey blazer when the office got cold.
---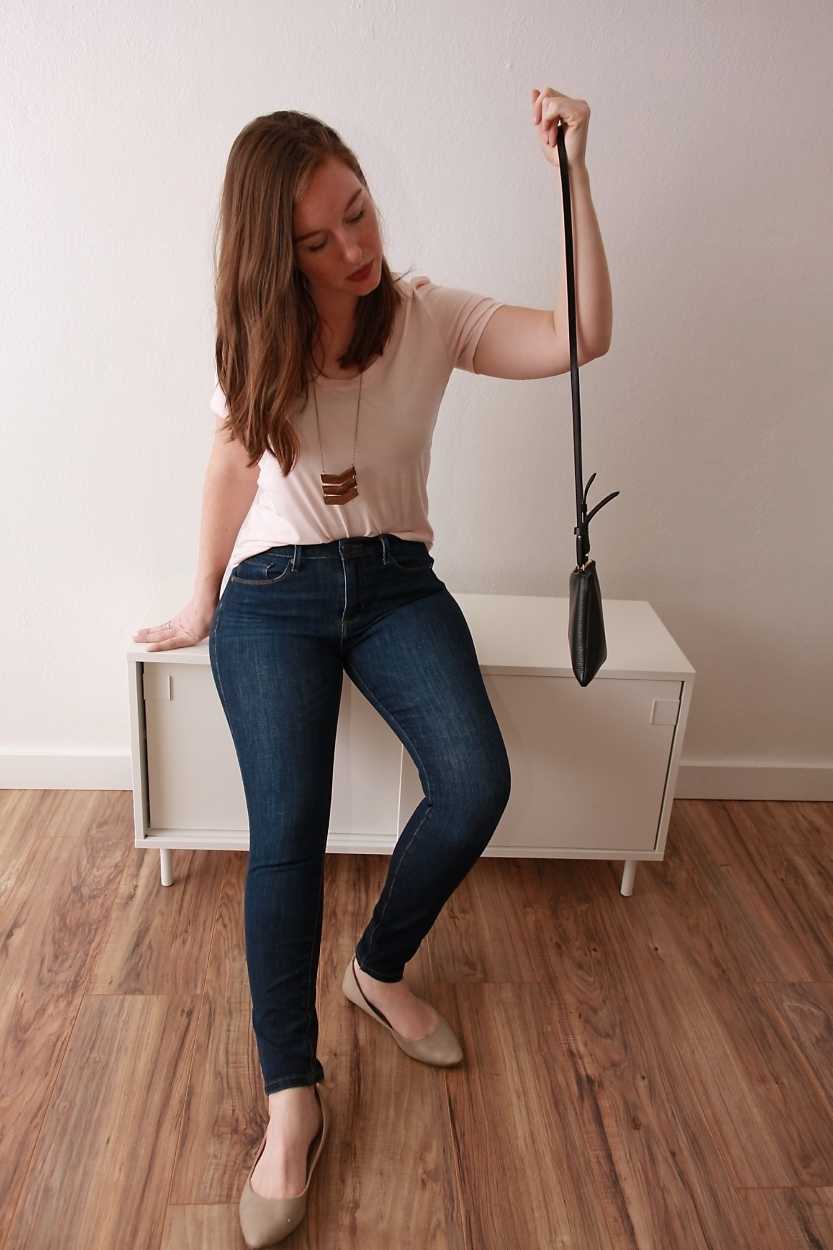 Outfit Details:
Cuyana Scoop Tee
Wakened Apparel Summit Necklace (use promo code KRYSTALN10 for 10% off your order!)
Timberline Jewelry Salvaged Wood Stud Earrings
Cuyana Crossbody Pouch
Banana Republic Jeans
Nude Ankle-Wrap Flats (old – linked to similar)
This is about as easy as it gets. A tee, jeans, and pointed flats. This blush color was everywhere earlier this year, and while it seems like a great spring/summer color, I'm declaring it a neutral in my closet. I added the Wakened Apparel necklace as a statement piece, and carried the wood theme through in my earrings as well. I've already worn a fully-tucked shirt this week, so I kept things casual with the tiniest front-tuck. This outfit is the perfect segue into the weekend!
—
Weather-wise, it was still a hot day. If it were cooler out, I could see myself wearing this top tucked in, with a long cardigan on top, worn with ankle boots (black or cognac? I can't decide!). It'll be a while before that happens though, since every day in the ten-day forecast indicates highs in the eighties.
---
Item Spotlight: Cuyana Scoop Tee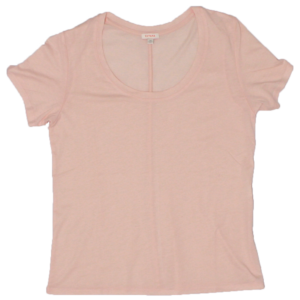 This is my newest purchase, and I'm glad for the chance to throw it in the mix and get some wear out of it. I originally ordered it in a small, since the model shown in the photos on Cuyana's site is wearing a small and the tee looks loose on her and is supposed to have a slightly cropped hemline. When the small arrived, I found that the tee fit longer than I expected, and the shoulders were falling down. I sent it back and reordered in an extra-small, which felt better. The top is very sheer, so I am sure to wear a camisole underneath. This is my third attempt at a top in this color (preceded by one similar to this one from & Other Stories, which showed deodorant marks and wore thin where my purse strap hit, as well as this one from Everlane, which was even more sheer and felt a little cheap), so I hope this time is the charm!
---
I'll see you here (and on Instagram) next week for looks 6-10! Can't wait! 
How many more days do you have remaining?