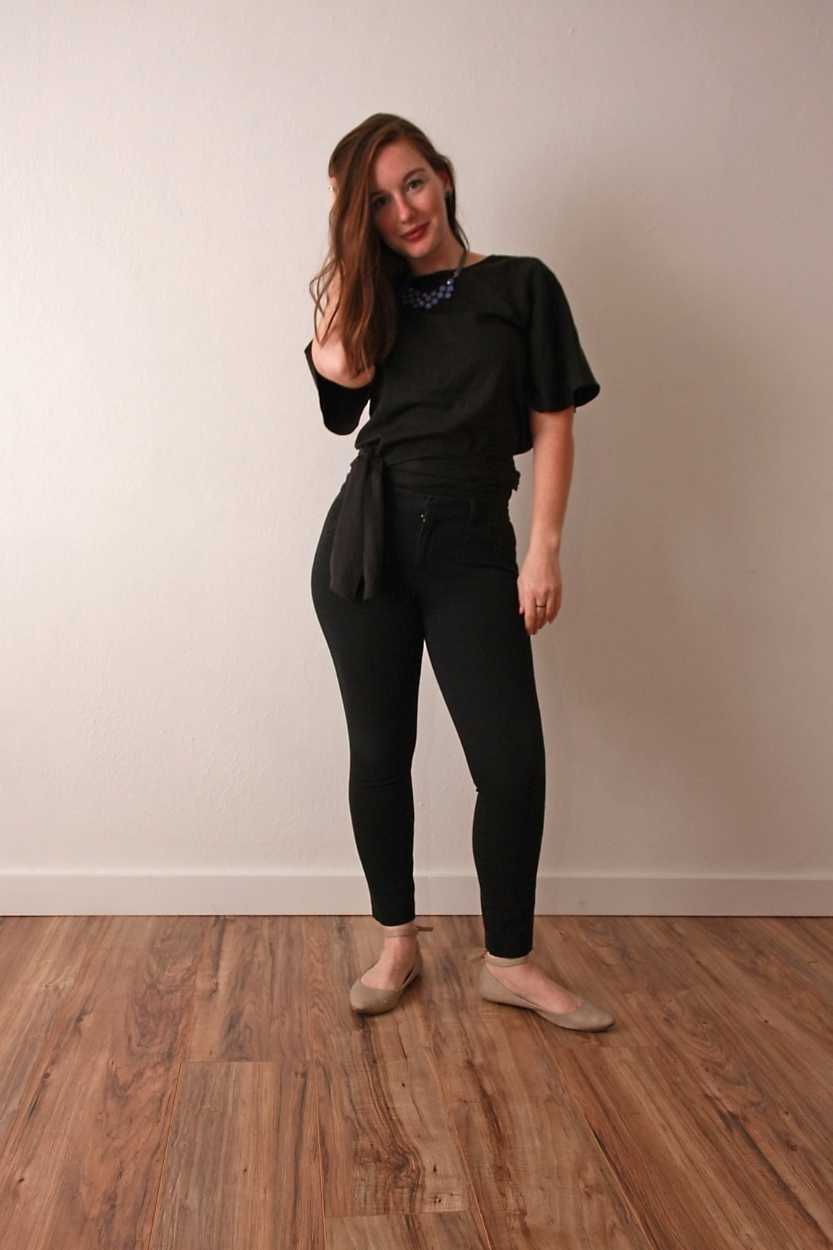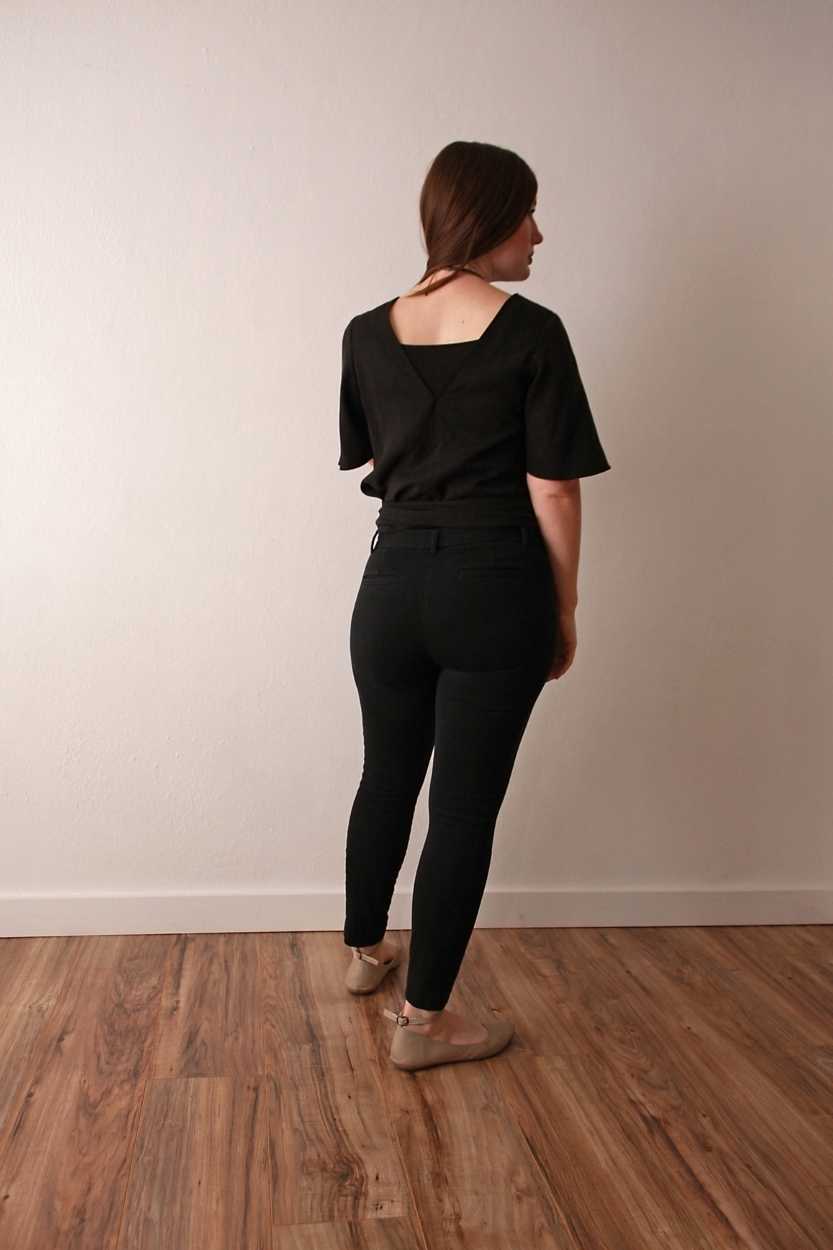 All black again (minus the shoes!), and I love it.
Thursday started off a little differently since I had a dentist appointment this morning. I'd forgotten about it when I planned out my ten outfits, but I'm so glad today's outfit included pants! I can't imagine that it would be too fun to spend an hour in a dentist's chair in a dress.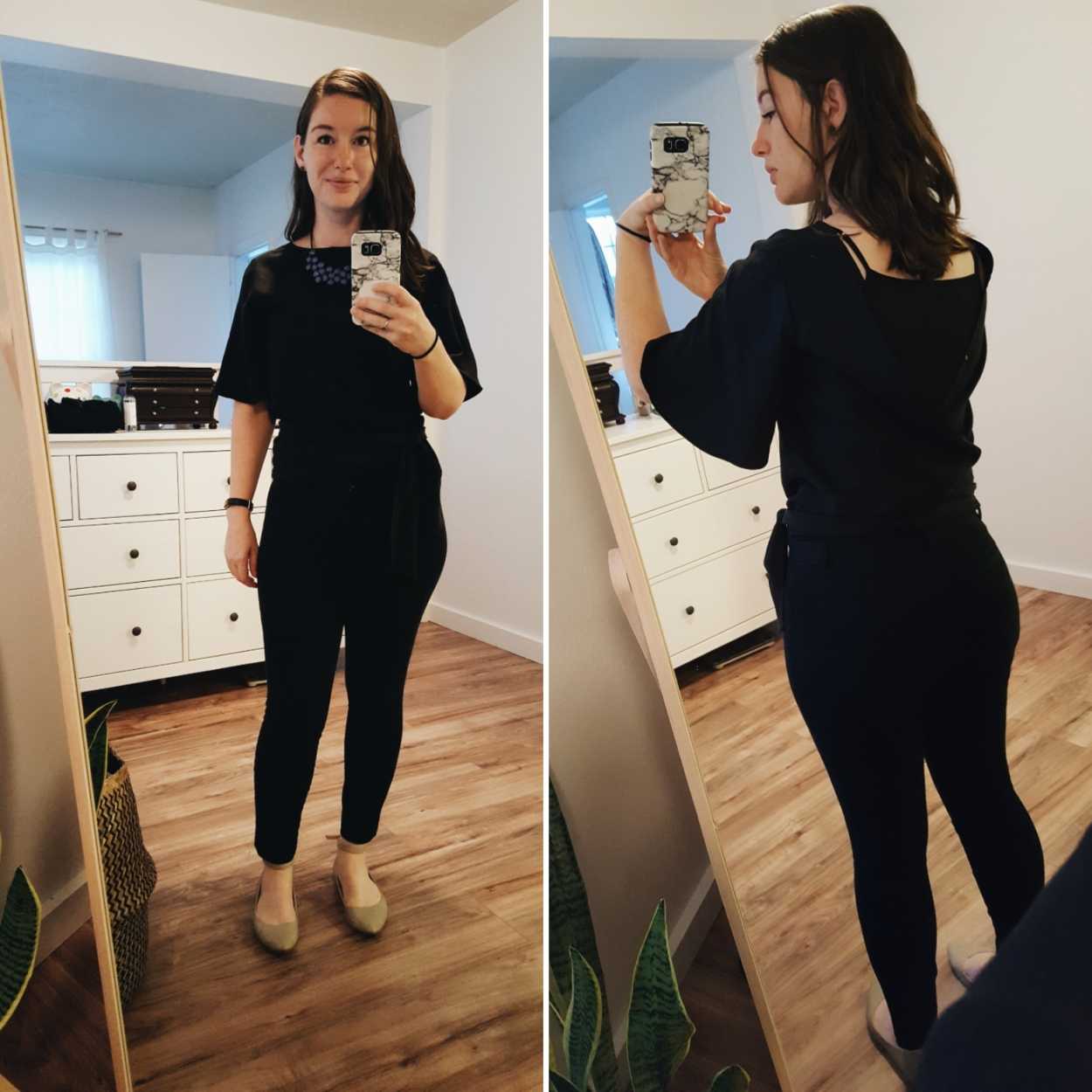 After the dentist, I went in to work where I covered a student event for an employee who is out of the office this week. I changed into one of our department's T-shirts to go pick up the food and to help with serving at the event, since it was 90° again today and I didn't want to risk spilling food on my nice clothes. After the event, I returned to my original outfit and continued my work day. No other errands today, I just came home, did laundry, and went to my barre/pilates/yoga combo class.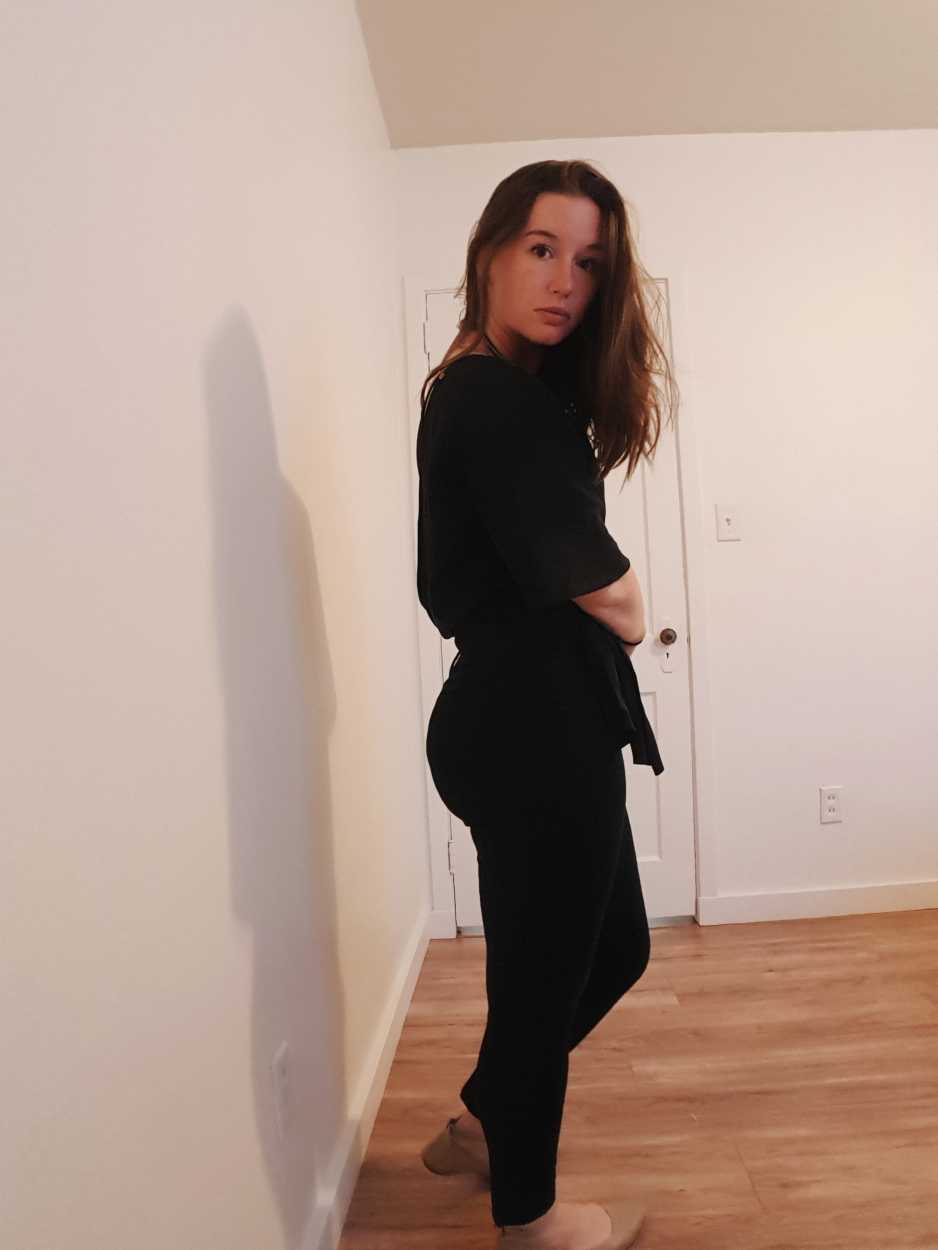 ---
Outfit Details: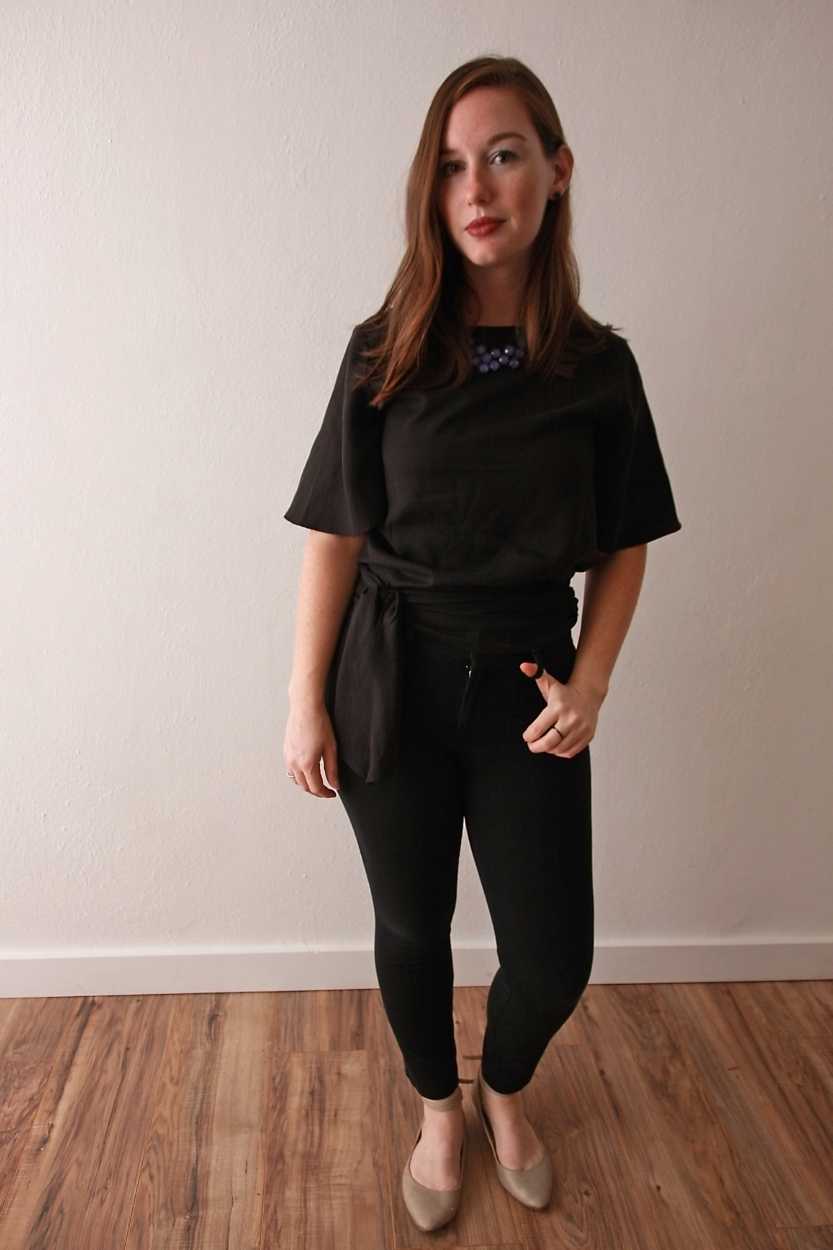 Earrings (old – linked to similar)
Necklace (old – linked to similar)
Wrap Top by Vetta (sold out) Link to similar here and here
Airism Camisole from Uniqlo (worn underneath wrap top)
Slim Ankle-Length Pants from Gap
Ankle-Strap Flats (old – linked to similar)
Like many of Vetta's garments, this top can be worn several ways, but I opted to wear it with the crossover in the back. There's no way I could get by without a cami underneath this top for work, and I wore one that's a little higher in the back. I struggled to keep the top snapped all day and it's very difficult to snap back by myself, so you'll see it snapped in some photos and unsnapped in others. I eventually just left it unsnapped and hoped my cami kept things modest enough. Wearing my blazer on top of the flutter sleeves was not an option; since I keep a blanket on my chair at work I stayed warm in the office with that instead. I didn't add a belt, but even if I owned one (sadly the Everlane one from the other day didn't work out – I'd love suggestions for a sturdy, ethically-made leather belt!) I probably wouldn't have worn it today because of the bow on the wrap top. I kept the look a little lighter with my nude flats, as my loafers can sometimes weigh an outfit down.
—
About the weather: If it were cooler out (i.e. actual Fall), I might try some sort of turtleneck under the wrap, but I'm a little skeptical of how it would look. A thin, black, long-sleeved shirt might be a feasible option, however. The sleeves definitely make it tough to wear anything over this top, so a fitted coat is out of the question.
---
Item Spotlight: Nude Ankle-Strap Flats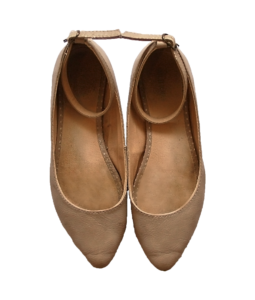 These shoes. These shoes are way, way past their prime.
I purchased them at Old Navy in two colors (my others are a navy blue) about four or five years ago. At the time, I was just building a work wardrobe without much money in my bank account. I figured between the two color choices I could wear them with just about any outfit. A coworker at the time was in a similar situation, and we laughed because we both bought the same shoes. I'm usually a 7.5 in shoes, but since Old Navy only carried whole sizes I purchased an 8. My coworker was able to wear her shoes with or without straps, but the shoes fall off my feet if they are not strapped on. I'm about ready to replace them, but I just need to find a pair in the same style, in real leather, in my size. The faux leather hasn't held up as well as it should, but thankfully no one is looking too closely. I've searched high and low recently, but I don't know if I'll be able to find a replacement until spring, since this style/color isn't necessarily autumn-like. (Any suggestions? I'll be forever grateful!).
---
Six days remaining – and tomorrow is Casual Friday! I will be wearing my "normal" clothes over the weekend while I do laundry, but I'm not itching to get back to my full wardrobe just yet (except for getting to wear jeans everyday like at home!). Are you still feeling satisfied with your ten items?