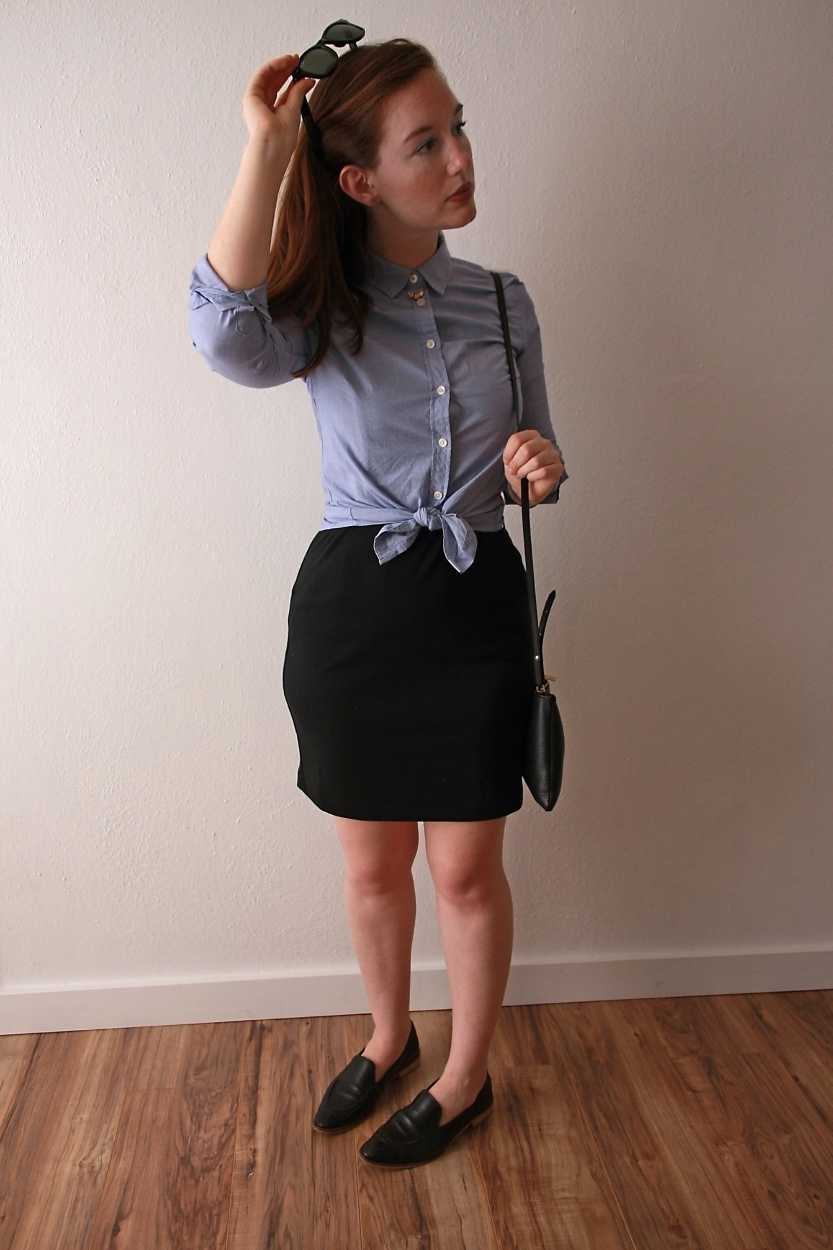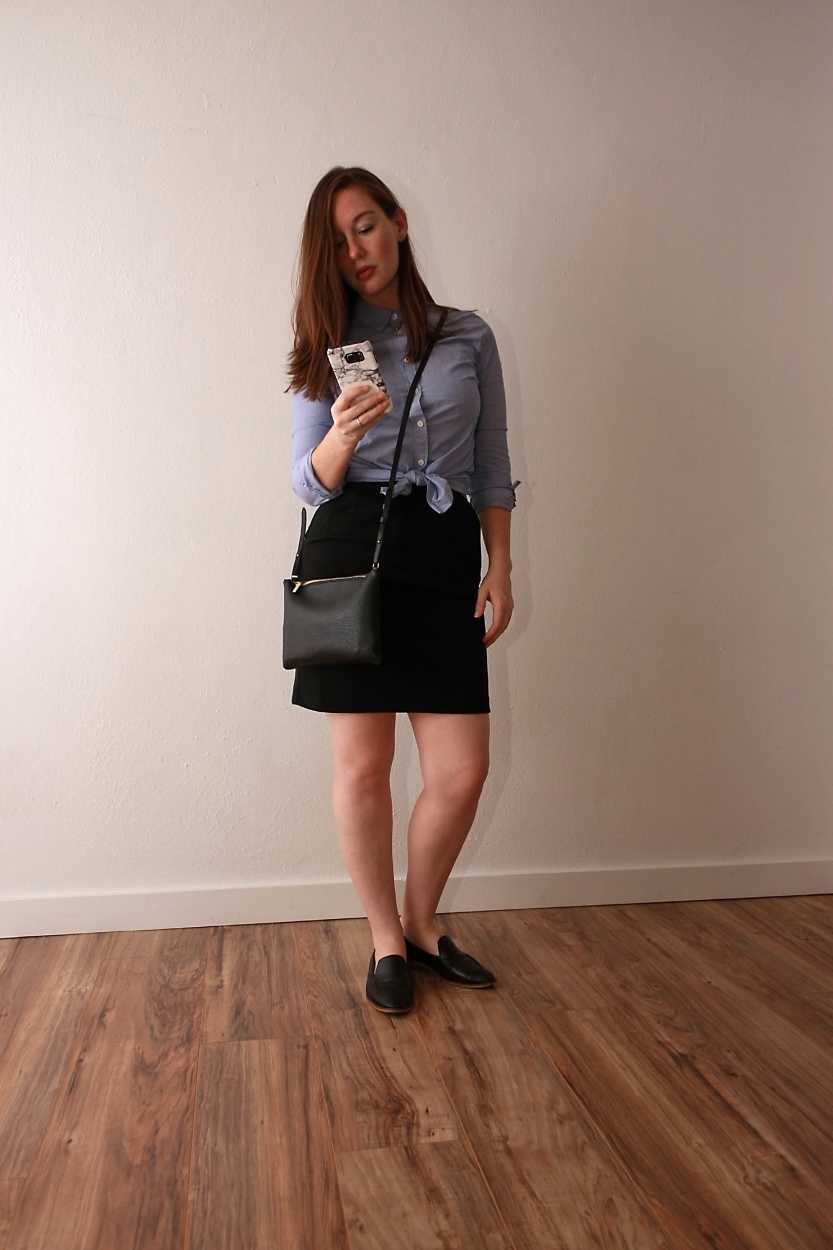 And here we are again, Monday. Over the weekend I laundered all of my clothing items except for my jeans, which I try not to wash too frequently, and had access to the rest of my closet. I wore jeans on Saturday and Sunday (a distressed pair one day and a high-waisted pair in black the next). We had a great cozy weekend at home, heading to the gym, baking cookies, grocery shopping, reading, meeting a friend for drinks and planning a trip to NYC. I also sewed a top out of some raw silk I purchased on Etsy, which was exciting. I'm not terribly good at it as it's only my second item, but I really enjoyed getting to wear it out Saturday evening.
---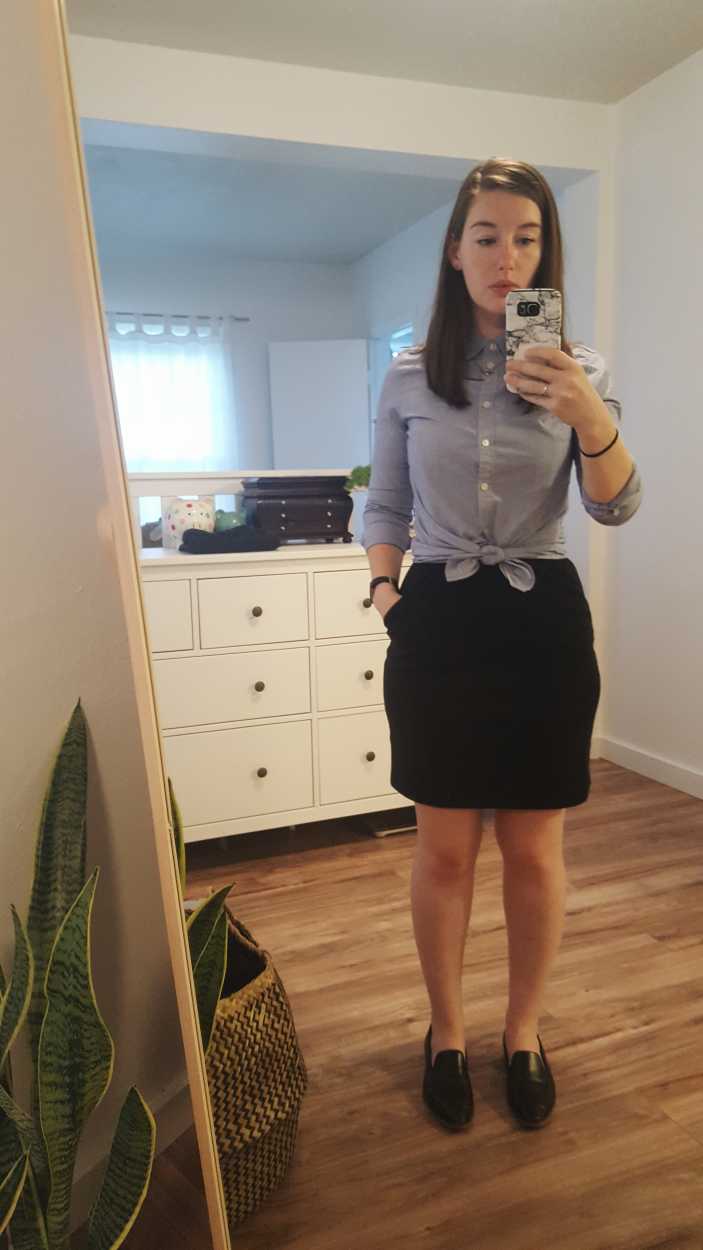 As for today, I created an autumn-themed cheese and fruit platter for my boss for Boss's Day, and our staff all celebrated together. Otherwise, it was a normal day at the office. It was very hot out again, but I felt even warmer in this outfit. Having a double-layer of dress and shirt both comprised of man-made fabrics made it even tougher to stay cool. I felt sweaty and rumpled by the end of the day. After work, I came home to change and headed right back out the door for our weekly bootcamp-like class. We've found that we're much more likely to go to our most-challenging class if we schedule it for Monday, since Mondays are always a little rough anyway. We are always wiped after this class, so we always fix a quick and easy meal on Monday evenings (tonight was breakfast-for-dinner night!).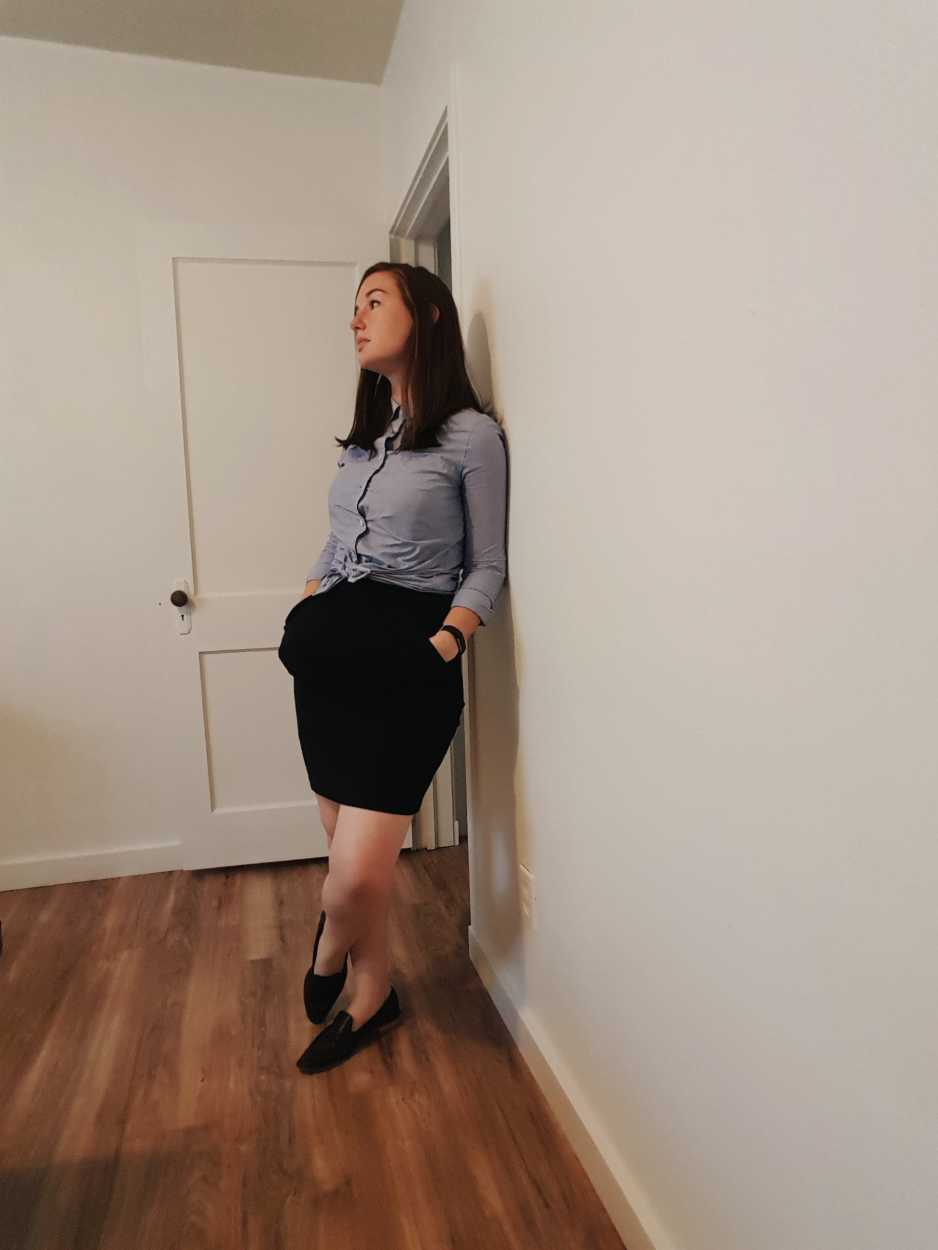 ---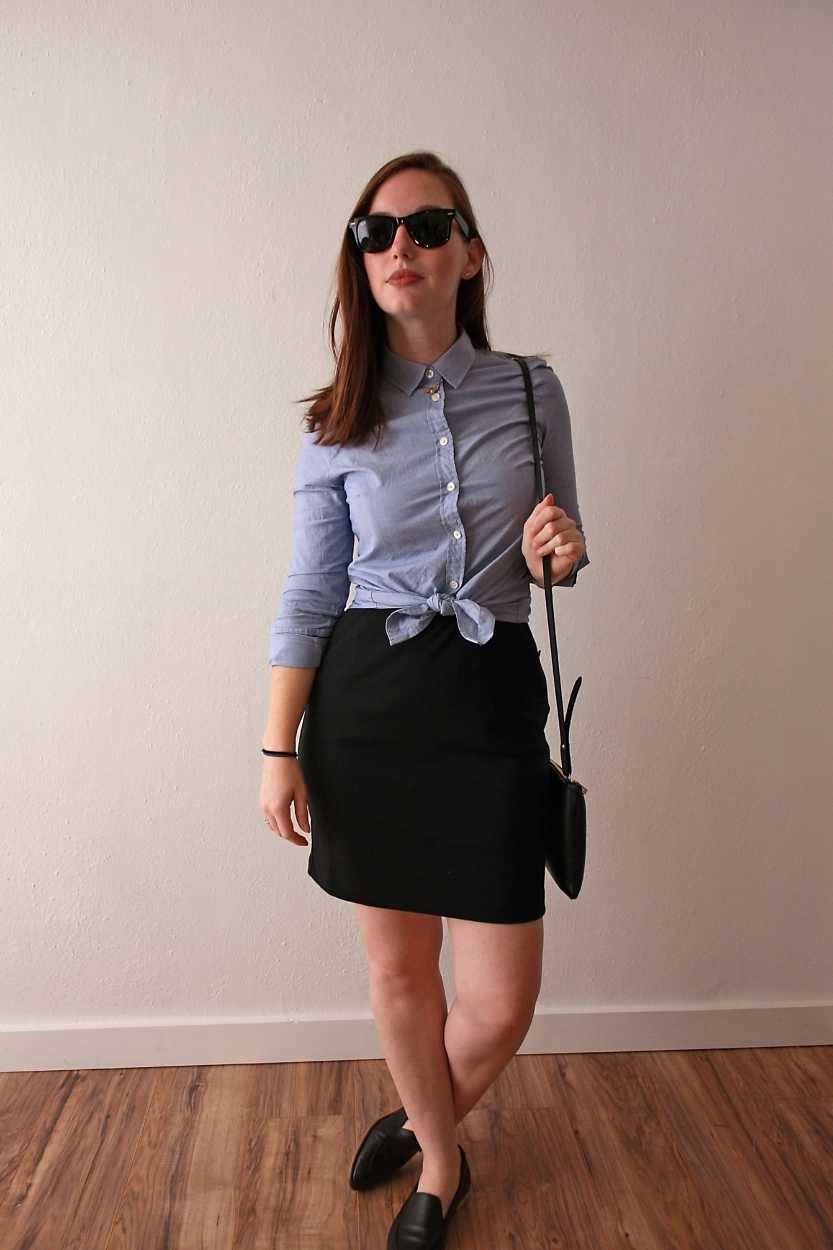 Outfit Details:
Ray-Ban Wayfarer Sunglasses
Bar Studs (old – linked to similar)
Button Down, Banana Republic
Bee Necklace (old – linked to similar)
Crossbody Pouch, Cuyana
Sheath Dress, Target
Loafers, Everlane (new to Everlane? Head here first for free shipping!)
I've worn this top with skirts on several occasions, knotted and tucked, but I can't believe I've never worn it over a dress. It seems so simple, and with the dress underneath I never had to worry about feeling uncovered. We faced another hot day today, with highs reaching into the upper eighties, so I rolled my sleeves. Since tying at the bottom gave it a cropped look, I buttoned it all the way to the top to keep the look modest. I chose a small pendant necklace to wear around the base of the collar to add a little visual interest. I was careful to choose a shorter necklace, as a longer one would compete with the contrasting buttons and the knot at the base. I kept my earrings simple as well, with just a pair of small gold bar studs. This is definitely an outfit I would repeat while traveling, though I'd probably unbutton the top some to keep it more casual. This would be a great outfit for visiting religious sites, as I could wear the shirt around my waist throughout the day and put it on to cover my shoulders. I am looking forward to wearing this in and out of the office on cooler days.
---
Item Spotlight: Banana Republic Button Down
I purchased this button down at Banana Republic a week before heading to France last summer. I looked all over for a slim button down top in this color that fit in the shoulders, bust, waist, and hips, and this was the best I could find. It's not perfect – the buttons gape open slightly when I reach outward, the top raises a bit when I lift my arms, and occasionally it forms itself into an air-filled hunchback. But the length is right, the color is right, and I don't completely lose my shape in it. I like the options of tying it and rolling the sleeves (the buttons are in a good position to roll them high or low if I'd like). I'm still trying to find the button down I feel best in, but this one is a decent placeholder for now.
---
Four more days to go! How was your Monday?