When we were planning our trip to Italy, I had one stipulation: "We have to stay in one of the Cinque Terre towns."
"What's that?" Michael asked.
I couldn't respond with words; I figured photos would do it better justice, so I pulled up images online.
"Wow, okay, let's go," he said.
The secret has been out for years now, and it seems that the five towns along the Italian Riviera have more tourists sleeping in them than locals each evening. We only had one night available on our itinerary, but we still had plenty of time to soak in the rugged Italian coastline, deep azure water, and glowing sunshine. The five towns are connected by sentieri (hiking trails), as well as a waterbus and trainline for quick transit, so it didn't quite matter which one we stayed in as we could access all of them reasonably quickly. Each town has their own personality, and we went with charming Manarola with not cars in the streets, but boats. Manarola provided a balance of amenities (a small market, a few restaurants) and quiet.
After checking in to our Airbnb, realizing we didn't pack hiking clothes and managing to assemble reasonably appropriate attire out of our carry on bags (leggings from Girlfriend Collective, Airism tank from Uniqlo, and white leather Converse for me), we set out on an ambitious hike from Monterosso al Mare to Vernazza (3.5 km), and then Vernazza onto Corniglia (4 km). However, when we went to purchase our Cinque Terre Card (you must show the card upon request while hiking the trails; we purchased the two-day option with unlimited local train rides for € 29 each) we were advised to stick to just one trail for the rest of the evening to avoid being out after nightfall. We were also informed that several trails along the Sentiero Azzurro, the coastal Blue Trail, were closed (map of closures as of summer 2017). We quickly restructured our plans, and hopped on the next train toward Monterosso, the northernmost town.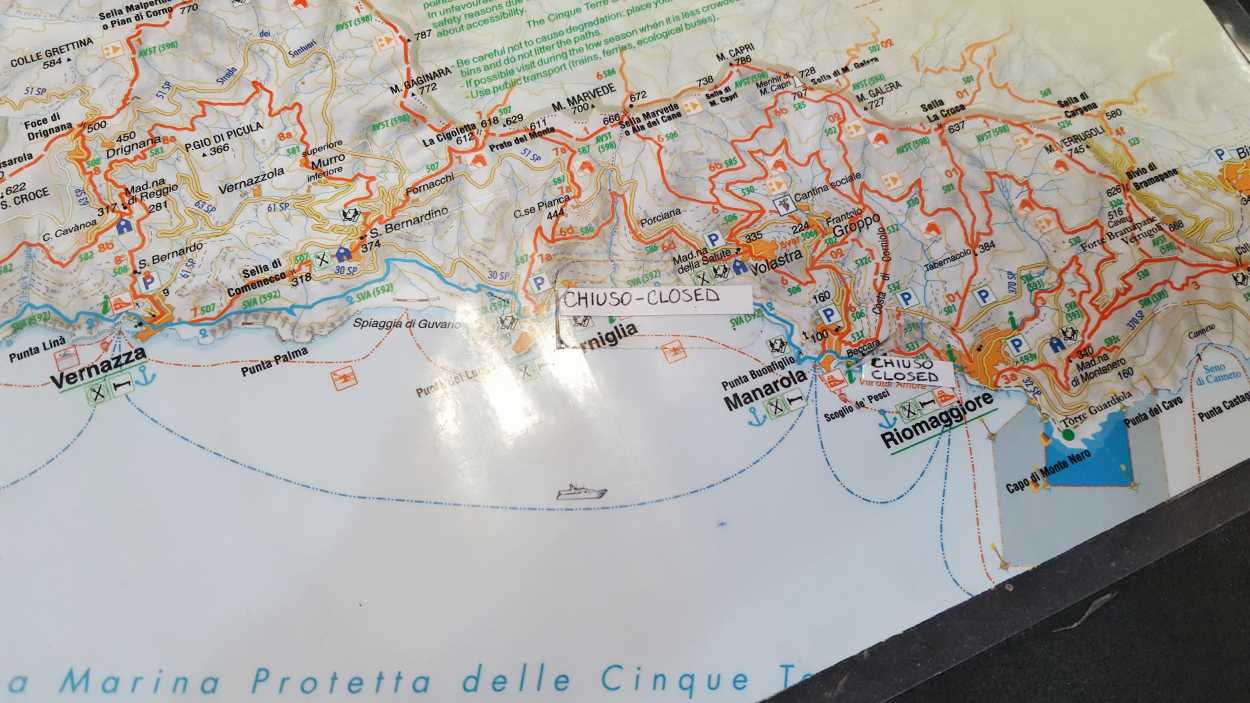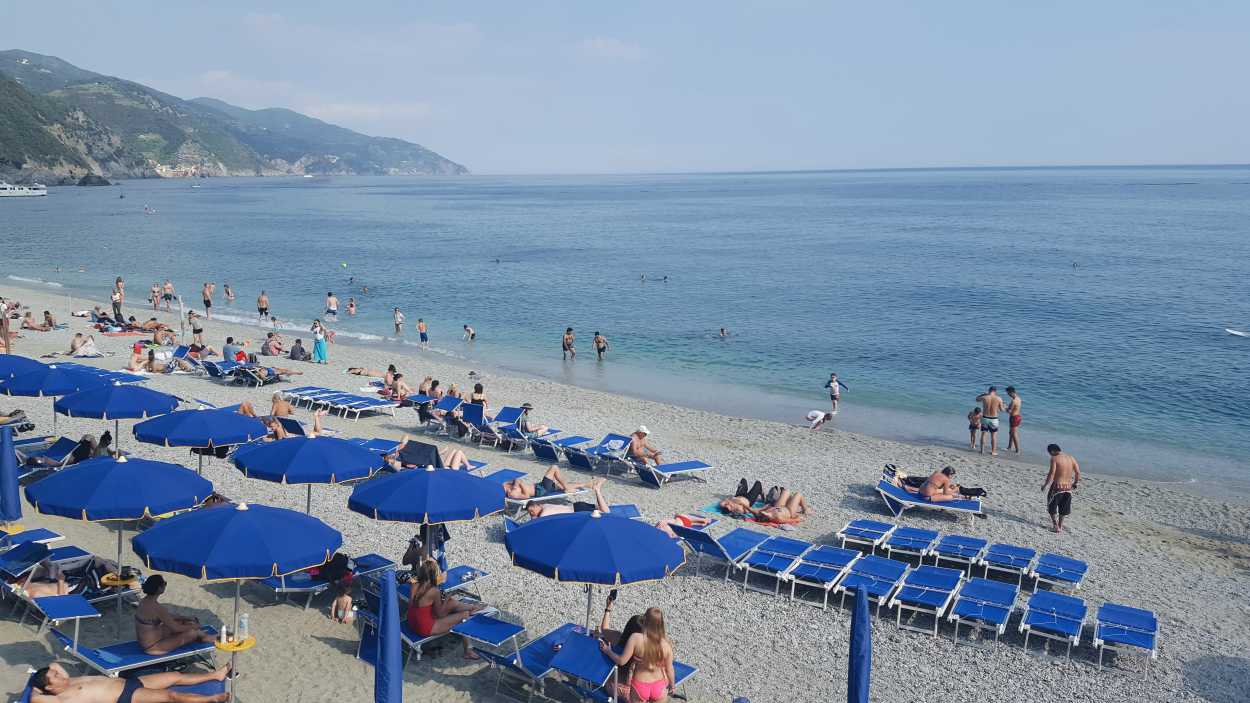 Once we exited the train in Monterosso, we saw signs pointing toward Vernazza and followed them from one to the next (some were very official looking, others were laminated signs swaying in the wind from tree branches). We figured we should eat a small snack before heading out, so we grabbed a foccacia from a stand to munch on and bought a large bottle of water. Eventually we reached the head of the trail, which started with what seemed like an eternal amount of stairs. We climbed, climbed, and climbed. The trail would even out a little, and then you would turn a corner only to be greeted by more stairs. We climbed some more until we heard a voice coming from the bushes on our left, "Limonata, limoncello, due Euro." Although we still had plenty of water left, and alcohol is probably a bad idea when you're in the midst of physical activity, we couldn't miss the opportunity to buy something from a man hiding in the bushes. We paid our € 4 for one of each item, downed them, declined buying a large bottle, and set back on the trail, each step now a little easier.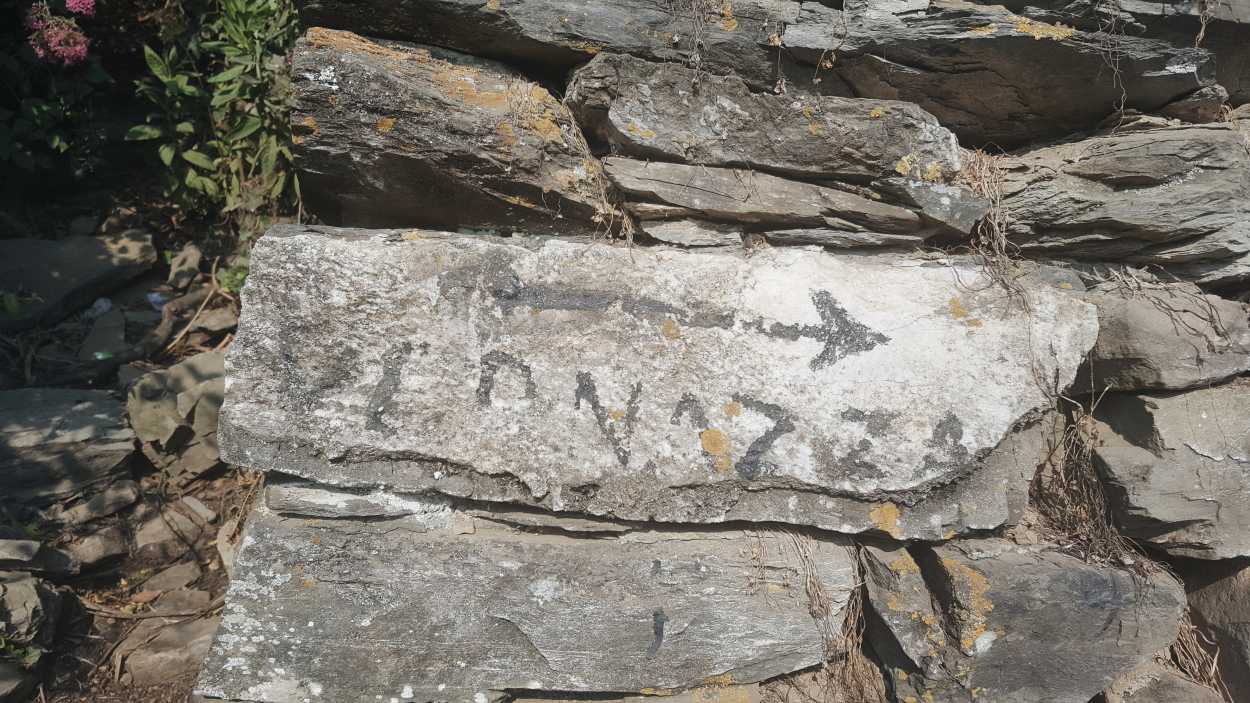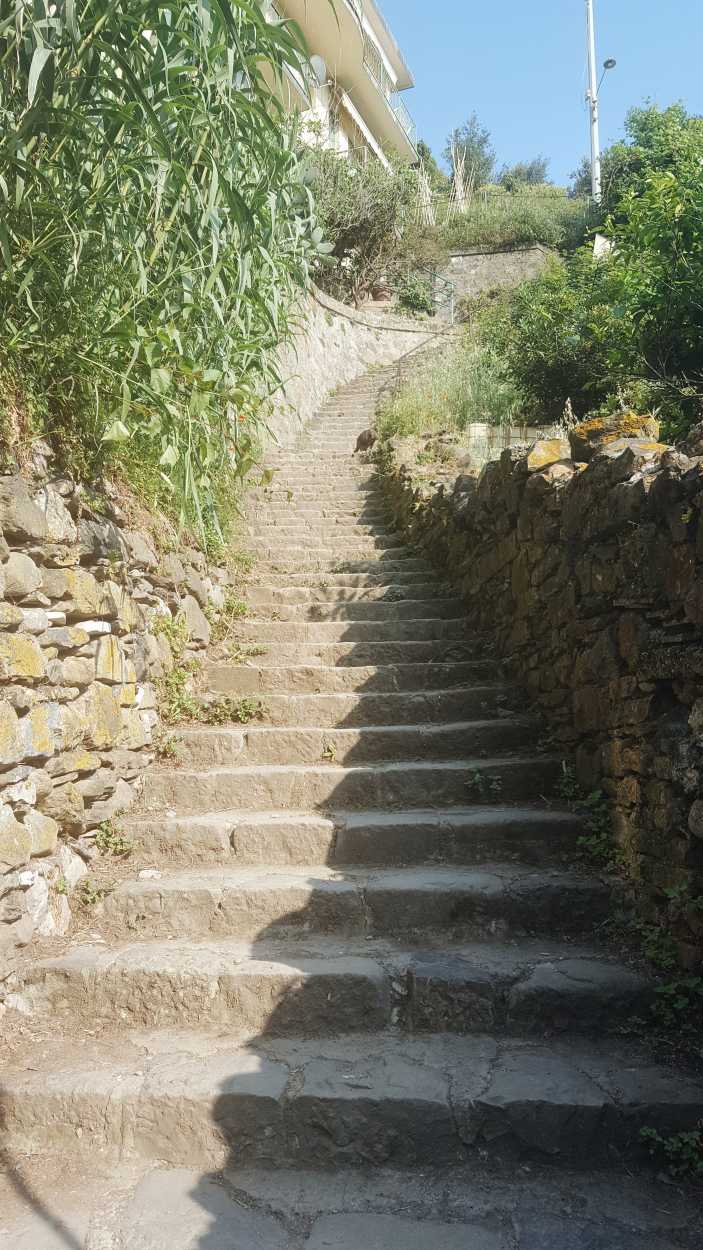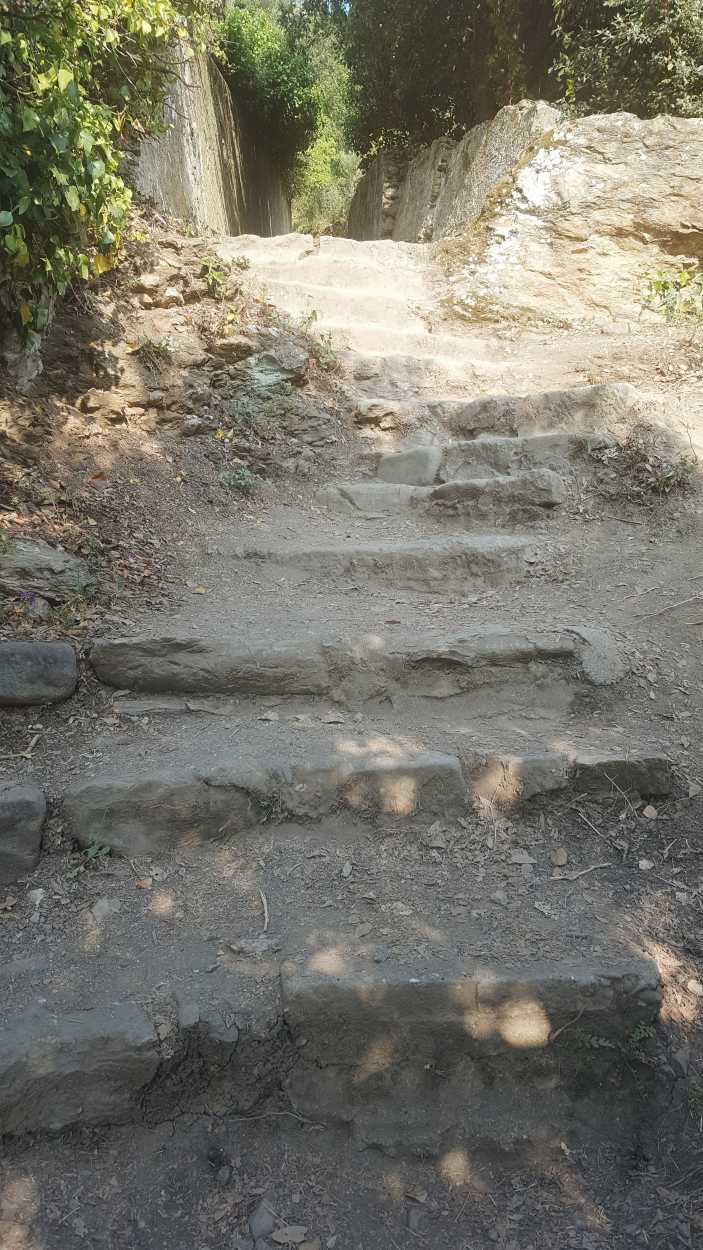 As it was later in the afternoon, the trail wasn't terribly crowded, the weather was cooling down, and everyone we passed was in great spirits. We encountered a French family in full joie de vivre-mode, teasing and laughing together. We passed each other several times on the trail, even though we were heading in the same direction. We took their photo; they took ours. Later we saw them again, climbing on shoulders to reach cherries in the trees (which you're probably not supposed to do, but…) and they gave us some, still warm from the day's sunshine. The mood on the trail was light, warm, relaxed, and fun, and we felt like we could walk forever.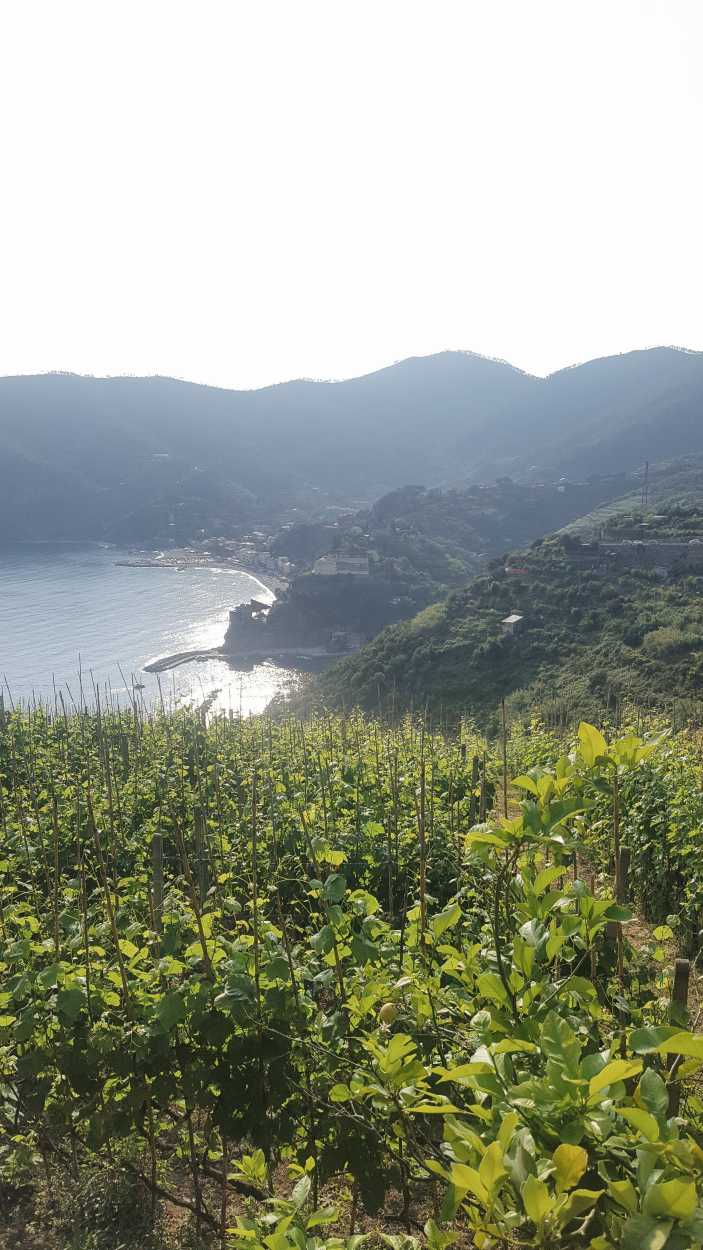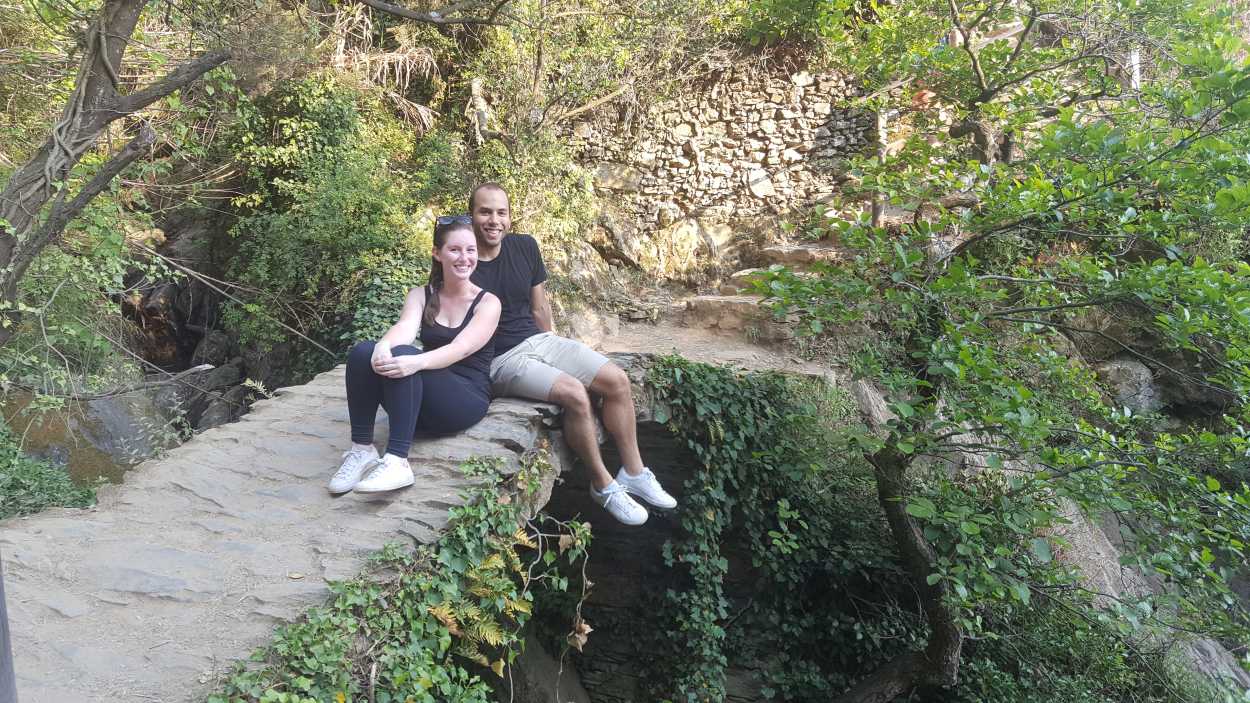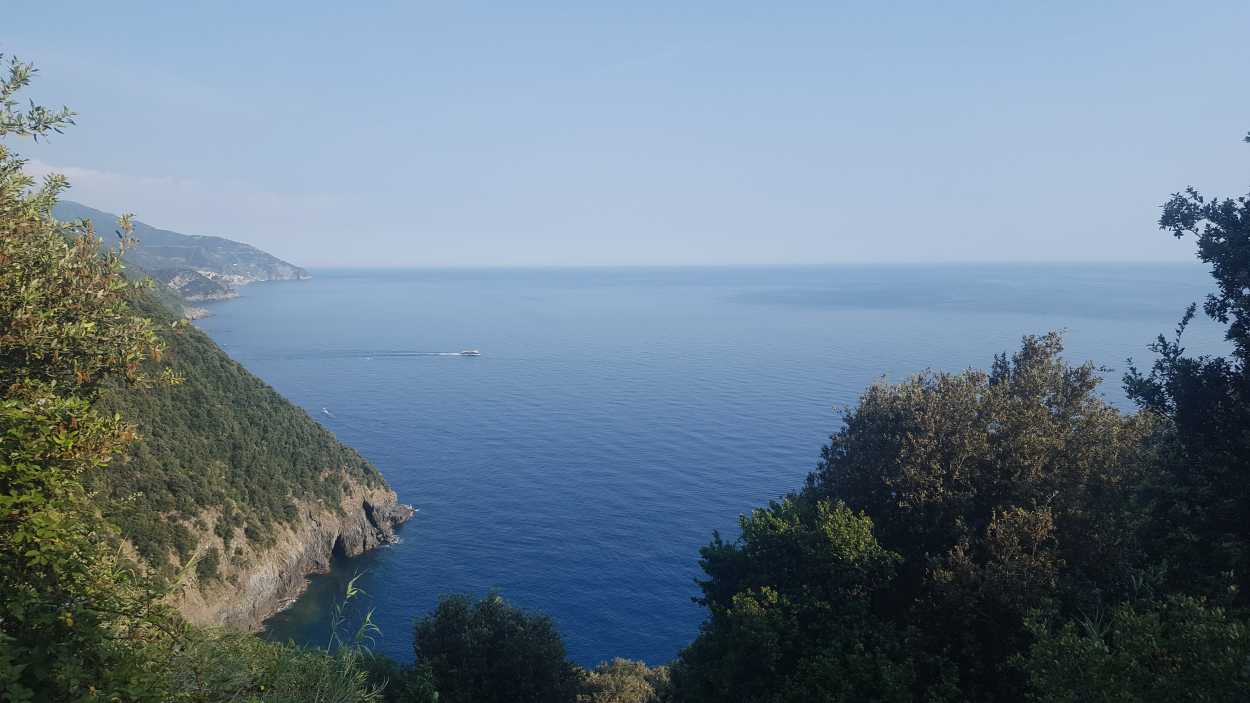 We saw a compound of small (like, really small) homes which we discovered were for cats in the area. There were bags of food and a setup for water along with instructions, but the cats were nowhere to be found at that hour.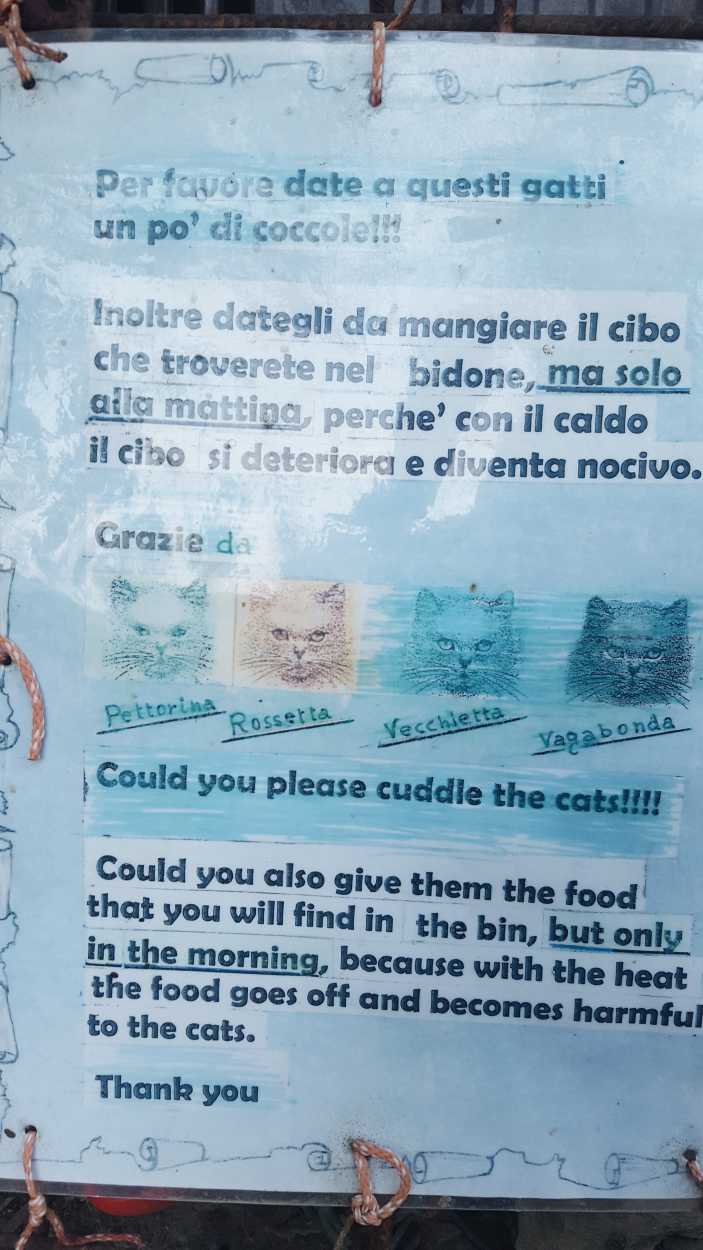 We kept walking. There are signs posted along the trail with reference numbers in case of emergency; since they were increasing in number we had no idea of how far we still had to go. Although we could see Vernazza across the water, the distance couldn't be relied on due to the winding of the coastline.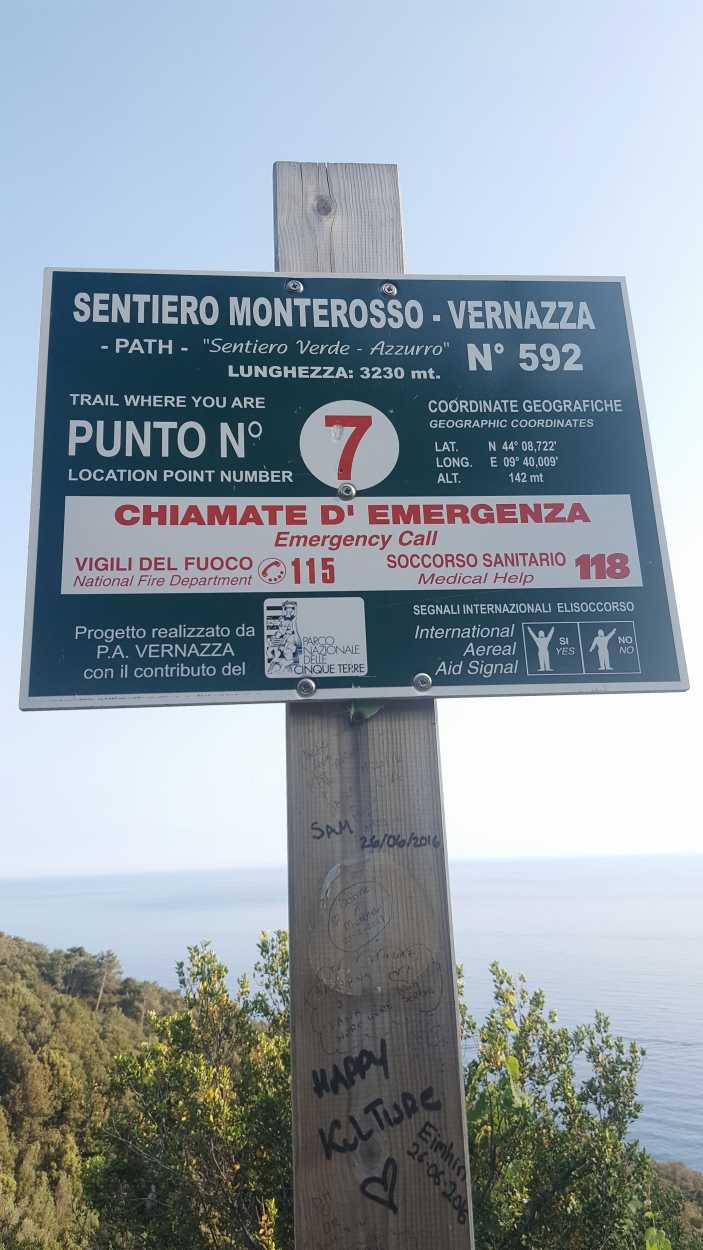 Finally, we reached it. The view was exactly how I'd read in The Everywhereist's book All Over the Place: Adventures in Travel, True Love, and Petty Theft, though thankfully we weren't sick along the hike! Vernazza was down below, pretty, petite, and shimmering down in the Ligurian Sea below.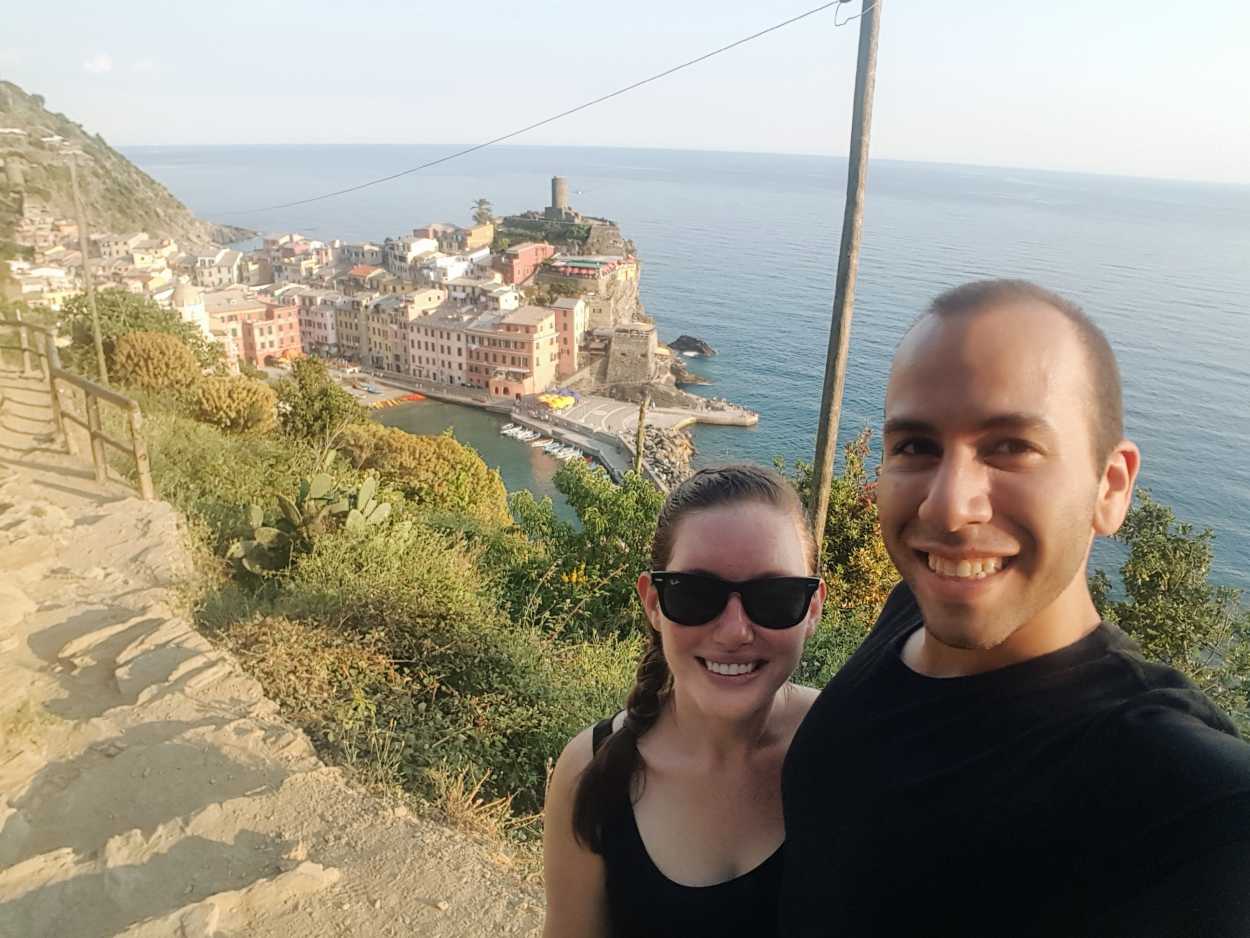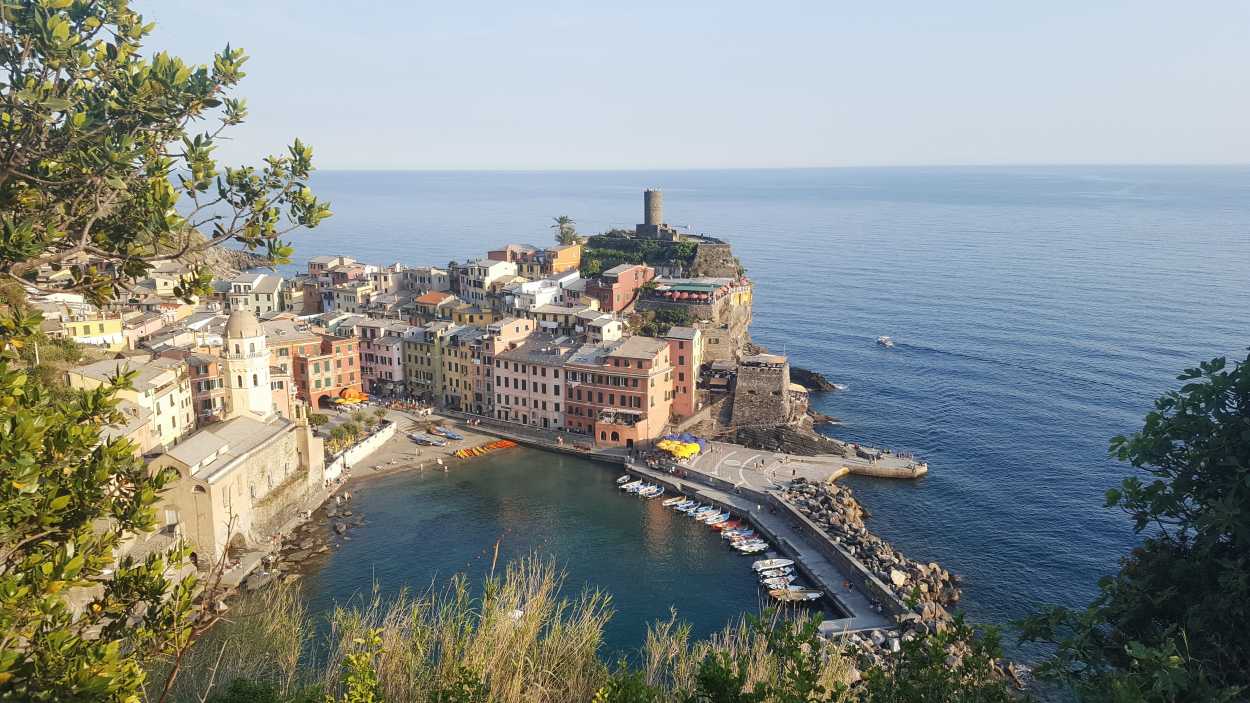 We snapped a few photos, though we had to wait for another couple to finish first. We walked the last bit toward the town, and rewarded ourselves with a granita before heading back to Manarola for the evening. The trains between towns run less frequently late in the evening (and restaurants close early-ish) so we set our own curfews to head back and get a well-deserved shower before dinner.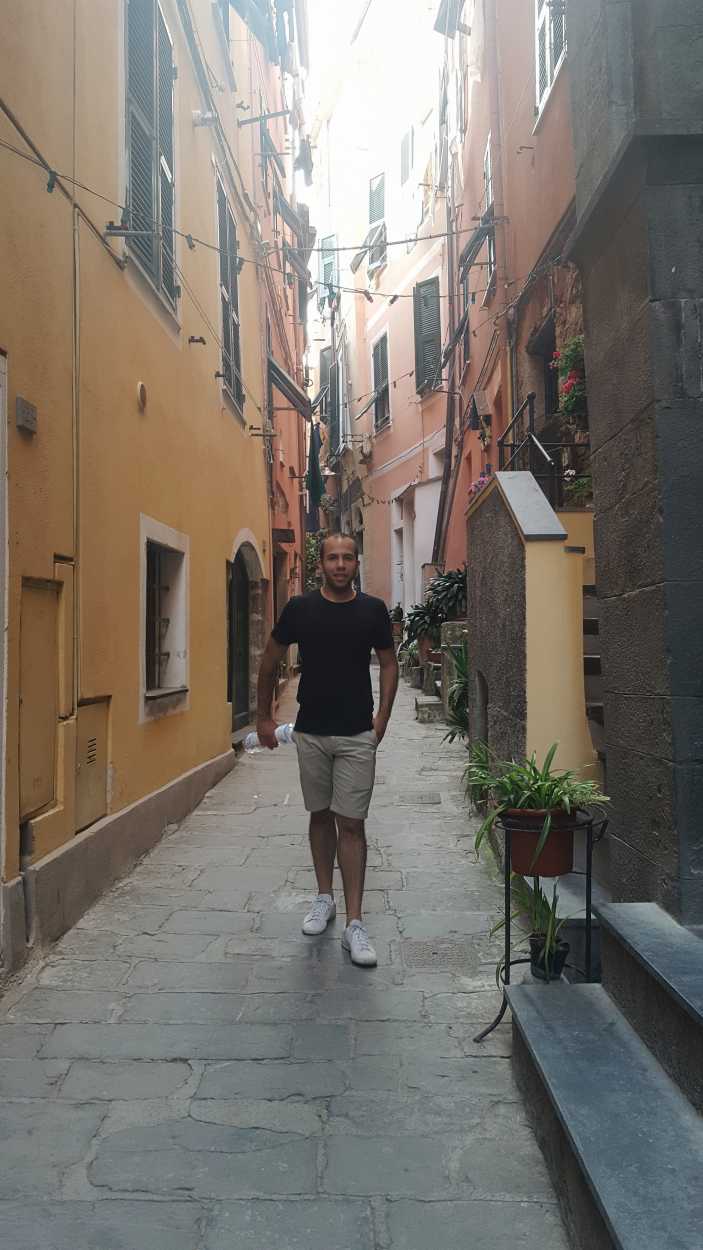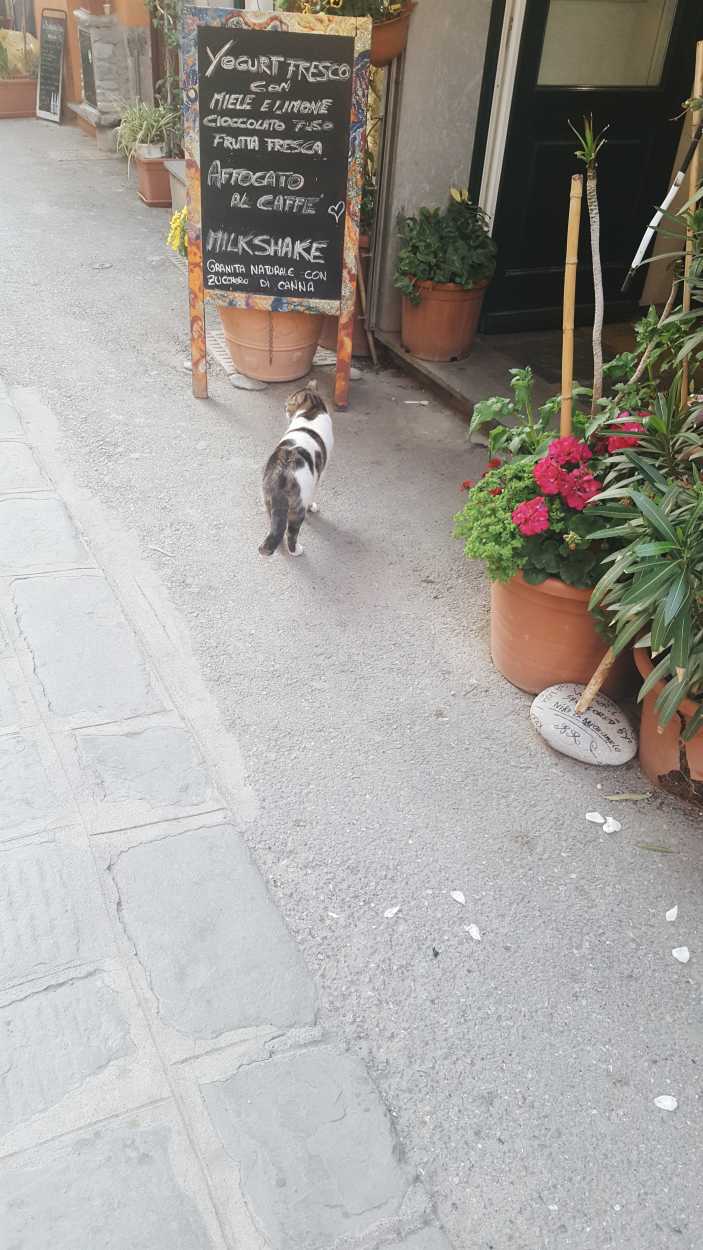 The next morning, we headed out for the second part of our journey, which you can read about in Thursday's post. See you then!
---
Have you ever visited the Cinque Terre, or any other Italian coastal towns? Which was your favorite (we are dying to go back!)?