I've mentioned ways we save to fund our trips before, but today I want to share how we go about finding airfare when we are booking flights for long weekends (or regular weekends) away.
Before I do, I want to let you know that we are definitely not experts on snagging the cheapest flight, and that things are always changing in the airline industry. What you won't find here are "hacks" like skiplagging or ways to earn points on airline credit cards, as we often don't have the time to spend chasing down those fares and deals. However, here are a few resources we've found helpful and things we've learned along the way when booking flights for a specific date, but not necessarily a specific destination.
When searching for airfares, there are three websites we use the most: Google Flights, ITA Matrix, and Southwest.
Why only one airline website? Because the other two are aggregators for other airlines. Both are Google-run, but both have their own separate strengths and weaknesses. Southwest does not allow their fares to be published on another site, so we always end up searching their flights separately. Here's how we use each of the three sites:
Google Flights is easily the most user-friendly of the three, and the one I recommend to friends who are just dipping their toes into air travel. When searching for specific dates, you can input up to five departure airports (we have five or six airports all within two hours' drive, which we're willing to do if we're taking a direct flight), and set the destination option as general or specific as you'd like. You can adjust preferences such as price, times, and duration and click around the map to get pricing for different cities. Of course, you can use it to check flights to a specific destination as well; there is a feature where you can select your departure and destination, and select the length of stay. The website will then provide suggestions for the lowest-priced dates for that trip. Google Flights does have its limitations, however, since you can't select or exclude certain airlines and it doesn't seem to always show all fare possibilities. Despite this, it's still our first stop when looking for a flight, especially to a larger city.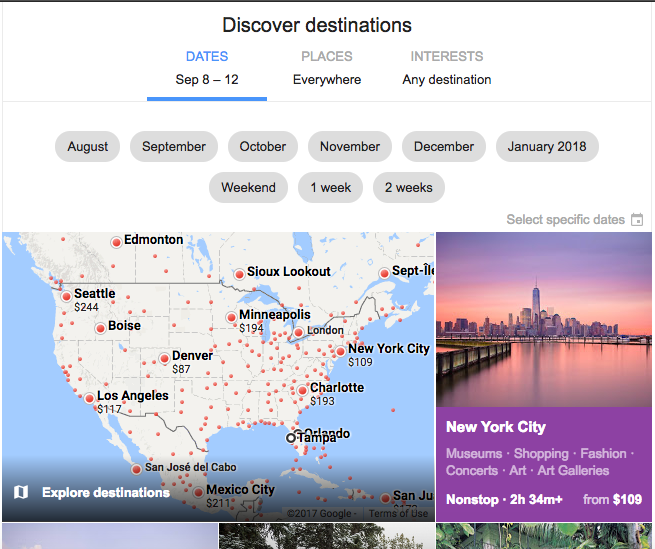 ITA Matrix is also a Google-run platform, but this site is clunkier (in fact, when searching for flights, there is a pop-up that appears encouraging you to use Google Flights for faster results) and not necessarily intuitive. That being said, it allows for more departure airports and destinations and makes it easier to select nearby airports. ITA Matrix also provides a nice calendar of fares spanning one month, if you request that data when searching. The downside is that it is really slow, and it often crashes when you give it too much data to sift through. I prefer to use it when I'm trying to link together two one-way flights, or when I want to fly an open-jaw route (into one airport, and out another). It also seems to find more possible routes when I've finally narrowed down my destination.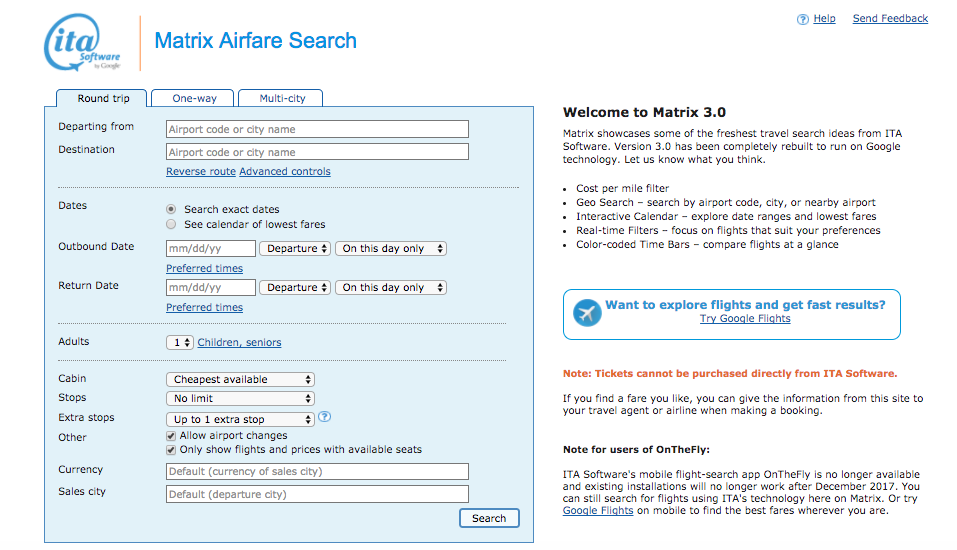 The final site I visit is Southwest. As I mentioned, they don't allow their fares to be published online, so you won't find their prices anywhere else. I've found their flexible dates feature helpful, though the part of the site I love the most is the Getaway Finder, which works much like the Google Flights map search since the map used is Google-based. For whatever reason, they've removed the link from their site, as well as any mention of this feature, but somehow this link still remains active (annnnnnd it's gone). You can select your departure airport and dates, and adjust the price to within your range before selecting a city to fly to. From there, you'll view all fares for that day. Southwest is one of the few airlines that still allows free checked bags, which is a positive point for many. There are weird quirks to flying them however, mainly their open seating policy and sad snack offerings.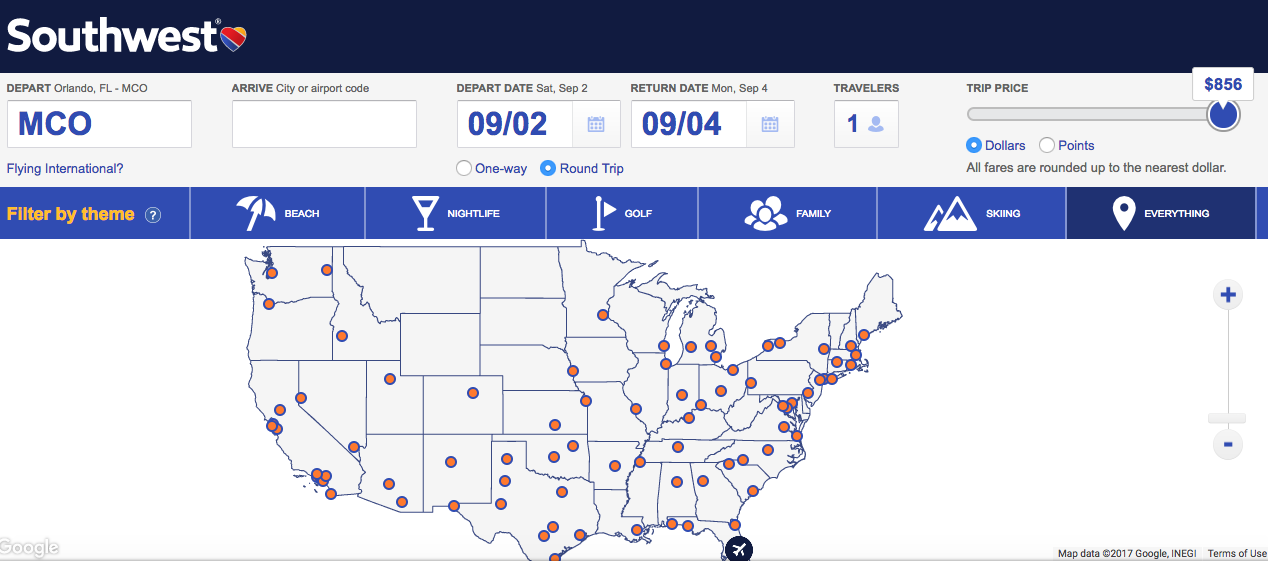 Other tips for searching for cheap airfare:
Set a maximum price for your flights. This will, of course vary by your budget and lifestyle, but our threshold is typically $150 for an overnight trip, $200 for a three-day weekend, $300 for a longer trip (across the country or to Canada, Mexico, or the Caribbean), and $600 or so for a trip across the Atlantic (or the Pacific, but we haven't done that yet!). Give yourself freedom to modify, because you don't want to miss out on a great opportunity over $20, but try to stick to your budget when possible.
Take any extra fees into account. Spirit, Frontier, and Allegiant are all known for their fees, but even the legacy carriers are joining in on these bare-bones tickets by tacking on extra fees for certain amenities on some of their fare tiers. It's always best to do the math before you click "purchase," as you may end up spending more in the long run. The only low-cost carrier we've flown is Allegiant, and only when we are gone for a short time and we can share a carry-on suitcase. Spirit and Frontier may receive our business one day, but we just haven't seen a good reason to fly them yet so far.
Keep looking, but spring for the fare when you see one at your price point. I've regretted waiting too late to buy a ticket, and suddenly the price jumps and we miss out. Usually it's fine and we just pick another destination, but when your gut says go, just go for it!
There isn't necessarily a "right time" to buy a ticket. We've all heard that "flight tickets are cheapest on Tuesdays" but I haven't found that to necessarily be the case. Sometimes the deal is there, and sometimes there just isn't a deal, like during the holidays or peak summer travel. What I have seen, though, is that Tuesdays, Wednesdays, and Saturdays are often the cheapest days to fly. We also have found that three-to-five weeks out for a domestic flight and three months out for an international flight is our sweet spot for both cost and trip-planning time.
When booking an international flight on an international carrier, check in the local currency. We've saved $100+ when booking flights on Norwegian Airlines in kroner rather than dollars simply by using the Norwegian version of their site.
Keep checking the fare after you book. You'll want to read the fine print, but most airlines offer a free cancellation within twenty-four hours after booking. If you see a cheaper fare, rebook and then cancel your first flight. Many airlines charge exorbitant change fees (except Southwest) and it's often not worth it to do so after that cancellation window passes.
All this being said, be mindful of the cost of your time. Flying to an airport sixty-miles away from your destination may save some money, but it will cost you in both time and transportation. Layovers and parking an an off-airport lot can save you money, but you are losing out on valuable vacation time. We've done all of these things, but have only found that it's worth it when taking a really long overseas trip and we've been able to save several hundreds of dollars by doing so.
* Note, this post is not sponsored or affiliated in any way; just sharing our method of searching for flights!
---
What are your favorite websites for searching for flights? Let us know if we've missed anything!