By now I'm sure you know all about the TSA's rules for bringing liquids in your carry-on (and in case you haven't heard, I'll go ahead and mention it anyway so you don't feel awkward). Often referred to as the 3-1-1 rule, in order to bring most liquids into the cabin of an aircraft, they must be in a container of 3.4 oz/100 ml or less, and they all must fit into one quart-sized bag, and each person is allotted one bag.
When packing for the first time under this new rule, I felt anxious looking at all of the full-size shampoo, conditioner, face wash, body wash bottles, etc. staring at me in my bathroom. I went out and bought the cheapest empty travel-sized bottles and packed them into my store-brand quart bag, and stuffed it full with all of my "essentials." It was a disaster. The bottles leaked, and the bag ripped, spilling into my tote bag. I can list many different things I would rather be doing at the start of my vacation than cleaning my things, many of which I didn't even need at all.
Well, lesson learned.
These days, I keep things simple. I bought a sturdy, reusable quart-sized bag and nearly everything in that bag stays inside after I return home, making it that much easier to pack for my next trip. While lots of people choose to buy refillable bottles for travel (and I'm sure there are much better ones out there on the market), I haven't bothered trying again. Instead, I use any product samples I receive in magazines, beauty boxes, and free-with-purchase deals. I keep these packed in a container ready to pick from when I've run out of an item in my quart bag. I particularly love little foil-pouches for overnight trips as once you've used it, there is one less thing to put back in your bag (you just have to remember to add another one in before your next trip!). Traveling with samples has worked well for me, but there are times where the products I have on hand exceed what I'll need in my travels for the next few months. When this happens, I try not to acquire any new ones, use up what I have already, and make sure to never place a half-empty bottle back in my storage bin.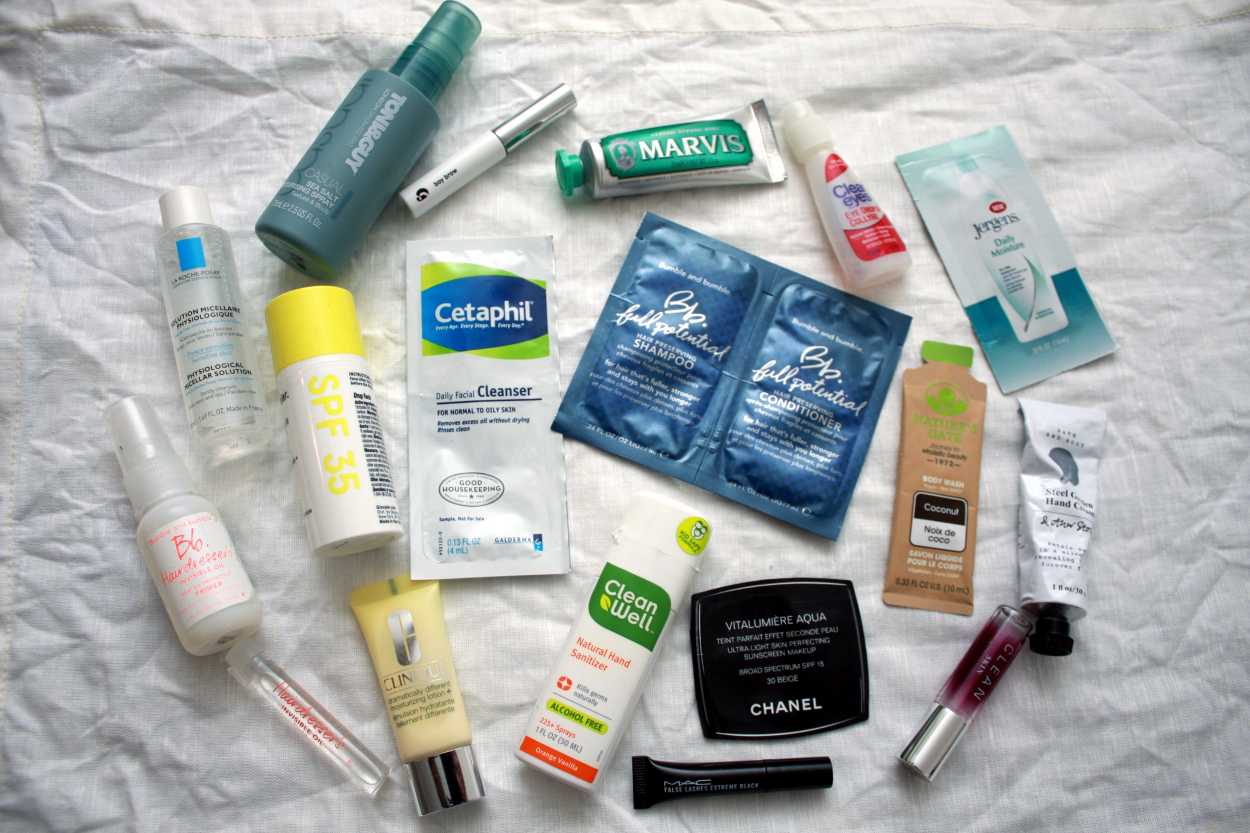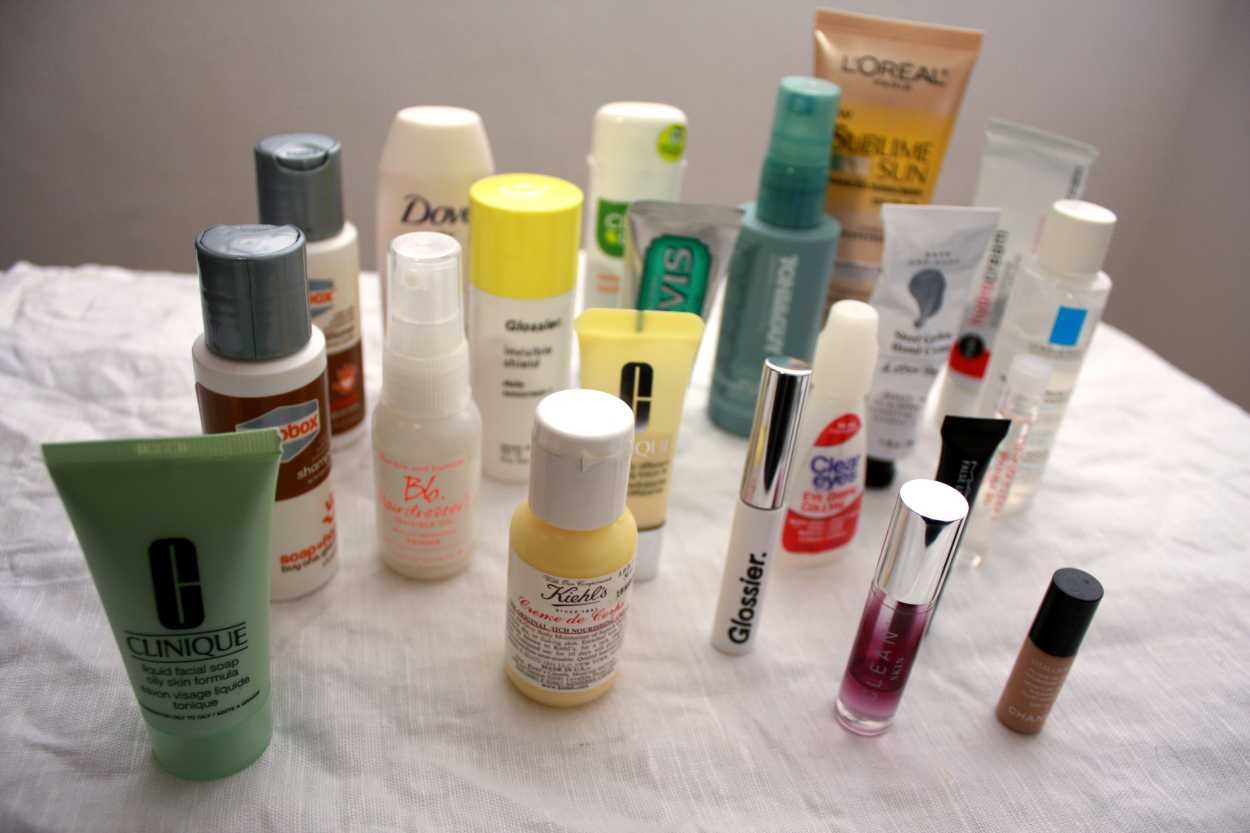 For my must-have things that I use daily at home, I try to snag a miniature version of the product when the maker is running a sale, and refill it out of the product I already use.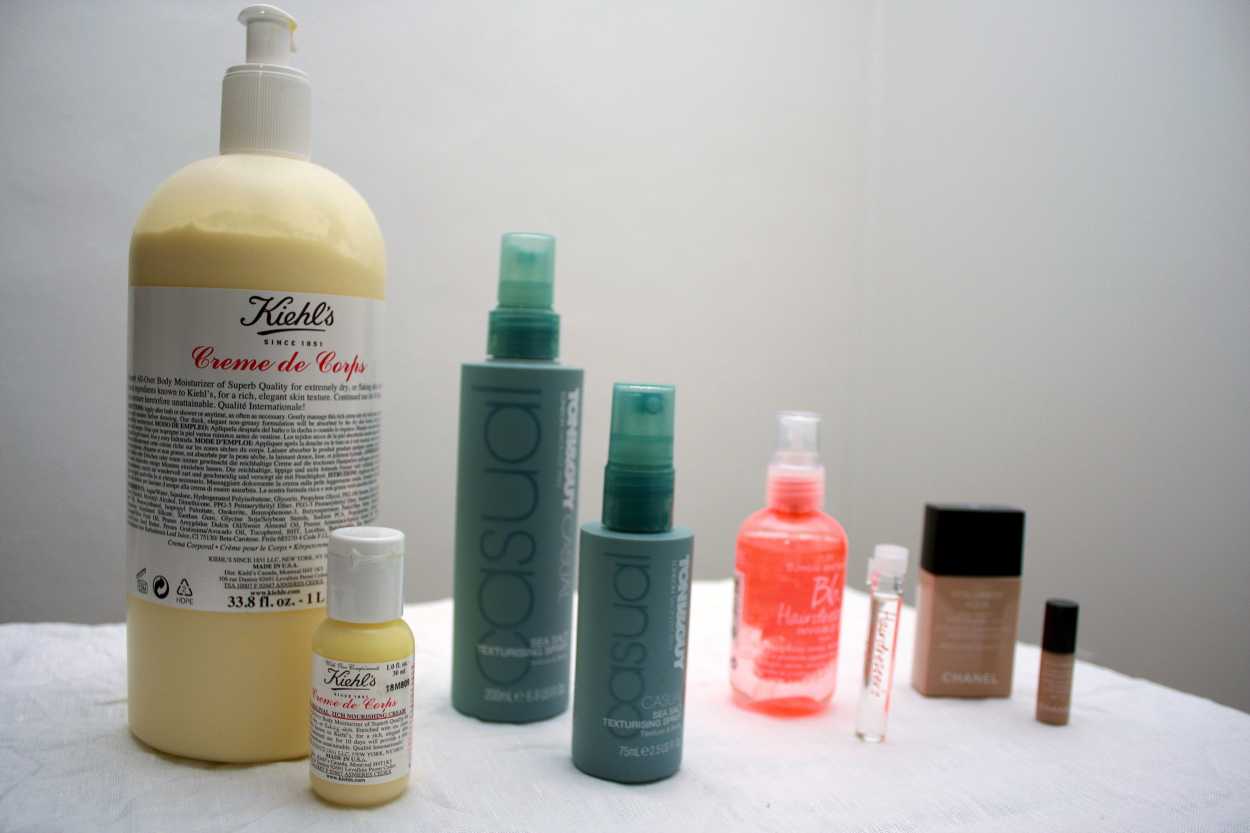 So what's inside my bag this summer? (note, some links go to full-size products)
You can go ahead and disqualify me as a minimalist packer because I've listed three different lotions above, but packing all of those items works for me as I want to be able to feel as comfortable on the road as I do at home. That being said, there are lots of things that seem essential at home, but for me they're really not. So what's missing from my bag?
Serums, oils, night creams, day creams, etc. My routine at home is fairly minimal, but I often alternate or layer skin products each day. However, when we're on vacation, I keep things as simple as possible.
Nail polish (you won't find me sitting in my Airbnb in Paris painting my toenails, that's for sure!)
Liquid eyeliner, roll-on deodorant, lip balm in a squeeze-tube, aerosol dry shampoos, etc. These are items available in non-liquid forms, so when I find a non-liquid version of a product I love, I take full-advantage!
Other first-aid ointments and creams. These are usually just used in an emergency, and many hotels and Airbnbs have them available.
Bug spray. Unless I'm going to a tropical location or one that has the potential for Zika, I leave this at home. If we encounter bugs, we can always pick some bug spray up at the drugstore.
The rest of my toiletries are packed separately in other small pouches, and I place them all into my "personal item" (a Longchamp Le Pliage Tote, in case you're wondering) for easy access while at the airport. Fortunately, though, we no longer need to worry about pulling out our liquids bags and setting them in the bin, since we have TSA Precheck included with the Global Entry program.
---
Have you ever struggled trying to pull together your liquids when carrying your bag on the plane? What are your tips for surviving the 3-1-1 rule?