Hi 10 x 10 Friends! Three days down, seven to go. I've really enjoyed seeing everyone's item choices and outfit combinations so far (although I think my favorite ones are always towards the end of the ten days, where we all have to get a little extra creative to change things up)! At the end of every post in this series, I'll highlight a few accounts and blogs I'm loving. Honestly, that has to be my favorite part of this challenge – getting to discover a really awesome community of women (and occasionally men) from all over!
Things have gone pretty well over here, with one workday and two weekend days under my belt. My outfits were all pretty low-key, since I lead a pretty casual lifestyle on the weekends and get to enjoy casual Fridays at work. So let's see how things went for the first three days:
Friday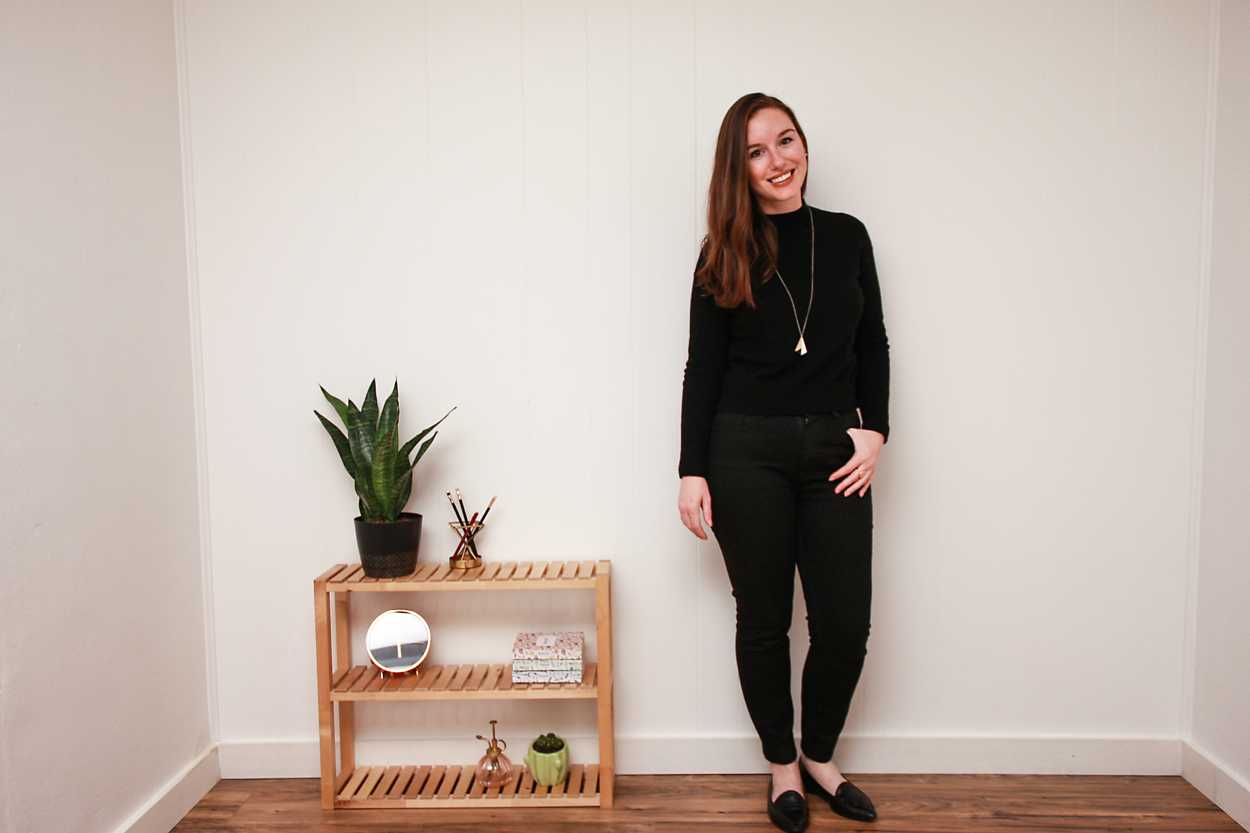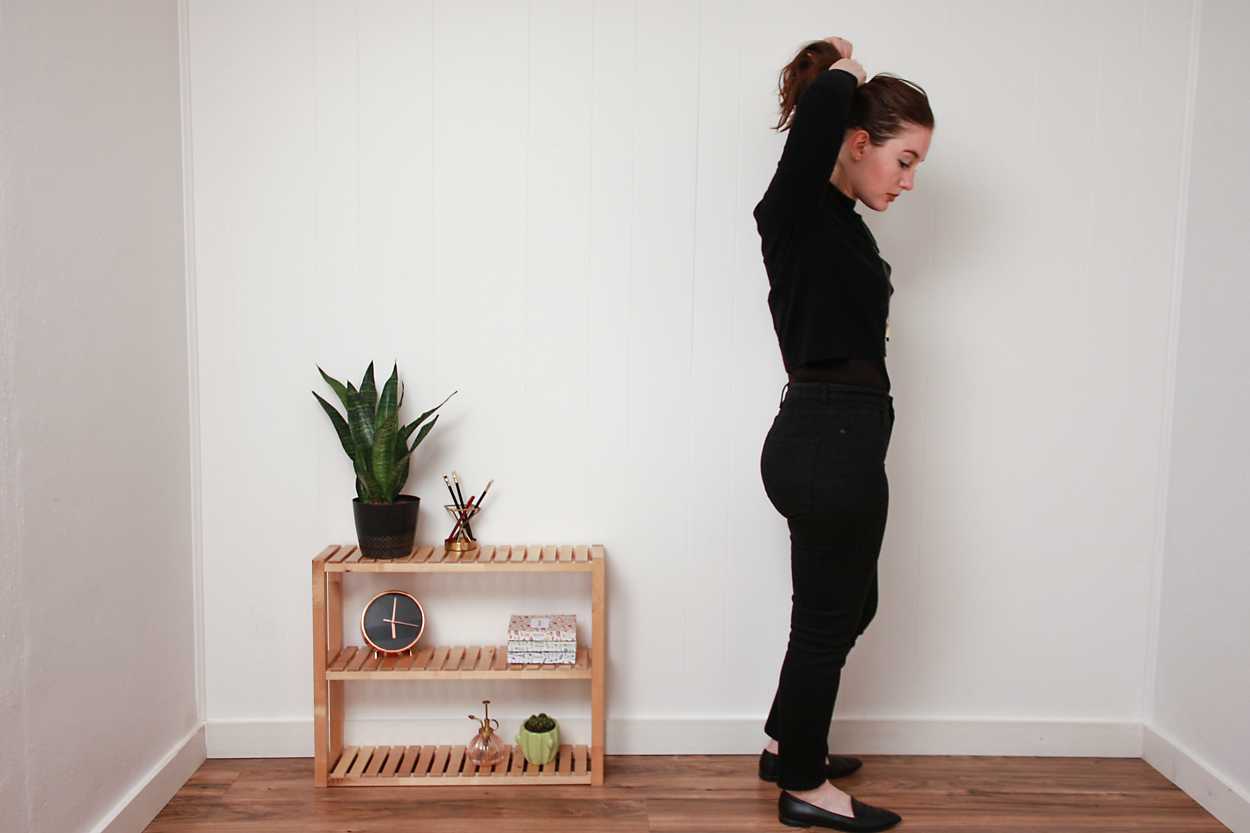 Every so often I have an unintentionally #everlaneheadtotoe kind of day, and Friday was one of those days. Part of my personal challenge was to incorporate more cropped styles into my everyday wardrobe – even at work – so on Friday I wore my cropped cashmere sweater with high-waisted jeans and pointed flats, and all black to keep it sleek. To make sure my sweater was work-appropriate, I made sure to wear an undershirt (this one, from Uniqlo), as my midriff would show if I raised my arms.
Below you'll see a photo of my outfit at the start and end of the day. Despite the fact that the only skin showing was my head, hands, and ankles, I felt a little exposed because my hips, my widest part, weren't "broken up" with another layer. My jeans began to grow a little uncomfortable due to the combination of eating meals and being seated throughout the day, and I felt self-conscious that my sweater wouldn't quite cover my stomach. Standing, however, didn't cause any issues. Would I wear this again? Yes, but probably only on days where I'd be mostly standing.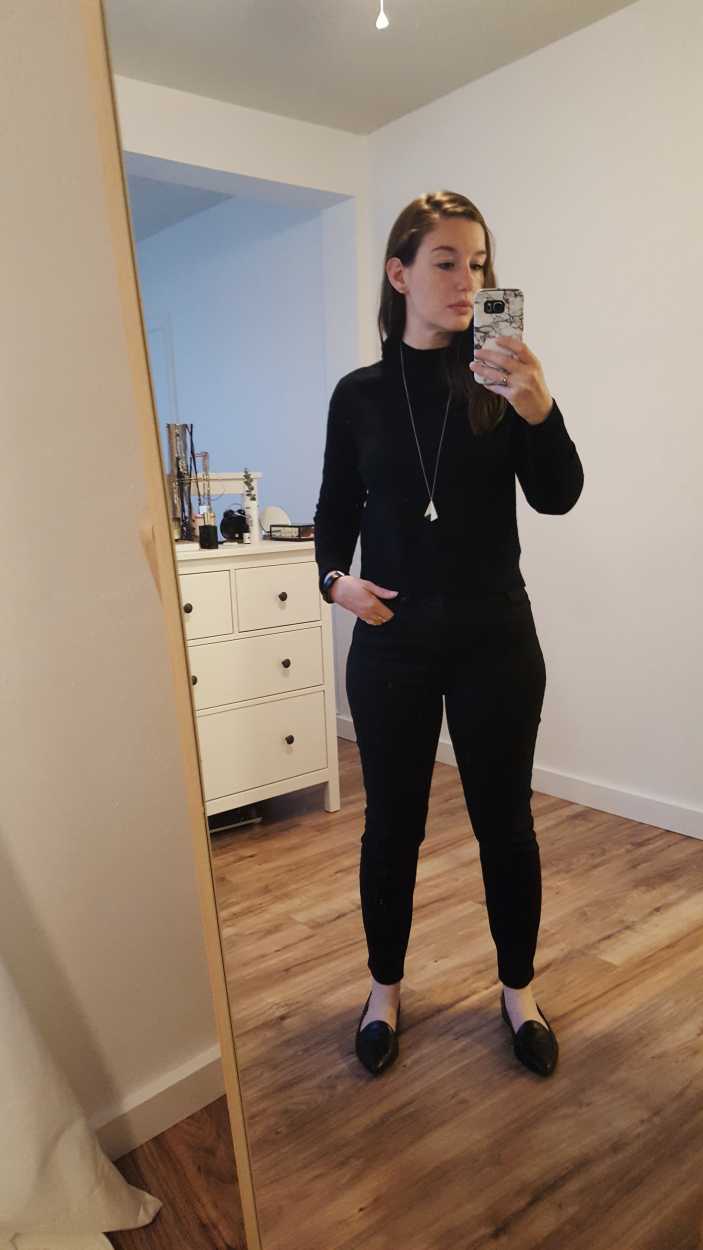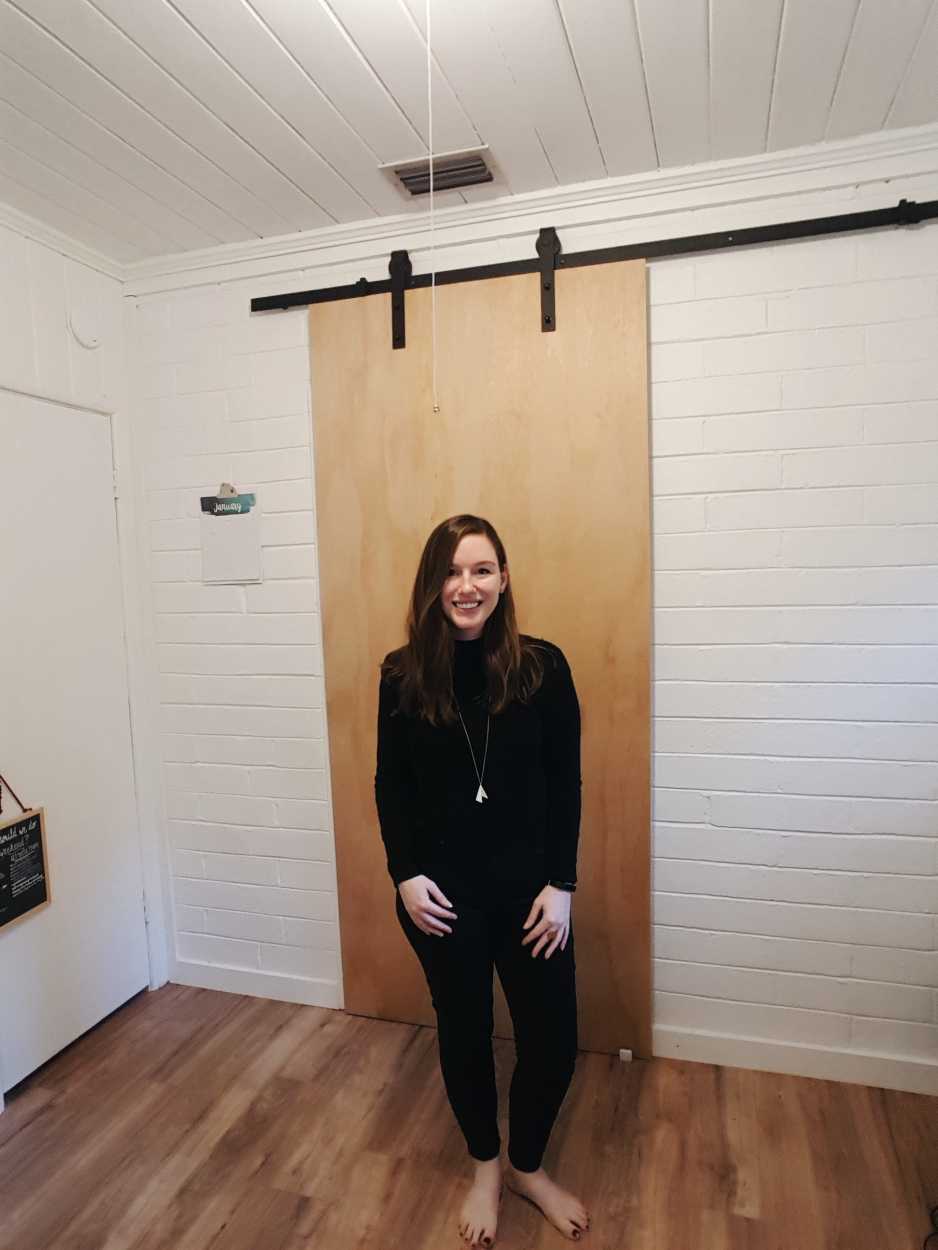 Outfit Details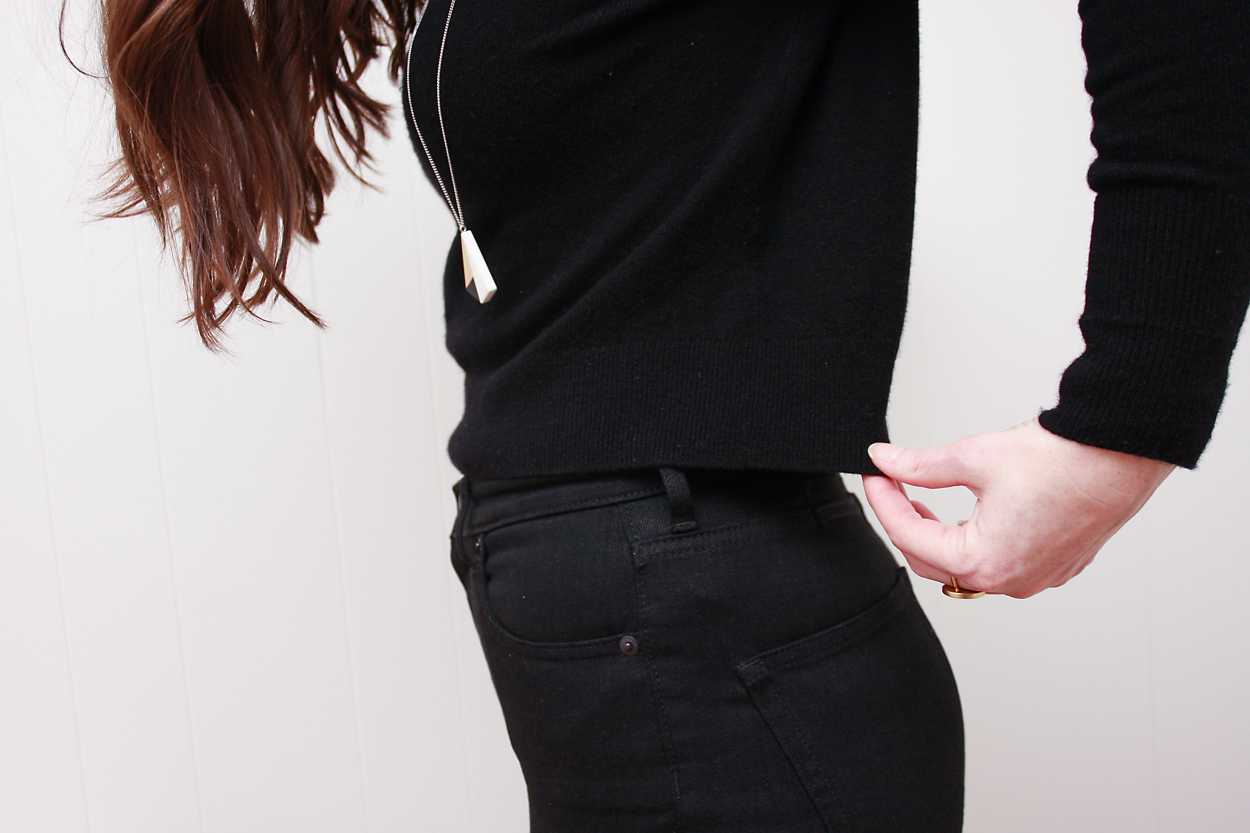 Cashmere Crop Mockneck | Black | Everlane (new to Everlane? You can click through our referral link here for free shipping on your first order)
High Rise Skinny Jeans | Black | Everlane
Modern Point | Black | Everlane
Array Necklace | Timberline Jewelry
Circle Ring | Madewell (similar here)
Herkimer Diamond Studs | Saressa Designs
I love that this sweater hits at the smallest part of my waist, which makes it more figure-flattering, despite its swingy shape. To keep with the outfit's more "artsy" feel, I wore a long necklace made of upcycled furniture remnants, wire-wrapped stone earrings, and a large but simple ring. I often wear longer necklaces; they're said to have a slimming effect. Here, where my waist and hips were highlighted, I thought it was necessary.
Item Spotlight: High Rise Skinny Jeans from Everlane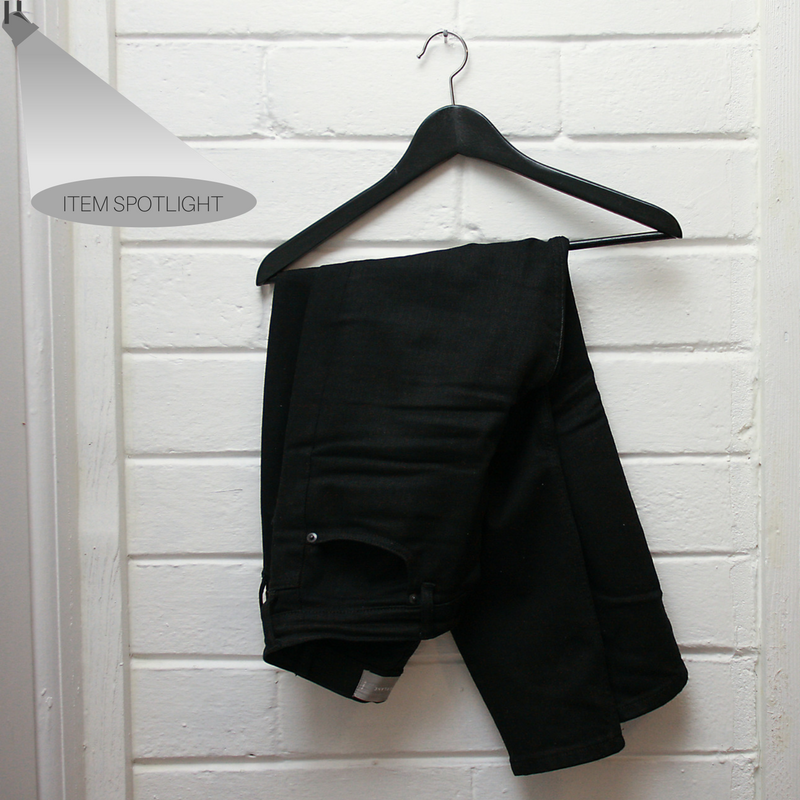 Search "Everlane Denim Review" and you'll get over a million results. People love them and people hate them. I'm kind of lukewarm on the jeans I bought. I've never had good luck with denim due to my waist-to-hip ratio, so finding a pair that wasn't so baggy at the waist yet constricting on my hips was an immediate victory. I've had these jeans for several months now, but still can really only pull them off on days where I plan to spend most of my time standing (I can definitely understand why they don't have their models actually sit for the photo shoots). I also eventually had them tailored at the waist, as that part of the jeans began to stretch out of control while the rest remained the same. Two darts added at the back helped with the fit of the jeans standing and sitting, but I definitely don't reach for these when we expect to be flying anywhere. I ordered another pair of the jeans in the mid-blue wash (in a size down) to see how I felt, and while they technically fit, I never took the tags off. I think that's a good sign that those need to be returned.
—
Saturday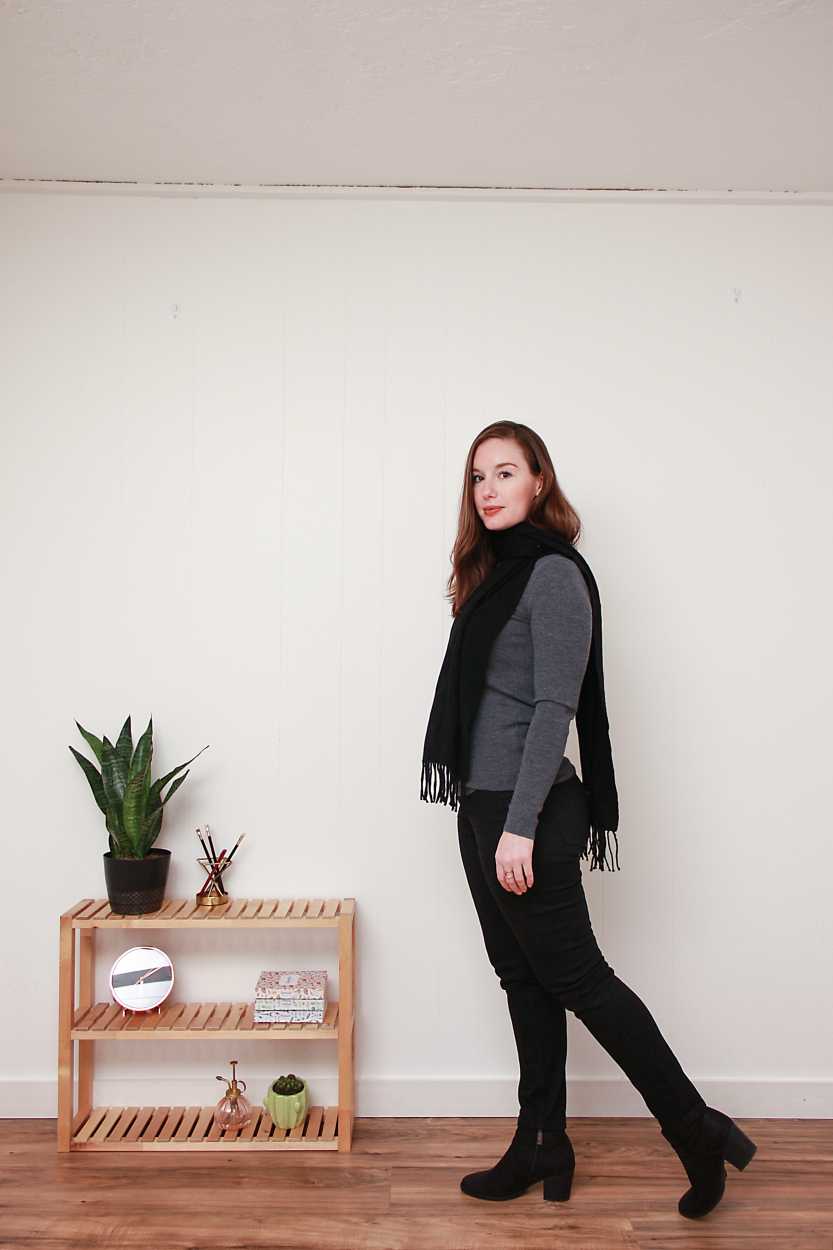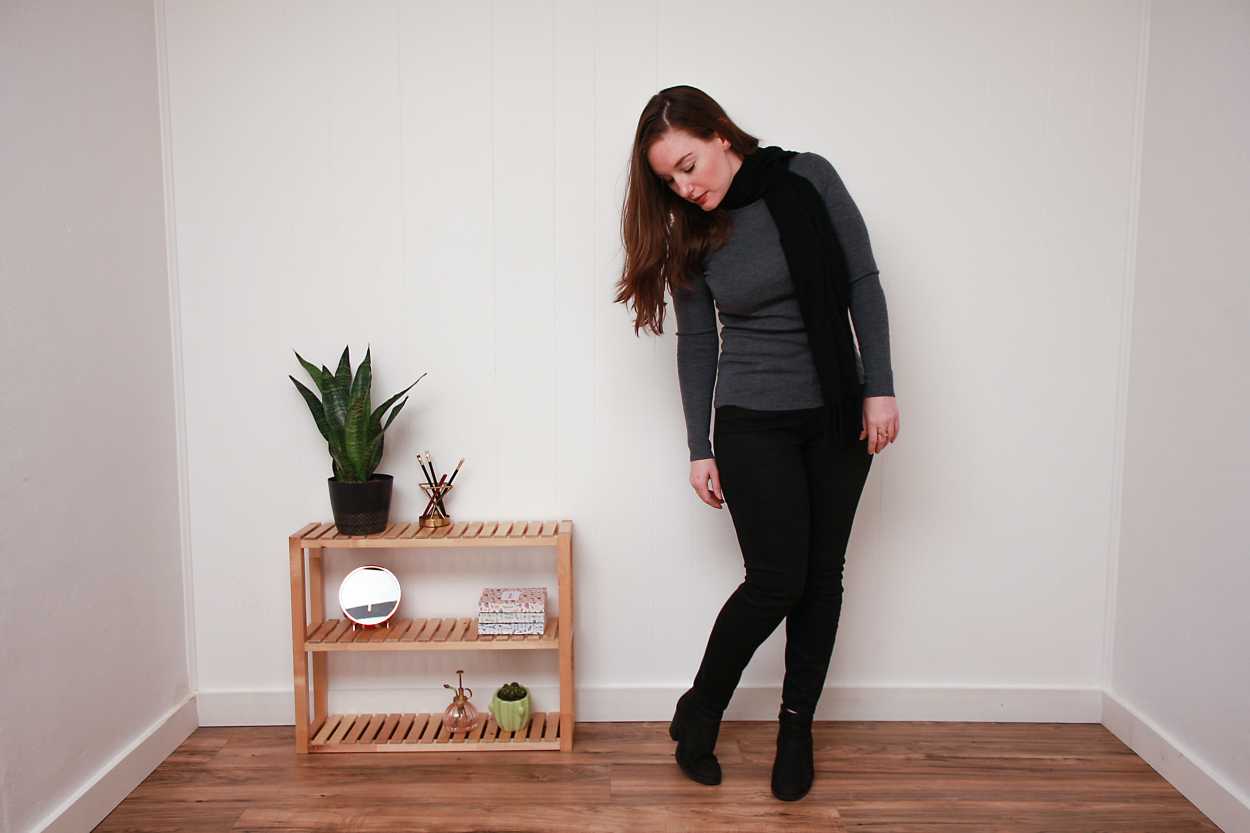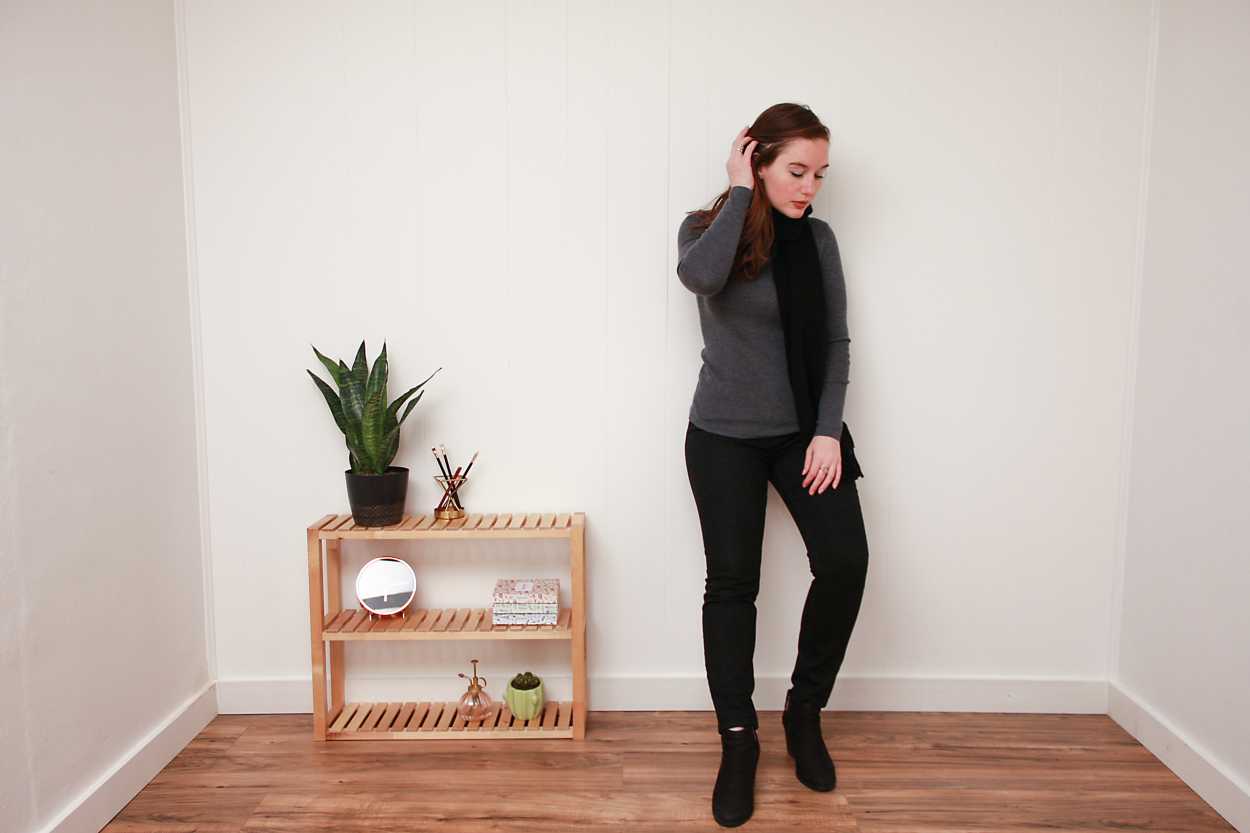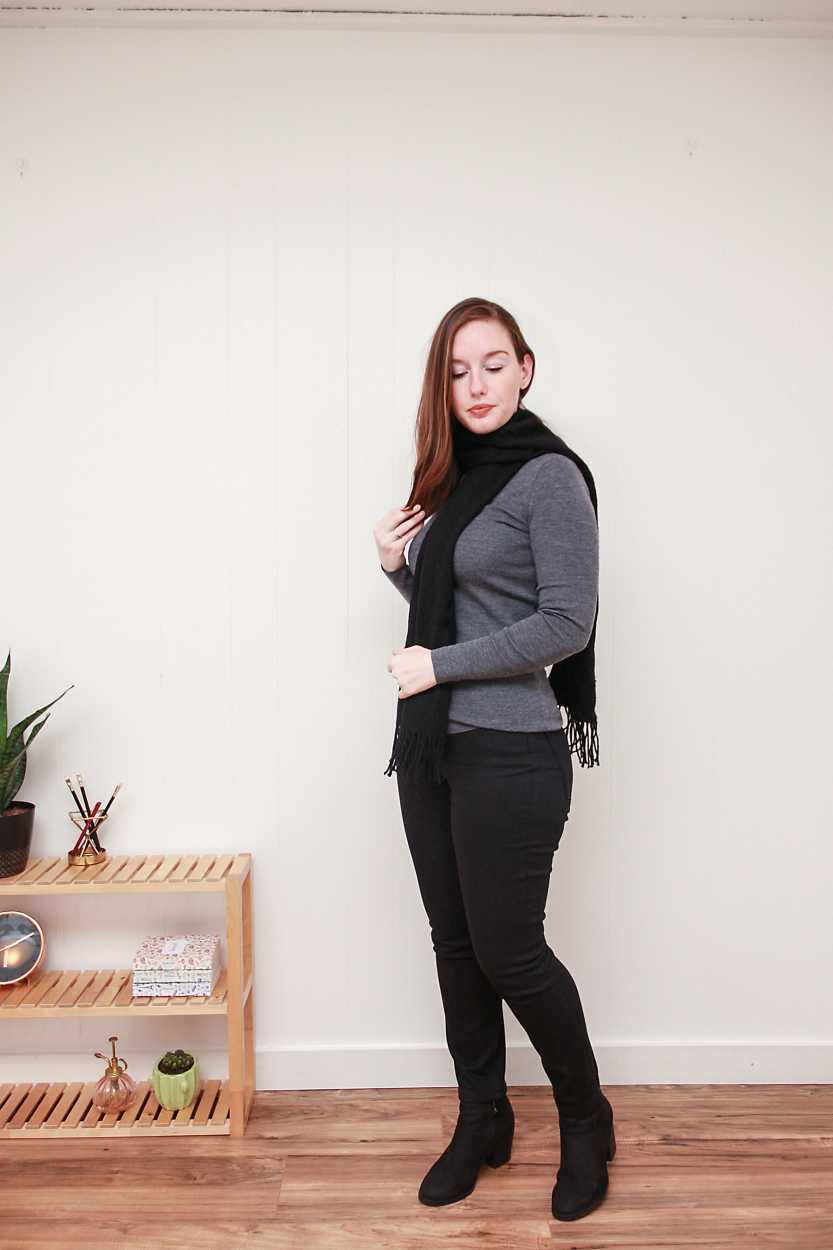 Truthfully I didn't spend much time in this outfit on Saturday, but that's okay. It's pretty similar to outfits I've worn before when traveling (most recently to Providence, RI), and it's easy to avoid standing out too much in a crowd. We visited a local museum along with my family for a local event, and I felt comfortable in the space. Bonus points for wearing this scarf my grandmother bought me while visiting her. I wear it a lot when it's cold, but I know I always love seeing people use the gifts I bought them, so hopefully she felt the same way. After the museum we came home and did a few chores around the house, and I ended up changing before heading off to babysit as we planned to make bagels and I didn't want to risk flour ending up all over the place! Here is how my outfit looked at the beginning of the day and the end: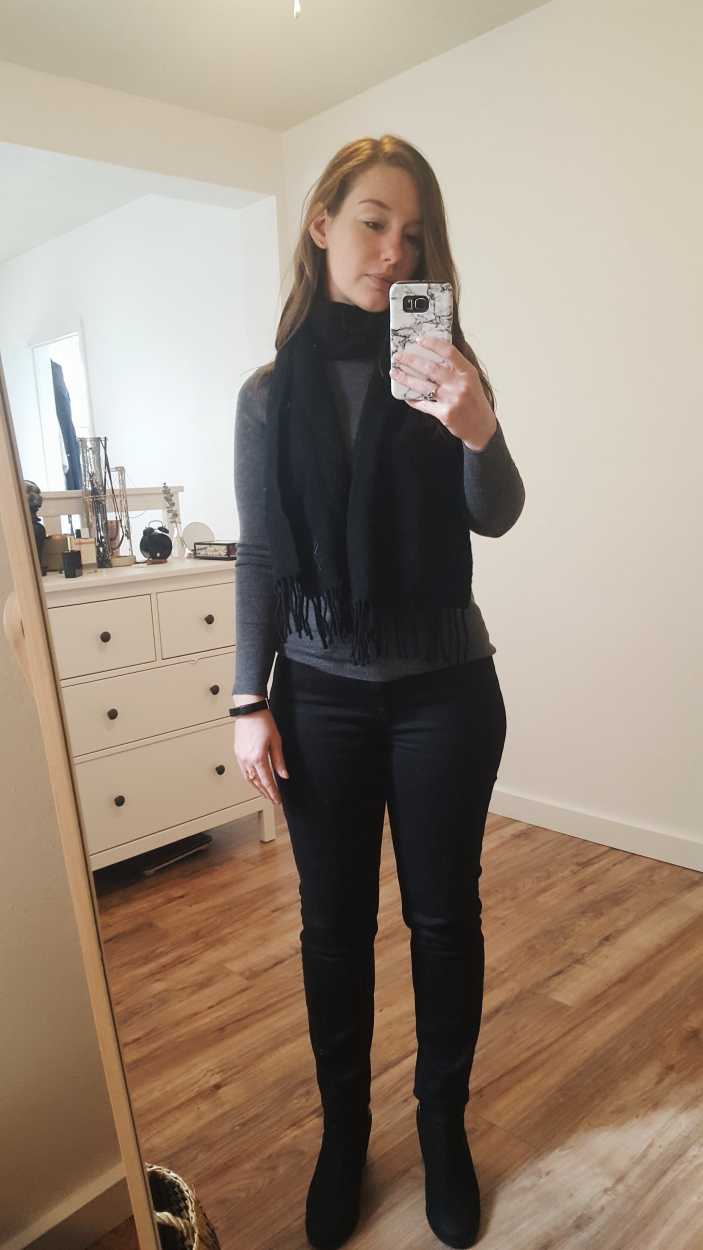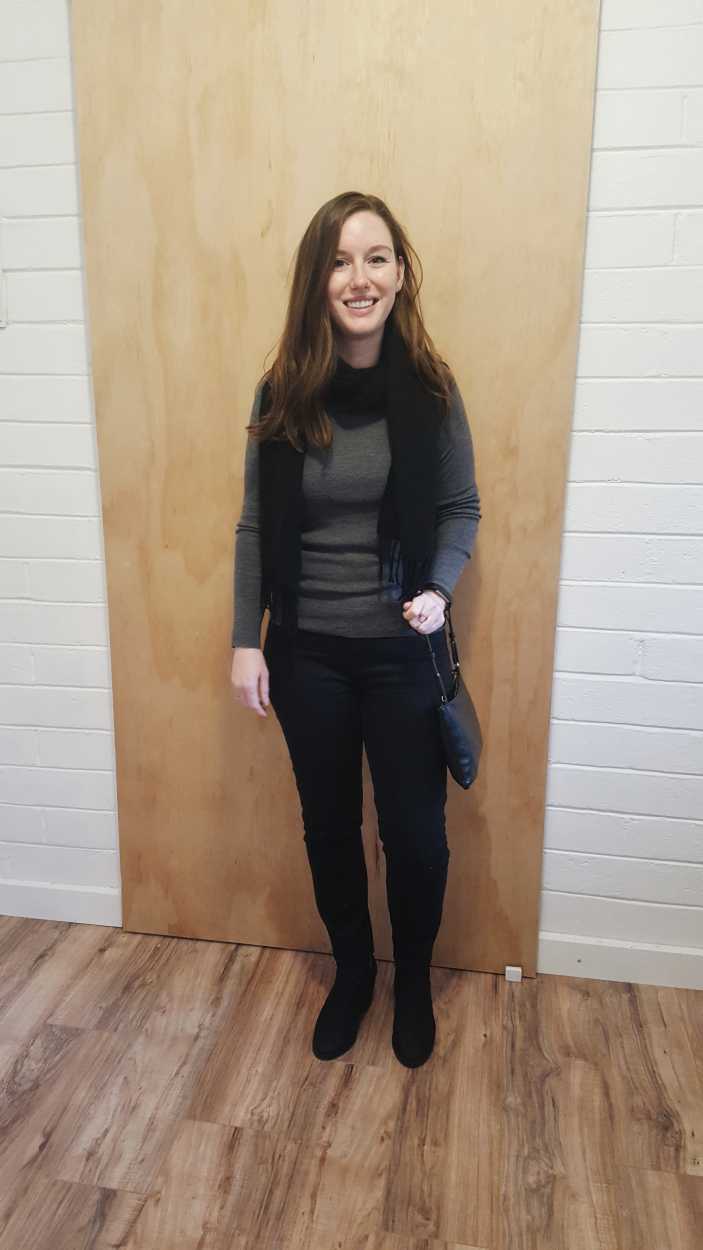 Outfit Details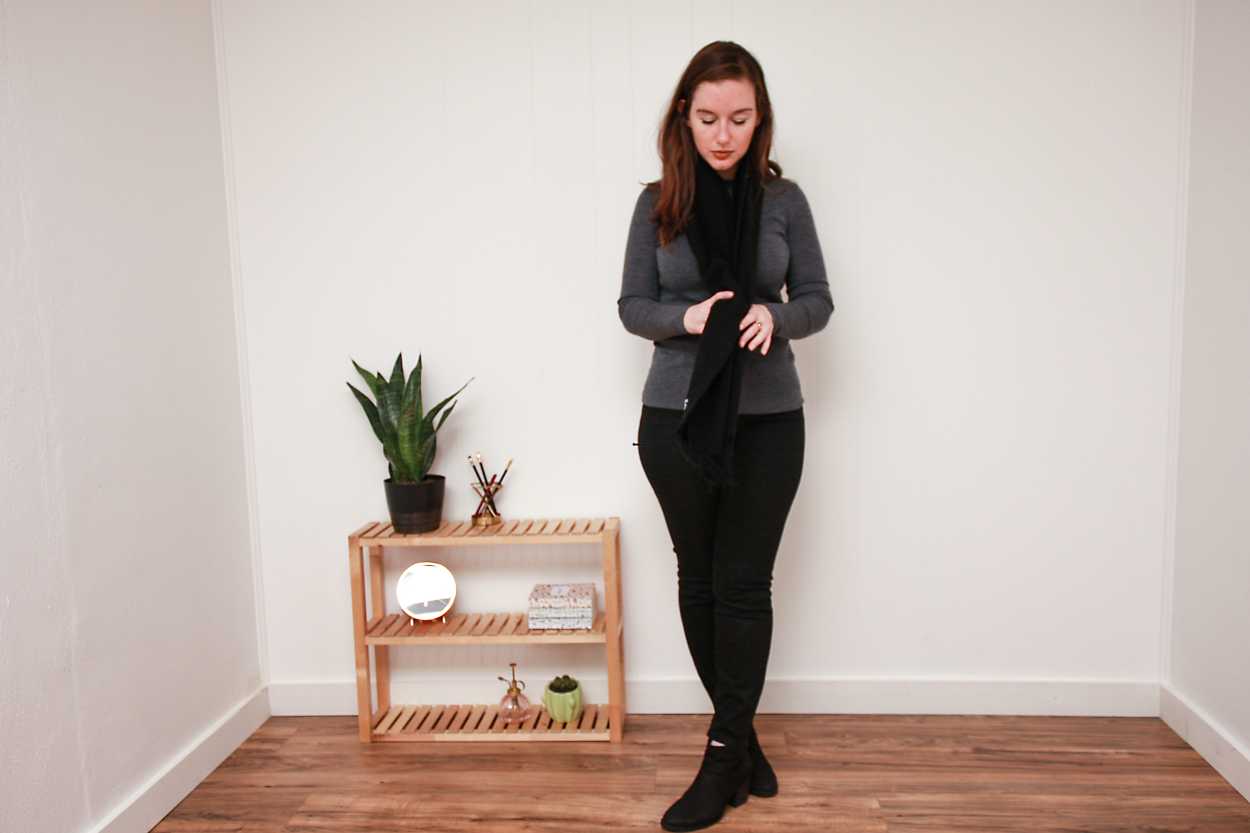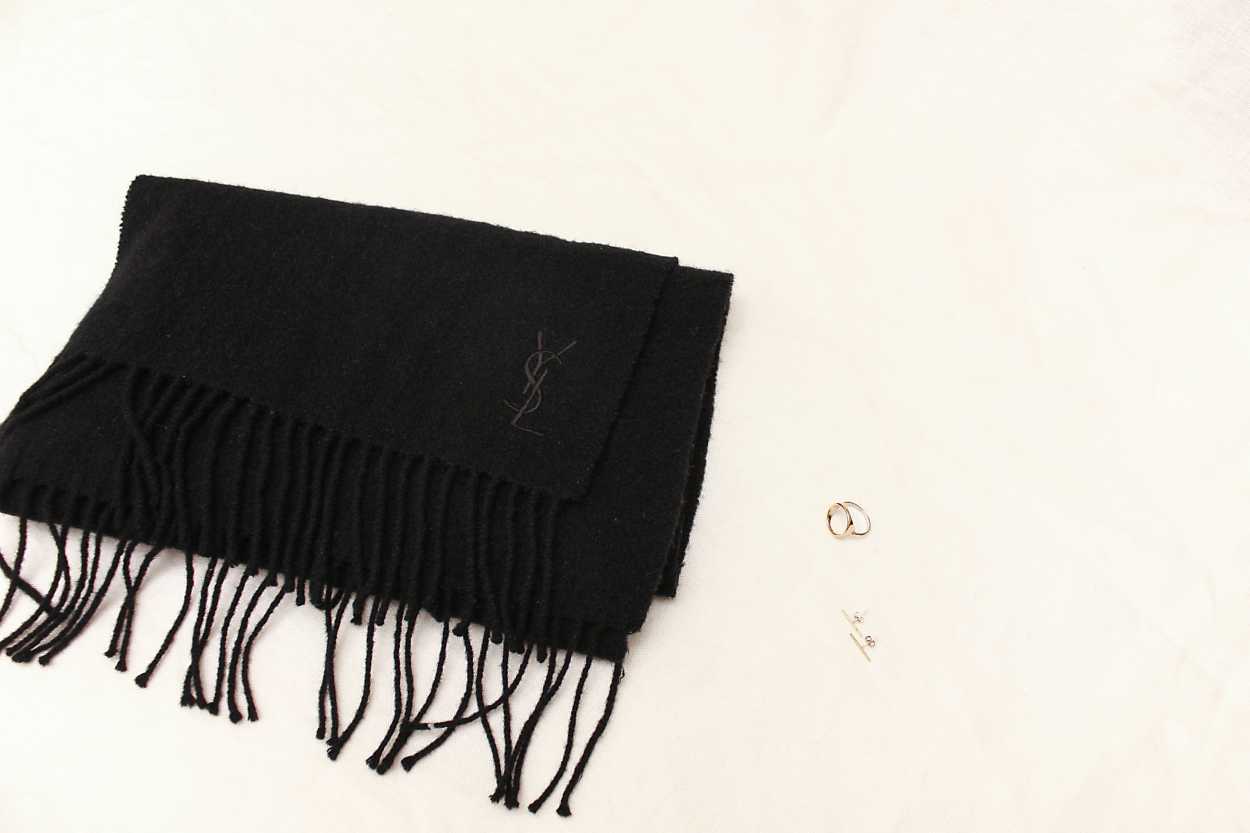 High Rise Skinny Jeans | Black | Everlane
Merino Crewneck | Charcoal | Banana Republic (no longer available, linked to v-neck option) or better alternative here
Nelli Waterproof Bootie | Black | Blondo
Wool and Cashmere Scarf | Black | Yves Saint Laurent (no longer available, updated version here or budget option here)
Circle Ring | Gold (old, linked to similar)
Double Line Studs | Gold | & Other Stories (no longer available, similar option in silver)
There's nothing terribly innovative in this combination, and sometimes that's just fine. I find the best part of having a small wardrobe is that eliminating the confusion of many choices reduces anxiety; an outfit like this fuels no anxiety in me. I added a scarf for visual interest and kept my jewelry nice and tame. While not my favorite outfit, I'm sure I'll wear a similar version at some point in the future for the sake of ease.
Item Spotlight: Banana Republic Merino Crewneck (no longer available, linked to v-neck option)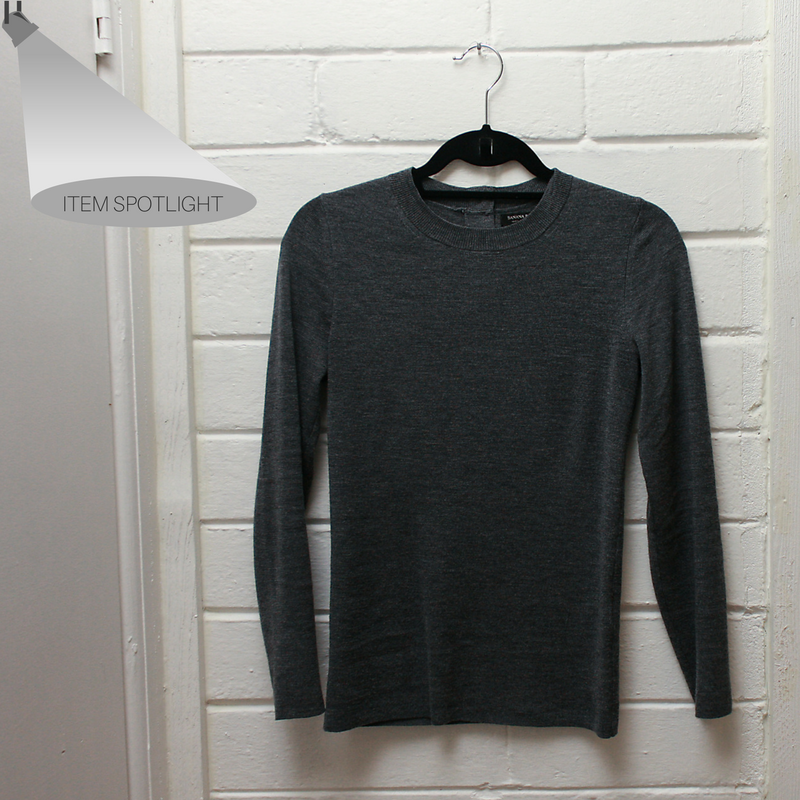 This was one of my last purchases at Banana Republic, and this style is from a year or two ago, but I'm happy to say it's holding up well. The fibers are thick and tightly knit, and the sweater fits me like a glove. I often struggle with garments having large armholes, which are uncomfortable, but that's not an issue here. I hand wash every few wears with this detergent specifically made for wool and cashmere, and refresh it after each wear with this spray. It may not last forever, but I'm going to do my best to get as much use out of this purchase as possible.
—
Sunday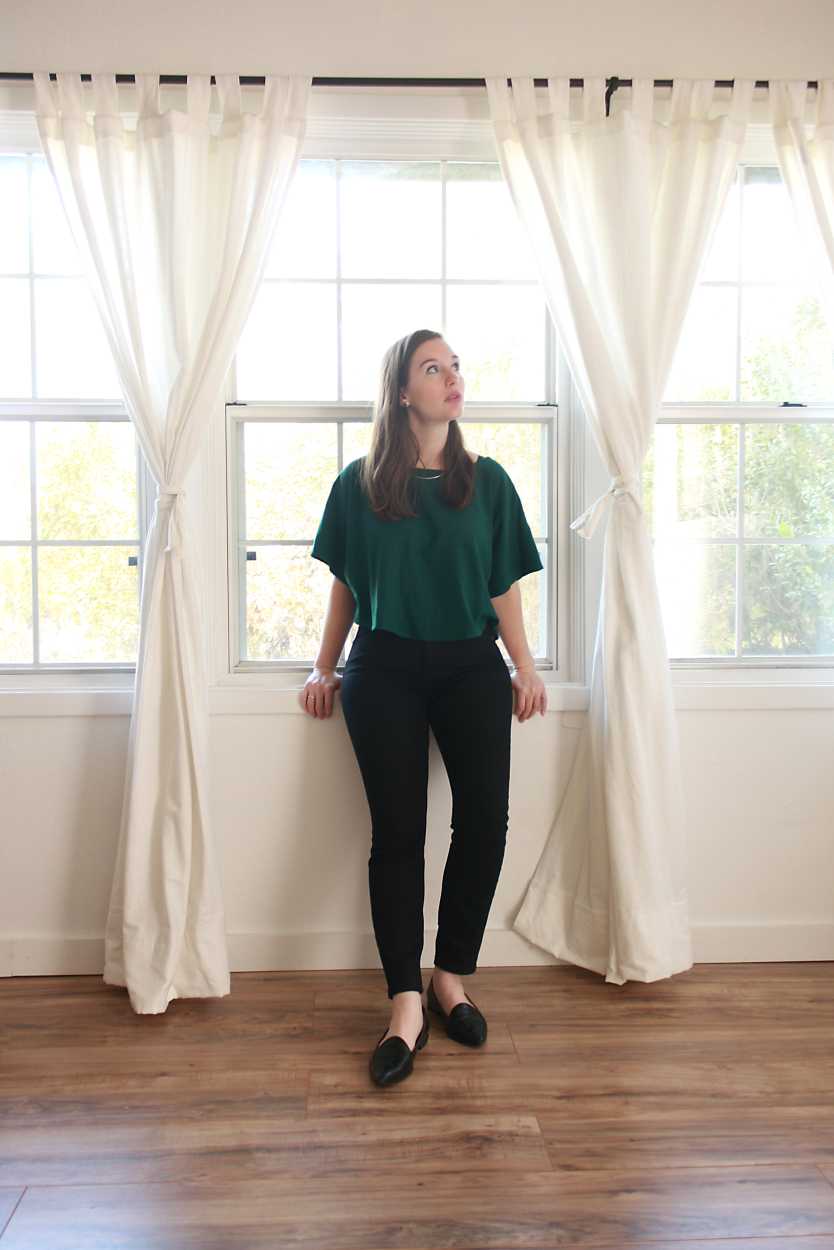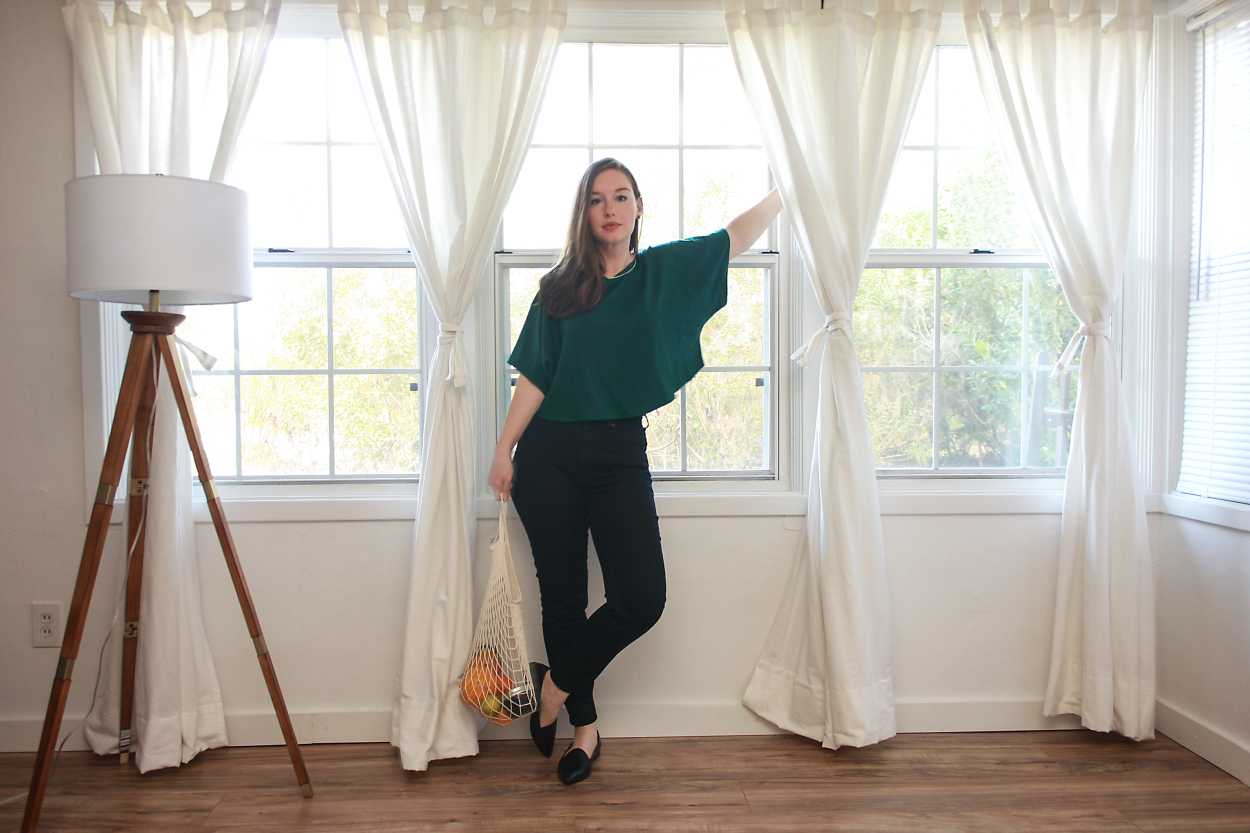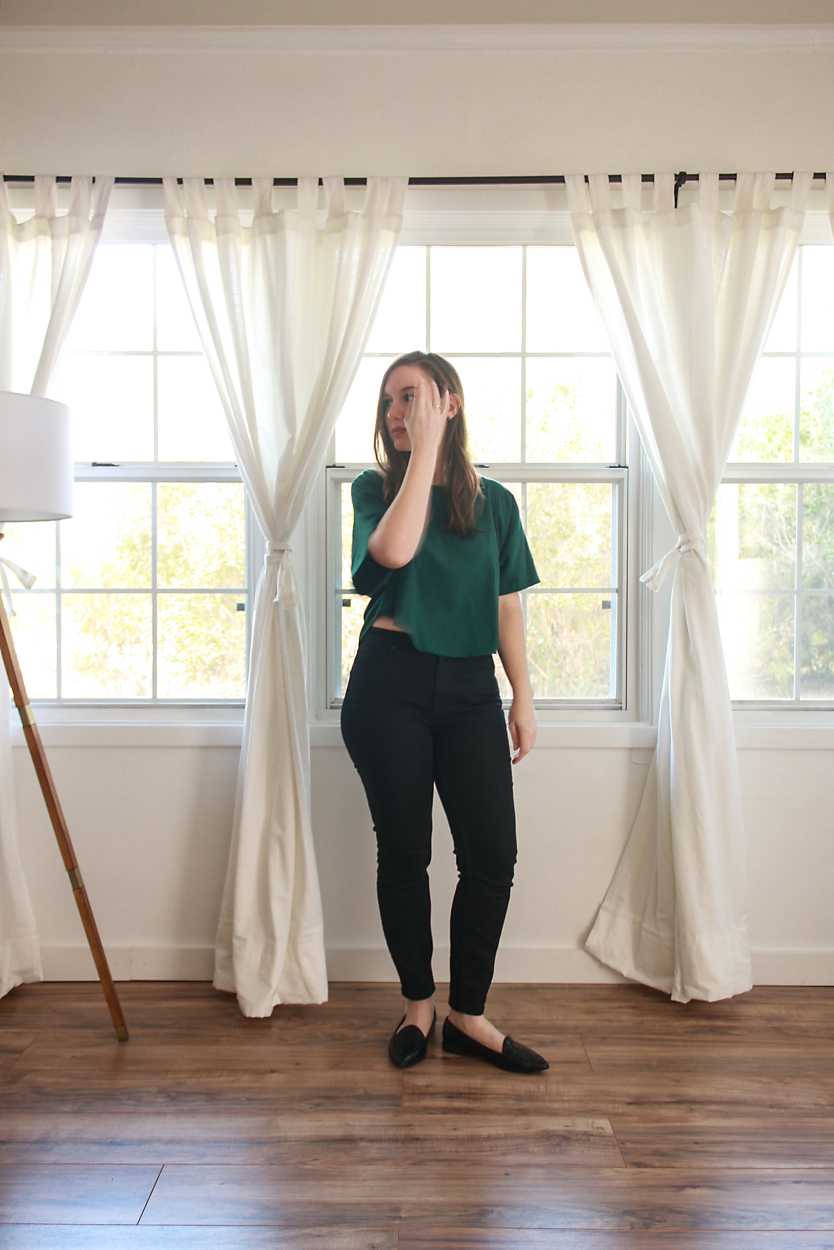 Sunday was one of those rare days that was (almost) completely free and open. Except for a car appointment, we had the day to do whatever we pleased. We spent the morning in our jammies drinking coffee and watching CBS' Sunday Morning while baking a warm breakfast and then finally dressed for grocery shopping and other errand running. After a few more hours at home, we ventured out in the glorious weather to walk to a nearby favorite restaurant. Eventually, we returned home to our pjs and to get ready for the week ahead. Here's how this combination looked at the start and end of the day: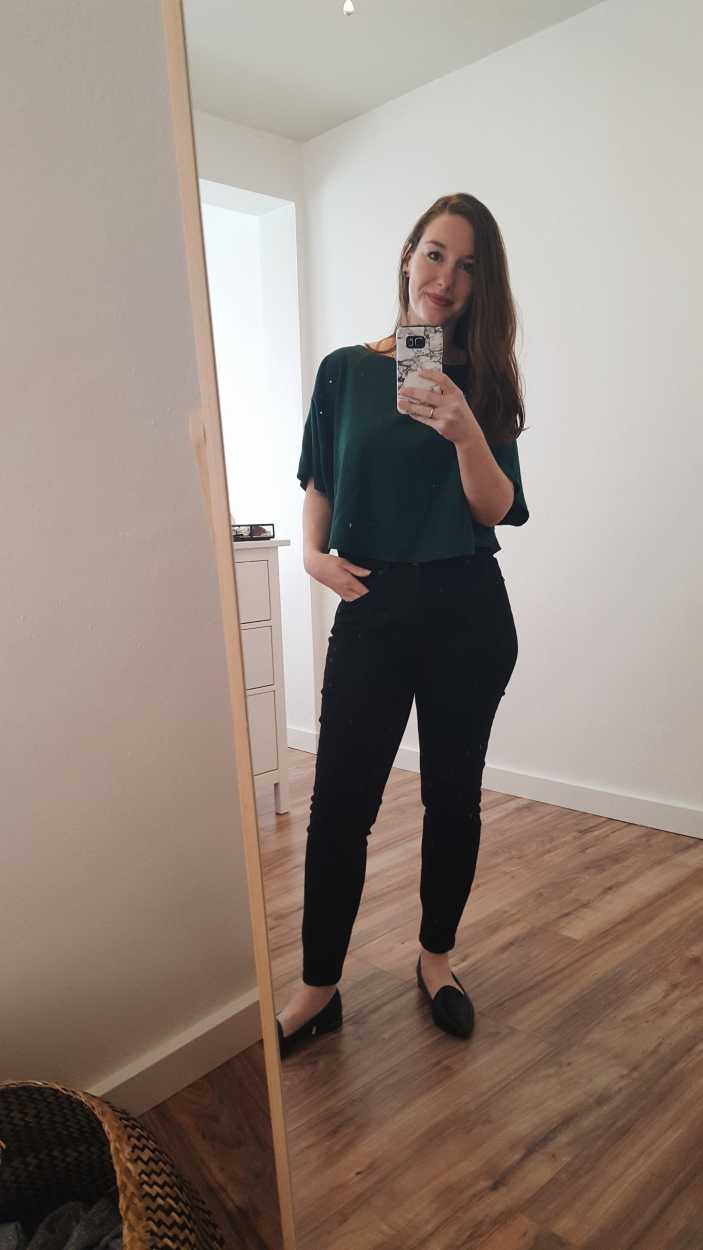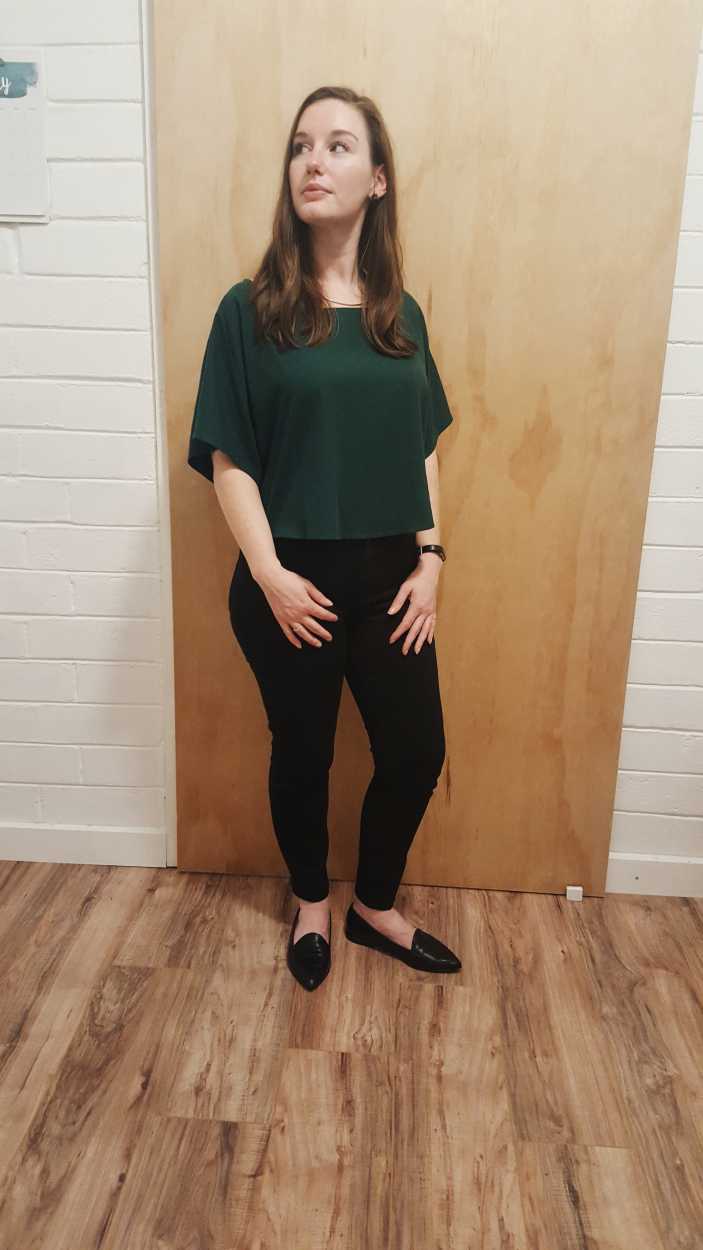 Outfit Details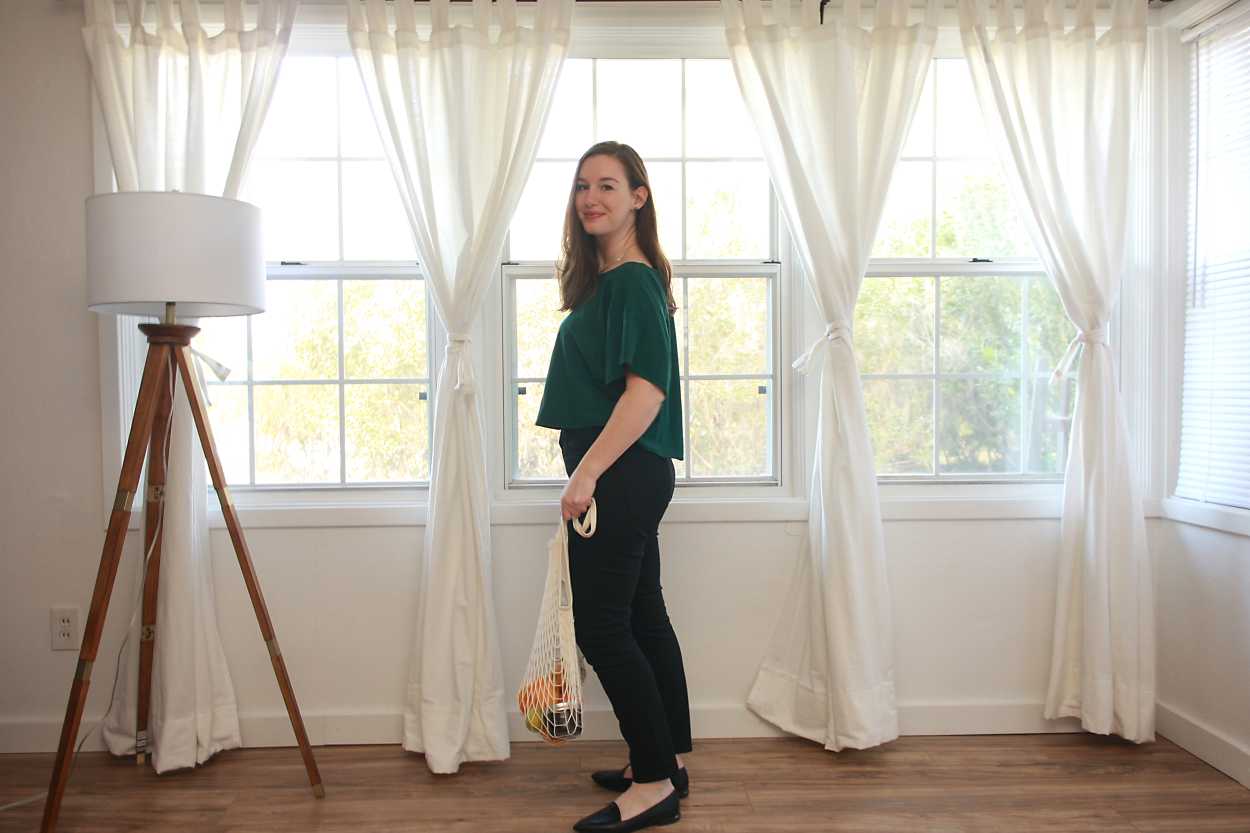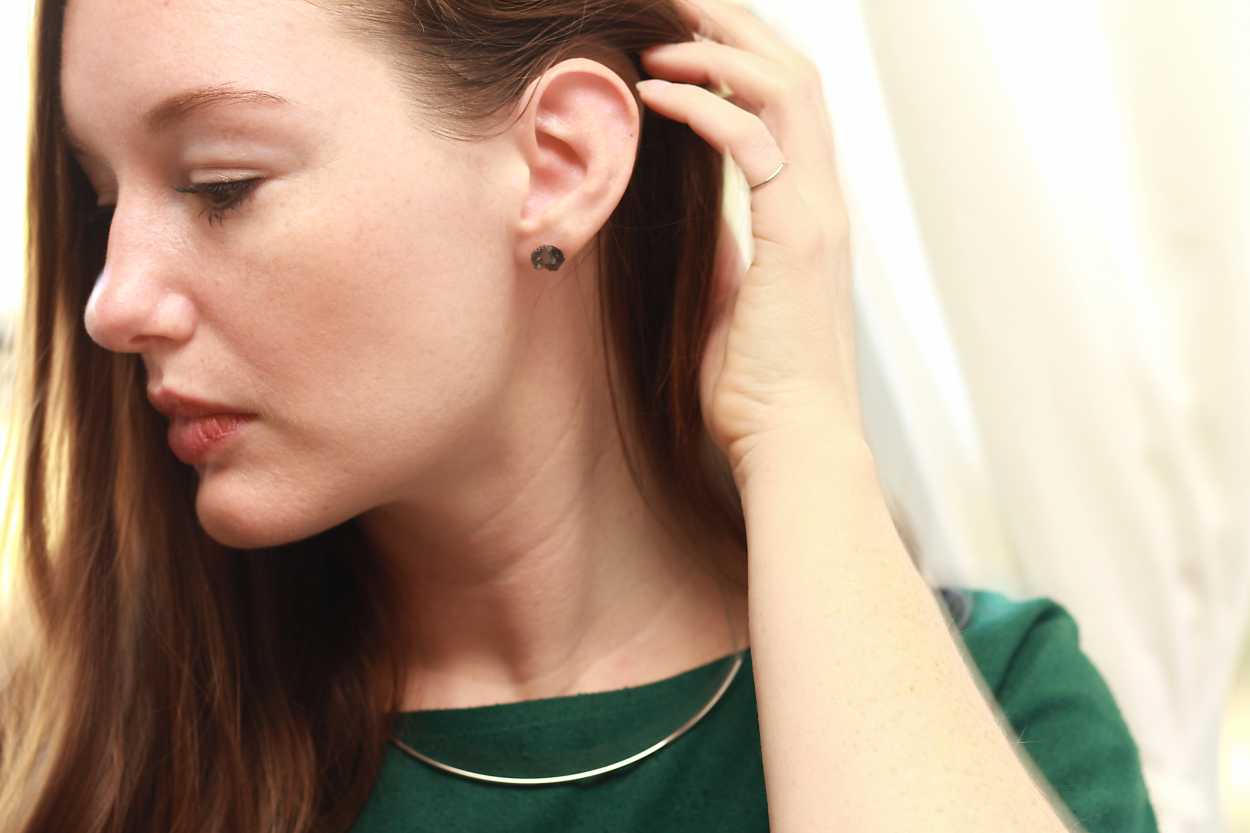 Blank Canvas Top in Raw Silk | Emerald | Jamie + the Jones 
High Rise Skinny Jeans | Black | Everlane
Modern Point | Black | Everlane
Tube Necklace | Sivler | COS (no longer available, similar here)
Aura Cluster Earrings | Black+Silver | Dear Survivor
Arch Ring | Silver (old, similar here)
I felt at ease and very comfortable in this outfit all day. The temperature reached into the seventies today, and the swingy raw silk was perfect. I felt a bit uncomfortable walking for a long period of time in my shoes, which is a shame since I bought them for travel (I have yet to bring them along on a trip). I kept my jewelry simple with a clean and minimal necklace and ring, but added in the stone earrings from Dear Survivor to add another natural element to the outfit. I've noticed how much I enjoy wearing natural fabrics since I've started paying attention to the label, and the quest for the "natural" has been inching its way into other areas of my life as well. I'd definitely wear this combo again, but perhaps with a shoe-swap.
Item Spotlight:  Jamie + the Jones Blank Canvas Top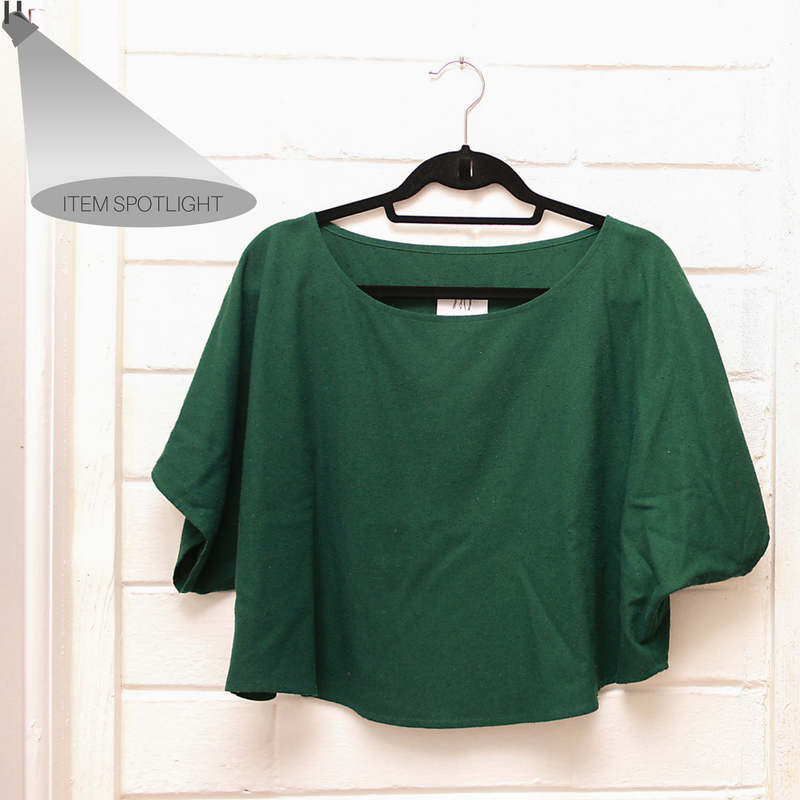 I've swooned over absolutely everything from Jamie + the Jones since I first discovered them, but this is my only item from them. Since we travel so often, I generally limit my clothing purchases, and garments over the $100 mark can stay out of reach for long stretches of time. Thankfully, the duo held a Black Friday sale, and I managed to order this top during that time. It arrived a few days before Christmas, and I wore it to multiple holiday celebrations. It's very wide and very swingy, and I almost wish I had ordered the XS instead of the Small (though the length would be shortened by an inch as well). Depending on my day I have to wear a tank underneath to combat its midriff-bearing capabilties and also to hide my bra, which is possible to see via the wide armhole. But the fabric is absolutely incredible – the best raw silk I've ever encountered – and so is the rich emerald color. I haven't washed it yet, but when I do I plan to hand wash it with a delicates detergent.
---
Follows
The best part about these 10 x 10 challenges is following along on social media. I've had a blast scrolling through the feed, seeing so much inspiration from so many incredible women around the globe, and thought I'd share a few of my favorites so far.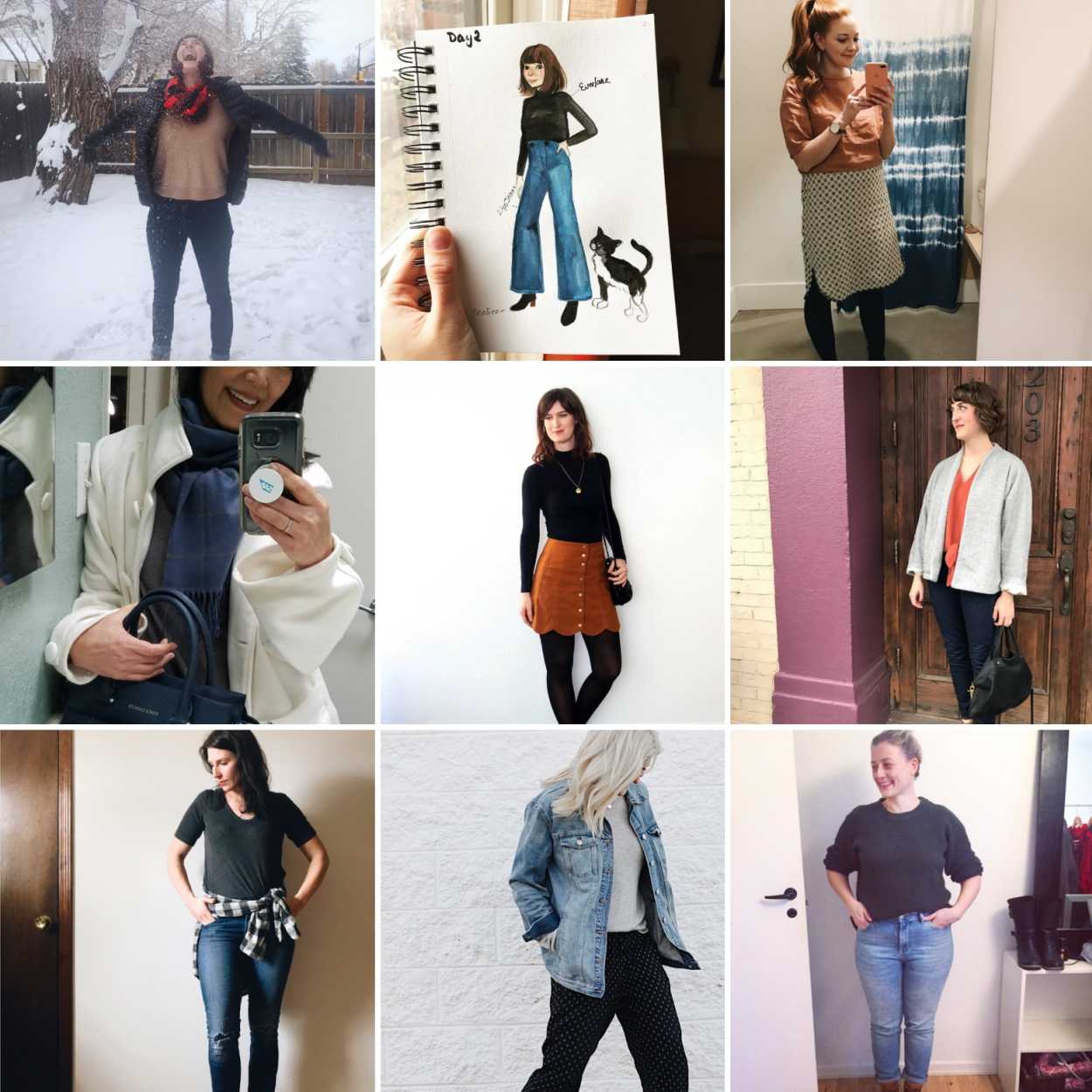 Top Row:
@gradschoolstyle
@tombamomba
@kellyamonson
Middle Row:
@tinarae9500
@iamwearingclothes
@what_kt_wears
Bottom Row:
@allonsystitches
@sydneeshey
@xlinebine
---
How is your 10×10 going so far? Have you learned anything about your style or created new combinations?
See you Thursday for days four through six!