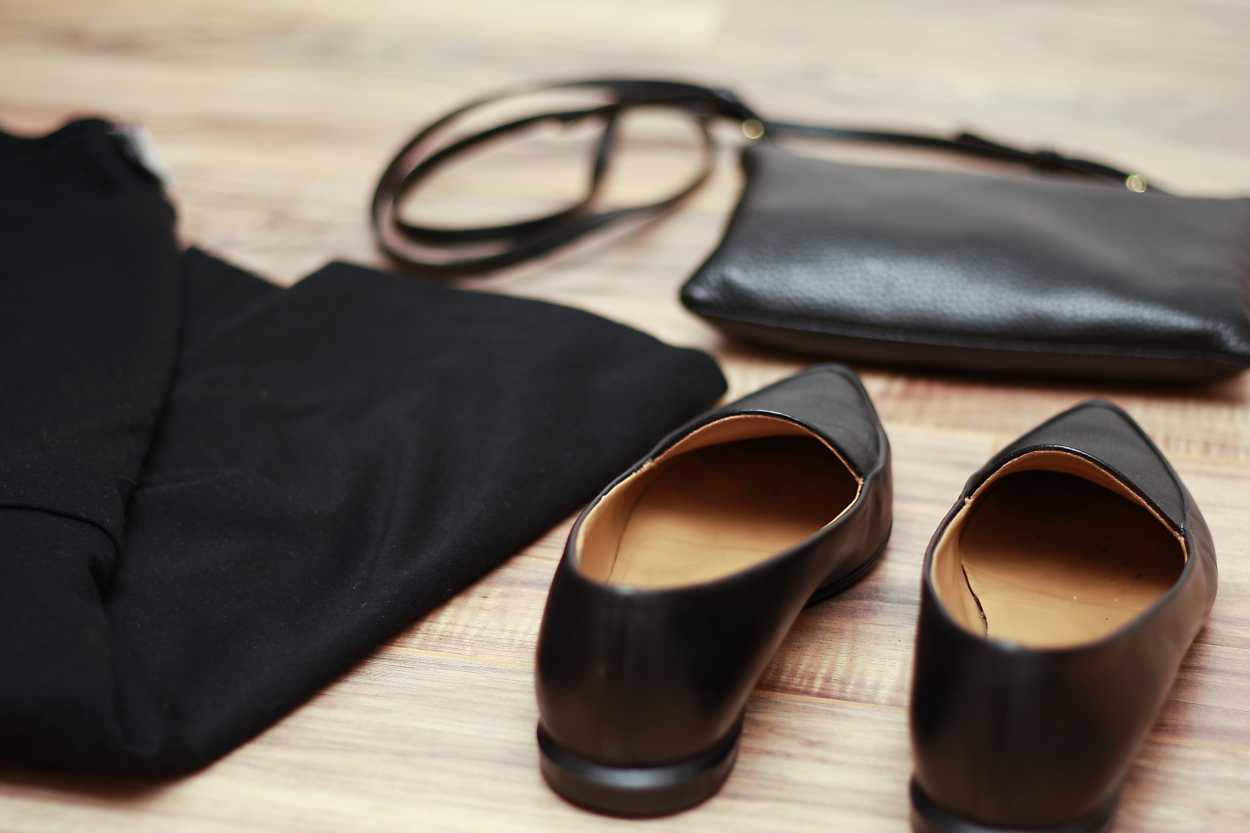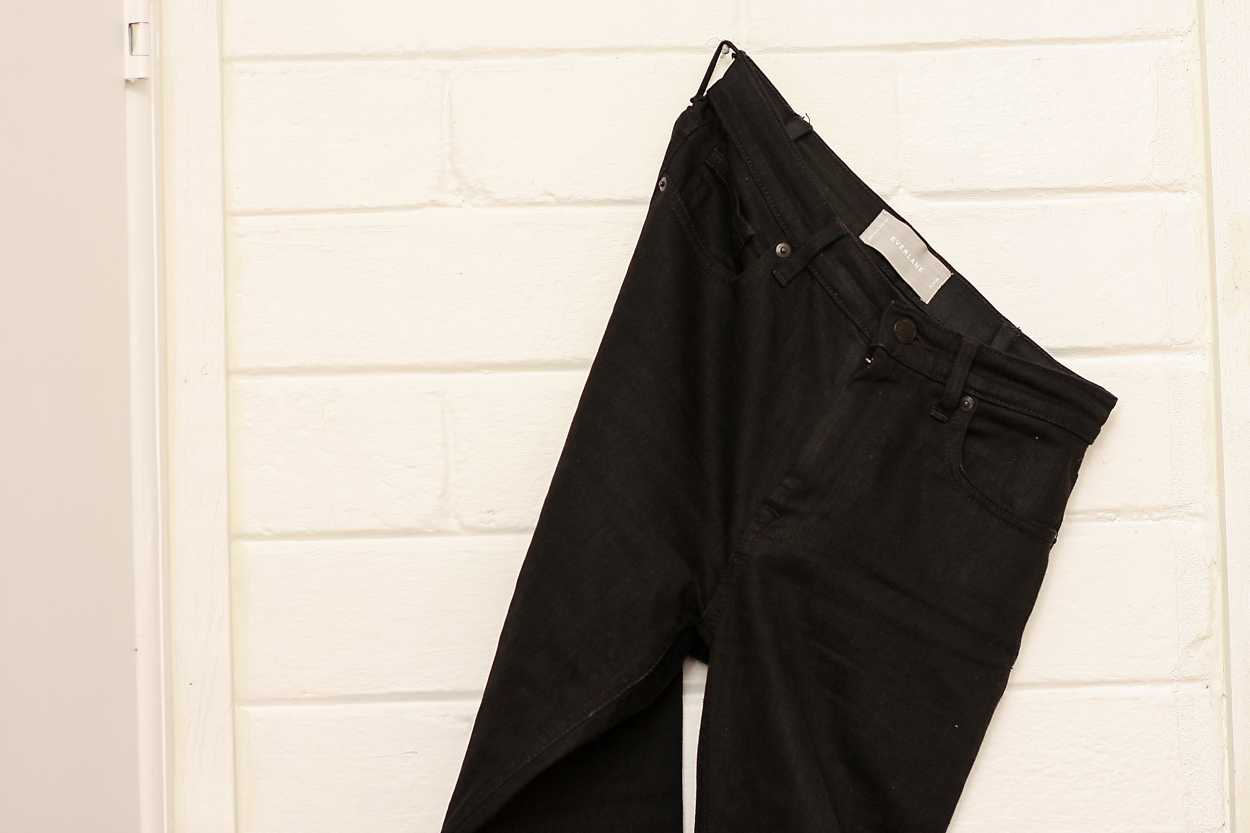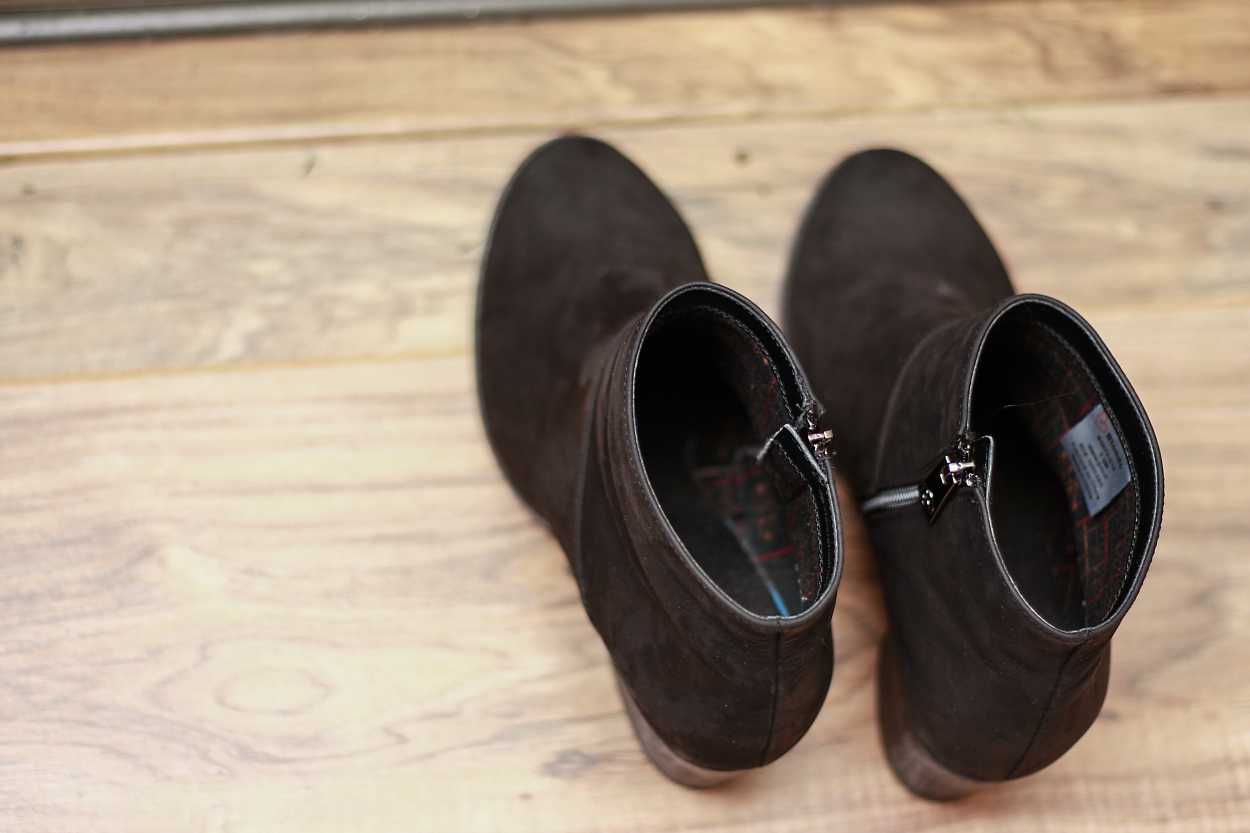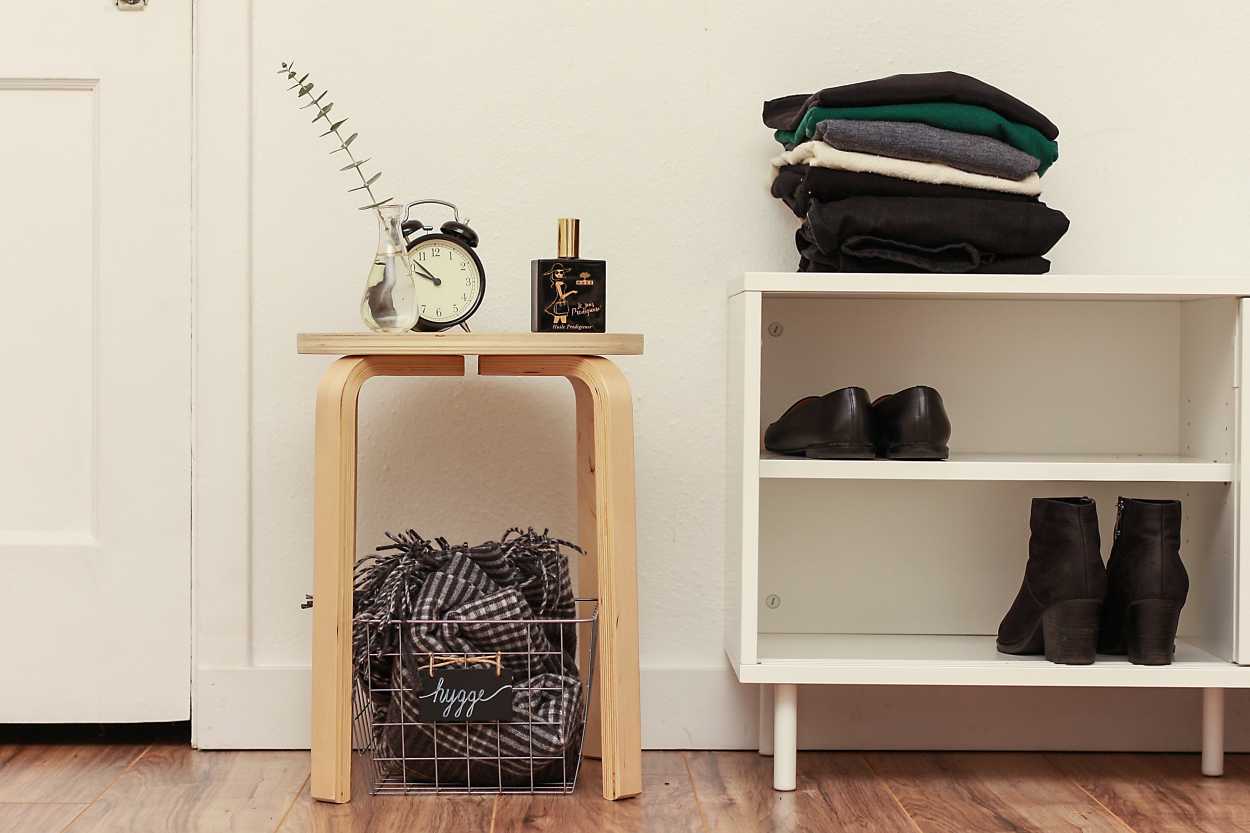 On Monday I shared my final looks for the 10 x 10 Challenge, and now that I've returned to my full wardrobe and had a few days to reflect on the challenge, I wanted to share final thoughts.
I think it's important to first look back at what I wanted to gain from the challenge – incorporating more of my casual wardrobe into my work wardrobe smartly, and to play around more with cropped shapes. A wrench was thrown into this plan early in the challenge when I fell ill and stayed home from work for much of the challenge, but I'm happy to say that I think I would have felt comfortable in my office-environment in any of my weekday outfits. I really enjoyed playing with cropped shapes, with the help of under-layers, and I'm happy to be able to add these in to my workwear rotation.
For a refresher, here are the ten items I selected from my wardrobe; I highlighted one item each day during the challenge, so be sure to read back through those posts to learn more about each garment:
1. Georgia Tee in Silk Crepe | Black | Elizabeth Suzann
2. Raw Silk Tee | Off-White | Handmade (by yours truly!) – Similar here
3. Blank Canvas Top in Raw Silk | Emerald | Jamie + the Jones 
Sweaters
4. Cashmere Crop Mockneck | Black | Everlane (new to Everlane? You can click through our referral link here for free shipping on your first order)
5. Merino Crewneck | Charcoal | Banana Republic (no longer available, linked to v-neck option) or better alternative here
Bottoms
6. Skinny Ankle Pants | Black | Gap (updated version) – better option here in wool
7. High Rise Skinny Jeans | Black | Everlane
Dresses
8. Sheath Dress | Black | Target – better alternative here
Shoes
9. Modern Point | Black | Everlane
10. Nelli Waterproof Bootie | Black | Blondo
And here are all ten outfits created from the ten items I selected: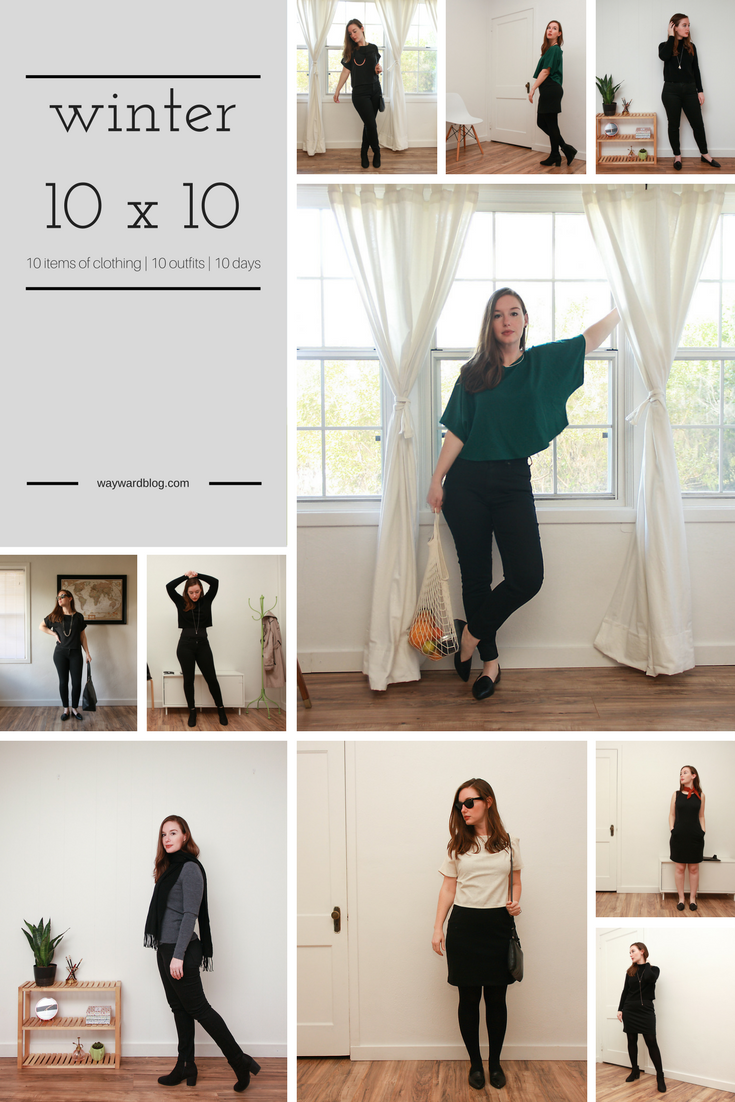 My approach to this challenge was the same as the last one: I checked the weather, went through my closet, and picked what called to me. I was surprised to only end up with nine pieces, and then opted to include my white handmade shirt. I quickly jotted combinations down, mixing and matching my items. I did not include any outerwear or outer layers here, as my tops are all difficult to layer underneath things, and any coats needed would only be used in transit. We shot all ten looks as well as two bonus looks over the course of two days and I selected each day's accessories as I dressed for the photos. This process worked well for sharing the photos in the feed; I did begin to feel a little stifled by my accessories choices toward the end, however.
Favorite Looks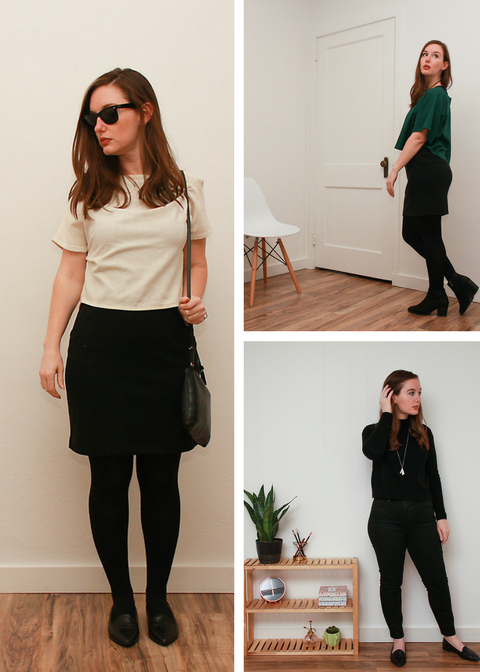 I'm happy to say that I very much felt like myself in all ten outfits, and I'm glad to feel more comfortable with mixing my work and casual clothes. Two of my favorite outfits of the challenge were accomplished by layering a top over my sheath dress, which I've been doing every so often after the Fall 10 x 10.
Least-Favorite Looks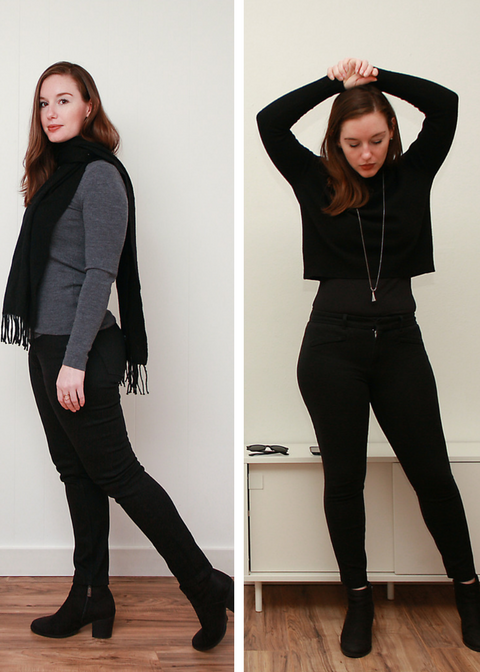 If there's a favorite, that means there has to be a least-favorite, right? I don't detest either of these looks; I just feel like the left outfit is a tad boring, and I would prefer a higher-rise pair of pants with the outfit on the right. I wouldn't say I'd never wear these combinations again; they just might not be my first choice.
Bonus Looks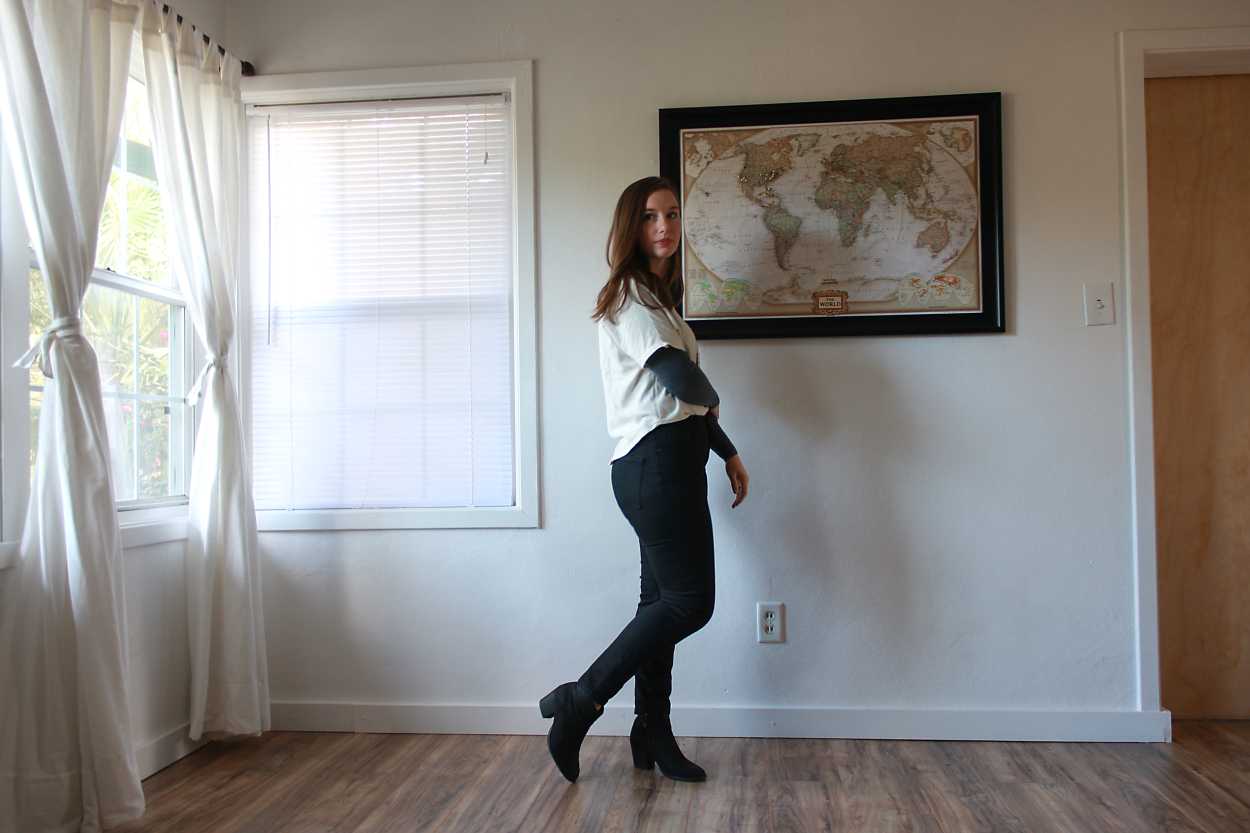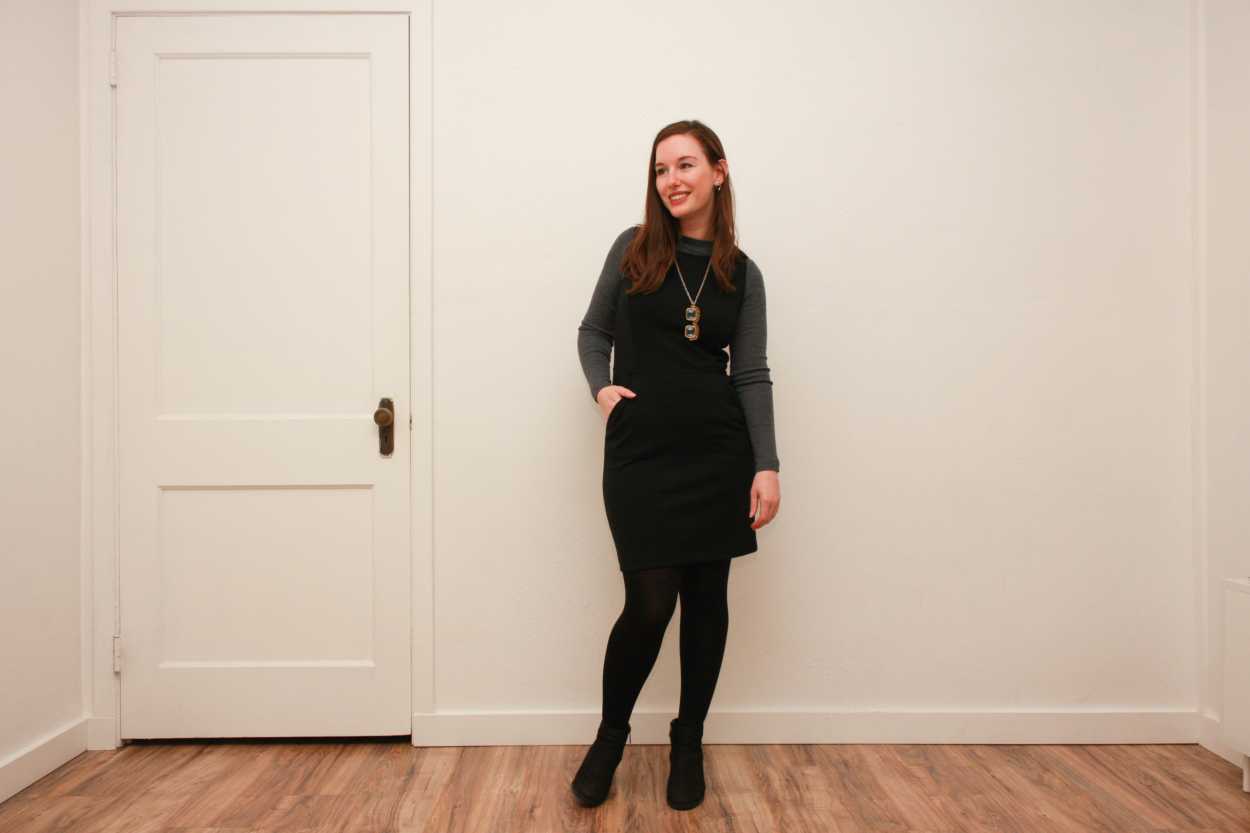 While I came up with a surprising number of outfits with my ten pieces, we just shot two bonus looks for the sake of time. One I really love, and one I really don't (you can probably guess which is which by my body language in these photos). Had I continued with the challenge for a few more days, I would have been really happy to layer my sheath dress over the grey sweater. I considered trying it with the Everlane mockneck, but I'm just not sure the wider cut would have worked well under the snug dress.
Challenges
My biggest challenge was being caught off guard with a virus. It changed my daily plans (going to work, spending time with friends and family, etc.) and I felt a little obligated to wear my outfits despite not feeling well. I can say I'm pleased that I made the change from ten daily posts to three group posts with each day's outfit. That's proven less-stressful to document and transmit my thoughts in such a short amount of time.
Laundry
What laundry? With the weather much cooler than it was during the Fall 10 x 10 I never felt like I needed to wash my clothes. Instead, I used this spray on my wool and cashmere, and this one on everything else. That being said, after this challenge, most everything is ready for a wash. To the sink!
Final Thoughts
I've seen grumblings from outsiders looking in, wondering about the purpose and authenticity of the challenge, and I totally understand. For the Fall 10 x 10 and this current challenge, I participated to determine exactly what holes I am missing in my wardrobe, get more creative with what I already have, and eventually to curate a travel-capsule within my wardrobe. After two challenges in vastly different weather conditions, I'm happy to say I have a really good solid list of wardrobe needs (some of which are new makers I found through the 10 x 10 feed) and a better grasp on what I feel comfortable in. I'm really looking forward to applying what I've learned on our next trip. I also felt a little anxious about returning to my full wardrobe, which reiterates the fact that a smaller wardrobe is better for me mentally.
Most importantly, I've discovered a really great, inspirational group of women who I never would have encountered outside of this challenge, and I'm looking forward to continue being inspired.
Will I participate in a Spring 10 x 10? I'm torn. Spring and Summer are the seasons in which I probably need the most outfit help (as you can likely tell from my mostly-black Winter 10 x 10), and I'm not sure if I want this space to have so much focus on outfits. I love clothing, but my real passion is travel – if I have money to spare, those funds will likely go toward a trip instead of purchasing new clothes to add variety to a ten-piece capsule. So I guess the answer is maybe, but likely not in the same capacity.
---
How about you? Did you participate in the Winter 10 x 10? I'd love to see your posts or hear your thoughts! Feel free to comment below with your blog or Instagram handle 🖤.
See you Monday with a new travel post!