We did it! Yesterday was the last day of the Winter 10 x 10 Challenge (confused by those words? Start here), so I'm going to go ahead and share the final four looks with you today. On Thursday, I'll share a wrap-up of the challenge which will include my favorite + least favorite outfits. So, how'd we do at the end of the ten days?
Thursday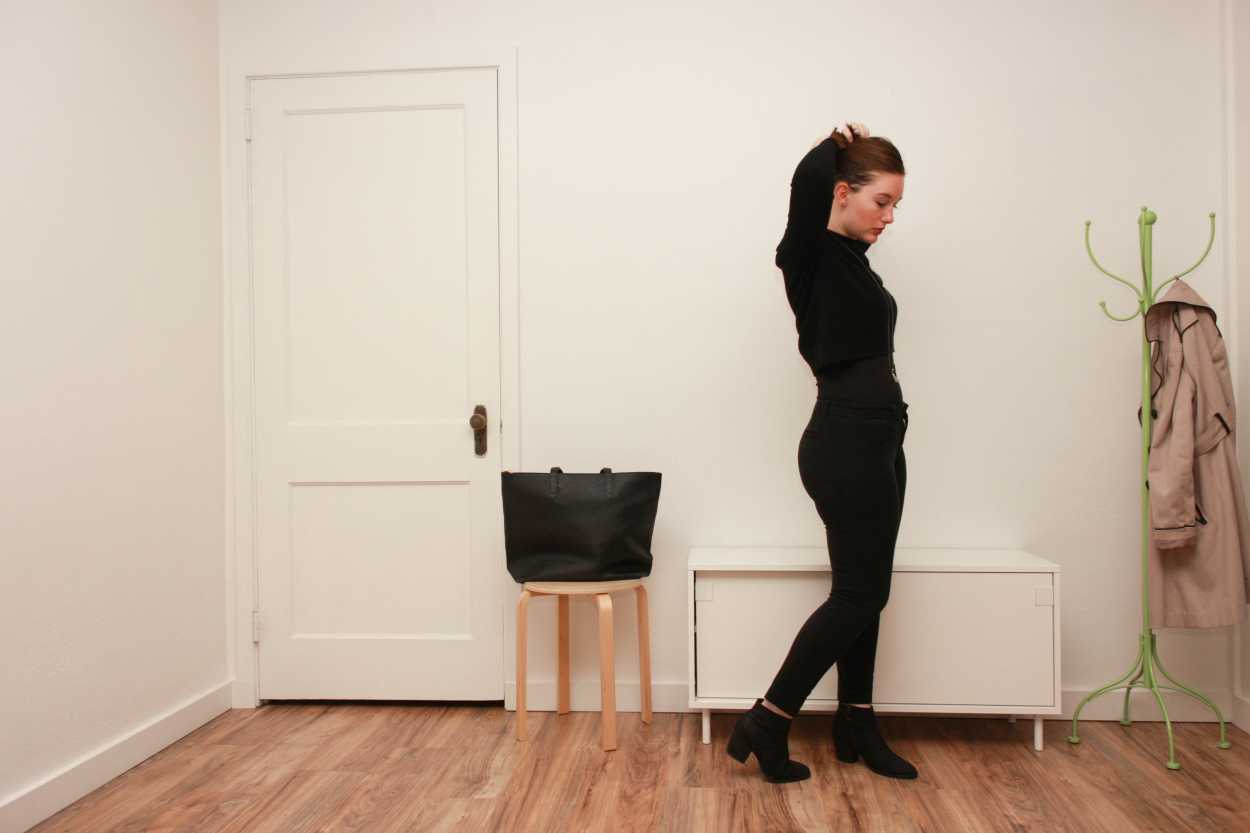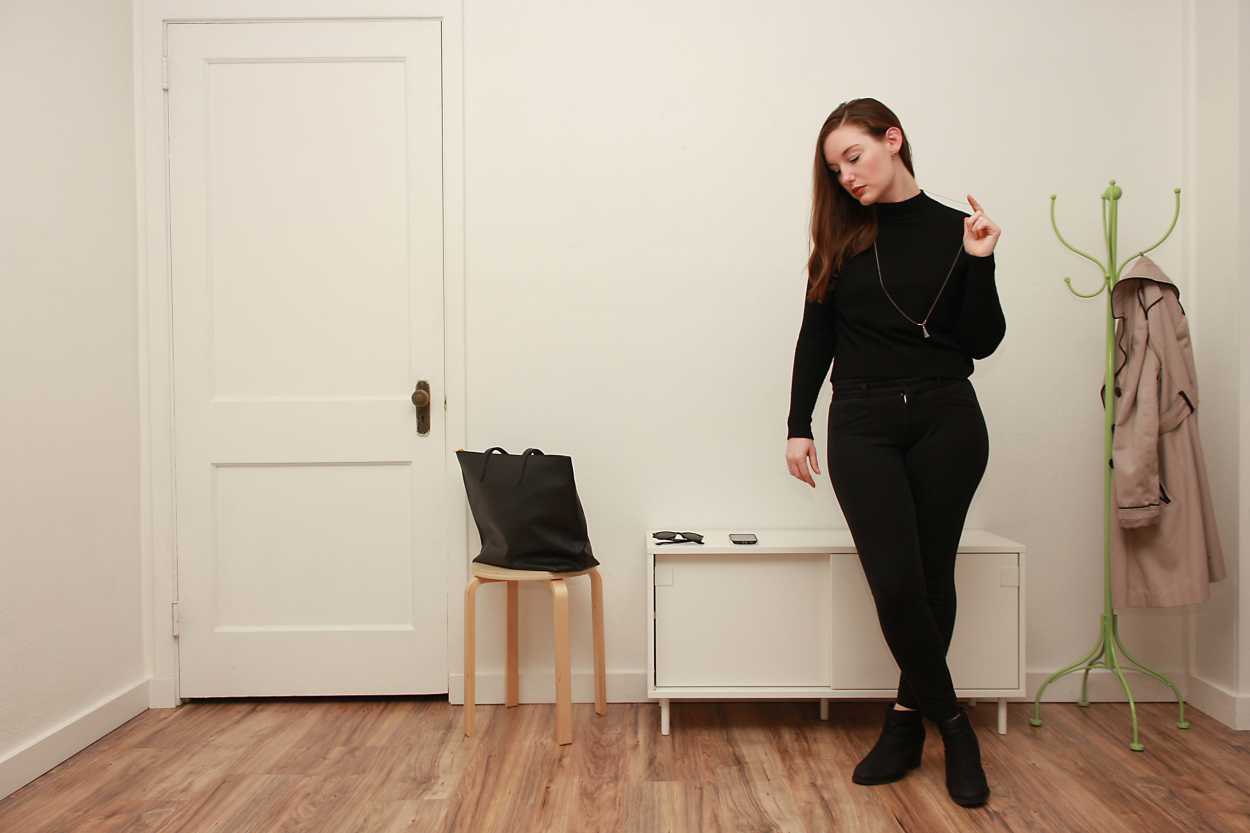 Thursday was another day spent mostly buried in blankets on the sofa but I did finally manage to get in to my doctor's office, where they tested me for the flu. I'm glad it came back negative, but the test is quite awful – they stick a small brush into each nostril and essentially scrub your brain with it. My outfit was just fine for an hour spent at the doctor and the time spent at the store picking up some recommended medications. I just don't know that I recommend getting on the doctor's scale in this outfit when you're used to weighing yourself in one much lighter!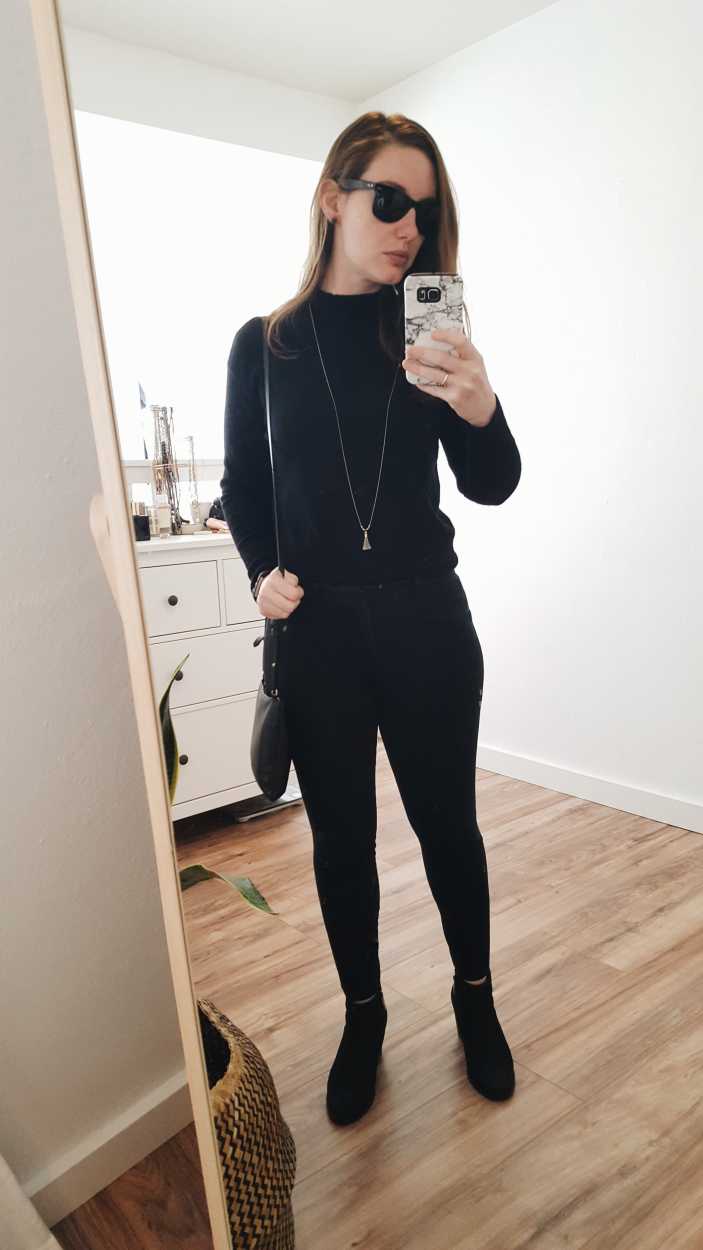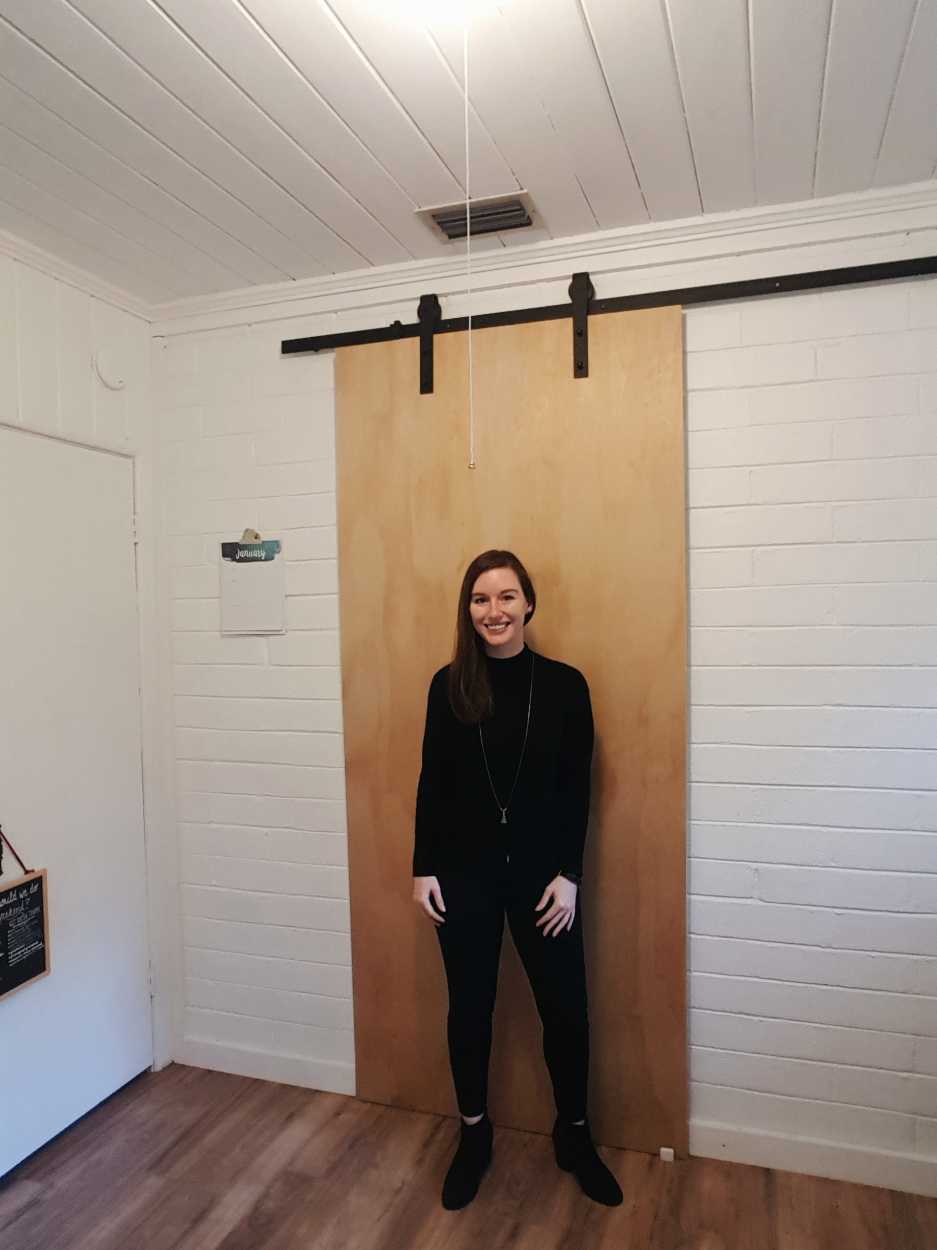 Outfit Details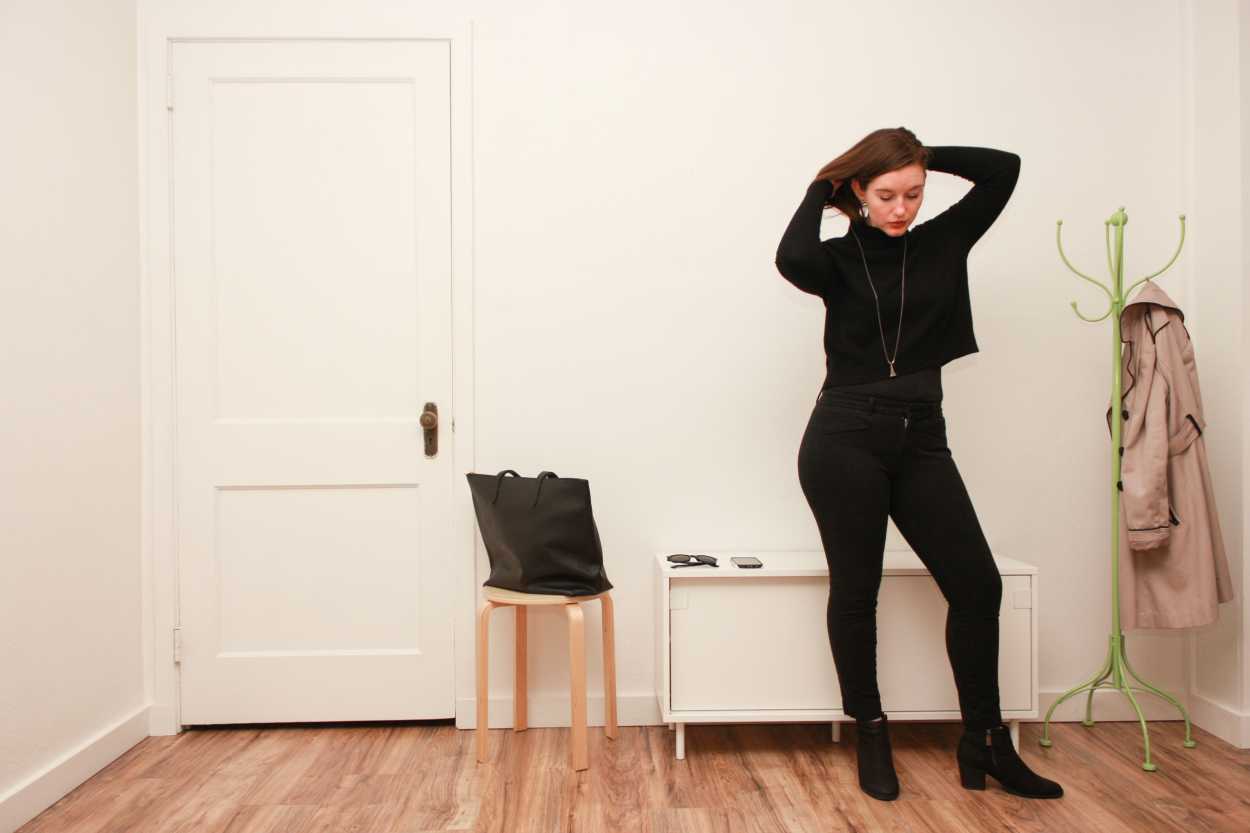 At first glance, this outfit is pretty similar to Friday's outfit, but the only thing that is the same is the sweater. I like the sliver of ankle showing above the boots to break up the all-black. I probably could have worn less-dainty accessories – I think the weightiness of the boots, the sweater, and the pants with the dainty jewelry still skews on the heavy-side – and balanced out the look with a shorter statement necklace. I also think these pants are a little too low to wear with this sweater, and the obvious under-layer looks messy. I think I would try a similar look with a base layer in another color.
Item Spotlight: Skinny Ankle Pants, Gap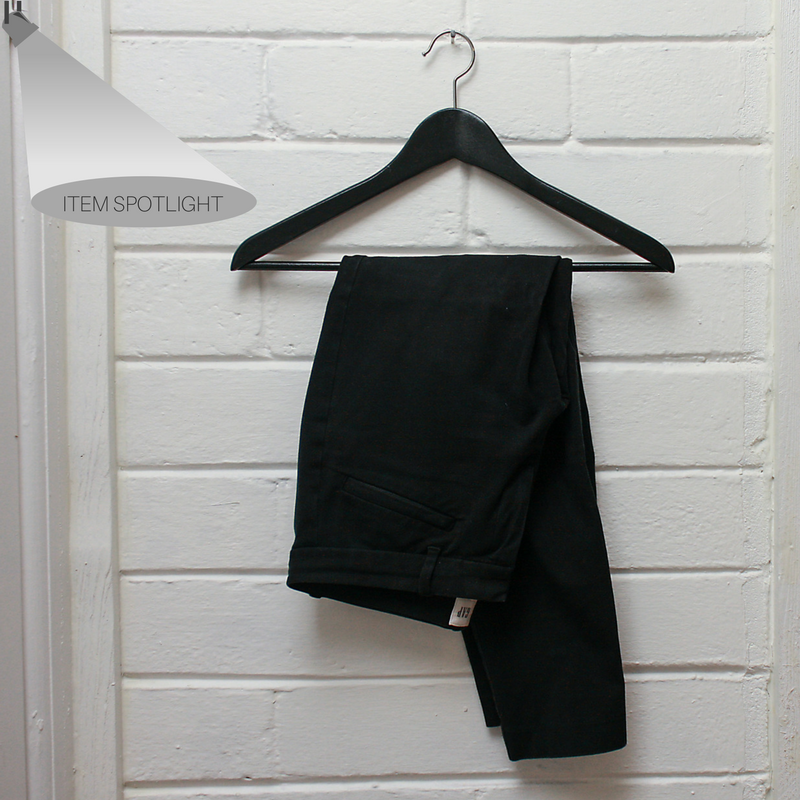 Before I started supporting smaller makers and shopping more ethically, I purchased most of my pants from the Gap family of brands (Gap, Banana Republic, and occasionally Old Navy). I'm pretty curvy, especially in my lower half, and certain styles from these brands magically fit at both my waist and hips. I owned these pants twice before in the next size up, and after losing weight bought the next size down as well. I feel like they hold me in pretty well, though I wish they had an extra half-inch in the front rise. I do have a slight annoyance with the zipper, however. Despite being fully zipped, the flap that covers the zipper will fold back on itself, revealing the zipper (which causes a bit of mild panic in me at the thought that someone might assume my fly is down!). I'm hanging on to them as they're my only work pant at the moment, but I'm looking for a nice, well-made, pair in grey to go alongside. Any suggestions?
Friday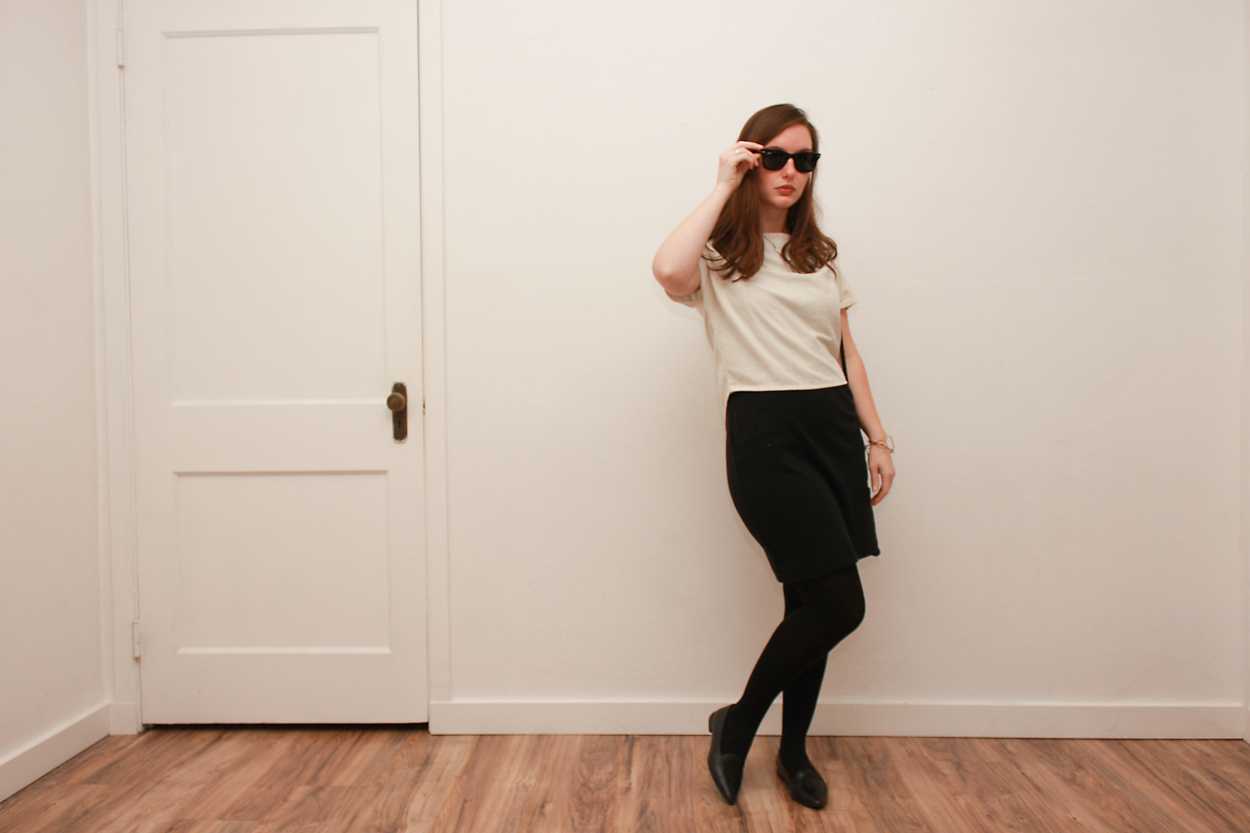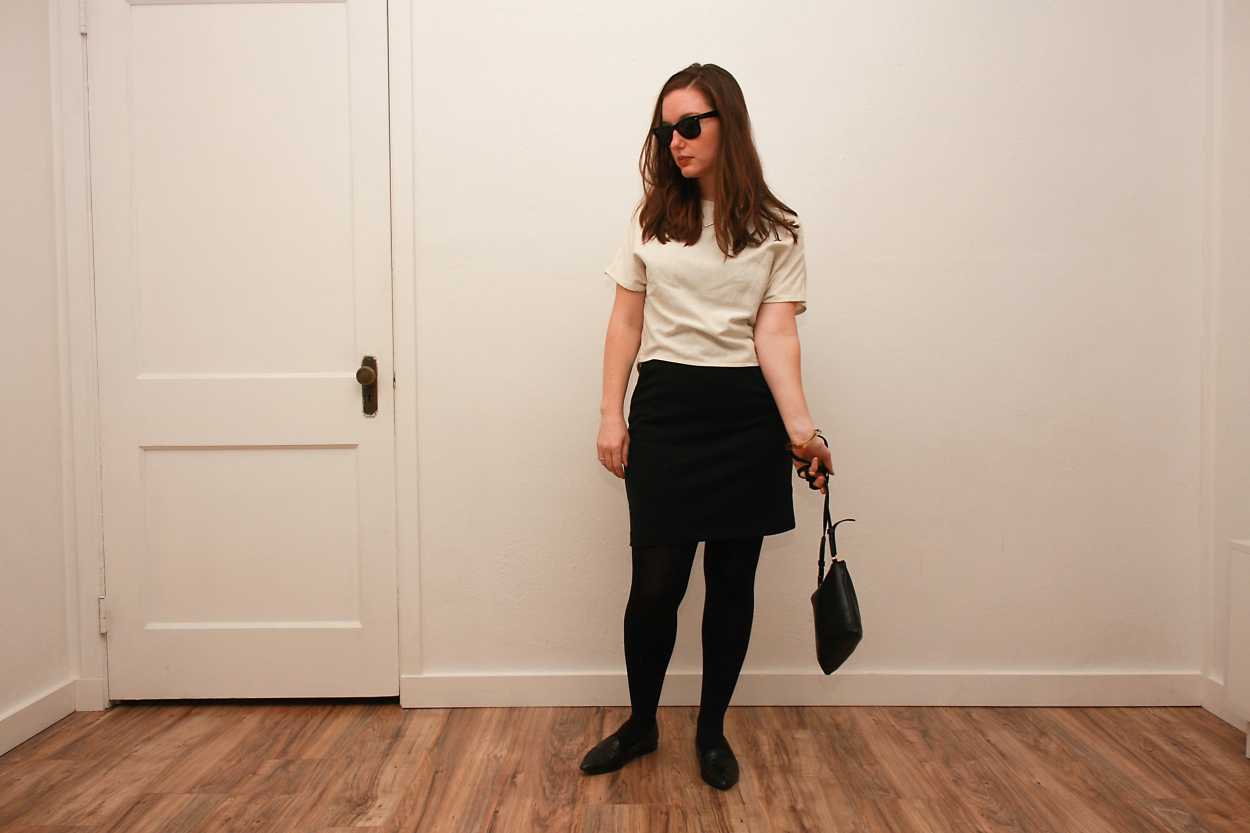 Initially I'd planned to wear a different outfit made of my 10 x 10 pieces, but instead chose this one I'd originally pegged as a "bonus look" because I liked it better. Home again from work per doctor's orders, but finally on the mend, I wore it for a very short period at a monthly art event in the evening, swapping in my 10×10 boots. The combo felt artsy and right-at-home in art studios. I'll definitely wear this look again.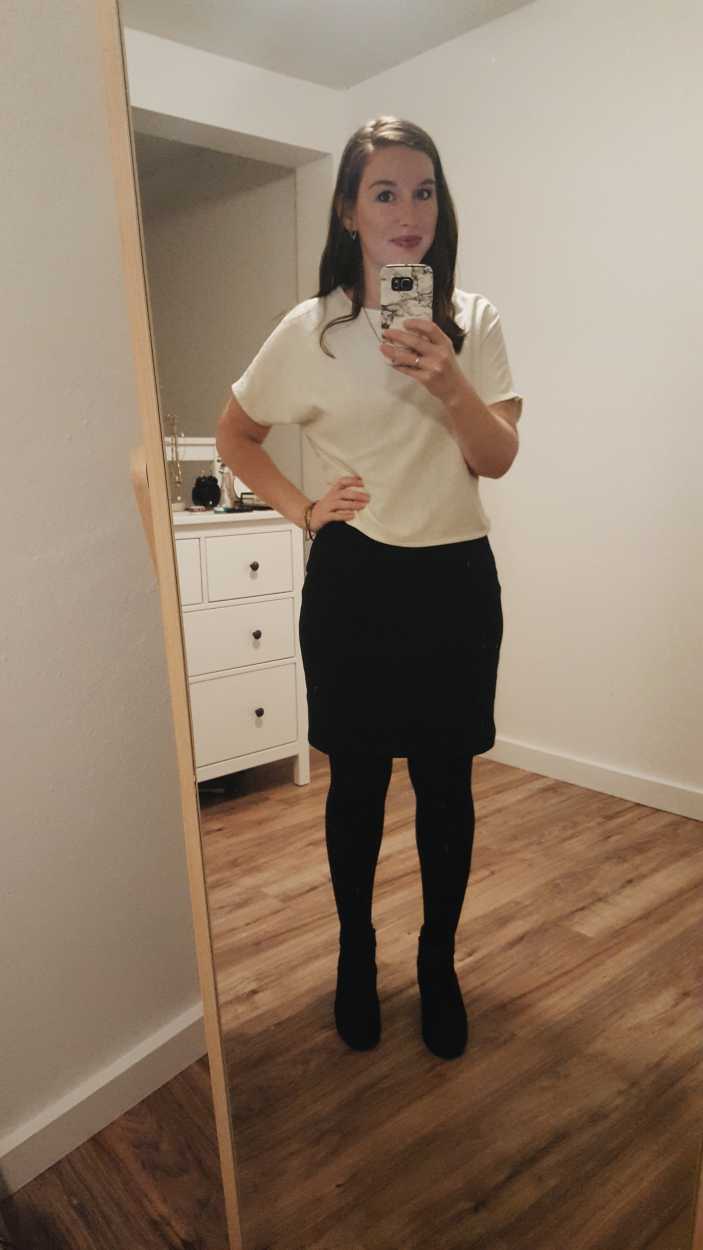 Outfit Details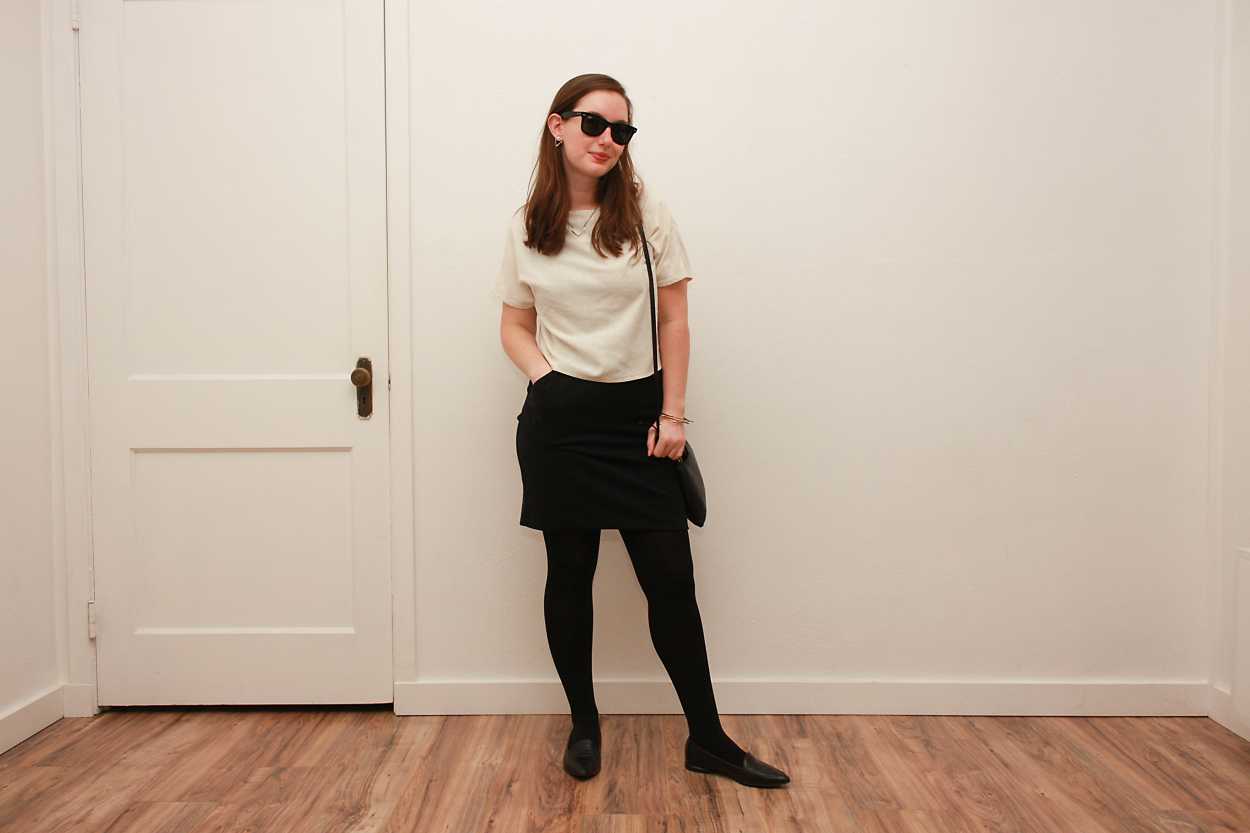 Raw Silk Tee | Off-White | Handmade (by yours truly!) – Similar here
Sheath Dress | Black | Target – better alternative here
Modern Point | Black | Everlane
Triangle Jacket Earrings | Silver+Gold (old, similar here)
Geometric Necklace | Gold (old, similar here)
Wayfarer Sunglasses | Black | Ray-Ban
Geometric Bangles | Brass (no longer available, similar here, here, or here)
Lia Premium Recycled Tights | Black | Swedish Stockings
Crossbody Pouch | Black | Cuyana
There are a lot of accessories going on here, especially for me! But I really love the play of shapes in this outfit – the triangle-backed earrings with the round post, the open triangle necklace, the marriage of shapes in the bracelets, all combined with the straight-lined hem of the dress, shoes that end in a point, and the high-low hem on the top. I worried that the look would feel too "forced" or somehow fake – generally when you wear a top over a dress, it gives the appearance of a top+skirt combination. There's nothing to hide behind here, however. It is very apparent that this is a top worn over a dress, and I think it works okay here.
Item Spotlight: Raw Silk Top, DIY (similar)
This is the first garment (of a grand total of two) I ever made. I didn't have a pattern, but loosely followed this tutorial and used a top I already own as reference. It took a few hours, and was a bit stressful ($30 in fabric down the drain if it didn't work out), but I'm pretty happy with the result. It's funny – I find myself instinctively searching for a tag to determine which is the front and which is the back, but there isn't one! Perhaps I'll add a ribbon to the back of the neckline one day. There are skills I need to acquire, like making bias tape for the neckline, but hopefully it's not too noticeable when worn. My hem is a little pointy in the back, but I can live with it as well. While not the most well-made garment, I feel a sense of accomplishment wearing it, which makes me happy. After all, that's all that matters, right?
Saturday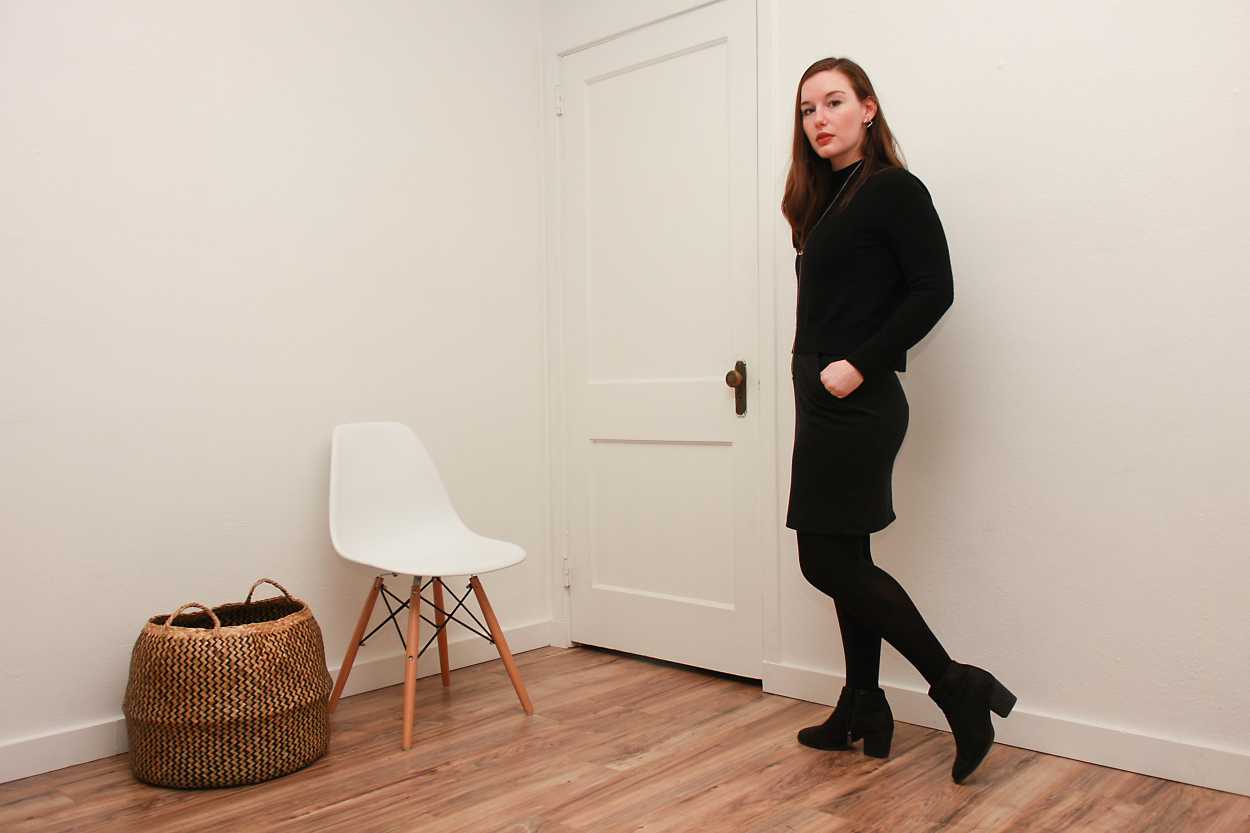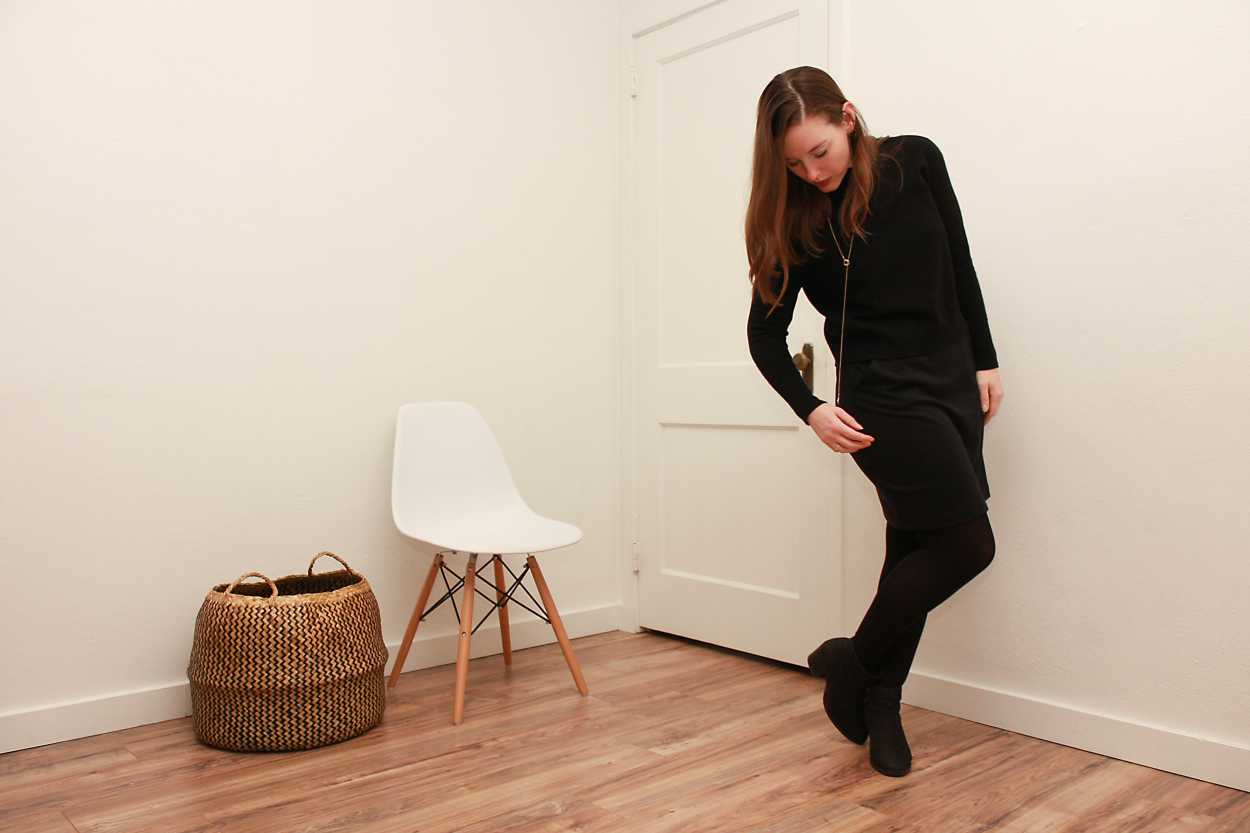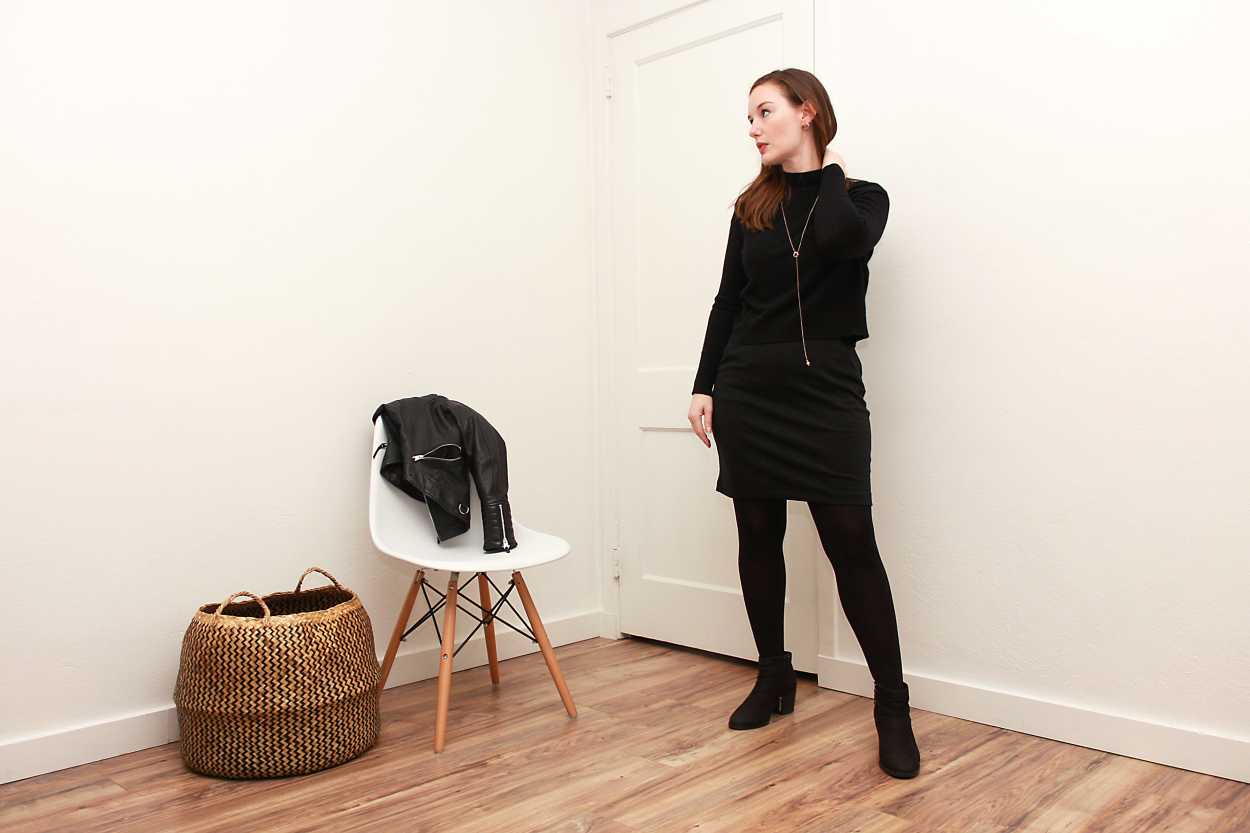 I spent Saturday afternoon in an unplanned 10×10 outfit due to unexpected warm weather (my handmade white top + Everlane jeans + Everlane flats; below), but this dressier outfit was perfect for a dinner at the local pub during the cooler evening. Although black dresses can sometimes feel stuffy, this one felt perfectly comfy and cozy. I like the juxtaposition of typically luxurious cashmere worn in down-to-earth locations.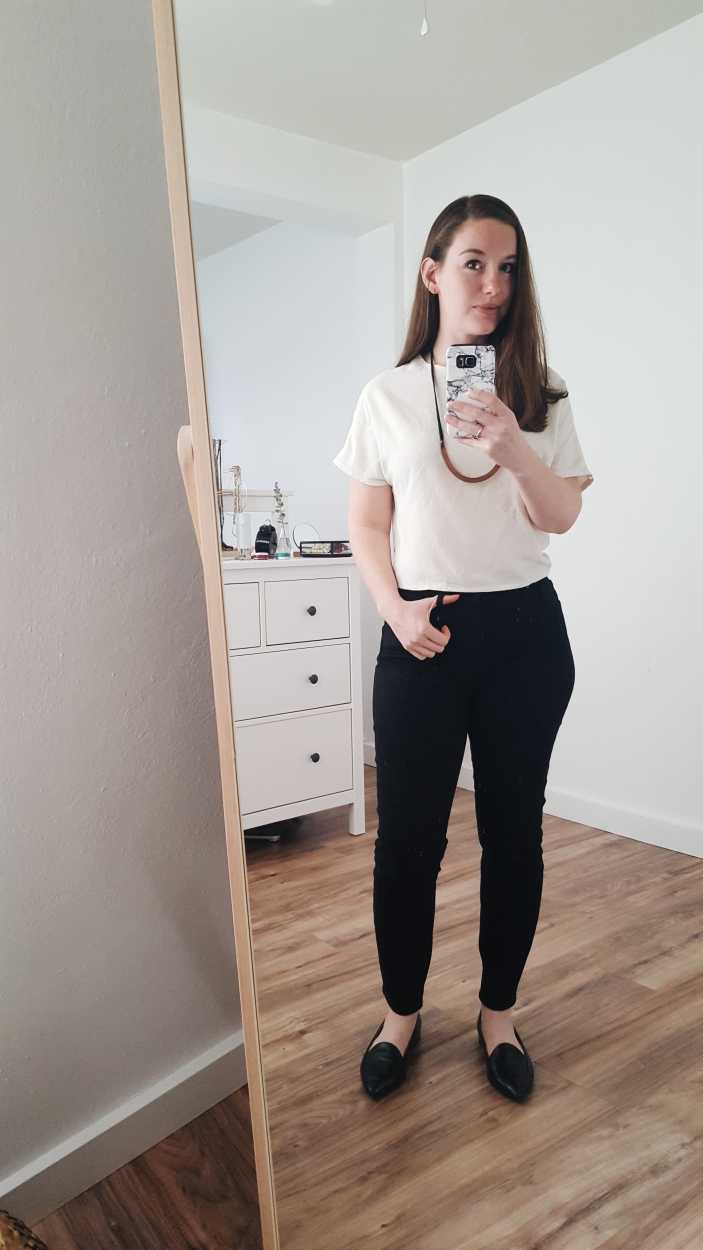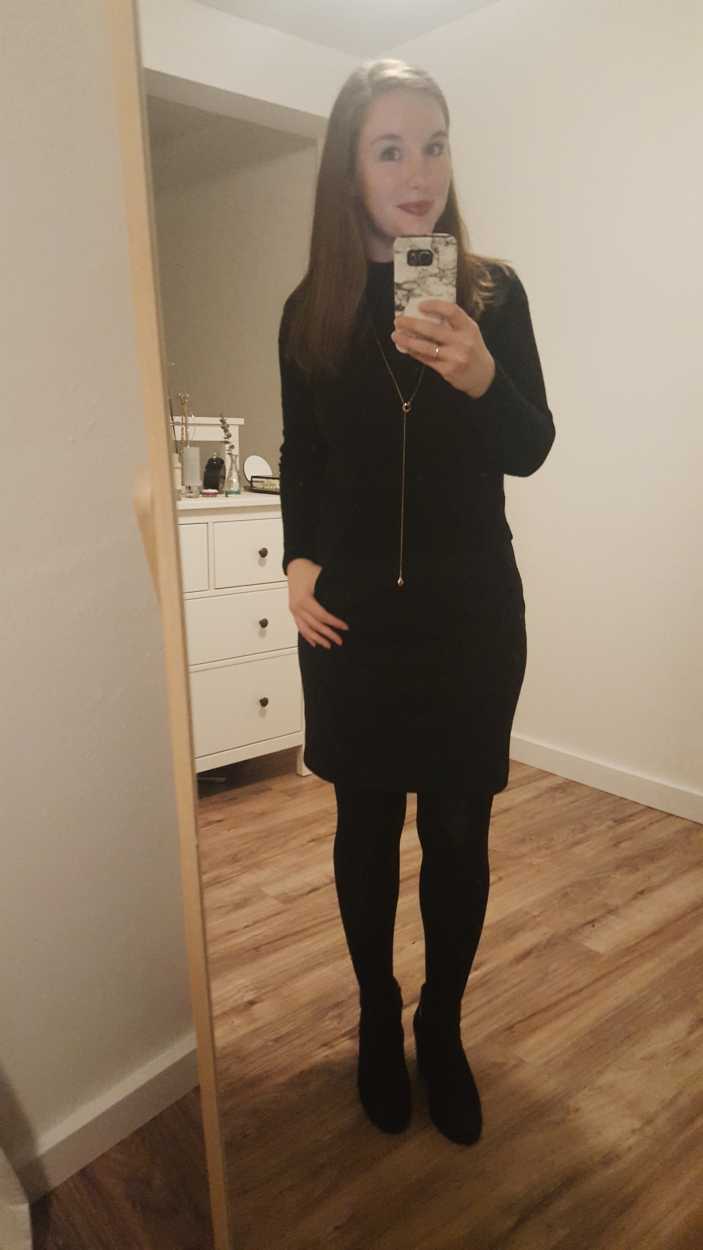 Outfit Details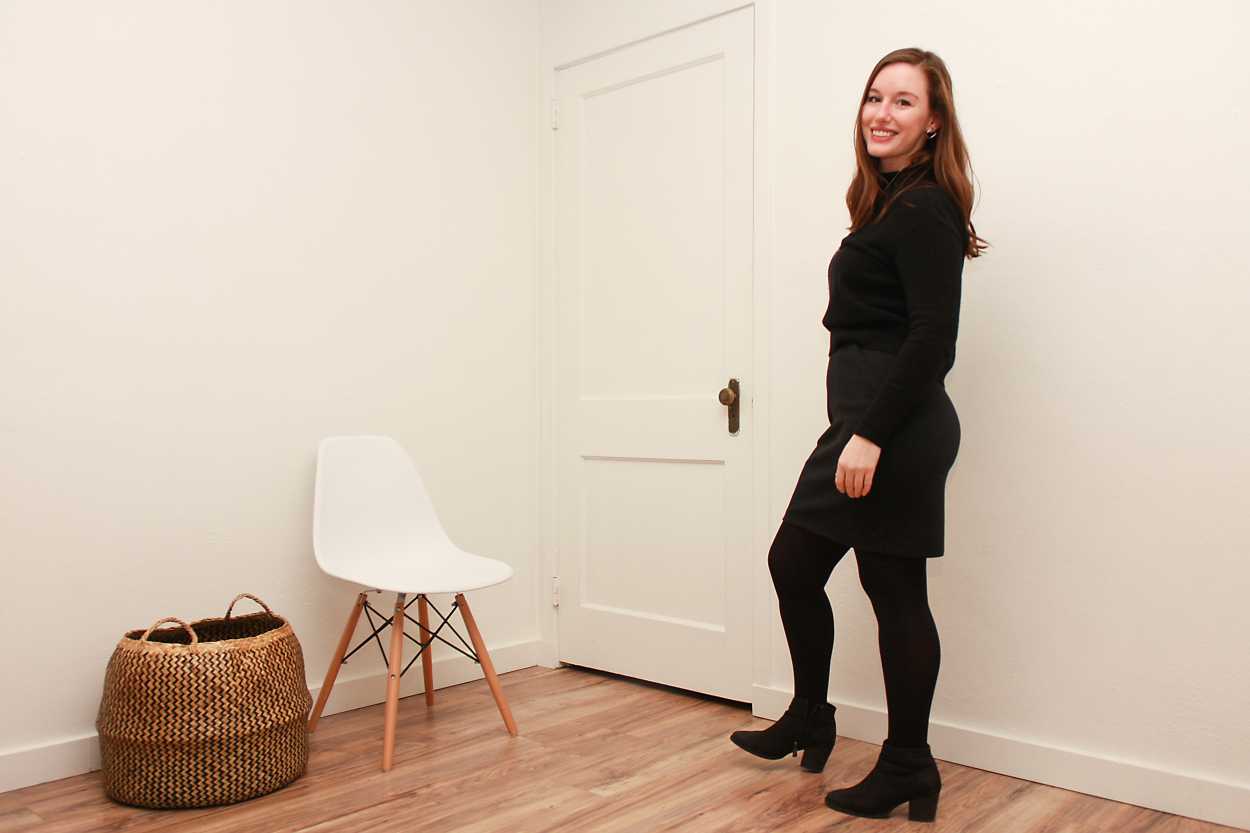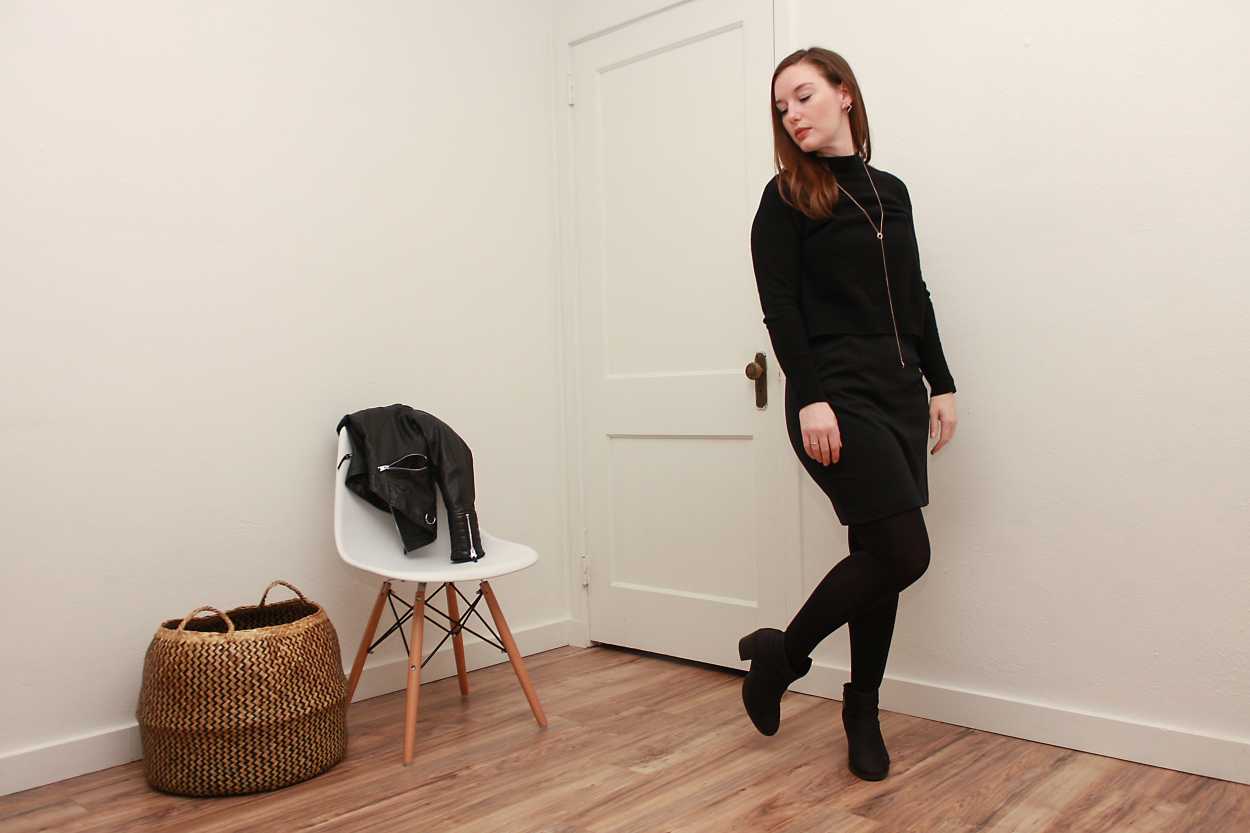 Cashmere Crop Mockneck | Black | Everlane (new to Everlane? You can click through our referral link here for free shipping on your first order)
Sheath Dress | Black | Target – better alternative here
Modern Point | Black | Everlane
Lia Premium Recycled Tights | Black | Swedish Stockings
Lariat Necklace | Gold (no longer available, similar here)
Cube Earrings | Gold | COS (no longer available, similar option)
Item Spotlight: Cashmere Crop Mockneck, Everlane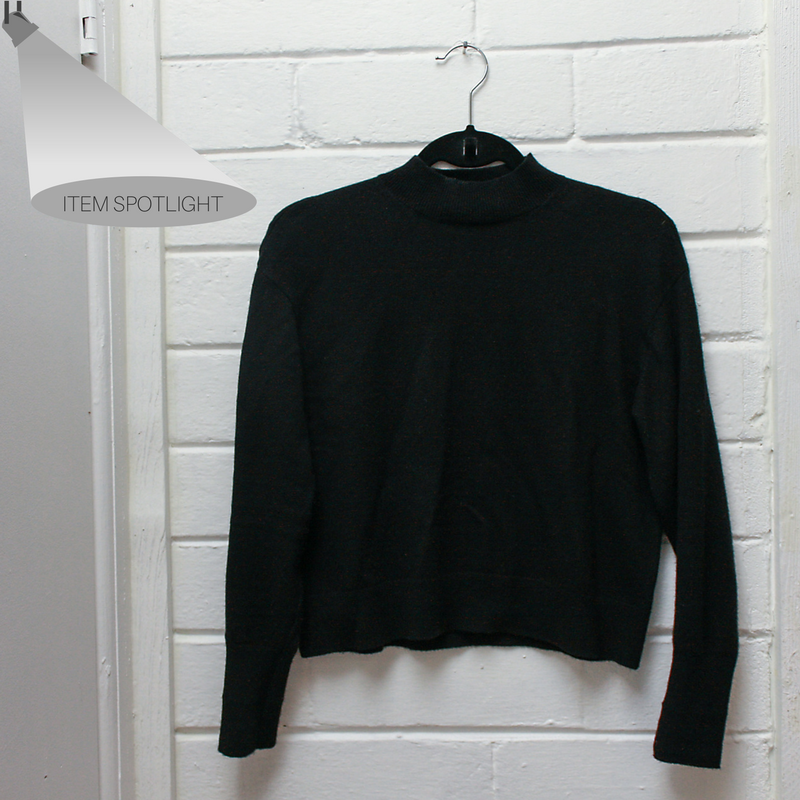 I can't believe I waited so long to buy this sweater. I first tried it on at the Everlane showroom back in October 2016 when it was handed to me by an encouraging "ambassador" (as I believe they call their sales associates) despite my proclamation that I simply couldn't wear anything swingy or cropped. I was really surprised at how I liked the feel and fit of the sweater, but couldn't afford the price tag at the time (the sweater is now part of their $100 cashmere line, but it was previously higher, around $128). I couldn't get it out of my mind, and when Everlane dropped their $100 cashmere line last season, I had no hesitations in ordering this sweater. I'm considering ordering another in Ivory and Cabernet (if the Cab ever restocks), but haven't pulled the trigger yet. I do know that I would not order the Cashmere Crop V-Neck, as I tried it on in-person and felt very exposed in it (there's not much fabric between the base of the V and the bottom hem); however if they ever re-release their Crop Crewneck I would consider trying that one. I have yet to wash this sweater, but will definitely be hand-washing once the challenge is over. For now, I'm using this spray to keep it fresh and it's working well.
Sunday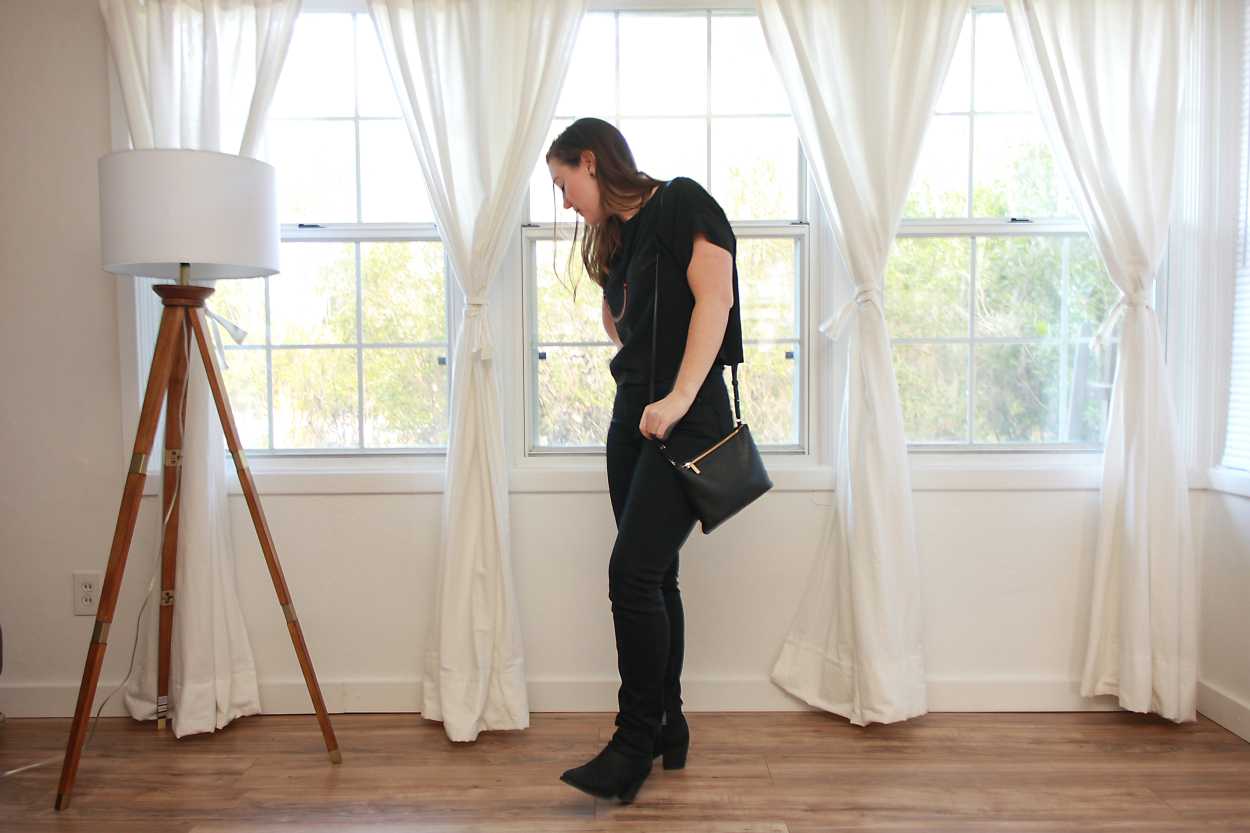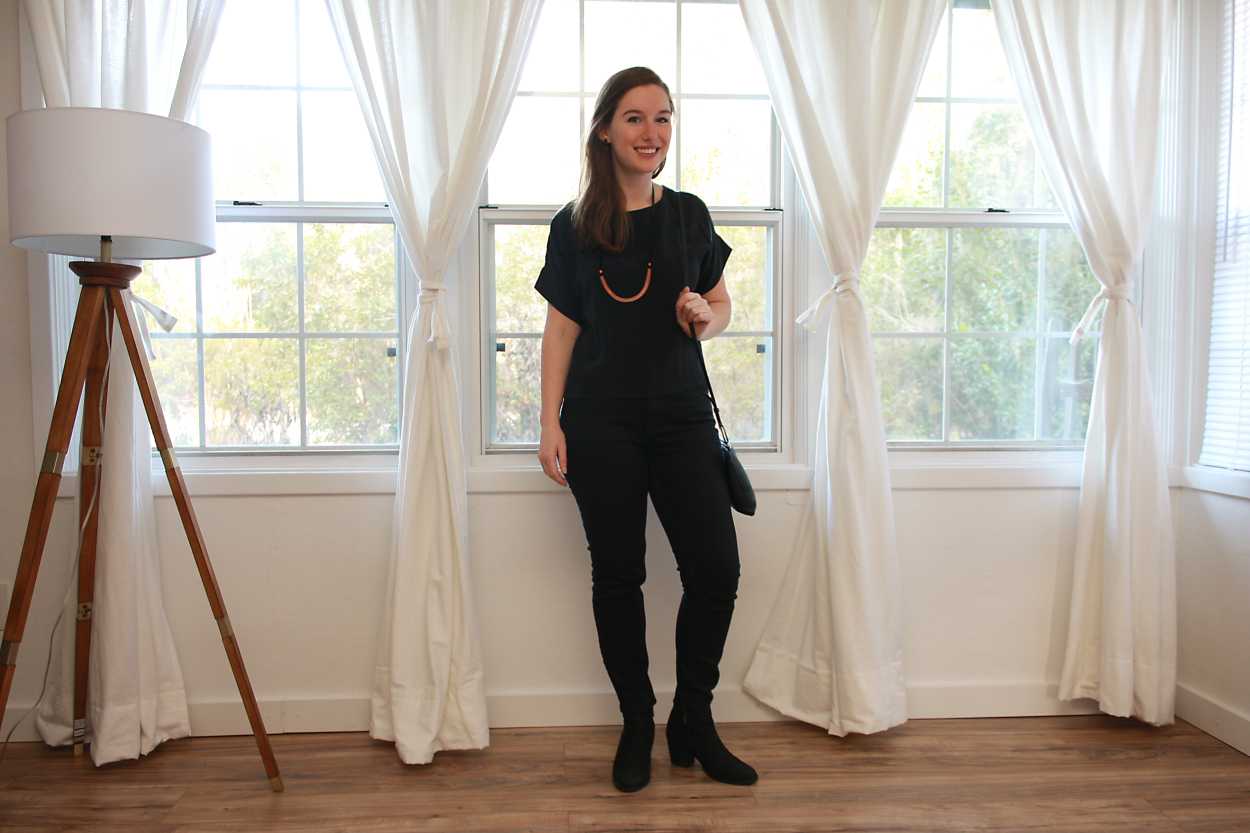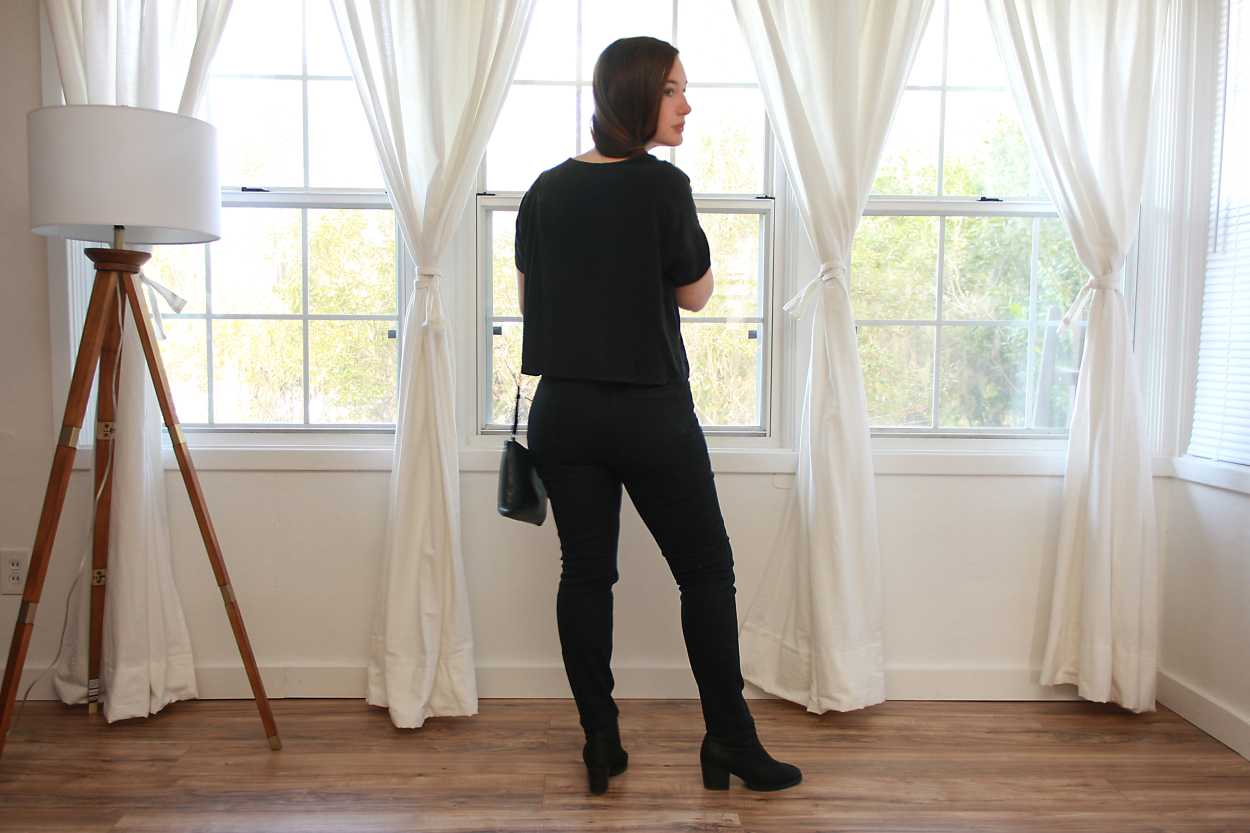 I purposely saved this look for last, as it's both fool-proof and comfortable – exactly what you need on an easy Sunday. This weekend was the last free weekend for awhile, so we mostly moseyed about the house, took a walk, and ran a few errands. To me, the perfect outfit is the one you don't really notice while wearing, and this was it. No fiddling, no fussing; just get dressed and go.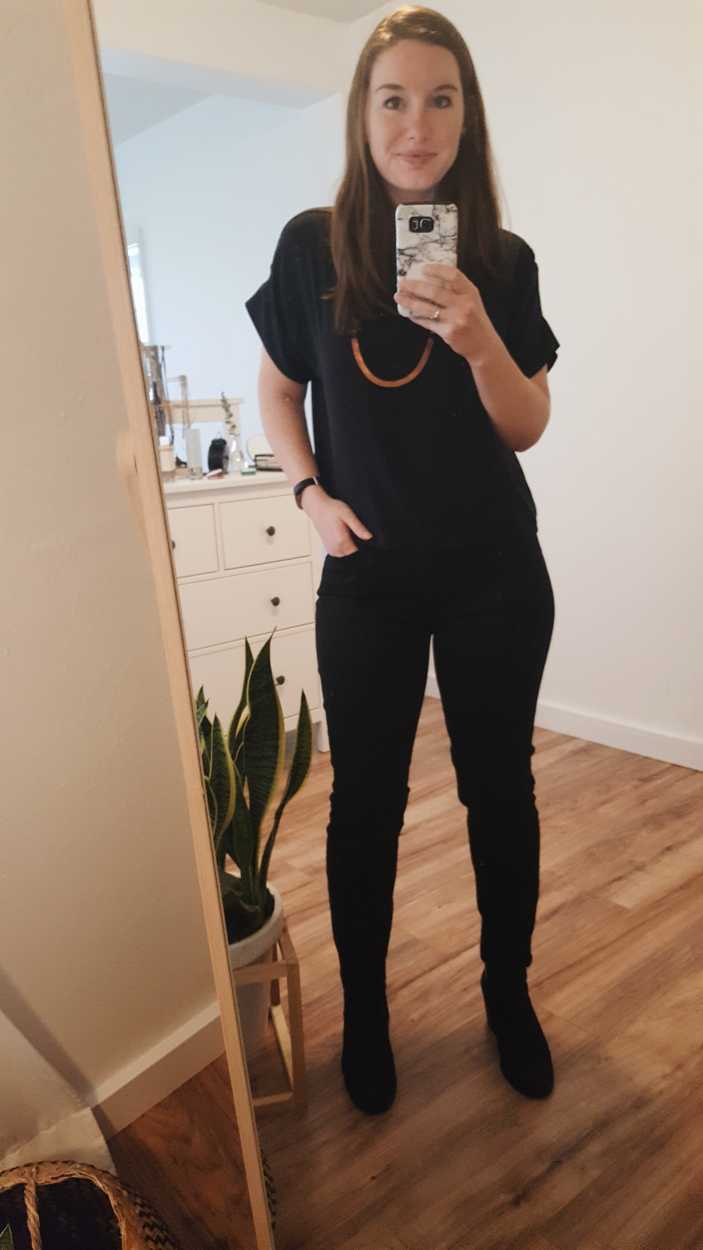 Outfit Details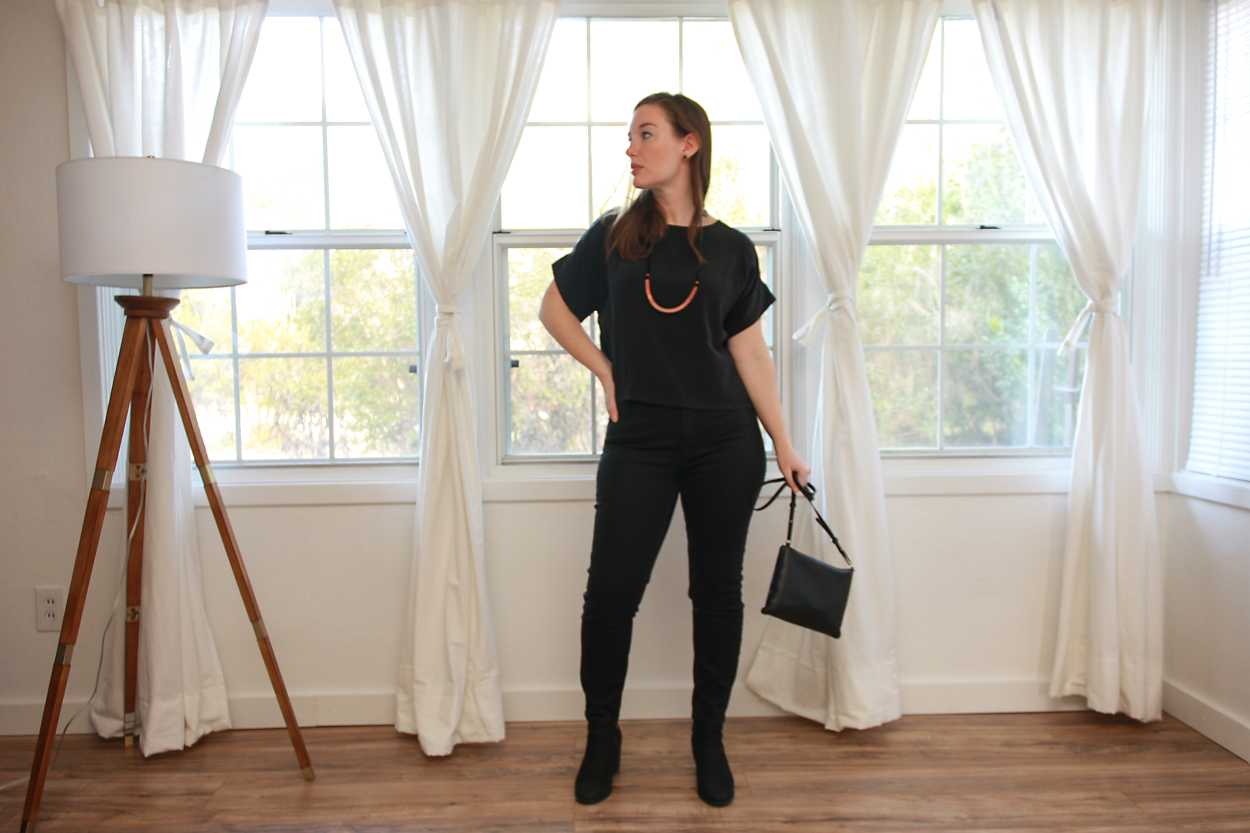 Georgia Tee in Silk Crepe | Black | Elizabeth Suzann
High Rise Skinny Jeans | Black | Everlane
Nelli Waterproof Bootie | Black | Nordstrom
Crossbody Pouch | Black | Cuyana
Arc Necklace | Black | Dear Survivor
Stud Earrings | Black (old, linked to similar)
Another day in all-black, and I truly don't mind it. The Georgia Tee hangs well over these high-waisted jeans, and I don't need a midriff-covering base layer on the weekend. This combo is so easy – I think the shapes and fabrics speak for themselves. I just added some quietly interesting jewelry, and out the door I could go.
Item Spotlight: Georgia Tee in Silk Crepe, Elizabeth Suzann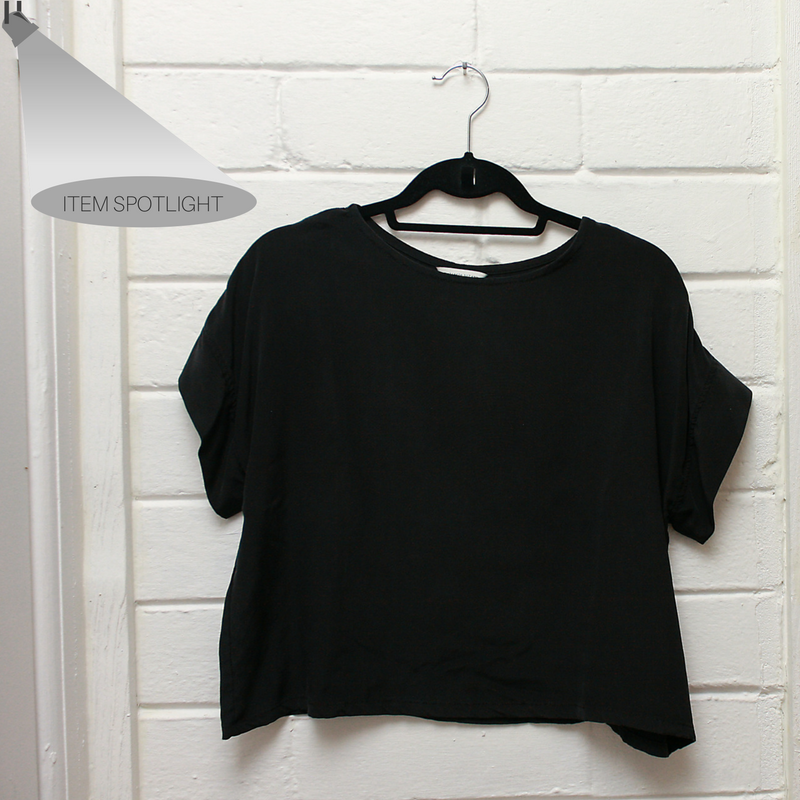 Wearing this tee feels so luxurious. The silk crepe is seriously beautiful, and it feels amazing on my skin. I bought this a few months before Signature Collection 4 launched, so it has the old OSM sizing. I understand the most recent updates include an extra inch added to the length, a slight addition to the width, and some adjustments in the neckline. ES customer service offered to allow me to exchange it, but I ultimately kept the first one. My only disappointment was that it came with a small hole in the back near the tag. It's not noticeable when I'm wearing it, so I never contacted customer service about it, but I am growing a little worried that it will eventually grow or will get snagged and rip. Fingers-crossed that won't be the case. It's a bit hard to style under things; the sleeves are a little wide and bunch up under long sleeves. I have layered longer sleeves underneath it just fine. I'm really in awe of the pieces ES creates, but right now this is my only one. I'd love to try other items, but I'm not sure how I feel about the vast width and shape of most of them, plus it's not really in the budget at the moment. I do know that I'll treasure this one for a long time.
Follows
Everyone has really done a phenomenal job with this challenge – dressing for winter offers so many opportunities for creative layering! Check out nine of my favorite looks from the final portion of the challenge: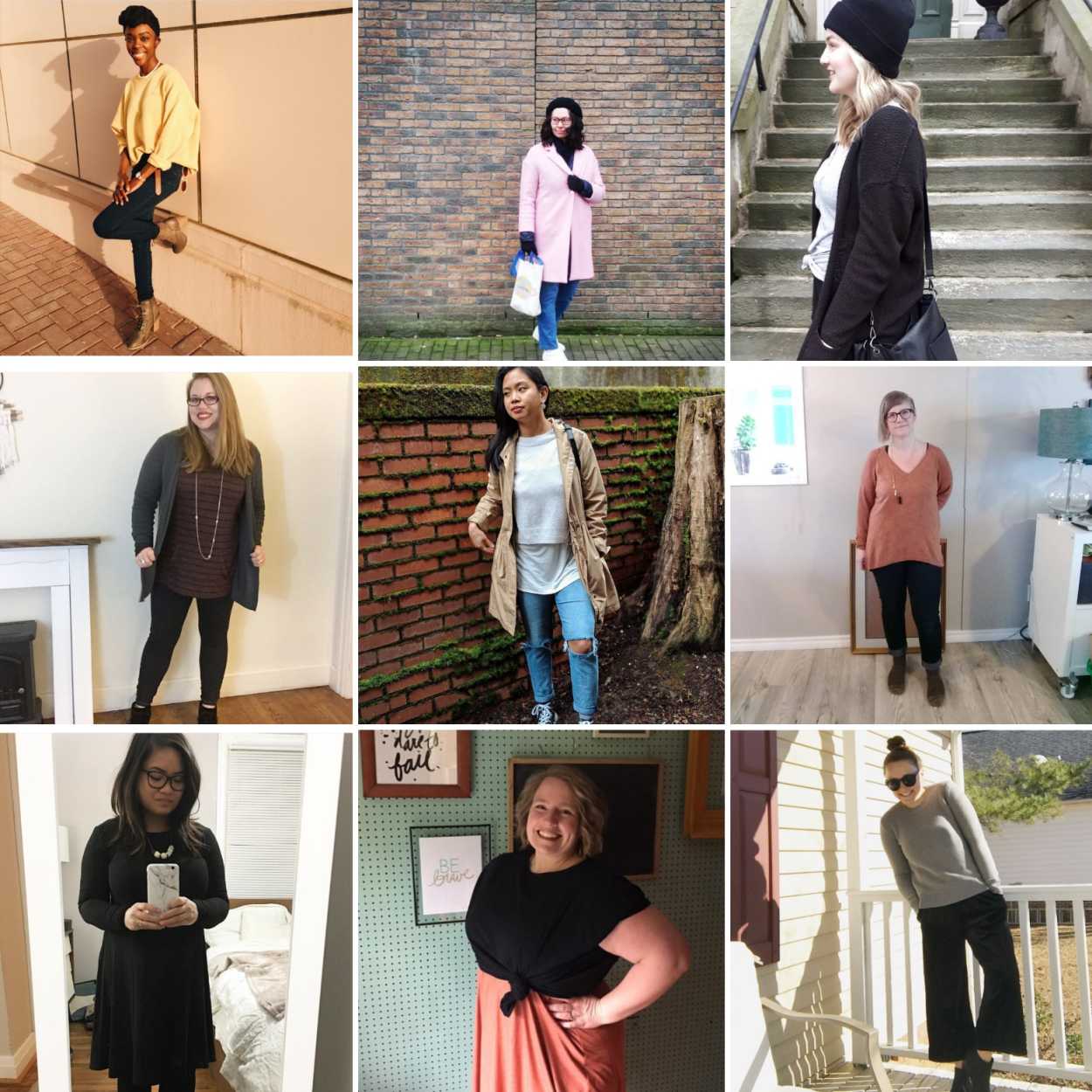 Top Row:
@theravenlove
@sousouspace
@lisamariekiss
Middle Row:
@intentional_mom
@klarizzakruz
@sonotladylike
Bottom Row:
@lysgetsdressed
@ineveryinch
@_emory_jane
---
Ten days went really fast! How did you do with your final outfits?
Be sure to stop back in on Thursday for my Winter 10 x 10 Wrap Up!