Normally packing for a three-day weekend is a breeze, but when you're from Florida and the temperature at your destination is barely expected to rise above freezing, it can be a challenge. Neither of us have a well-established winter wardrobe since you don't really need one where we live, and I still feel like we're getting the hang of winter dressing. Thankfully, we both found our packed items sufficient, and we felt like we fit in with the locals. Below I'll share what I packed, and a breakdown of what I wore each day. Not included in this list are pajamas, bras, and underwear, but I packed two bras, five pairs of underwear, and two pajama tops and bottoms (long sleeved top, short sleeved top, shorts, and long pants) for mixing and matching comfortably.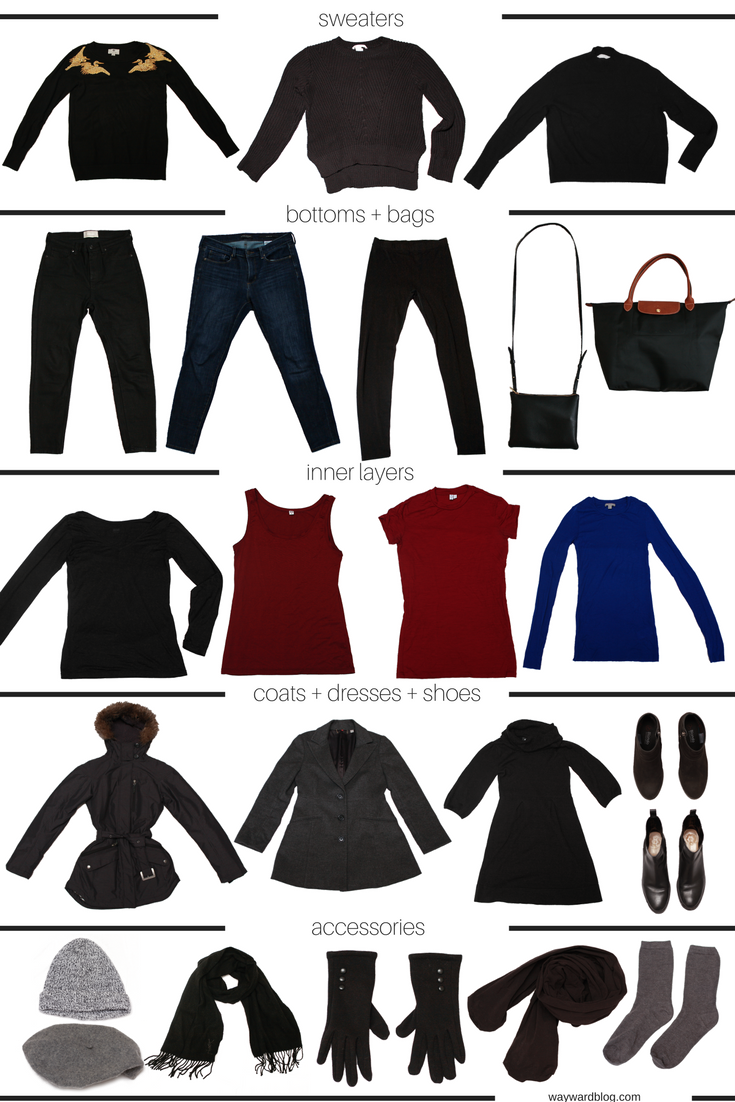 Sweaters
Crane Sweater, Altuzarra for Target (old – similar styles here and here). Michael is not terribly fond of this sweater, but I've actually been impressed with the thick knit that hasn't pilled at all, and I love that I don't need a necklace when I wear it.
Cropped Sweater, H&M (old – similar here). I very rarely shop at H&M these days, but I picked this sweater up at the beginning of this year for our winter trip to Montreal. Though it's very thick, it's not very warm on its own. Its generous cut makes it a great layering piece, however, and the cropped length makes it feel fresh and not too baggy.
Cashmere Crop Mockneck, Everlane (new to Everlane? Head here first for free shipping). I tried this on at the Everlane showroom over a year ago and didn't pull the trigger on it until just recently. I'm actually really surprised with how often I find myself reaching for this sweater; I think it's because the crop hits me at the right spot, but the mockneck helps keep it feeling modest. Bringing it along to Providence was a no-brainer.
Bottoms
High-Rise Skinny Jean, Everlane. These jeans are still not quite broken in (they are very stiff, and though they are tight in the hips, I had to have them taken in at the waist just before leaving), but I packed them since they are the heaviest denim I own.
Blue Skinny Jeans, Banana Republic. I'm not sure how long these jeans will last due to the high percentage of stretch material, but they are pretty comfortable for long car and plane rides. They fit well at the ankle and are easily tucked into boots.
Heattech Ultra Warm Leggings, Uniqlo. Before we left for Montreal we stocked up on Heattech items from Uniqlo. I'm not sure if these leggings really keep you warmer than others or not (they still let a lot of wind and chill through), but I find myself layering tights underneath when the mercury drops.
Bags
Crossbody Pouch, Cuyana. This small crossbody has been my go-to purse since the day it arrived. It's small, light, and keeps my hands free for warm cups of coffee.
Le Pliage Large Tote, Longchamp. My very handy "personal item" at the airport. I stuffed all of my cold-weather accessories in here along with my toiletries, and still had enough space to stash my crossbody until we boarded the plane.
Inner Layers
Heattech T-Shirt, Uniqlo. I actually do believe that these shirts help keep you warmer in the cooler weather (and wick sweat when you get a little too warm). They are thin, soft, and easy to layer over, but don't look terrible if you wear them alone, either.
Heattech Sleeveless Top, Uniqlo. I brought two of these along to wear as base-layers. I like how the tank tops don't bunch underneath your arms and the length is perfect for tucking.
Merino Short-Sleeve Tee, & Other Stories (old – link to similar here). I bought this shirt from & Other Stories to wear as a sweater-tee, but once it started getting holes in it, I moved it to my undershirts-drawer. Merino is supposed to be a great base-layer as it keeps you warm in the winter and cool in the summer, and doesn't retain odor very well.
Wide-Neck Wool Top, COS (link to black). I ordered this on sale from COS about a year ago to wear as a sweater, but it was so sheer I couldn't justify doing so. I'm glad I kept it though, as it fits close to the body and has thumb holes, which means no more tugging at the sleeves underneath my sweater.
Coats + Dresses
Carson Pass II Jacket, Columbia. We spent weeks researching coats for our trip to Montreal in March, where the weather forecast was 0°F. I really wanted a Canada Goose of course, but couldn't justify spending a month's rent on a coat when we have very few days below freezing at home. This jacket from Columbia cost a fraction of the price of a Canada Goose, and I've been really impressed with how warm it is, considering it's not a puffer.
Wool Coat, Uniqlo (linked to current version). I picked this coat up at a thrift shop in New York, and while it's very figure-flattering, it's not as long as I would like. I tried on the current version at a Uniqlo recently, but it was a little thin. I'm hoping to pick up a replacement at the end of the season, perhaps something like this one from Acne.
Cowl Neck Sweater (linked to similar). I picked this up at a thrift shop for $5 and while it fits alright, it's made of acrylic, and I'm tiring of wearing synthetic fabrics. Once it shrinks or pills, I'll go for something made of natural fibers, like this dress from Rails.
Shoes
Waterproof Heeled Booties, Blondo (sold out, linked to similar). I debated for awhile before buying these booties, as they weren't from an "ethical" brand (to my knowledge, at least), but I have been really impressed with the quality. There was no break-in period, and I felt safe walking around Providence's snowy streets in these.
Waterproof Chelsea Boots, Cole Haan (linked to updated version). I'm not sure I like the newest version of these boots as much as I like the ones I have, but I'm glad they added more traction to the sole and heel. I've had protective soles added to mine, and the heels have been replaced three times, but I've put hundreds of miles in these boots. With proper care, they'll last for hundreds more. One thing I forgot, though, is that the ring on the heel of my boots triggers the metal detector machine, causing a slow-down at the TSA checkpoint.
Accessories
Marled Wool Beanie, Everlane (sold out, solid black Everlane beanie here or more similar here). I'm not a beanie-gal, but it seems a lot of folks in Providence love wearing them. This one from Everlane helped keep my ears warm when pulled down, though the locals like to wear theirs higher up.
Wool Beret (similar here or better here). This was an impulse-buy at one of those "off-price" retail chains, but I actually really love it. I feel silly wearing it at home (and I would never, ever wear it in France), but it's fun and functional for traveling.
Wool and Cashmere Scarf, Yves Saint Laurent (no longer available, updated version here or more eco-friendly option here). I found a spectacular deal on this scarf last year, and my grandmother snapped it up right away for me as a Christmas gift. It's soft and the perfect length for wrapping once, knotting, or looping through.
Tech Gloves (linked to similar). I don't recall where these gloves are from, but I opted to bring these to Providence as my leather gloves don't have the tech finger pads. They are not as warm as leather gloves, but it is nice to be able to consult a map or website when wearing them. If you have any good leads on leather tech gloves, please let me know!
Heattech Tights, Uniqlo. I'm not sure these tights are really warmer either, but it seems like they are almost bullet- (or rough fingernail-) proof. They aren't as high-waisted as some of my other tights, which made layering them under jeans a little more comfortable.
Heattech Socks, Uniqlo. These socks are thin, but keep my feet warm. The length is perfect for wearing underneath my Chelsea boots; I have to fold them down a little under my heeled booties.
---
Friday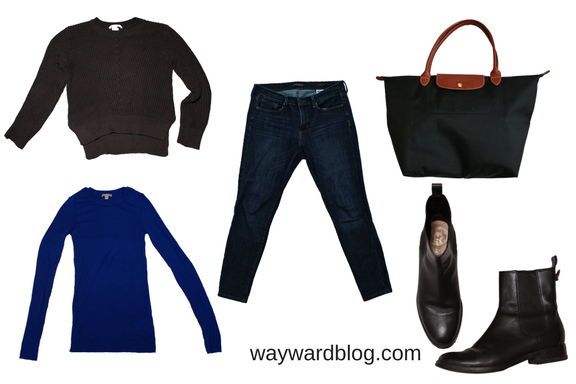 Friday afternoon it was around 65°F in Florida, and we knew it would be in the twenties when we landed in Providence. I wore my cropped sweater over my thin merino top, along with my skinny jeans and Chelsea boots. I carried my coat in my arms and my hat, scarf, and gloves in my Longchamp.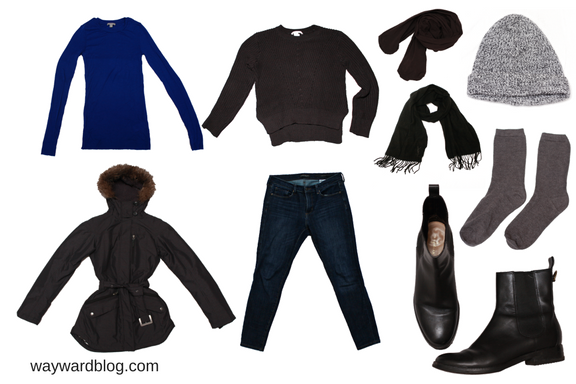 Once we arrived to the hotel Friday evening, we added in our extra layers for exploring the city. Just before dinner I swapped into my beret, though I should have kept my beanie as all of the staff at the restaurant were wearing them.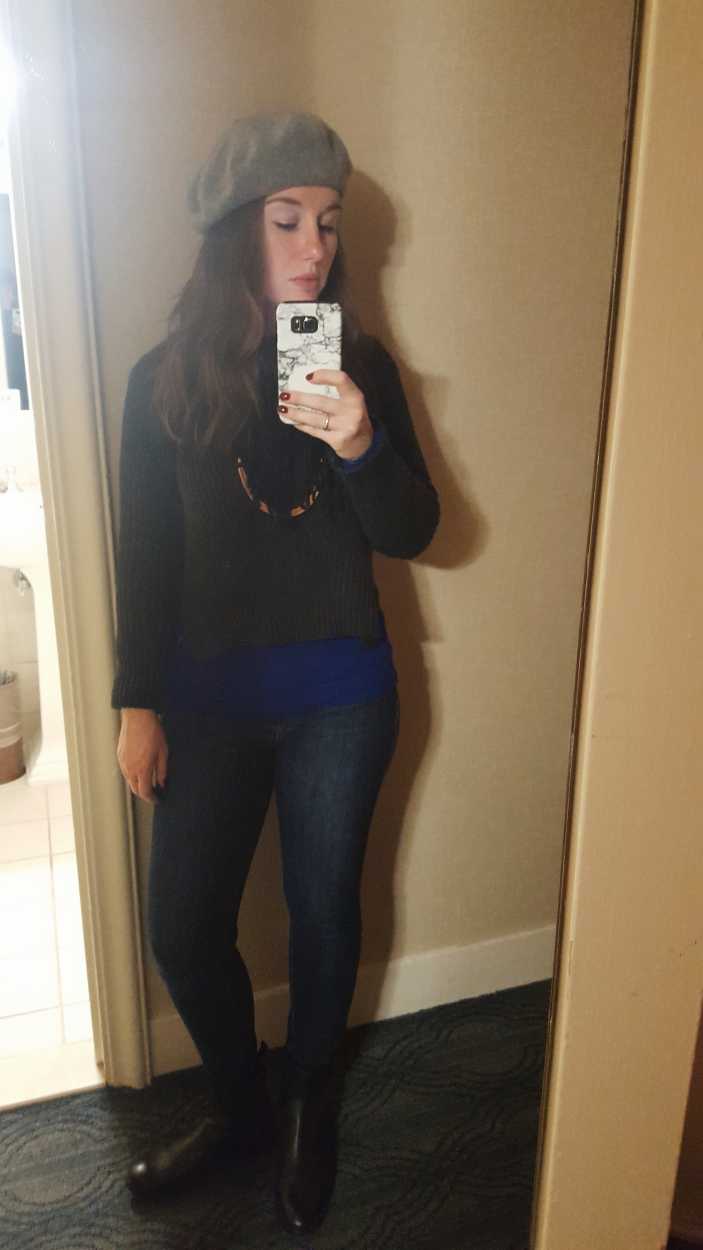 ---
Saturday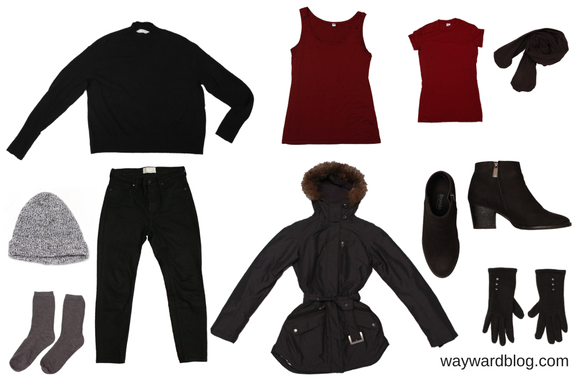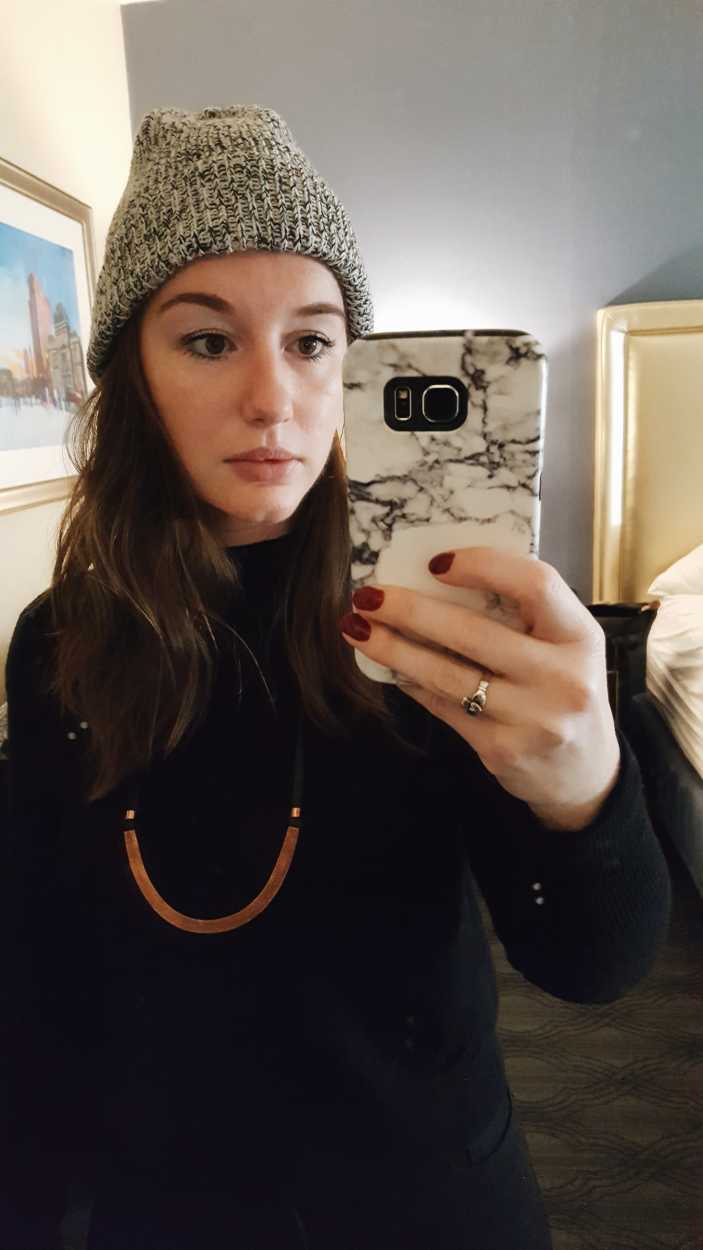 Saturday morning we went to the local Zoo. Temperatures were the warmest we'd see in all of our visit, but it was still very cold to be outside. I layered up and wore tights under my jeans, but my toes eventually started losing feeling. I was grateful that the zoo had indoor spaces where we could get warm.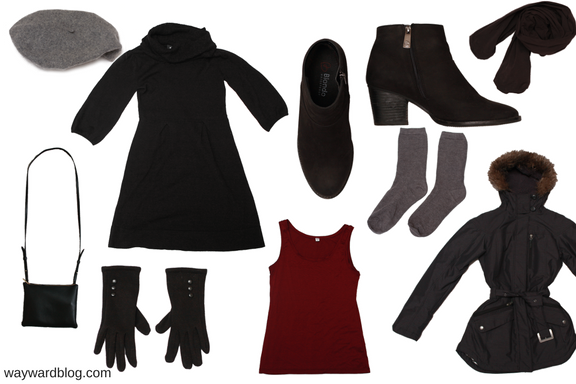 I debated wearing my jumpsuit in Providence, but figured something with sleeves would be a little more functional for our fanciest meal of the trip. I found this sweater dress at a local thrift shop, but I found myself wishing I could wear a long-sleeved tee underneath. It was quite cold, but if we kept moving it didn't seem so bad. Having the faux-fir trim on my jacket helped keep more wind off of my face.
---
Sunday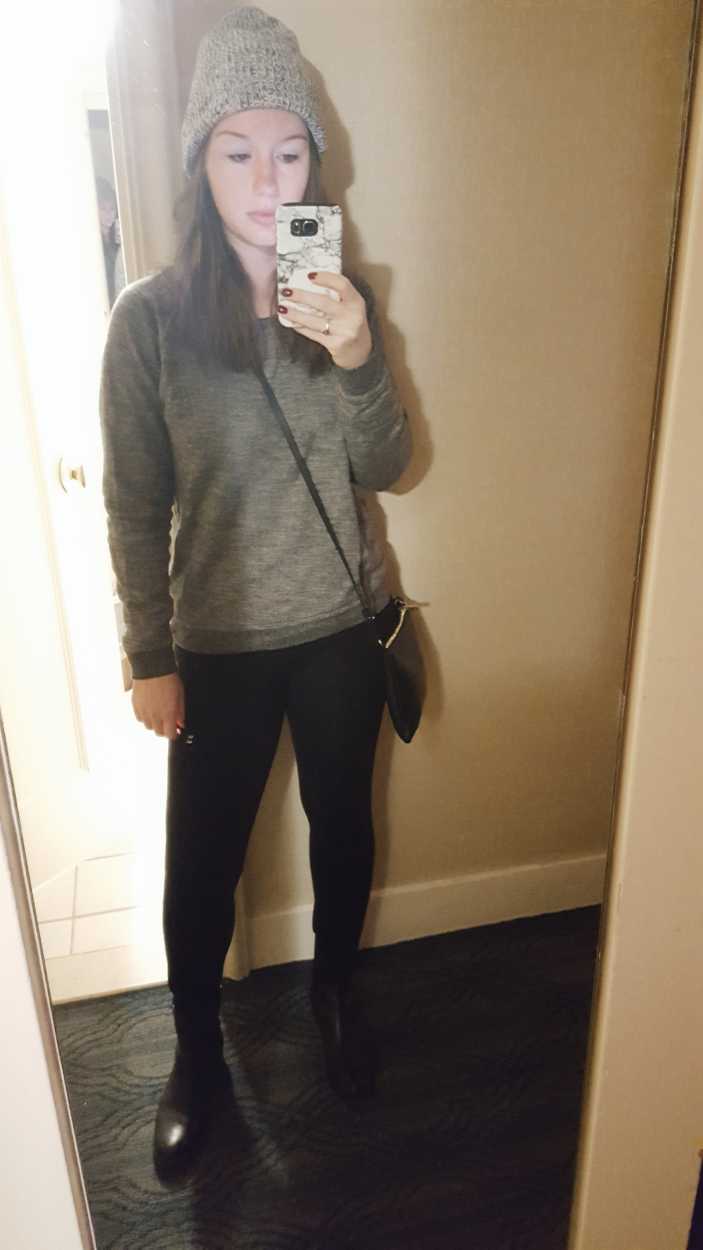 Sunday morning started off in a lazy way, with a quick run up the street for coffee and donuts. I actually wore my PJ top and leggings out under my coat, but ended up feeling like I fit in more with how others were dressed this way. I changed once we got back, however, because I didn't necessarily feel like me.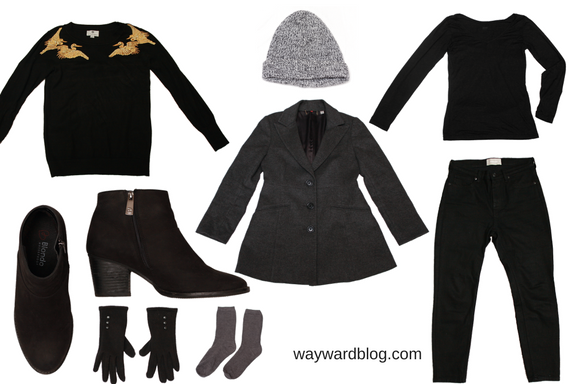 I wore my planned outfit for the rest of our final day in Providence, and topped it off with my lighter coat as we would be flying out before the sun set. We enjoyed a lot of time indoors on our final day, visiting the art museum and eating lots of good food. I don't have a photo in this outfit, but it is one I often wear at home and on the road. I wore this outfit all the way home, removing my hat and gloves once we landed.
---
Three days in Providence passed quickly, and I was grateful that we dressed appropriately for the weather. We are still working on our cold-weather dressing skills, but I am confident we'll be (nearly) experts after a few more winters of travel.
Where is your favorite cold-weather destination? Do you have any tips for winter packing?