In Monday's post I shared that we were beginning a three-day detox to help get our bodies back on track after traveling. Well, here we are – we made it!
Here's a quick recap:
We found a three-day detox on the Goop website, and began shopping and prepping for it on Saturday and Sunday. The plan is gluten-free and refined sugar-free, and can be made vegan (we opted to use honey and eggs instead of agave and egg-substitute however). The meals looked both exciting and nutritious without many fancy or exotic ingredients, and on the first two days even included a dessert-like item. The goal of this detox was to reset our bodies, for myself in particular, as my sugar cravings have gotten insatiable and I've experienced some dairy-issues recently with store-bought ice cream. While we know we won't have the will-power to eat like this all the time, I'm hoping this will decrease my growing dependency on sugar (I'll just have to work a little harder for my ice cream by making it from scratch – recipes to come!).
So, how did it go? Let's see:
Monday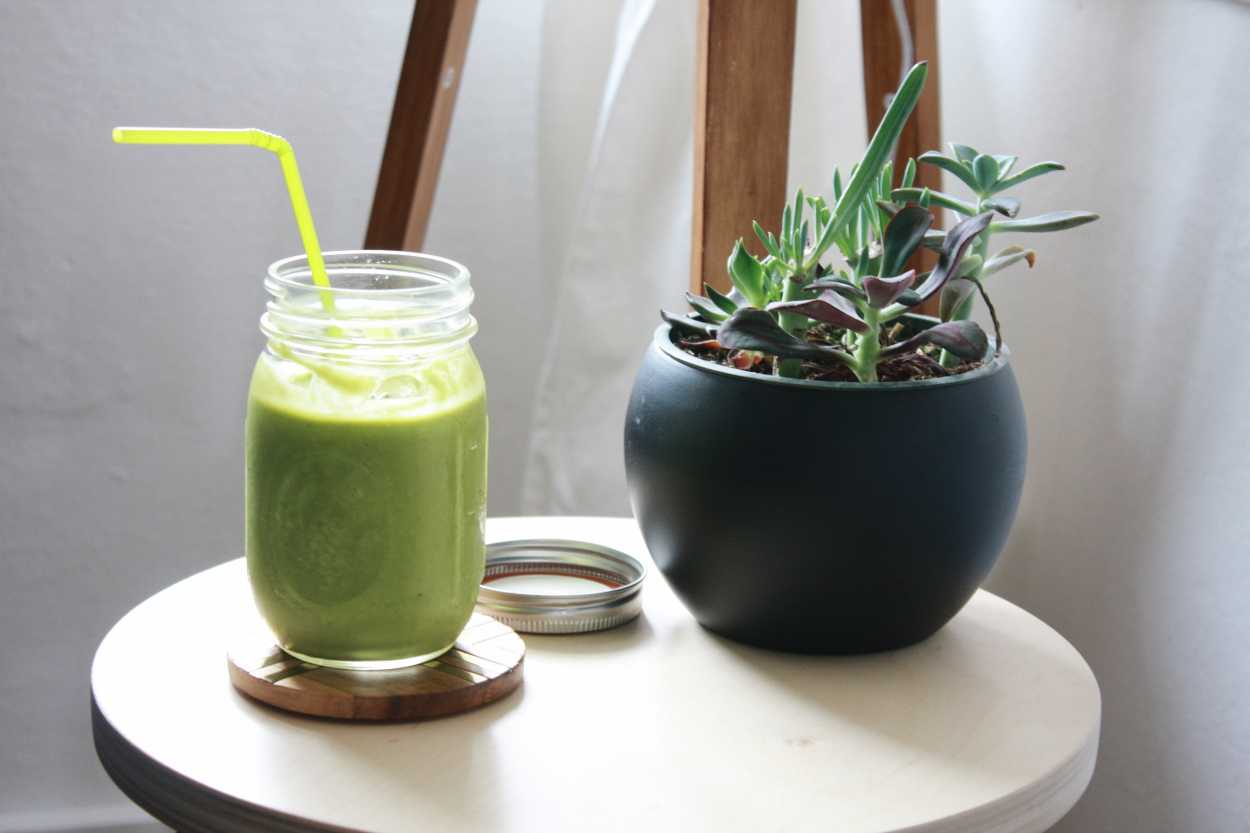 Breakfast: Pineapple Arugula Cilantro Green Smoothie
Krystal: Wow – this thing was green. I make a smoothie daily before work, and am used to throwing in greens like spinach and kale, but this was on another level. I threw a few ice cubes in to add some bulk without the calories, and kept it in the freezer until I was ready for it. I had a cup of white tea around 8:00 a.m. in place of my usual coffee. I held off until after 10:00 a.m. to have my smoothie, and I was way hungrier than usual without my coffee+cream. The smoothie was a little funky with all that cilantro and arugula, but the pineapple really helped cut through it. I would make it again, I think, but cut back on the greens a little (or swap in milder spinach).
Michael: I usually sneak a couple of sips from Krystal's smoothies every morning and this one was a little different. Very green in color and in flavor. I tried to focus on the parts of it that tasted familiar, like the banana, and that helped me adjust somewhat. Aside from that, it's not too bad for a smoothie that's part of a cleanse; it's not too far off from something we've made in the past and it didn't taste significantly more gross for it being healthier. I drank it at work at my desk, which surprised me somewhat since I've usually eaten by then. I guess one thing the cleanse has already taught me is that I can hold off as long as this without eating and still function.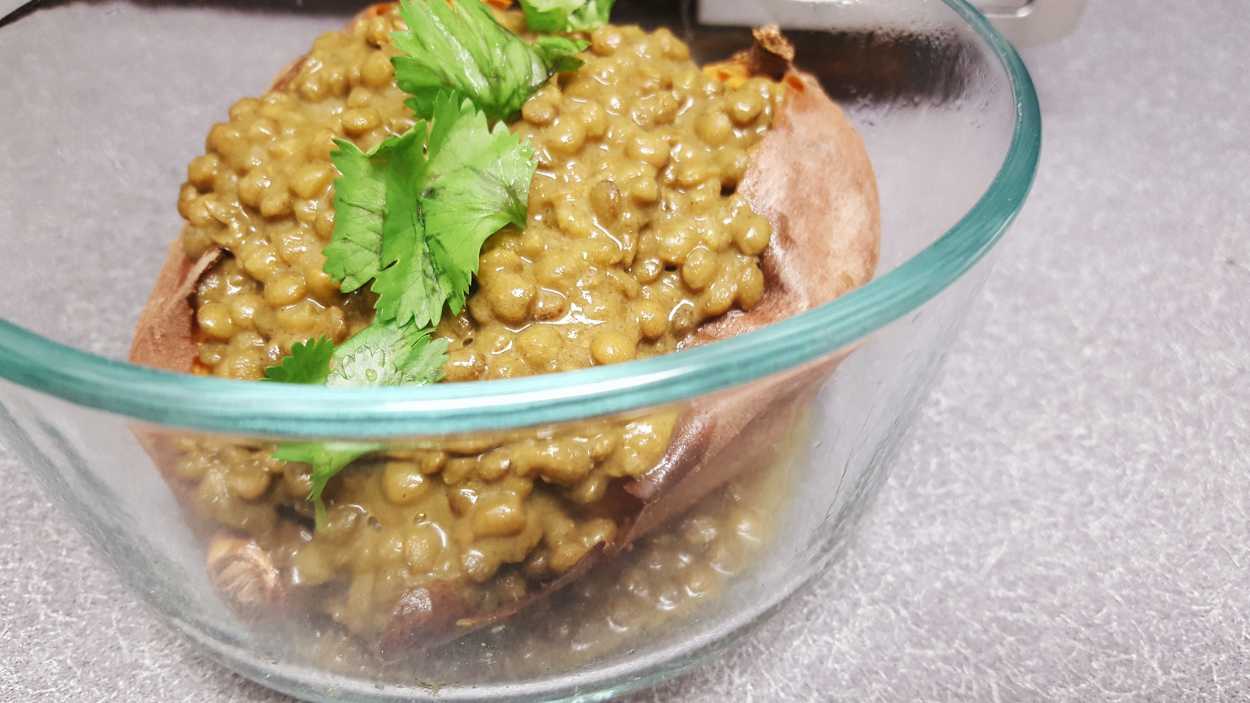 Lunch: Indian Spiced Black Dhal-Stuffed Sweet Potatoes
Krystal: I was looking forward to this lunch beginning on Sunday afternoon while prepping the lentils. Michael's not a huge fan of curries, so it's not something I get to eat too often. Prepping took about twenty minutes longer than the recipe said. I waited until 1:30 p.m. to eat, which may have been a little too long as I was really hungry and ate my meal too quickly. I found the meal incredibly filling, if a little more… undesirable-looking. The lentils in the bulk bin at my market looked black, but when I cooked them I found out that they were green. Whatever the color of the food, this meal was delicious and I would make it again, perhaps with roasted sweet potatoes over brown rice. This meal made me sleepy, and afterward I wanted a nap (but I couldn't because I was at work) and my regular square of dark chocolate. Instead I had a glass of iced cucumber white tea and spent my time wishing I could have a piece of chewing gum to help cleanse my palate.
Michael: I also found this meal surprisingly filling. I had way more lentils than sweet potato but that was okay because the lentils were super-good. Again, I felt like it wasn't a typical "cleanse-meal" and it seemed like a healthier meal we might make at home. I would probably eat this again, but maybe as a side (to a steak).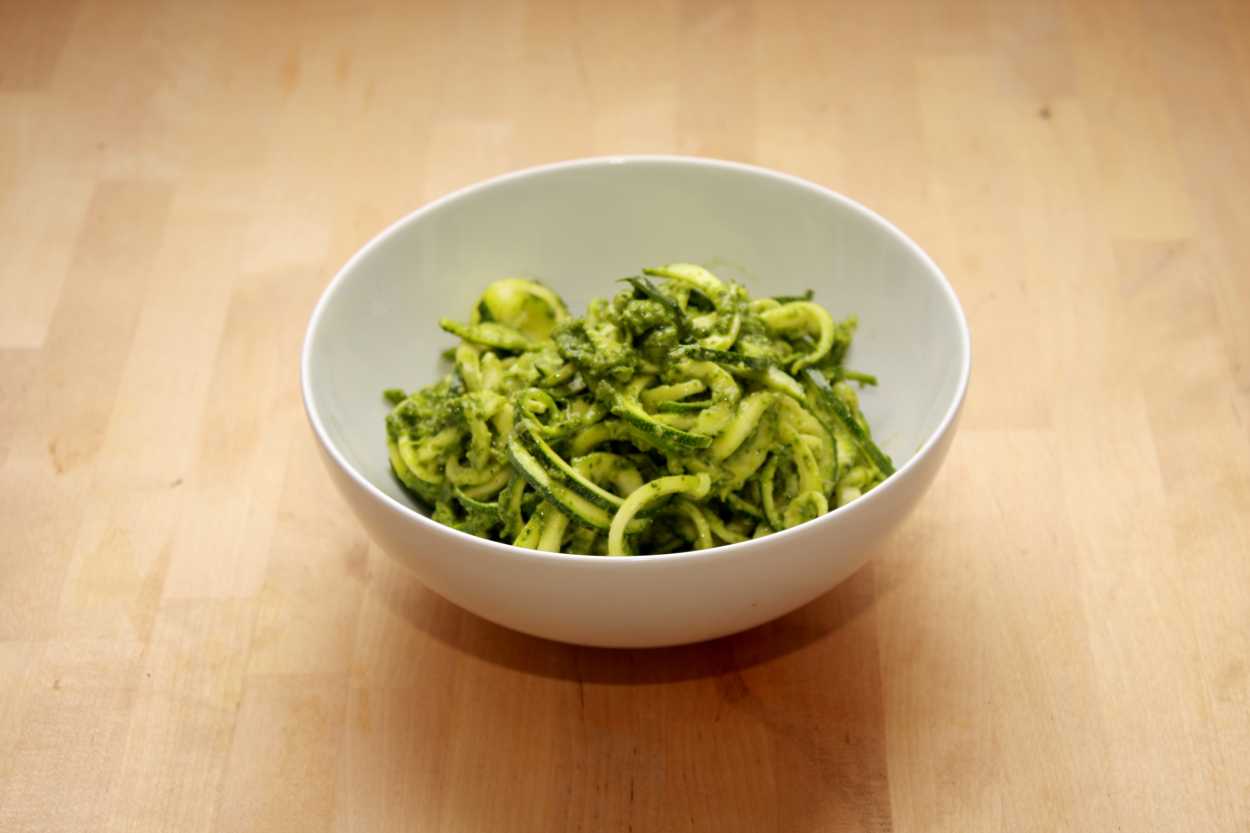 Dinner: Spiralized Zucchini Noodles with Mint Parsley Pepita Pesto
Krystal: After arriving home from a bootcamp-style workout, we prepped Monday's dinner and dessert and Tuesday's breakfast and lunch before sitting down to eat. Meal prep (plus shower-time) took about two hours, and we were famished by the time dinner rolled around. We both were surprised how many "zoodles" came out of each zucchini, and were impressed with the pesto. The meal was surprisingly satiating, but we inhaled it so quickly that we dove right into our desserts after. I've already been on an avocado pudding kick lately, so I was really excited when I saw it was on the menu.
Michael: I enjoyed using the spiralizer, which we just bought even though we don't typically buy unitaskers. I liked the zoodles and wouldn't mind replacing regular noodles with them on occasion. The pesto was quite good; I liked it even more than Krystal. I missed cheese with this meal though… I don't think it would have been that weird to put some on top?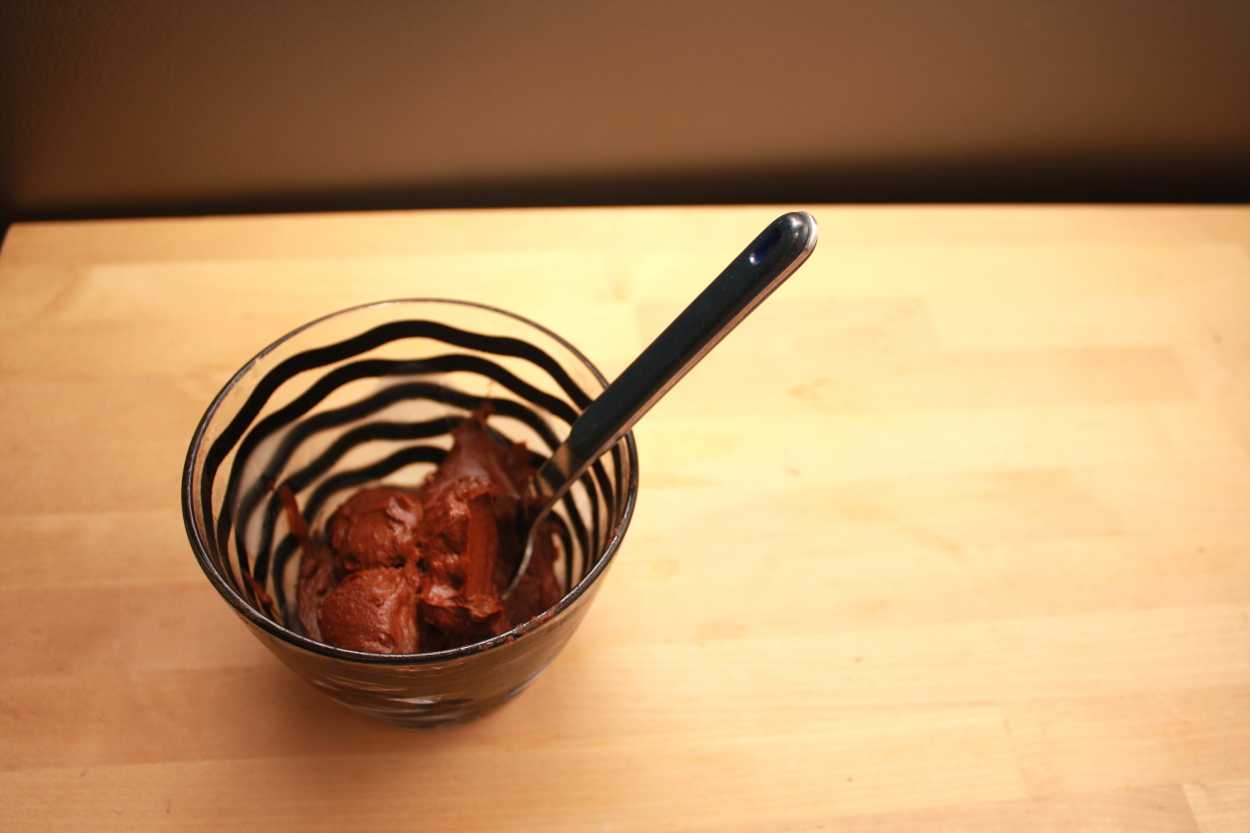 Dessert: Mexican Hot Chocolate Avocado Mousse
Krystal: To be honest, I've always preferred "plain" chocolate over anything flavored, and this was no different. The spices were very apparent here (though it wasn't too hot) and I just wanted to eat my plain regular version. This dessert was still incredibly satisfying, though, and I went to bed with a happy belly.
Michael: I had trouble finishing mine but I'm not sure if it was because I was full or because of how avocado-y it was. I finally made it through, but it was really thick. I didn't notice the spices in the dessert, just the chocolate and avocado. I don't think my reaction to this was much different than my reaction to other avocado pudding-type desserts Krystal has made in the past, so perhaps that's a good thing. I… I don't really like avocados.
Tuesday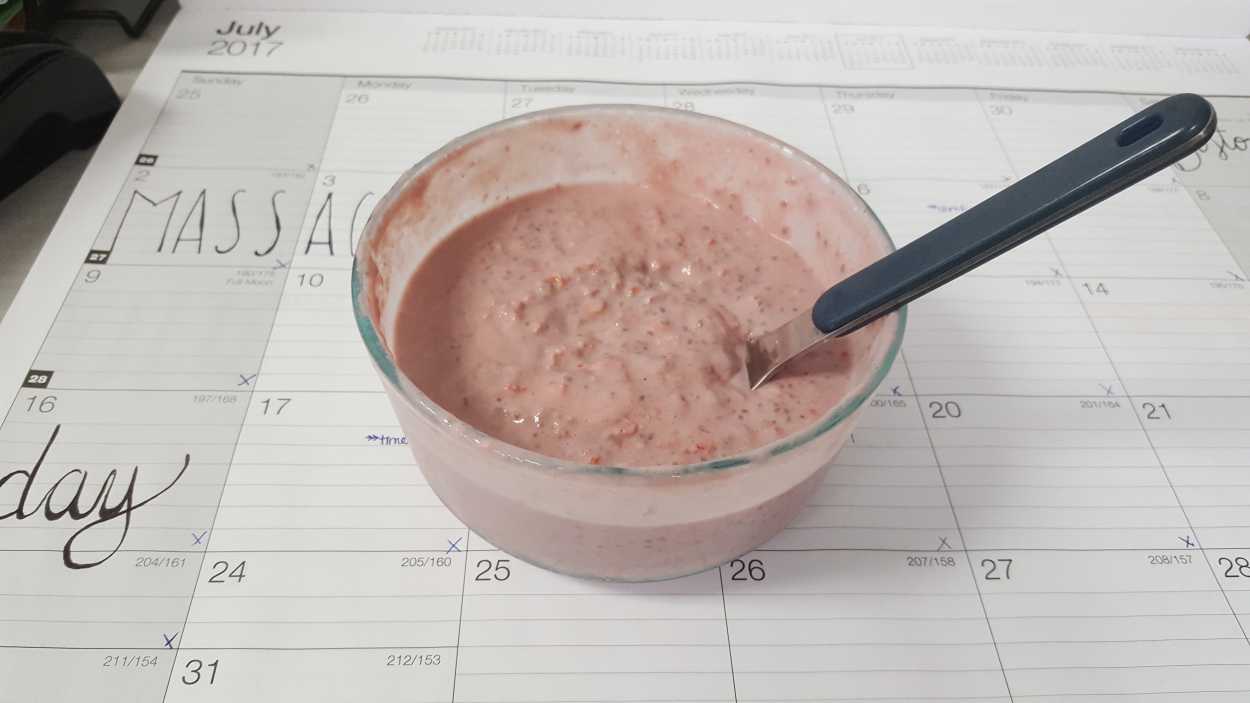 Breakfast: Strawberry Rosemary Overnight Chia Oatmeal
Krystal: We prepped this Monday night, using part-coconut milk and part-cashew milk. The prep was pretty straightforward – infuse the milk, cut the strawberries, blend, pour over chia and oats. We were surprised at the volume of the finished product, and ended up having to swap in larger containers because our small ones were overflowing. It's also the precise color of millennial pink, and reminds me of the cartons of strawberry milk my elementary school served. I think I expected it to be sweeter because of that. It's not bad though, and the rosemary comes through. I kept taking bite after bite, but I saved half for after lunch because it looked a bit on the light-side.
Michael: This meal was also really filling (honestly, I'm still surprised that everything was filling), and I only ate half. I'm not really into strawberries, so I had no trouble stopping when I was full. It was hard to detect the rosemary in this dish, and I wished it was a bit sweeter. That said, I am not a huge oatmeal fan and usually have to "trick" myself into eating it and this did a good job on that front.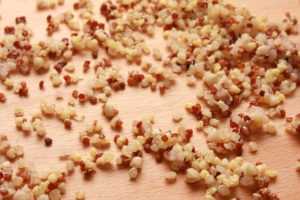 Lunch: Honeyed Jalapeño Lime Quinoa Arugula Salad
Krystal: We love our Vitamix although this time it met it's match with the dressing in this recipe. The serving sizes of all the recipes are all over the map, and this one serves three. I reduced the ingredients by a third when making, and it proved to be too-little to blend in the mixer. The jalapeño and garlic got stuck under the blades, and there was no getting them to rise higher to be chopped. I added arugula to bulk it up, and this helped a little. Had I known this would occur, I probably would mince everything really fine and shake the ingredients together. A food processor would work well here, but we don't own one. I added a little extra arugula to our 2/3 cup portions, since the entire package amounted to only 35 calories. The salad was alright, but I really wanted something alongside it, like fruit or a half-sandwich or something. I'm glad I saved half of the breakfast for after lunch.
Michael: I really liked this salad. Once again, I was worried it wouldn't be filling and preemptively placed the left over strawberry oatmeal next to it but by the end of it I was pretty content. I was also somewhat worried about how dry it would be based on Krystal's concerns, but after mixing it up a bit it didn't seem like a problem. This was definitely a meal that had some personality compared to what I would expect from cleanses since it wasn't just arugula with quinoa, it had that sweet and spiciness to it as well. It makes it almost seem like I wasn't doing a cleanse. Almost.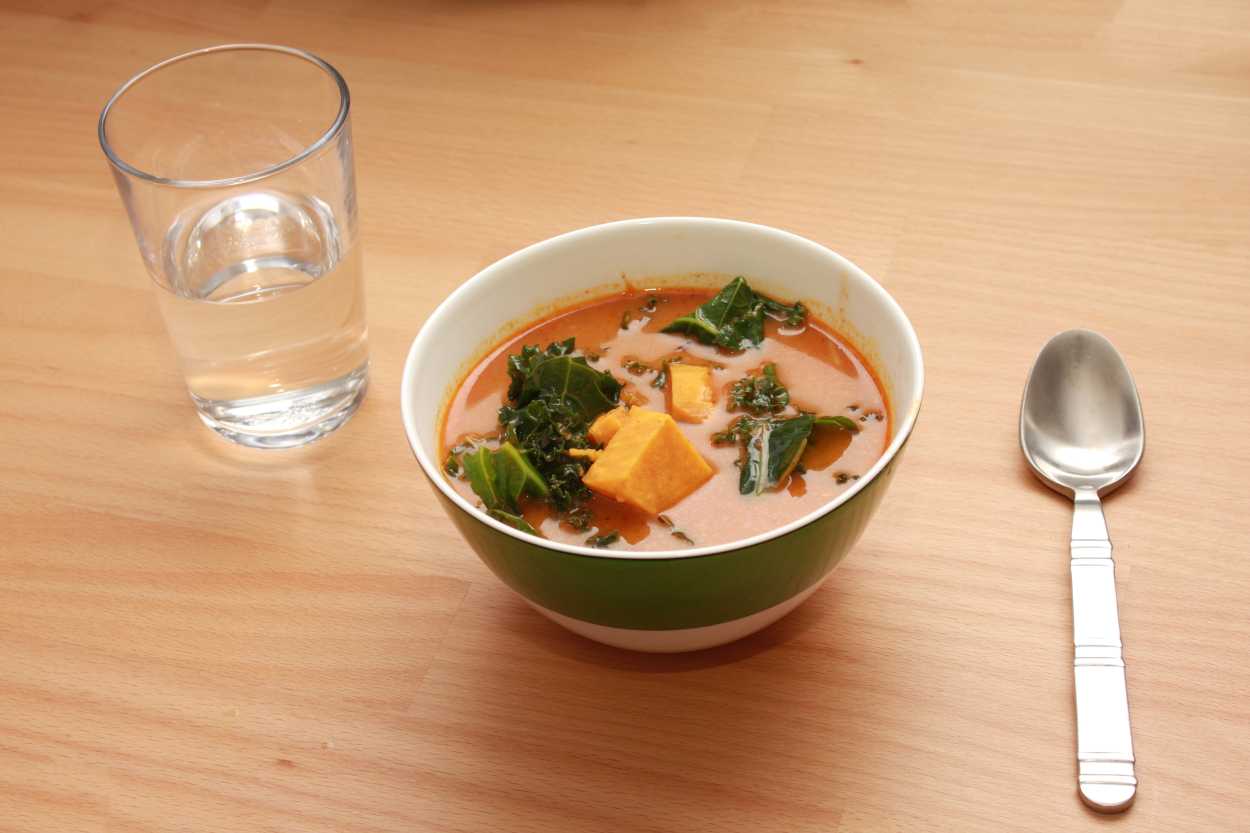 Dinner: Harissa Spiced Sweet Potato Soup and Kale
Krystal: This was another evening spent frantically preparing the following day's meals after a gym visit, and then finally cooking dinner. Not wanting to buy all of the spices the recipe called for, I bought a jar of harissa at my local Egyptian grocery store. I think I would have preferred the recipe's version however, with tomato paste instead of red pepper paste; the red peppers left a bitterness in the broth. Thankfully the recipe was easy and quick, with lots of hands-off time. It also made a huge portion – we couldn't finish it! The flavors were interesting, and I wouldn't be against a similar soup, but I'm not sure this one was for me.
Michael: A little too spicy for me, but I did finish my bowl. I'm not sure I tasted as much of the bitterness that Krystal did, but I declined having a second bowl. I don't think I'd be against having it again but, as with most of these dishes, perhaps paired with another dish.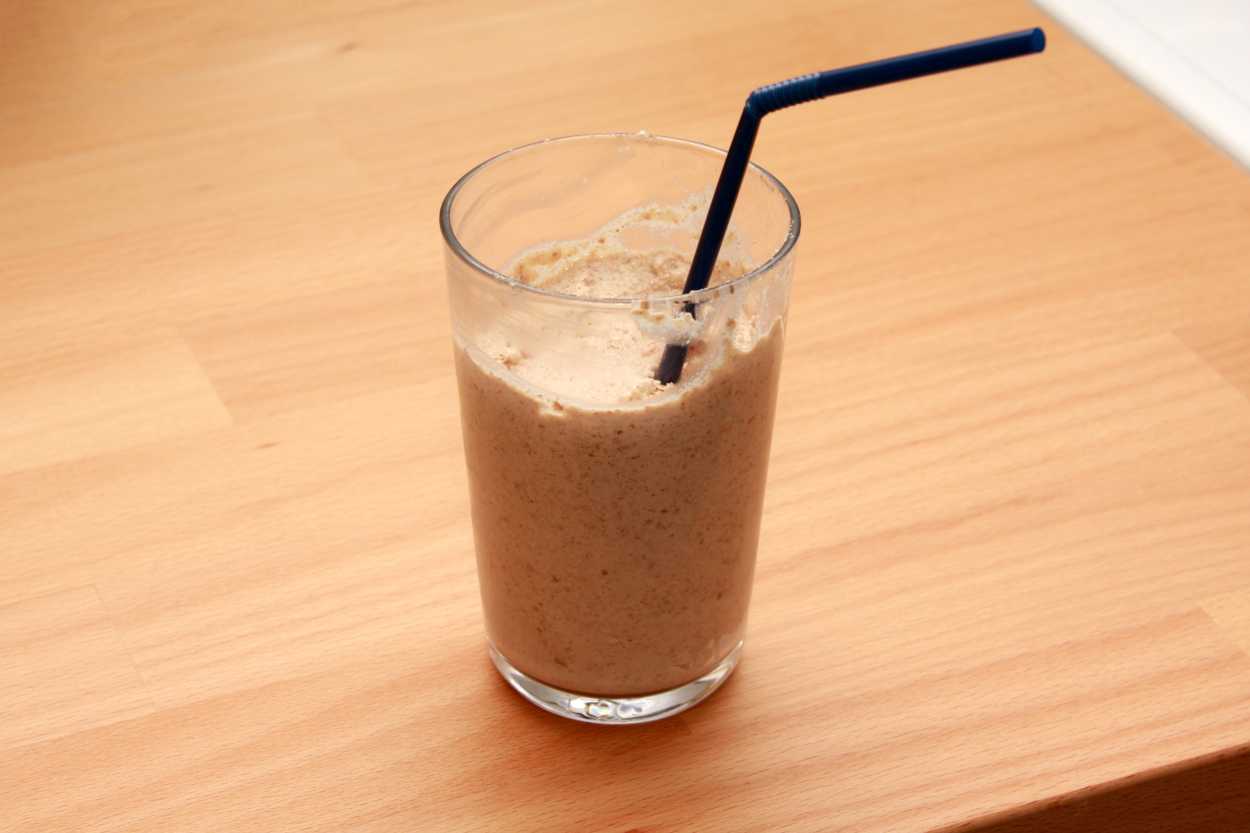 Dessert: Almond Milk Horchata Shake
Krystal: I made this in between work and going to the gym on Tuesday night and it was a cinch to make (it does include one hour of soaking, so even though it's easy, it's not necessarily quick). I popped our glasses in the freezer so we would have an icy dessert. I think our new freezer is too cold, because they were solid by the time we got to them! I wish they were a tad sweeter (it may have been my dates) and I think I should have blended it a little longer to break up more of the chunks. Otherwise, it seemed more like a healthy date-shake than a horchata; not a bad thing.
Michael: By the end of the night I was pretty full and I'm typically not huge on desserts, so once again I did not quite finish this one, but I wouldn't say it tasted bad. I found the cinnamon to be somewhat overwhelming and since we had it in the freezer it did come out somewhat chunky. I saved the other half of mine in the fridge and ate the rest the following morning between breakfast and lunch (is that cheating?), so apparently I'm not against having it more than once.
Wednesday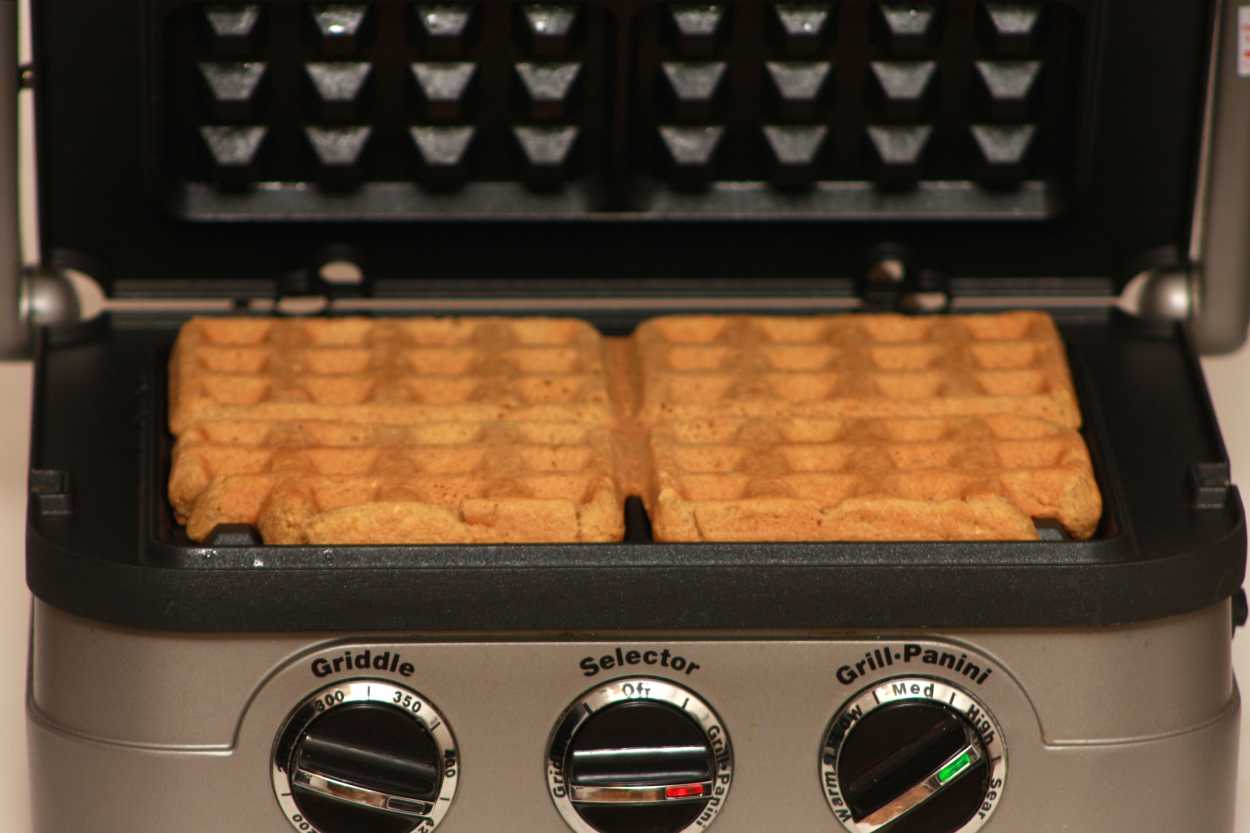 Breakfast: Pistachio Cardamom Waffles with Rose-Soaked Blackberries
Krystal: This was the meal I looked forward to the most and it did not disappoint! I made the waffles on Tuesday night so I could toast them up at work on Wednesday. The pistachio milk is amazing, and I'm glad there is some leftover to use after the detox is over. The waffles aren't tender like white-flour waffles, but instead are hearty and spicy with warm cardamom. I would make these again in the winter but topped with a smidge of maple syrup. The rosewater blackberries provided a nice, tart balance to the waffle base and were delicious here.
Michael: Yes! These were super good and since I worked from home Wednesday morning it was incredibly difficult to resist throwing some syrup on top. I kept going back and forth "Oh, it's the last day," "What's a couple cups of syrup anyway," "It comes from trees" but I resisted! The waffles on their own were great though. I'm not a huge blackberry person and I'm not sure where I stand on rose water, so that part of it wasn't ideal for me. I am glad that we made some extra waffles though and am hoping to snag the last one before Krystal finds it.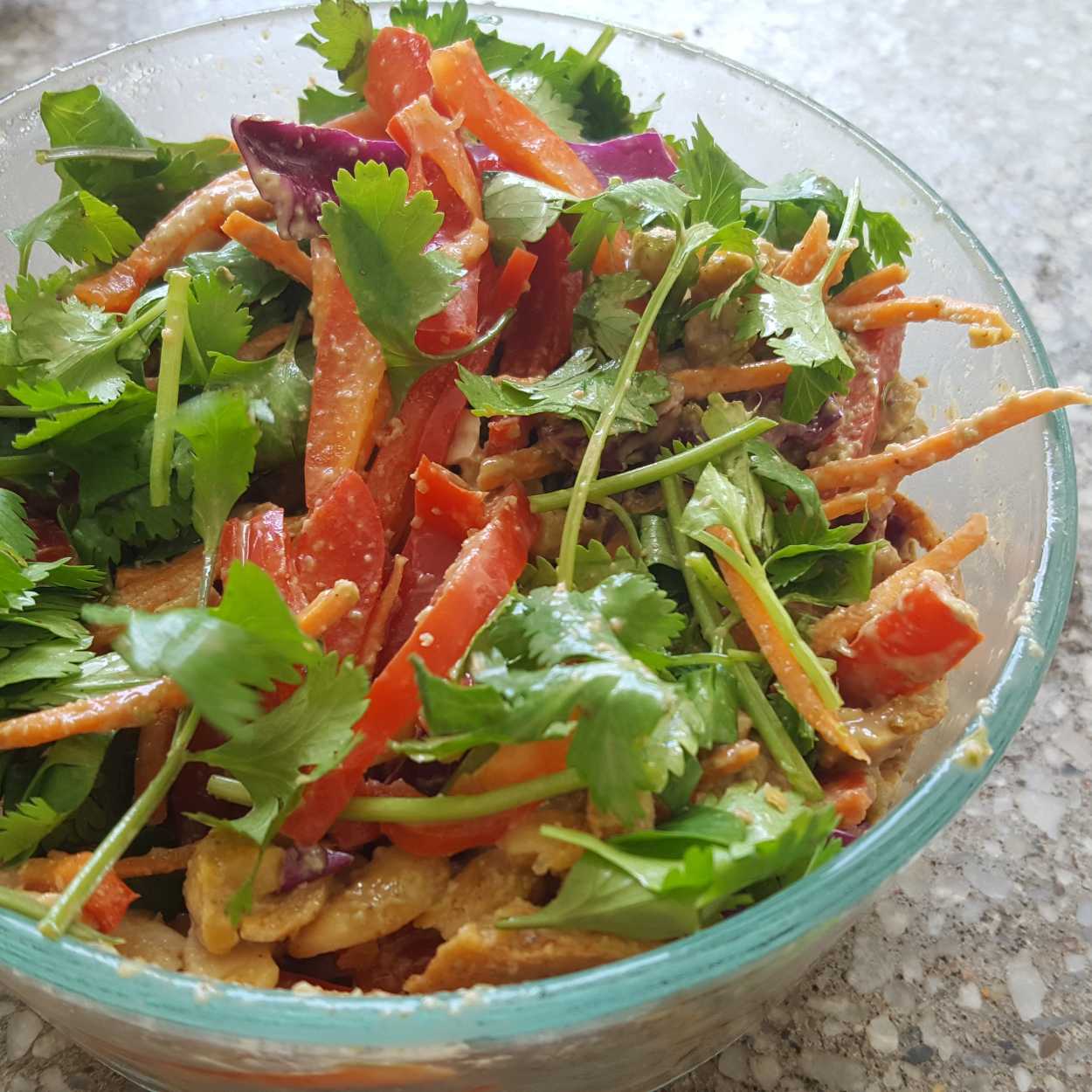 Lunch: Fresh Thai Salad with Cayenne Cashews
Krystal: This was the meal I was least excited about because it seemed very "diet-food" but was pleasantly surprised. I'm not a huge fan of cabbage or red peppers, but both worked well here with the cilantro and spicy cashews. I don't think this is a meal I will prepare again (so much chopping!), but I'm always glad to have my tastebuds challenged.
Michael: I think cabbage is one of the few foods that Krystal and I both dislike, which is awful because my parents love cabbage and often send us home from visits with a head or two. This salad wasn't too bad though and I did save the cilantro toward the end and then "flavor-blasted" the last bit with it which made it quite interesting. I think the one part of this that I would change would be the cabbage. I still can somewhat taste that last bite which was all rubbery, terrible cabbage.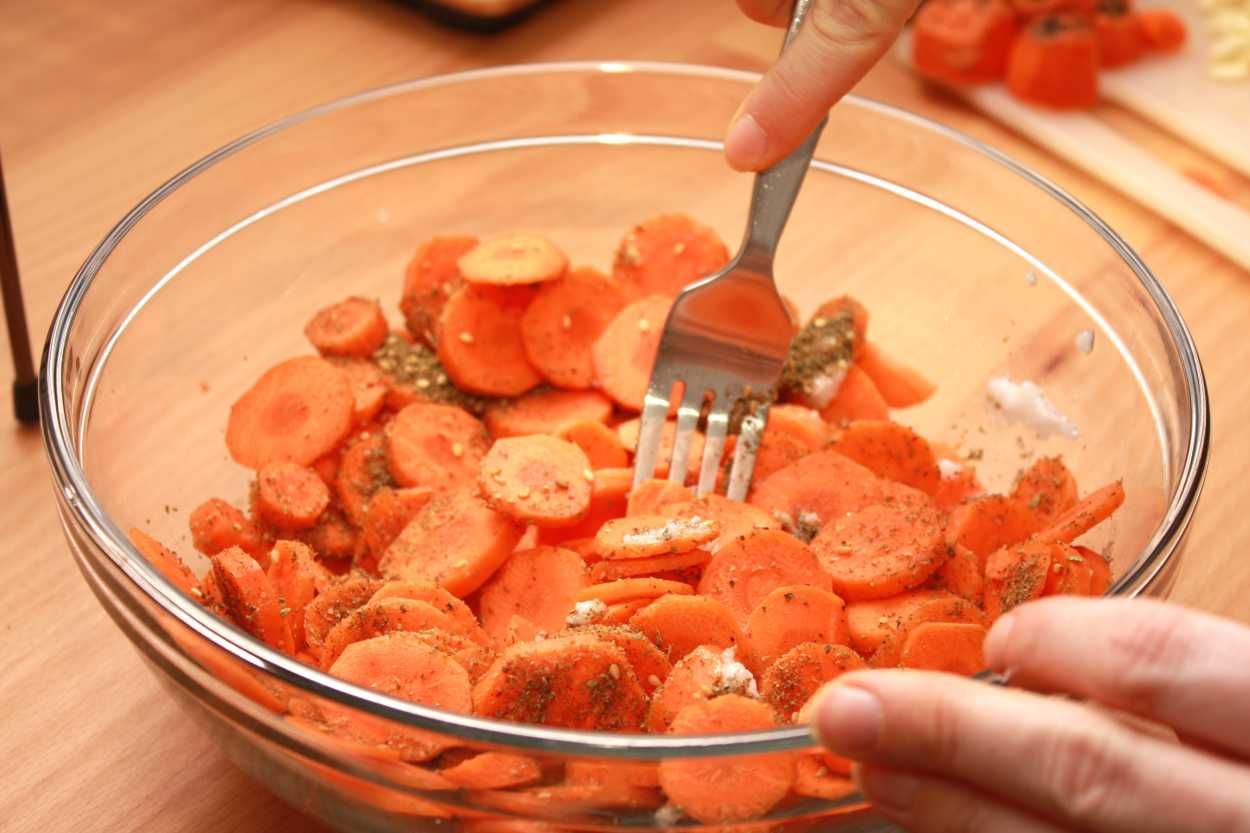 Snack: Za'atar-Spiced Baked Carrot Chips
Krystal: Well this one was a bust. We purchased a container of Za'atar since it was cheaper than buying the spices individually, and we made these on Sunday and stored them until Wednesday. I sliced the carrots into rounds as the instructions said, however I should have looked more closely at the photo to see that theirs were cut into oblong shapes. Our carrots shriveled and shrunk in the oven, and I had to bake them much longer than directed to get them crispy. When we opened the container on Wednesday, we found a pile of sad scraps of carrots. Out these went, and I subbed what I figured would be a suitable dessert instead: hazelnut milk, unsweetened cocoa powder, ice, and a date. I think I enjoyed that more than I would have enjoyed the carrots anyway.
Michael: As Krystal said, this one didn't quite work out, but I didn't miss it, I guess. It was a neat experiment at least!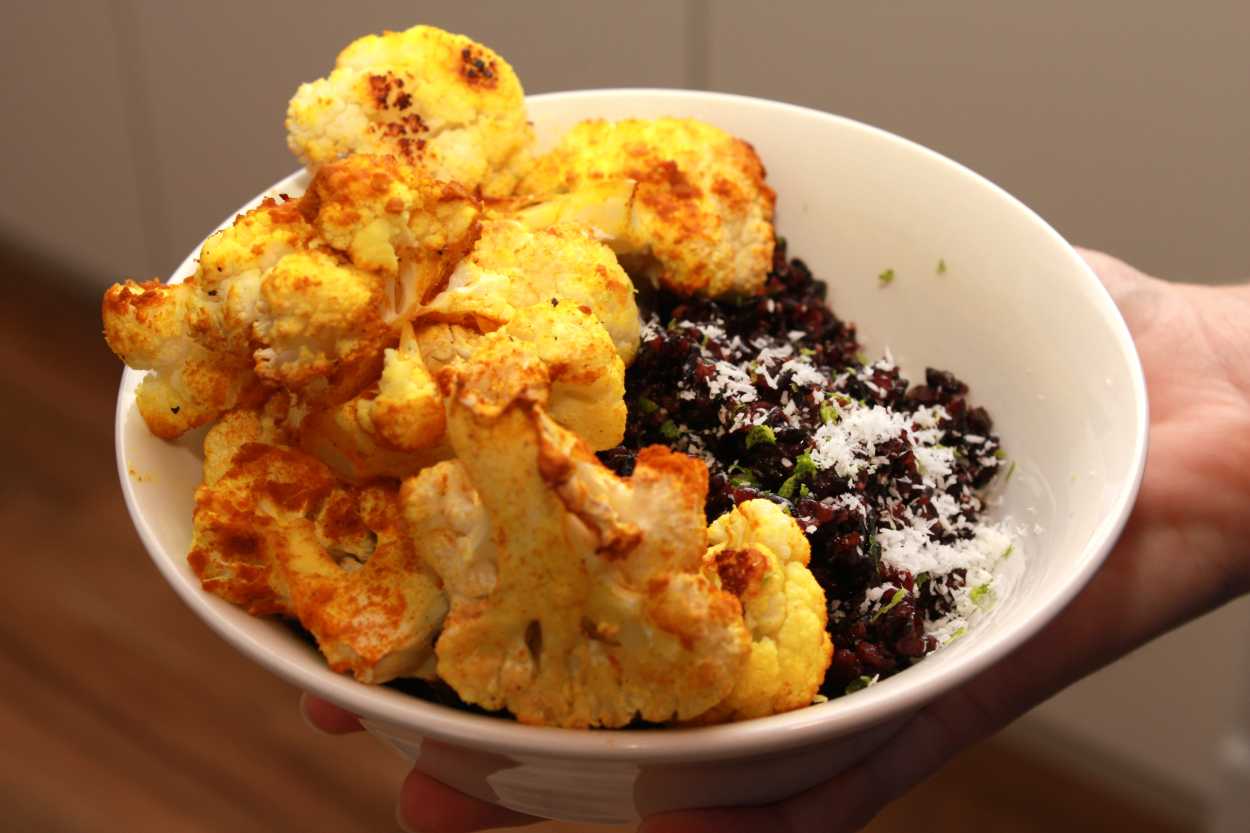 Dinner: Turmeric-Roasted Cauliflower with Coconut Lime Forbidden Rice
Krystal: This meal was quite good, though it took longer to make than the directions said. I've had black rice from Trader Joe's before but this was my first time trying Forbidden Rice. I really liked the flavor of the rice with the coconut milk and I may occasionally cook my rice with it again in the future. I think I'll also be adding turmeric on my cauliflower in the future as well; I liked their flavors together. This seems like a decent weeknight meal for those nights when you're wondering what on earth you have ingredients for.
Michael: I enjoyed this pretty well as it definitely felt the most like a "normal" dinner that we would make: rice with vegetable prepared in a way that tastes good. I think I was somewhat relieved that I made it which also made the meal that much better (also I paired it with a local beer because technically the cleanse had completed).
Overall Thoughts
Krystal: The first two days went pretty swell. I missed coffee and my daily square of dark chocolate, but I wasn't dying. Day three was when things went downhill. Despite heading to bed in plenty of time Tuesday night, I didn't get a good night's sleep. Without coffee to wake me up, my day at work was a bit of a struggle. I felt foggy and irritable, and I had a headache and body aches. I did some reading online, and found that it's normal to experience almost flu-like symptoms while detoxing, which is exactly how I felt. I read that often these go away as your body continues detoxing, however I don't think I have the energy to do another detox starting tomorrow. Instead what I will do is ease back into the things I haven't been eating throughout this: refined sugar, gluten, coffee, dairy, soy, and alcohol. I never planned on giving any of these up forever, because I'm a firm believer in "everything in moderation," but I'm glad I gave my body a chance to reset because it's the only one I've got.
Michael: I didn't feel much physically different aside from being quite sleepy. The first day I lost count of how many green teas I had at work just to stay awake and I definitely drifted into a short snooze for a couple minutes at one point. I am not sure how much I got out of the "detox" aspect of the cleanse, but I do feel like the cleanse gave my body a solid reminder of how much, or how little, I need to eat. We've recently started bringing terribly tempting snacks in the office that have been getting to me lately and it was good to see that if I time my meals right and eat something actually filling, I don't need to rely on snacks to get me through the day. It was strange how often I would get thoughts about grabbing a snack despite not being hungry and knowing that this small urge typically gets little resistance. I'm not ready for another cleanse, but I am glad to have had this reality check.
---
We made it! How about you? Have you ever finished one of these detoxes or cleanses?