I'd like to call this look "I need a belt."
Seriously, I need a belt. Or maybe a couple. I own several slim belts to wear at my natural waist with dresses, but none to wear at my hips with pants or jeans. I actually ordered one from Everlane the other day, but it didn't arrive until this evening, so I went beltless today.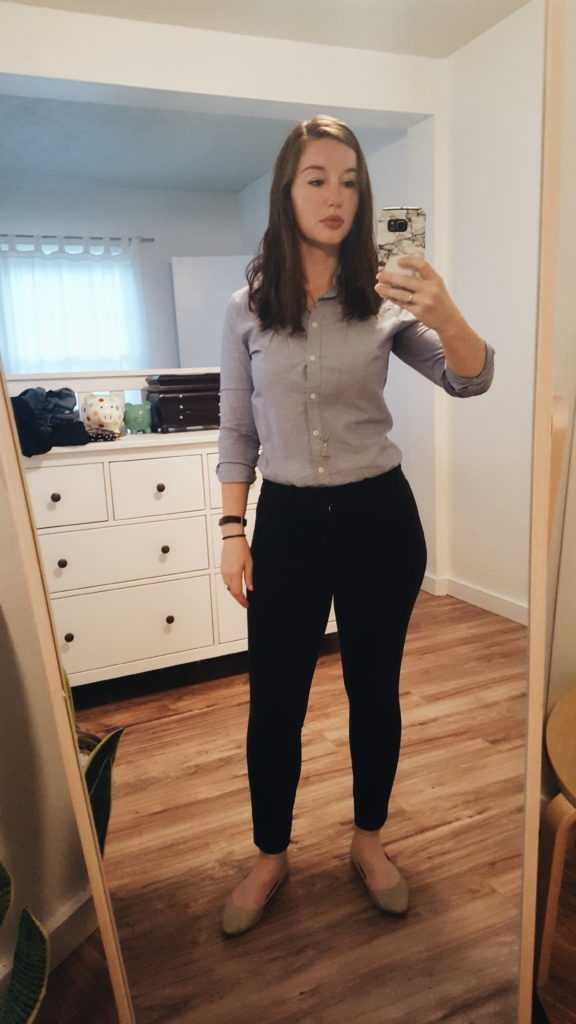 Today followed the same formula as most of our weekdays at home: hit snooze on the alarm as many times as possible, get ready (makeup, clothes, and hair, in that order), make coffee and a smoothie for breakfast, pack my lunch, head out the door five minutes later than I'm supposed to, work-work-work, make my weekly library stop to pick up my holds, and come home to unpack from my day and get ready for the gym, followed by actually following through and going to the gym (Zumba on Tuesday!), making dinner, reading, and heading to bed to do it again tomorrow.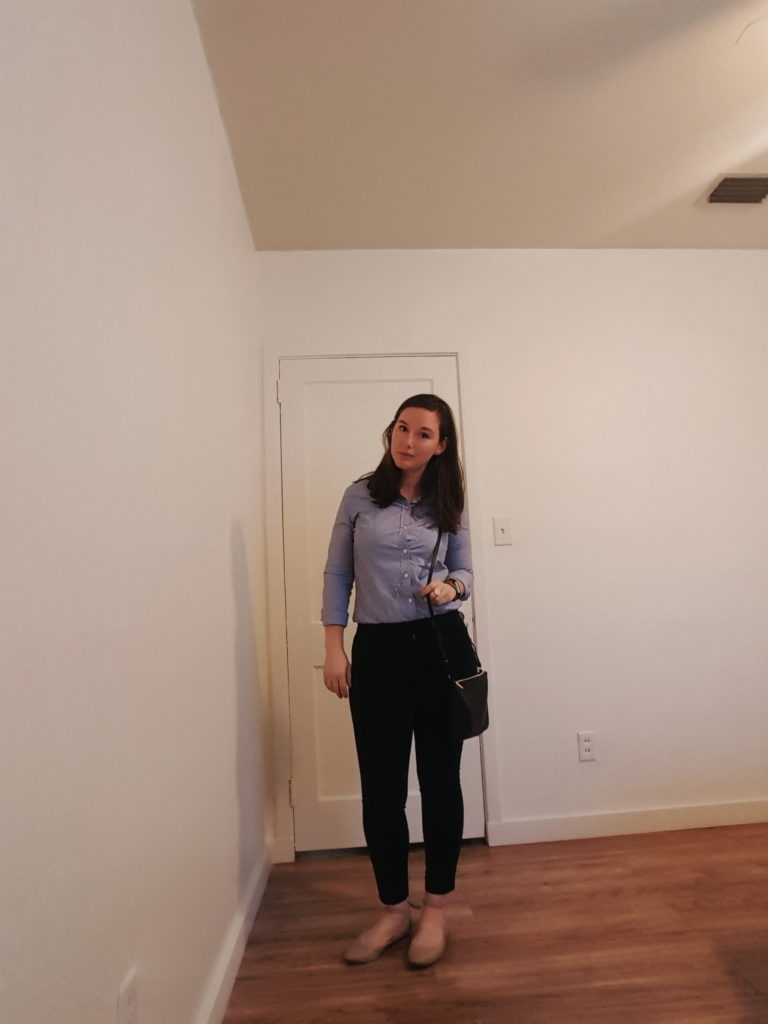 My office was again freezing today, so I kept my blazer (included in my ten items) on all day, but I still sweated today in the hot weather, so I'm grateful I'm not including this top again this week. I plan on washing all of my clothes this weekend to be ready for next Monday.
---
Outfit Details:
Button Down from Banana Republic
Tassel Necklace (old – linked to similar)
Slim Ankle-Length Pants from Gap
Ring (old by Madewell – similar here)
Ankle Wrap Flats (old – linked to similar)
Nothing really groundbreaking here styling-wise. I cuffed my sleeves in a messy 1-1/2 rolls to help the tucked-in look seem a little more casual. It was also another really hot day today, so I appreciated the few extra inches of skin. I would like to find a better-fitting button-down as this one tends to become untucked and bunches up in the back around my shoulder-blades. I also have to use double-sided tape to help keep everything neatly closed and I always wear a cami underneath just in case. I prefer a fitted silhouette, but this outfit felt a little too slim throughout the body.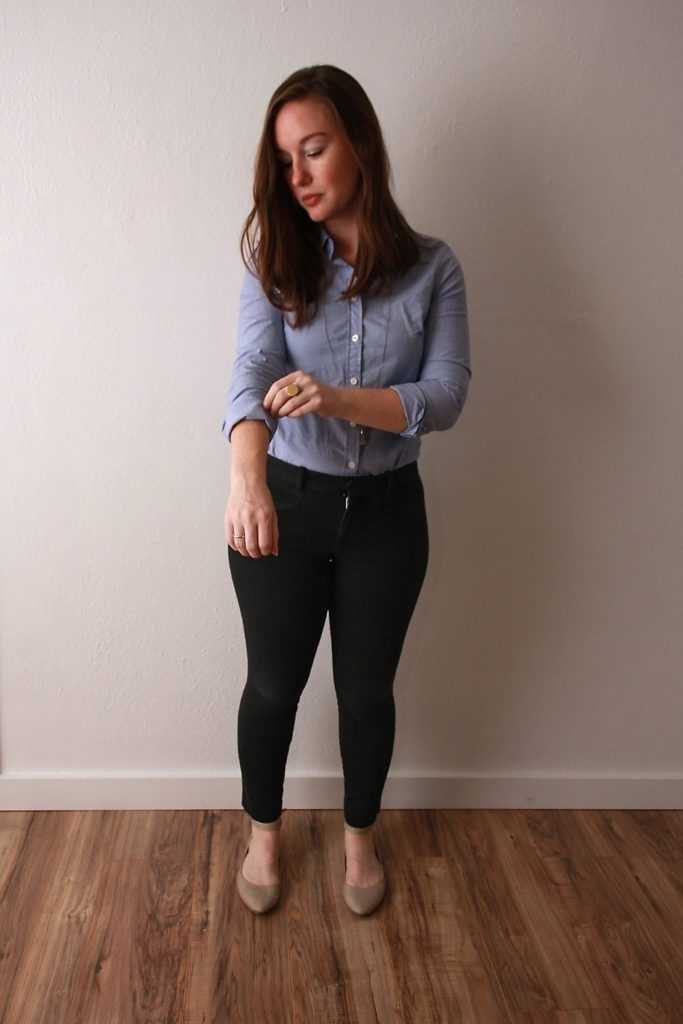 —
How I would "Fall-ify" my outfit: This outfit works even when it's cooler outside since my limbs are pretty well covered. I'd just throw on my blazer to keep any wind at bay. If the weather was cooler, I probably would have swapped one of my short sleeve tees for a sweater, which would layer over this look pretty easily.
---
Item Spotlight: Slim Ankle-Length Pants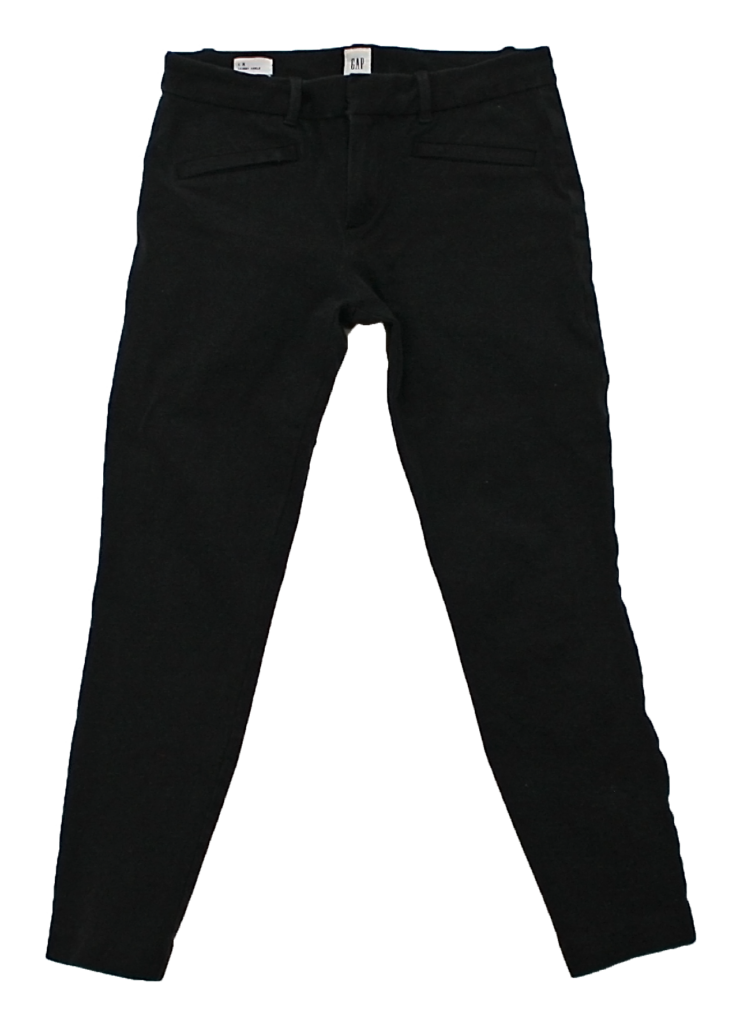 Today I'm highlighting another great foundation piece – these slim black pants from the Gap. I owned these pants in the previous style before losing some weight, so I re-bought them in the next size down. I struggle with the fit in pants (like a lot of women), and at my local mall, the Gap was the place where I would have the best chance of finding a pair that would sit well on my hips and not have inches of fabric gaping at the waist. I wish these pants had functional pockets (these pockets zip closed and maybe have enough space for your Aldi-quarter), the zipper wasn't so exposed, and that the black dye didn't fade so quickly, but I'm hanging on to these until they fall to shreds since they fit so well.
---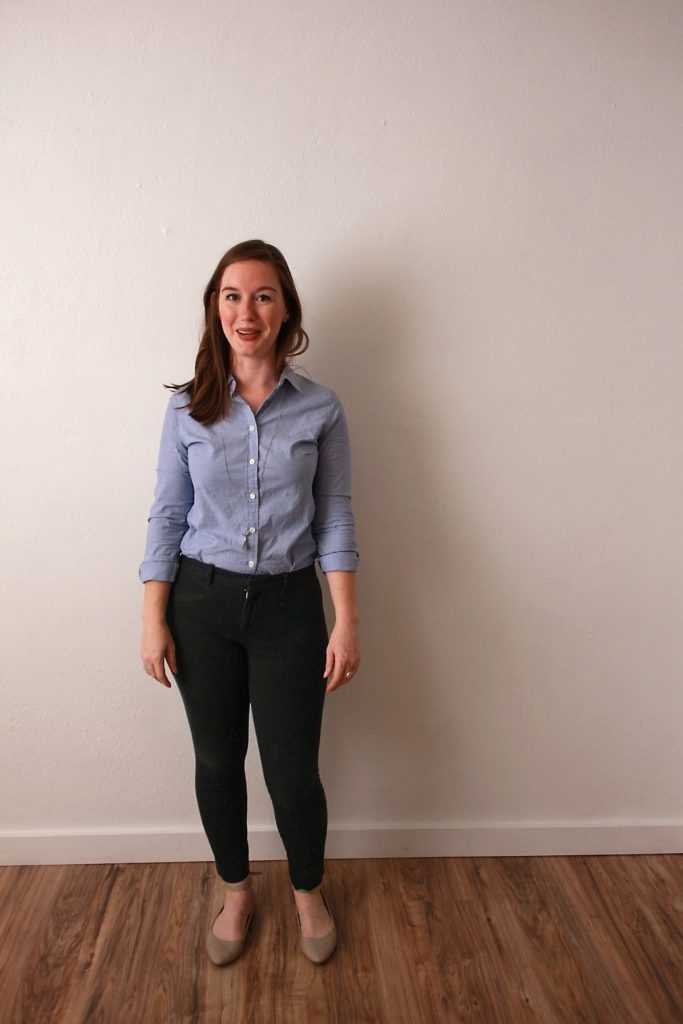 ---
Day Two ☑️
I'm looking forward to experimenting more with my ten items; what new styling tricks have you learned in your 10 x 10?