We've crossed the halfway mark in the Winter 10 x 10 Challenge! (Not sure what that means? Be sure to start here). Let's jump in to outfits four through six, shall we?
Monday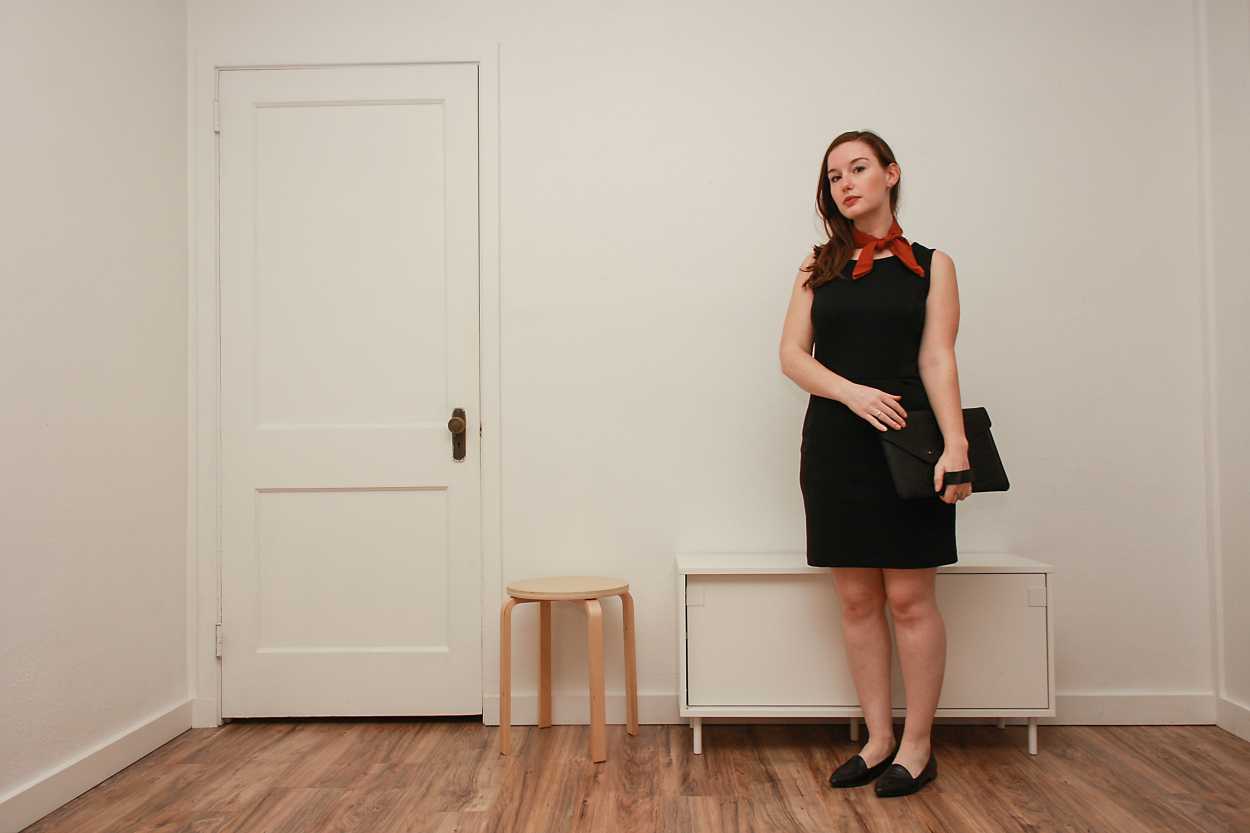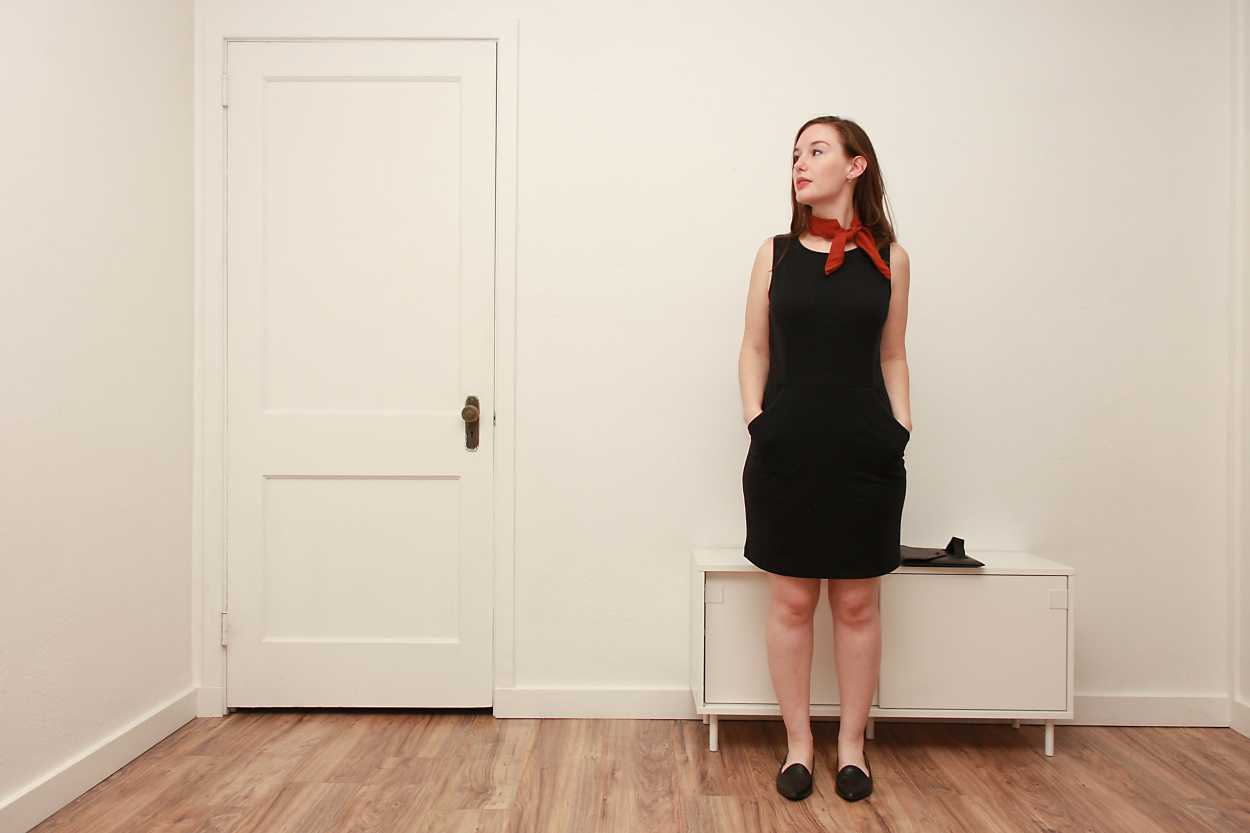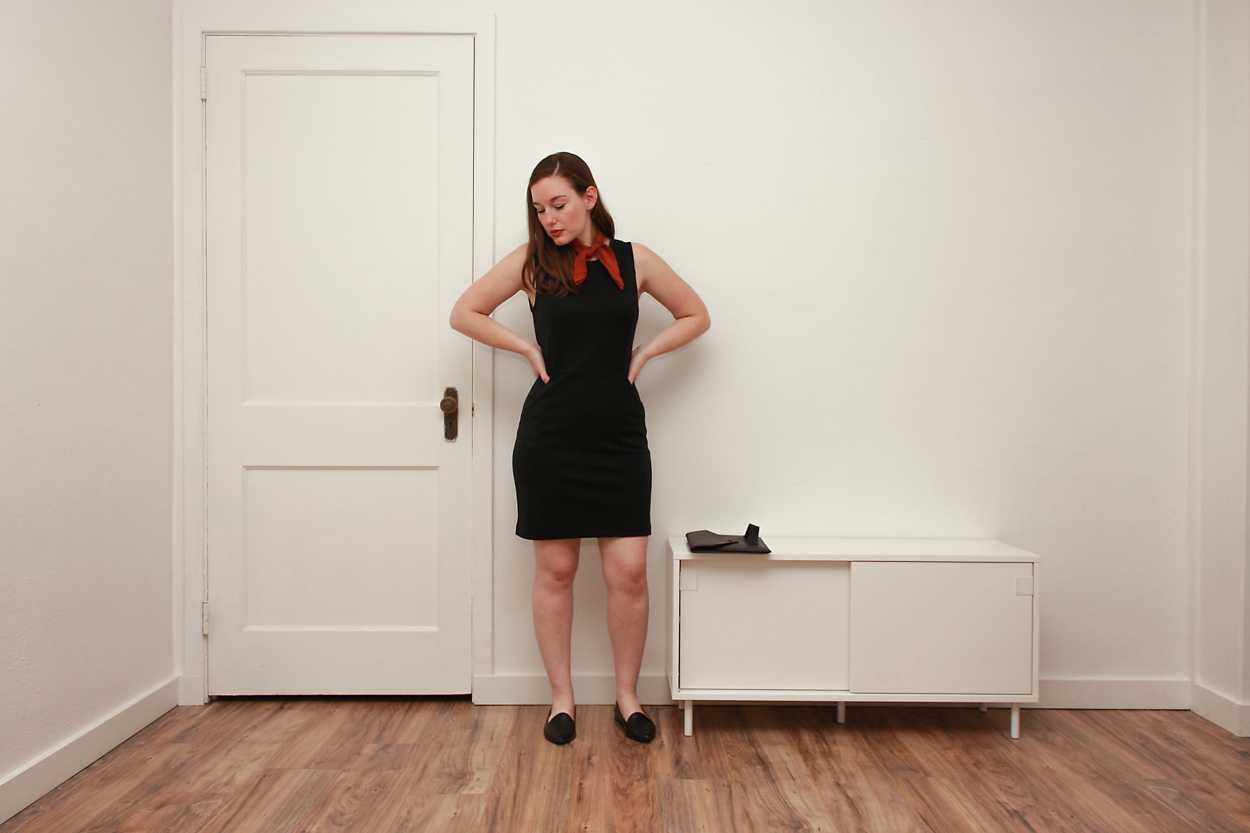 We had our monthly budget meeting on Monday, which meant I needed to dress a bit more "business-like." I included this dress in the 10 x 10 challenge for precisely that purpose. I had originally intended to wear this dress with tights and boots, but the weather reached into the mid-seventies today and I didn't want to suffer walking in the hot parking lots, so I went with bare legs and flats. I felt pretty comfortable all day, though I did add a blazer for the chilly morning and a portion of the day in my cold office (I keep a blanket on the back of my chair for a reason!). Eventually I went home with a fever, but my outfit helped belie my overall feelings of crumminess. This is a look I've worn before and will definitely wear again.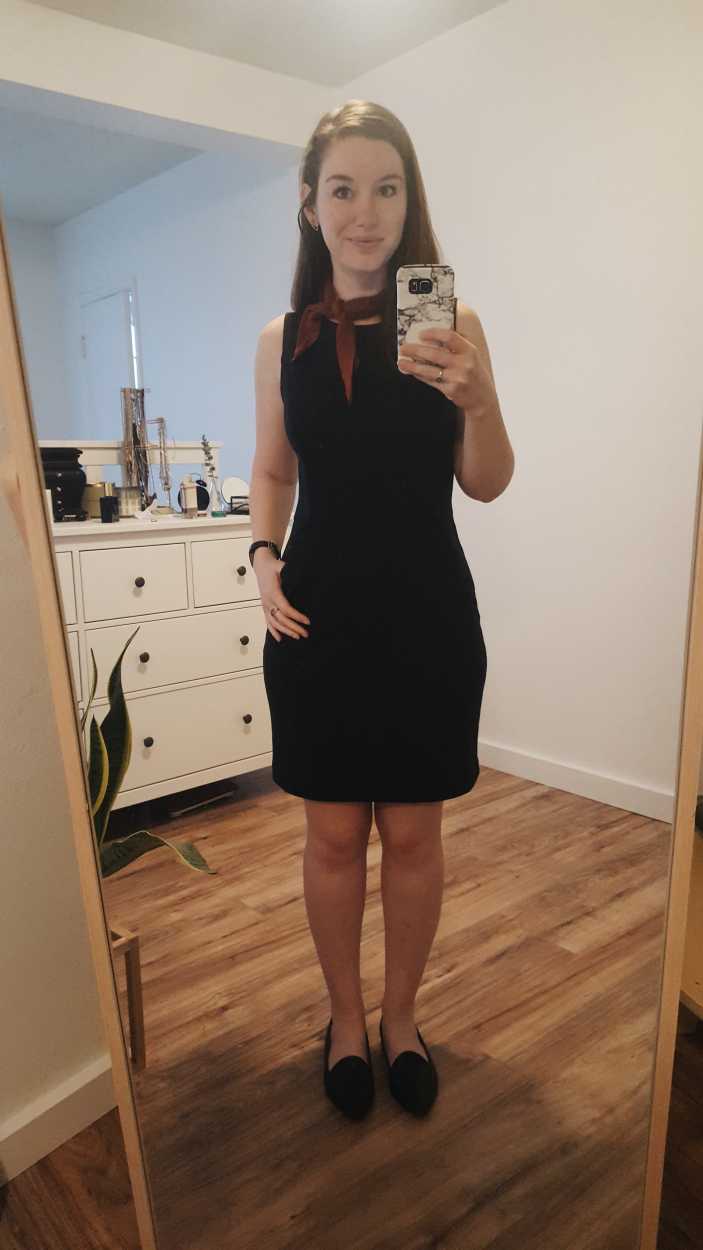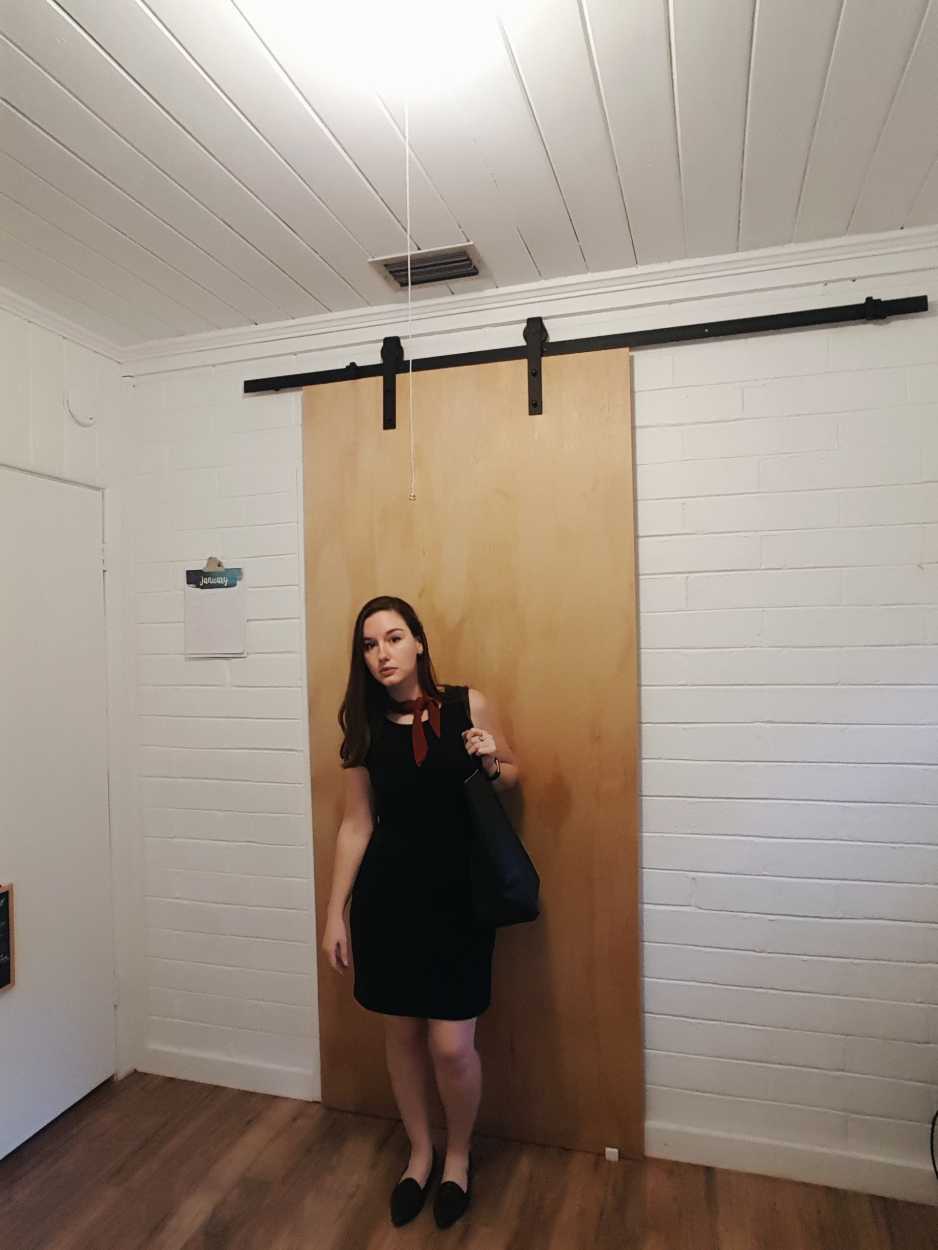 Outfit Details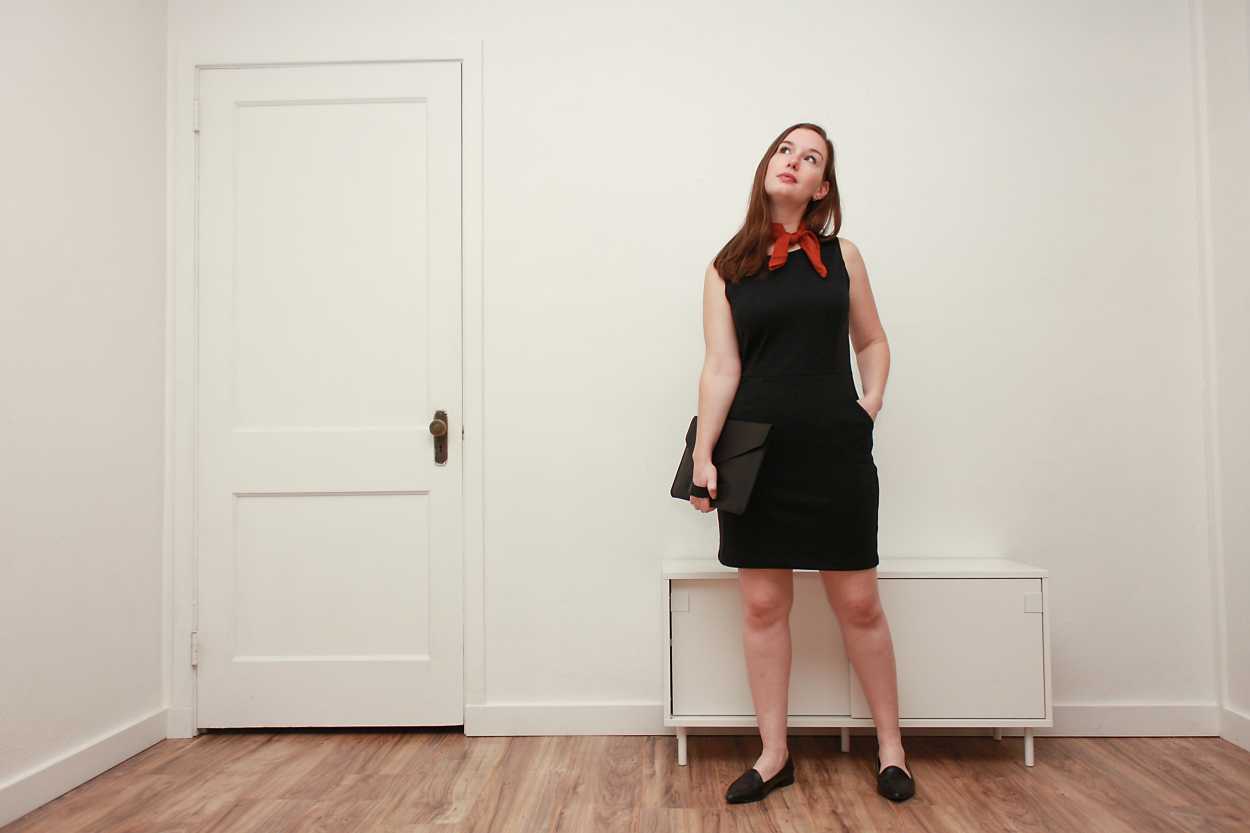 Sheath Dress | Black | Target – better alternative here
Modern Point | Black | Everlane (new to Everlane? You can click through our referral link here for free shipping on your first order)
Bandana | Rust | Only Child (sold out, similar here or wouldn't be fun to make one from a Jamie + the Jones Scrap Bundle?)
Triangle Studs | Gold | Emily Bordner
Triangle Ring | Gold (no longer available; linked to similar)
Laptop Case | Black | Pursenal
My style has grown more relaxed and less colorful over the years, but that doesn't necessarily mean the clothes I wear have to be boring. I've really enjoyed playing with shapes and proportions, both traditionally flattering and not. I enjoy adding pops of color or unique accessories, which I did here with the rust-colored scarf and triangle earrings, all while wearing more traditional office-attire.
Item Spotlight: Sheath Dress from A New Day (Target)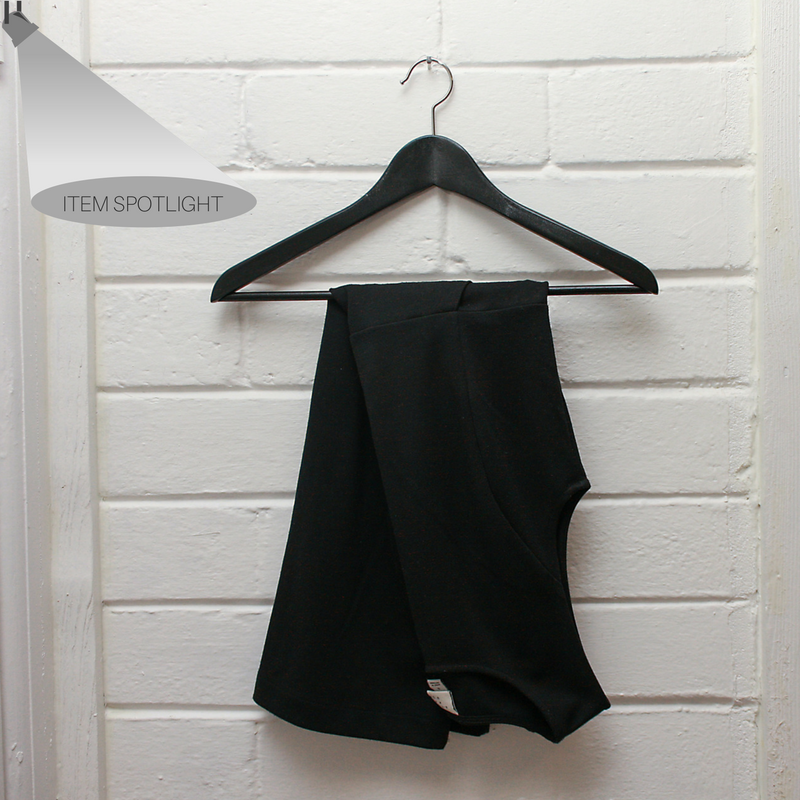 This dress has been a total workhorse since I had the chance to experiment with it in the Fall 10 x 10 (you can see it put to use in a similar look here). I've really enjoyed the fit and comfort of this dress, along with the fact that it has usable pockets, but not necessarily the quality and things I've read about Target's clothing line production practices. Before starting the challenge, I spent some time depilling the sides of the dress with an electric defuzzer, and I'm glad to say it looks almost new again. I machine-wash the garment after a few wears and line-dry. So far the color has stayed nice and dark; I'm hoping it will for a long time.
Tuesday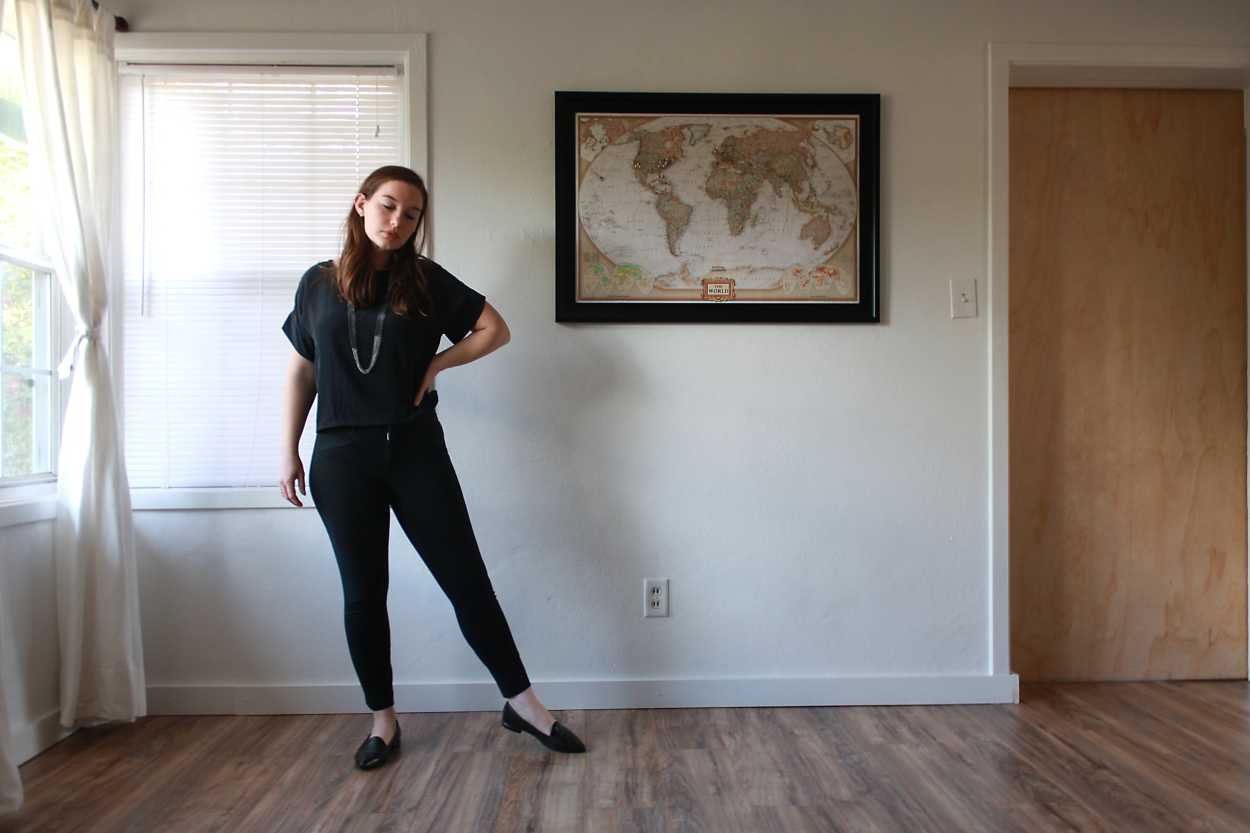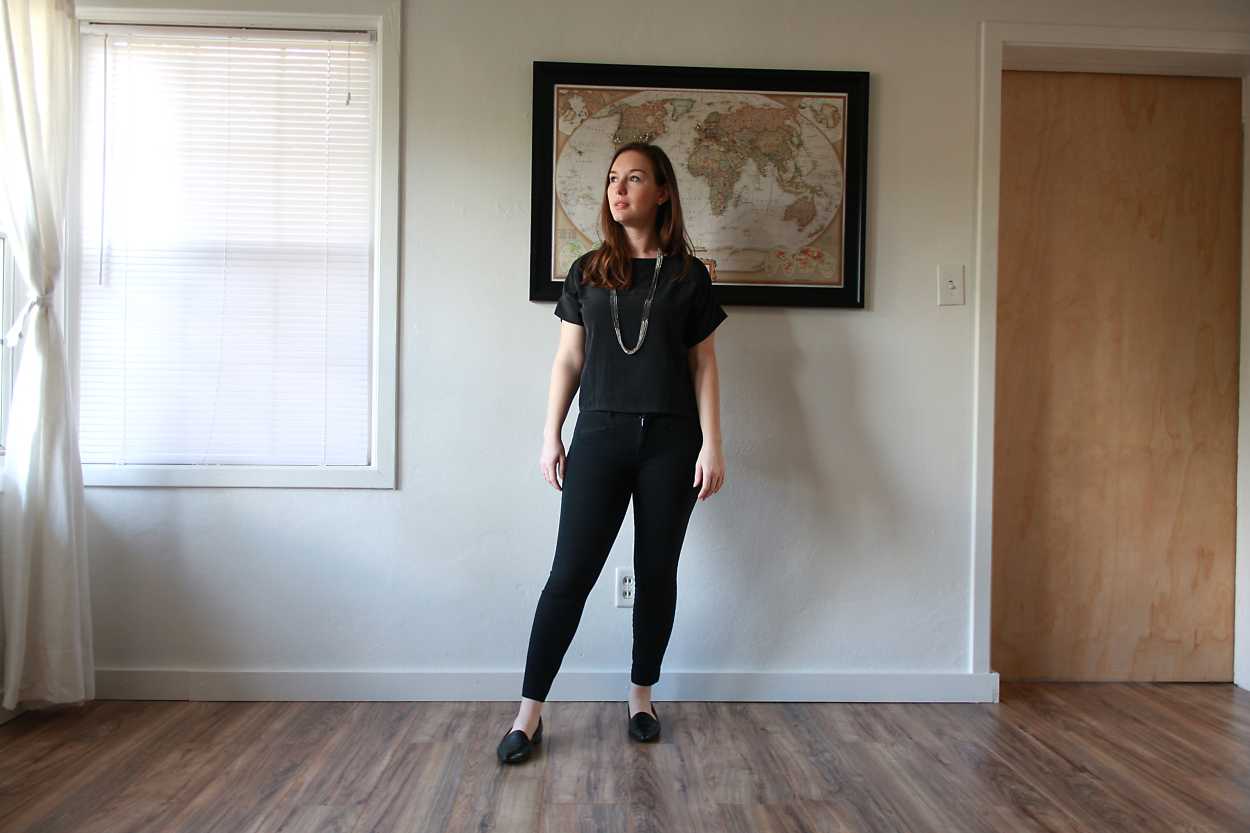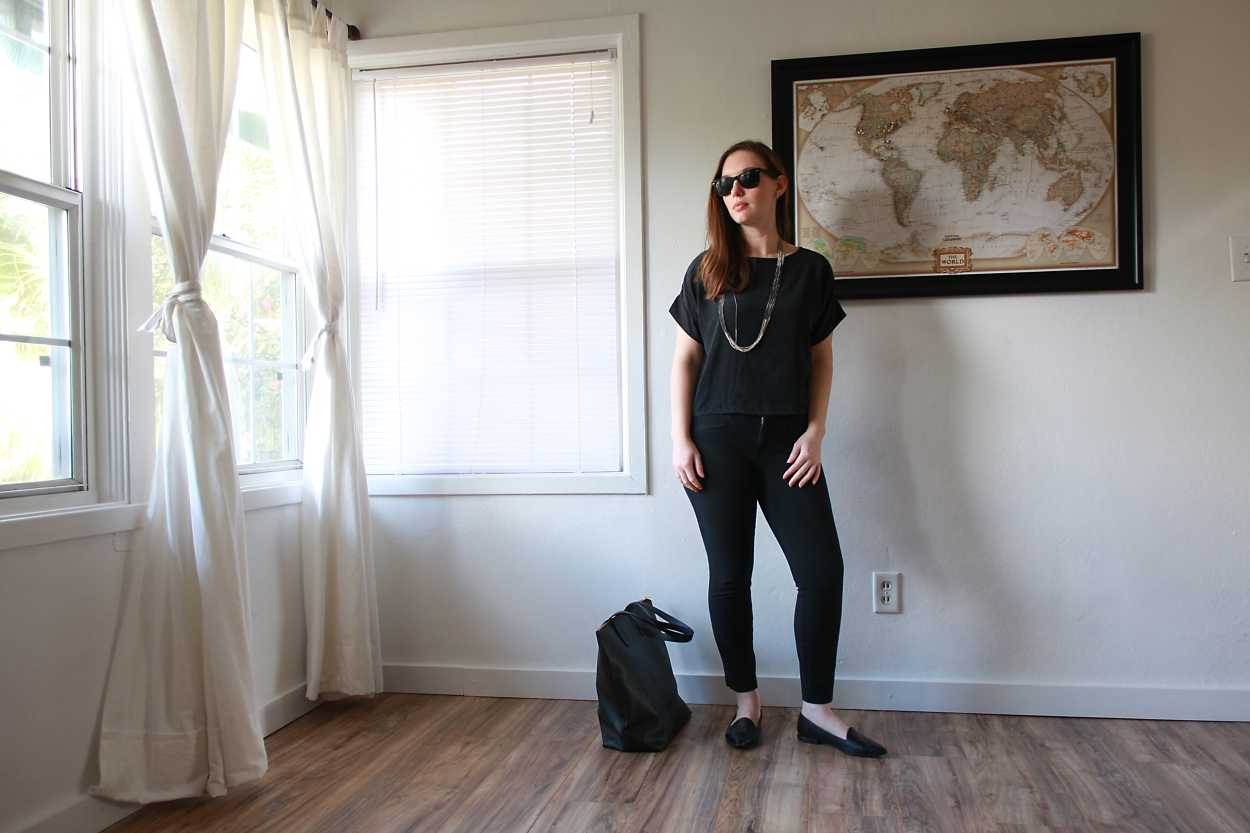 I included the Georgia tee from Elizabeth Suzann in my ten pieces because of my goal to incorporate more of my "personal" wardrobe into my work wardrobe (also it's just a really pretty top), but I was thwarted by illness. I did wear this outfit briefly to run to the library to combat my growing boredom, grocery store for more herbal tea, and a local Mexican restaurant for their magical healing chicken soup. I definitely didn't feel well today, but at least my outfit looked good!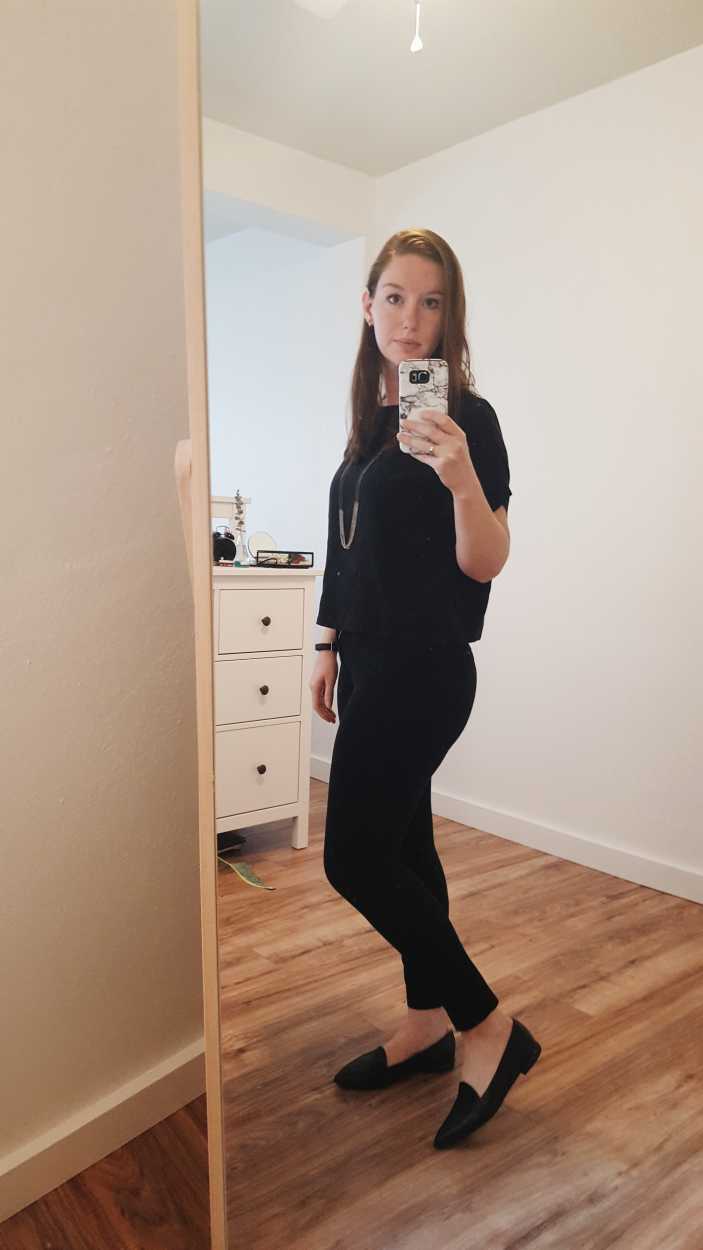 Outfit Details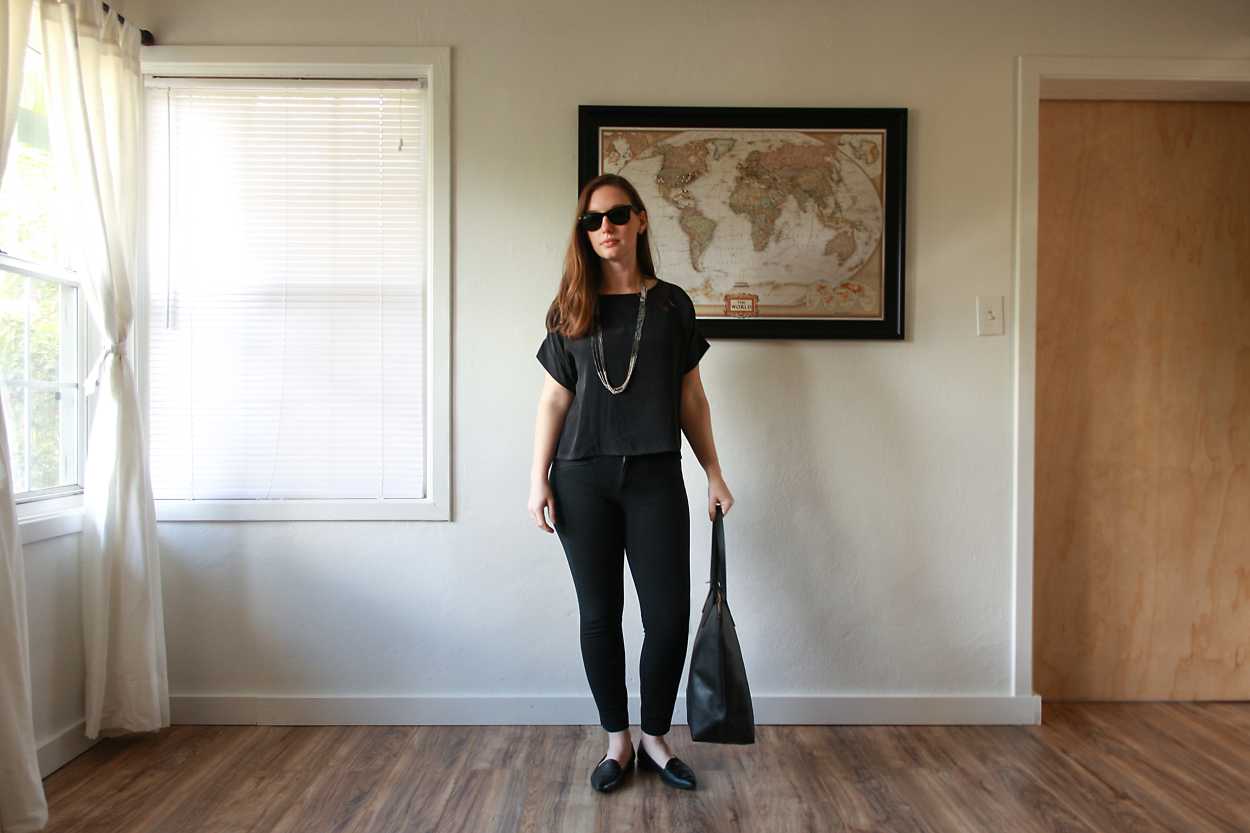 Georgia Tee in Silk Crepe | Black | Elizabeth Suzann
Skinny Ankle Pants | Black | Gap (updated version) – better option here in wool
Modern Point | Black | Everlane
Multi-strand Necklace | Black+Silver (old; similar here or here)
Suspender Earrings | Silver | & Other Stories (no longer available; similar here)
Wayfarer Sunglasses | Black | Ray-Ban
Classic Zippered Tote | Black | Cuyana
I'll say it forever, but I really feel most like myself in all-black. The color can evoke both toughness and artsy-ness, and I feel like I subconsciously tune into those feelings when I'm wearing it. I balanced the drapey top with slim ankle pants, which paired nicely with my pointed flats. I wore a tank underneath both to protect the silk from my skin's oils and to stay covered when raising my arms. To break up any monotony, I added a long chain necklace, and wore a pair of visually-interesting earrings. This look is a keeper for sure.
Item Spotlight: Modern Point by Everlane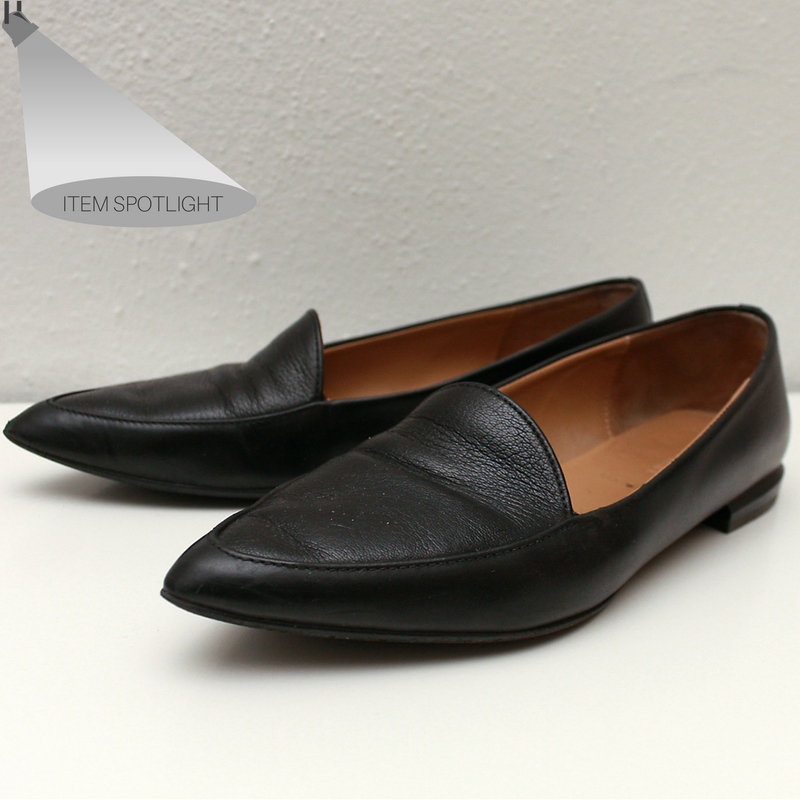 I have a lot to say about these shoes, and unfortunately a lot of it's not very nice. Back in June of last year, I placed an order for these in a size 8 (up a half size from my typical 7.5 as recommended by Everlane and the reviewers). When I finally received them and tried them on… they fit beautifully! But I worried they would loosen and eventually begin to fall off my feet; after all my Modern Loafers were tight at first, and then loosened to fit like a dream. I contacted customer service, and they let me know that if they fit now, they wouldn't fit for long, so I was instructed to exchange for a size down. I received the 7.5s a week or two later, and I've been trying to break them in ever since. The outline of my toes are visible when I walk, and I typically reach for bandages for my heels before the day is over. At one point, several months into my ownership of these shoes, I contacted them again. Customer service now suggested taking them to a cobbler or purchasing a shoe-stretcher. A normal person might do this, but I'm terribly stubborn and had already calculated out how many hours I had to work to purchase these shoes (too many) and decided I wasn't spending another penny on them. So I've continued to wear these week after week, wincing while receiving compliments on them ("yes, they are pretty," said through gritted teeth). Eventually I'll give up and move on, but for now these are the only slim, flat, pointed dressy shoe I have. Any suggestions for an alternative?
Wednesday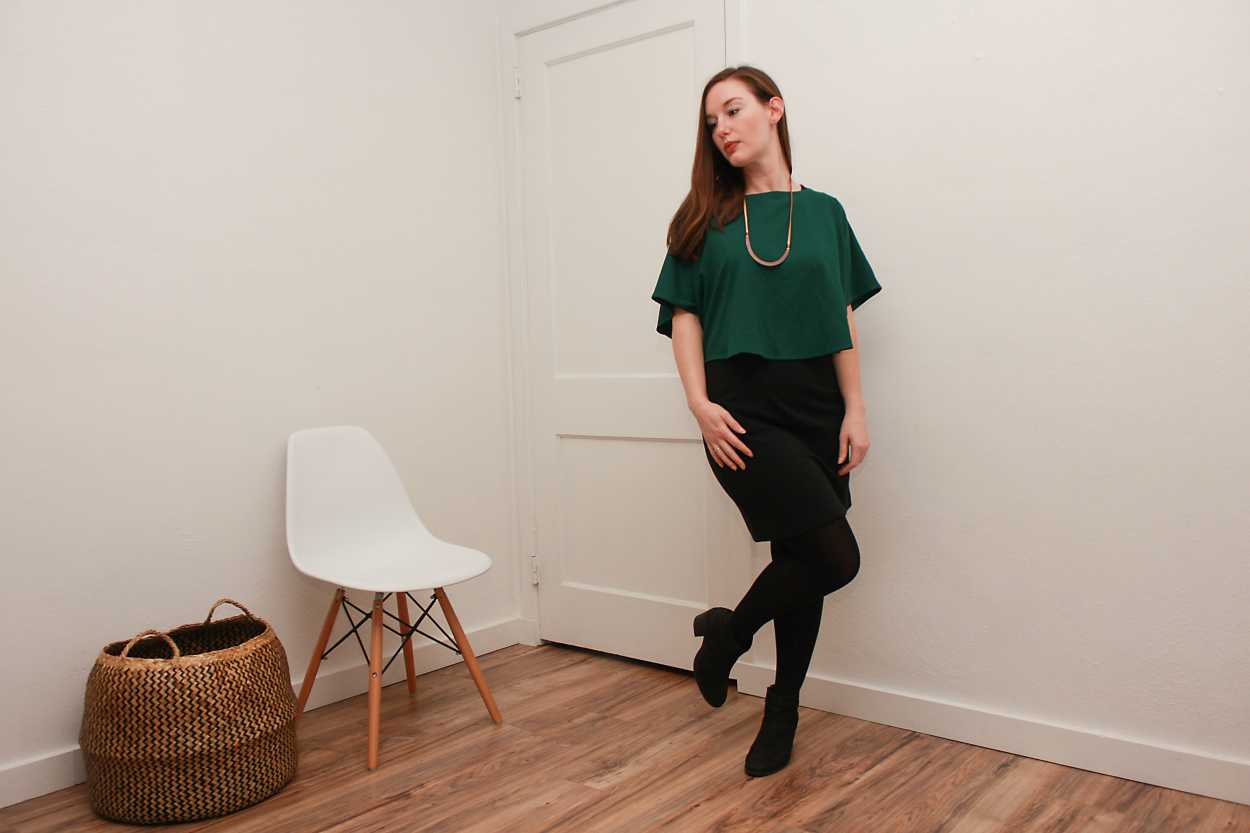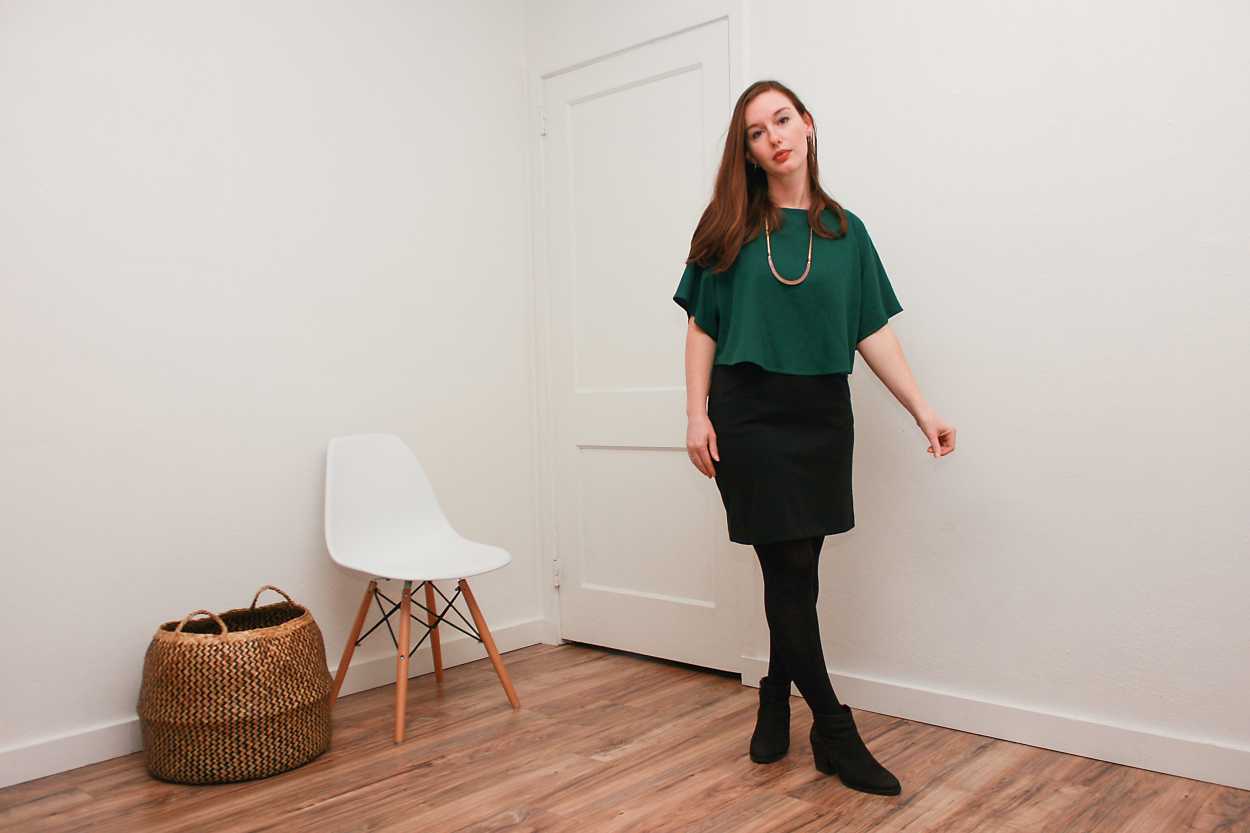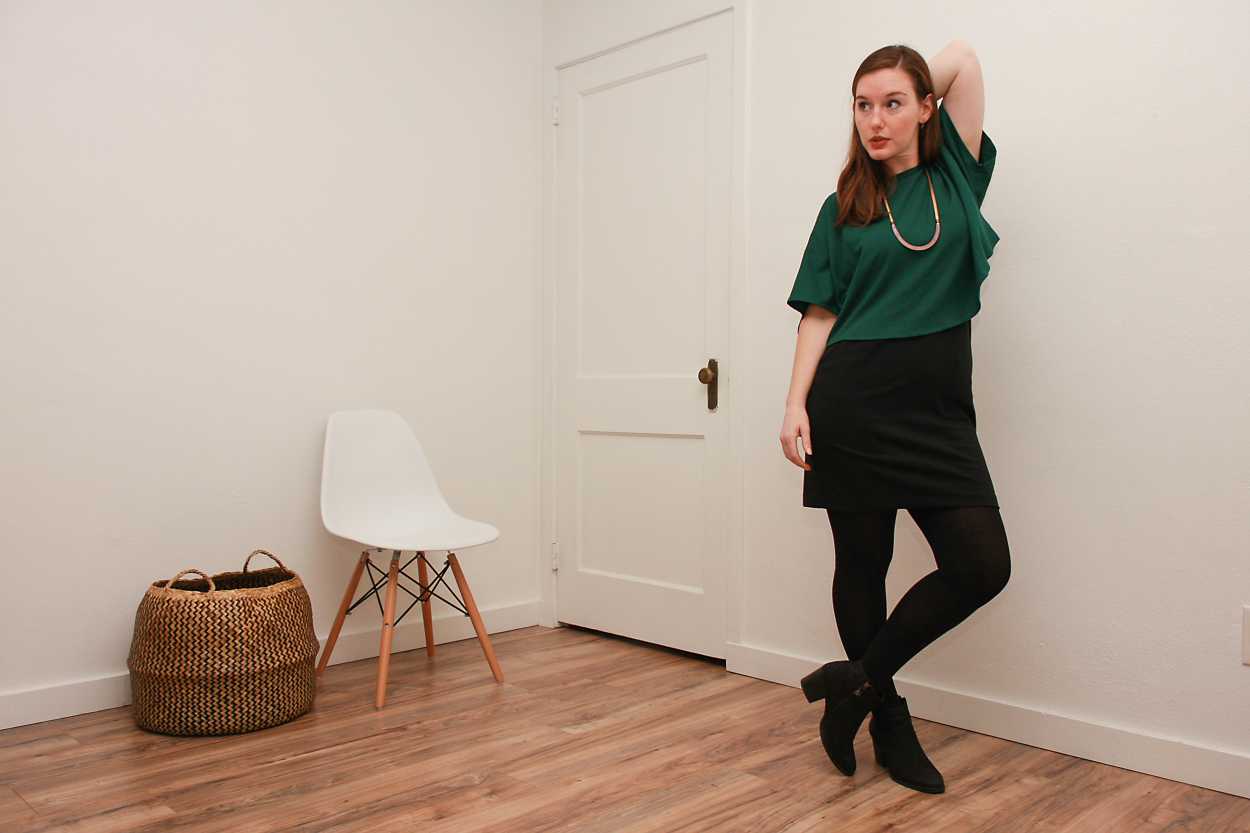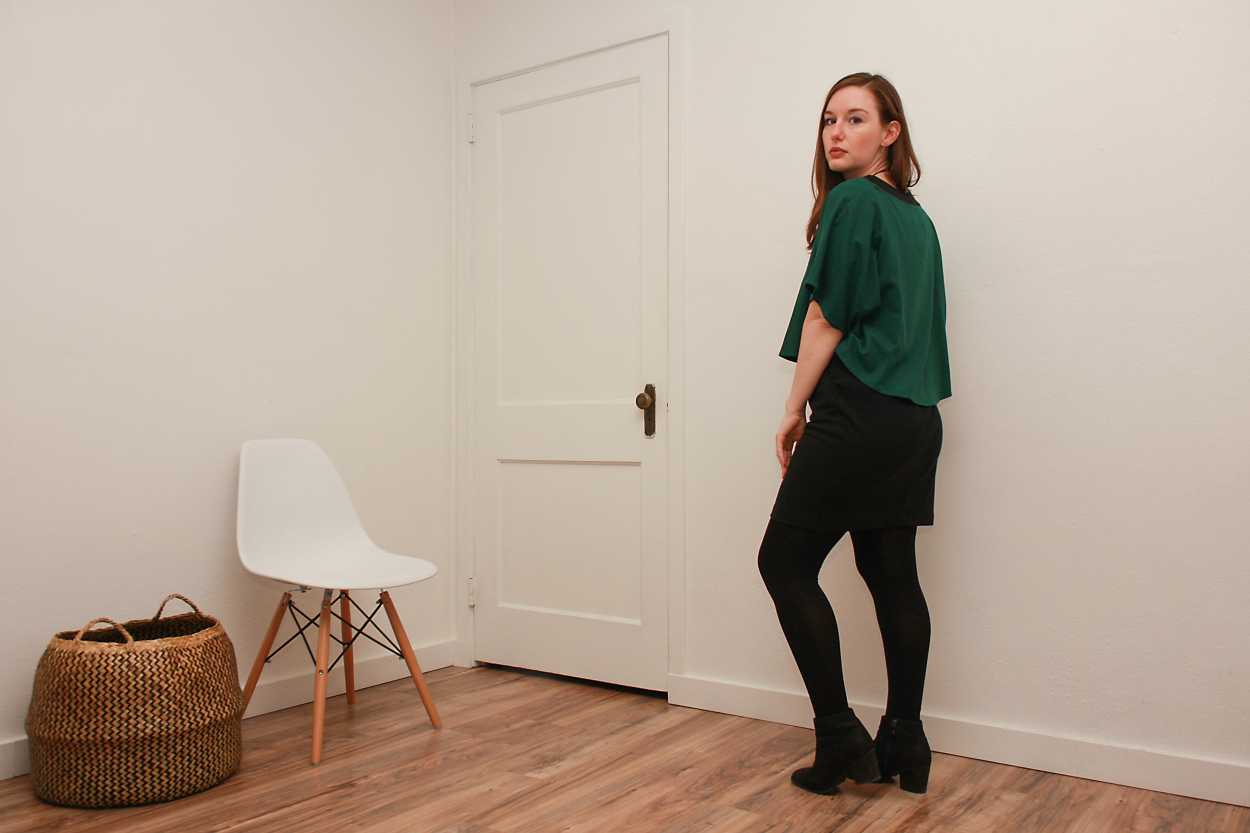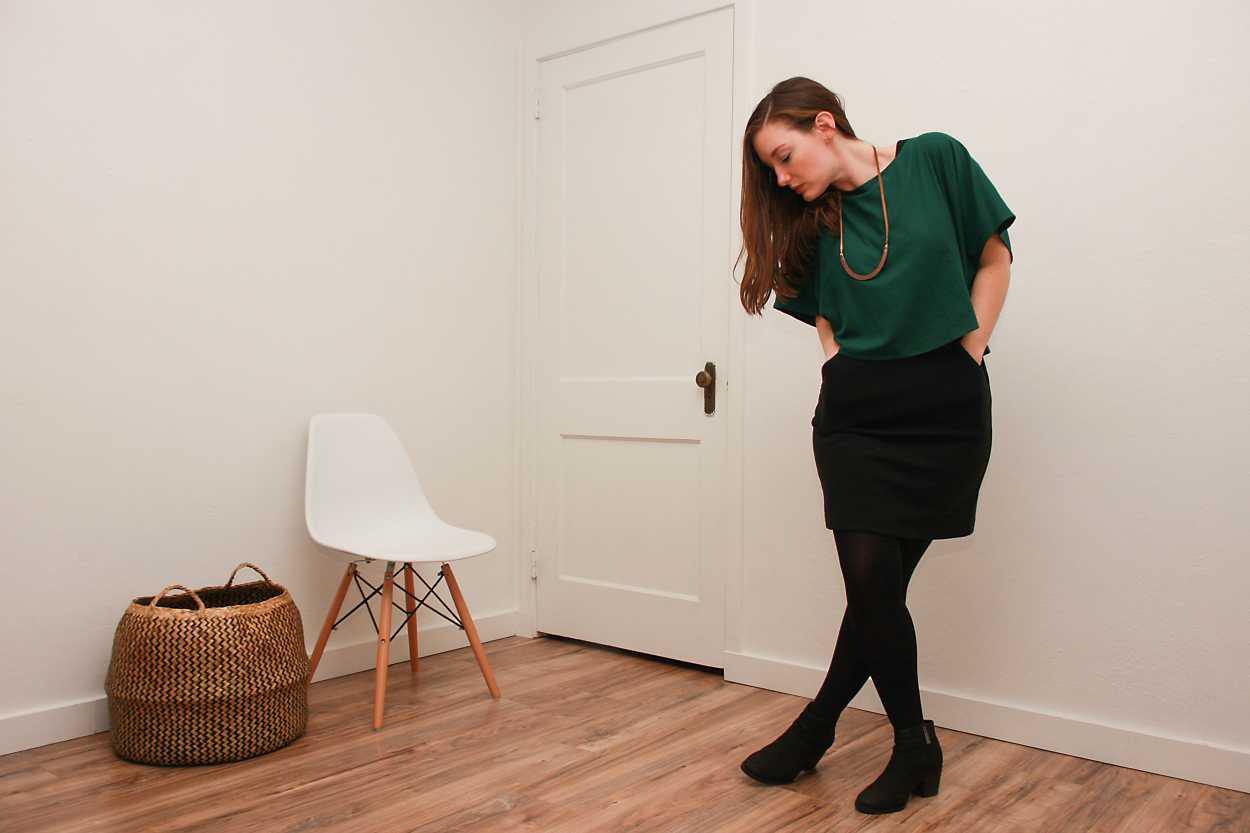 No pre- and post-wear outfit photos for Wednesday because I didn't get to wear this out of the house. I'm still sick, and spent all of Wednesday tucked under a blanket in my pajamas. I debated pausing the 10 x 10 and resuming tomorrow, but since I've already worn this outfit on a couple of occasions, I decided it was okay to move along as planned.
Outfit Details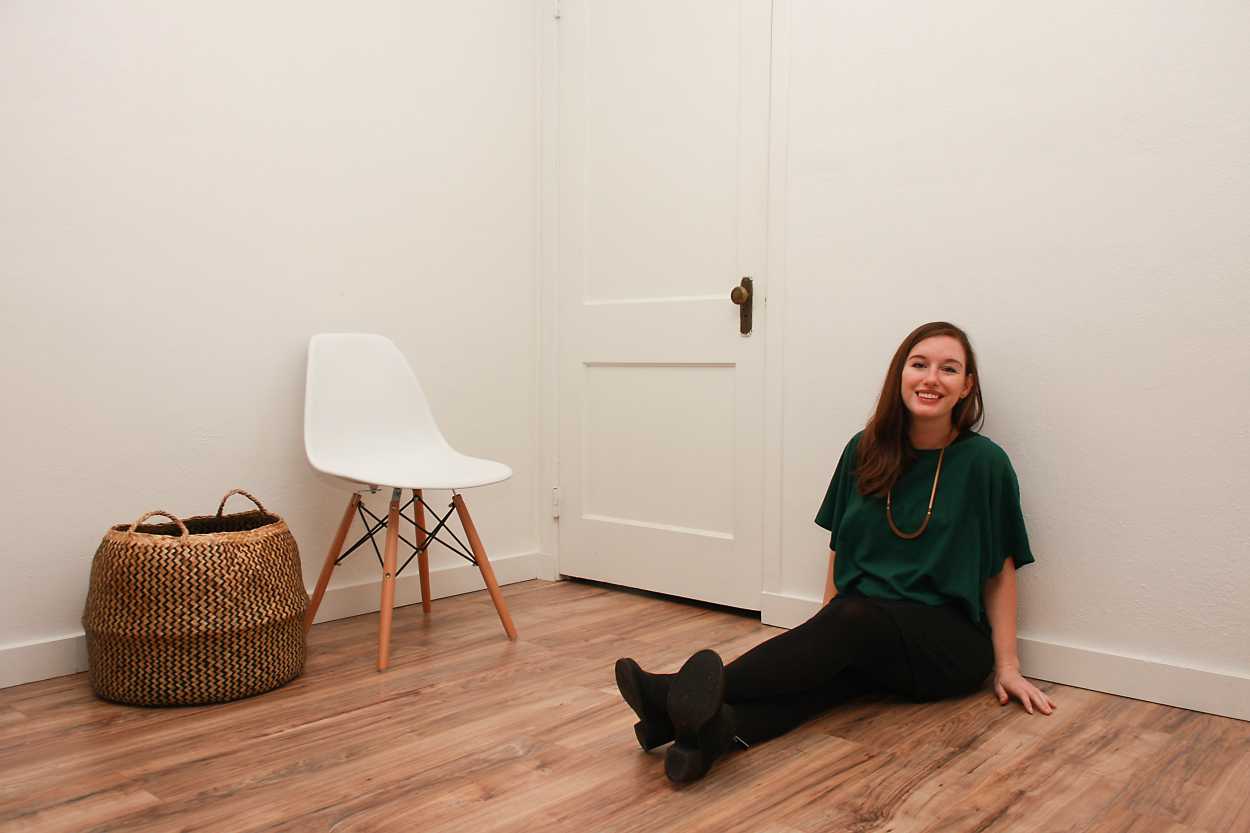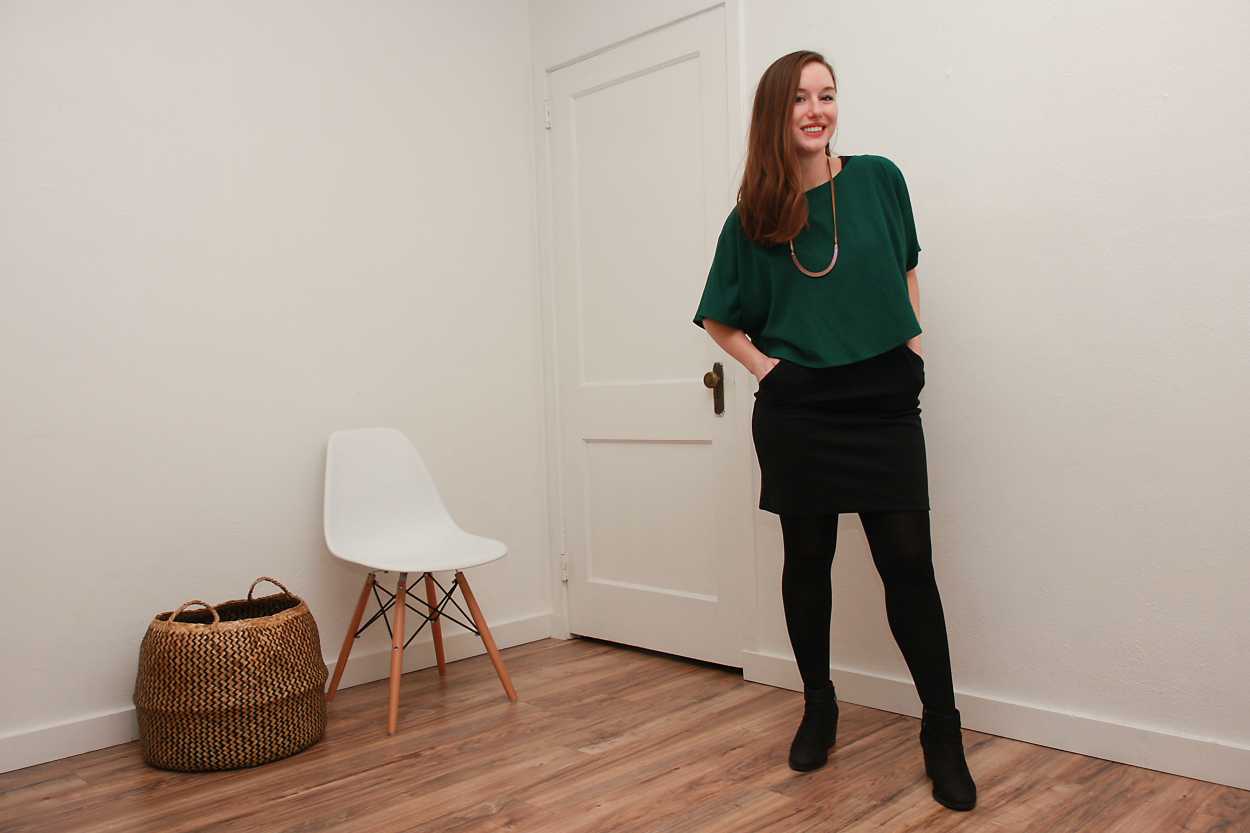 Blank Canvas Top in Raw Silk | Emerald | Jamie + the Jones 
Sheath Dress | Black | Target – better alternative here
Nelli Waterproof Bootie | Black | Blondo
Gold Arch Earrings (purchased while traveling; similar option)
Arc Necklace | Beige | Dear Survivor
Lia Premium Recycled Tights | Black | Swedish Stockings
I really enjoy layering shorter tops over this dress, and my blank canvas top was no exception. Wearing the dress underneath this particular shirt also means I don't have to worry about wearing a tank and have no fear of raising my arms too high! My only wish is that the neck opening on the top would be a tad narrower, as my dress has a higher neckline and it shows. Otherwise, these make a happy combination. The arc necklace was an easy last-minute addition, and I really enjoy the warmth it brings to an otherwise cool palette.
Item Spotlight: Nelli Waterproof Bootie by Blondo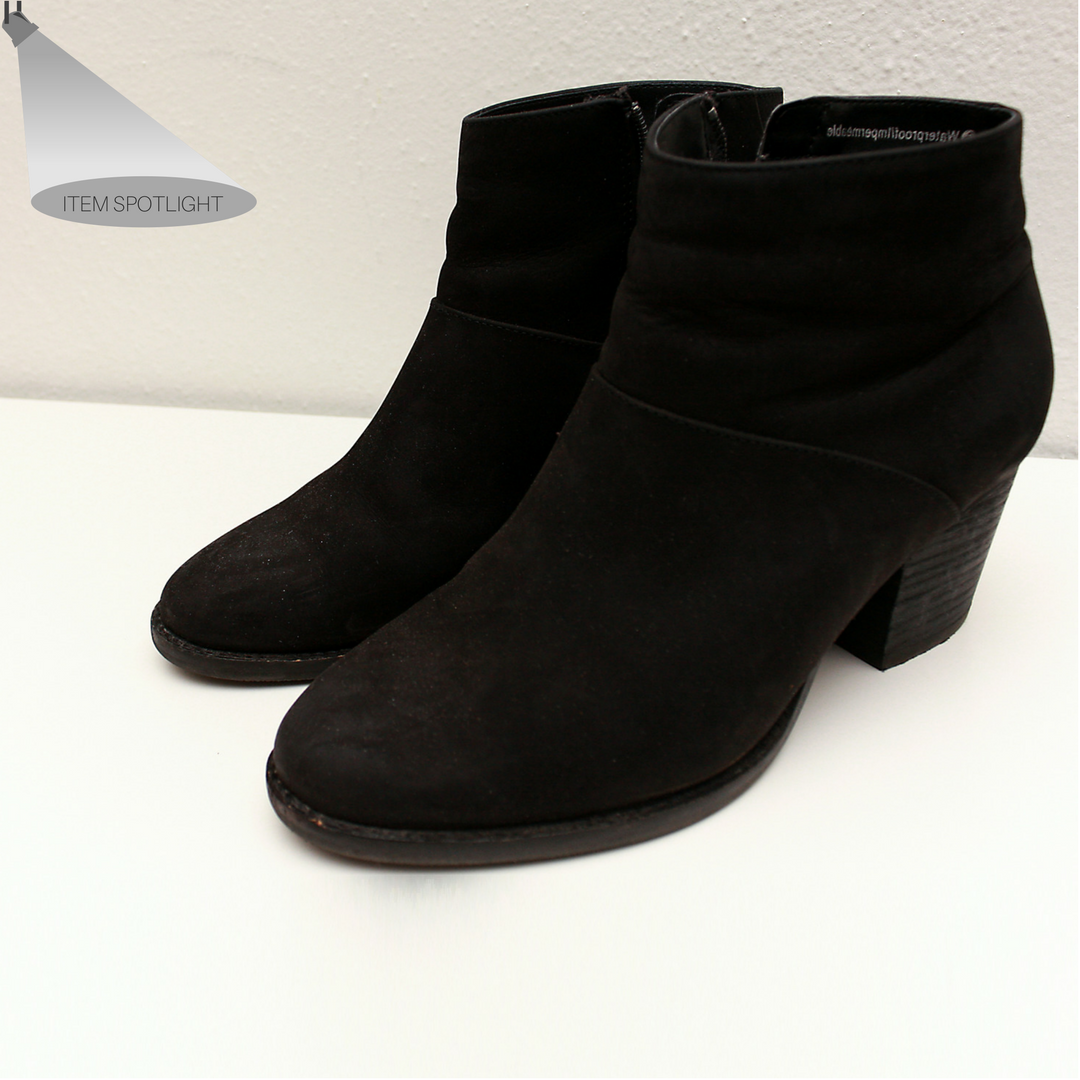 I spent a lot of time researching boots online, trying to find an ethically-made, all-black, waterproof pair within by budget; sadly, I never found a pair that fit all of those requirements. Ultimately I purchased these from Nordstrom, and thankfully they've already earned their keep in my closet. I've worn them on day-trips and weekend-trips, and have felt comfortable in them all day long. I've put their waterproof claim to the test in the snow, and so far they've passed. I have noticed a little wear already in the welt, which I quickly covered with a permanent marker. These boots are not quite perfect, but I plan to wear them until I no longer can.
Follows
So much great inspiration on the #winter10x10 feed! I think we're about at the turning point where we'll see some interesting combinations come about. I've already seen ladies discussing how much they've learned about their style and how they would never have created certain combinations without the challenge, and things are about to get even more interesting. Here are nine more looks I've loved from the past few days: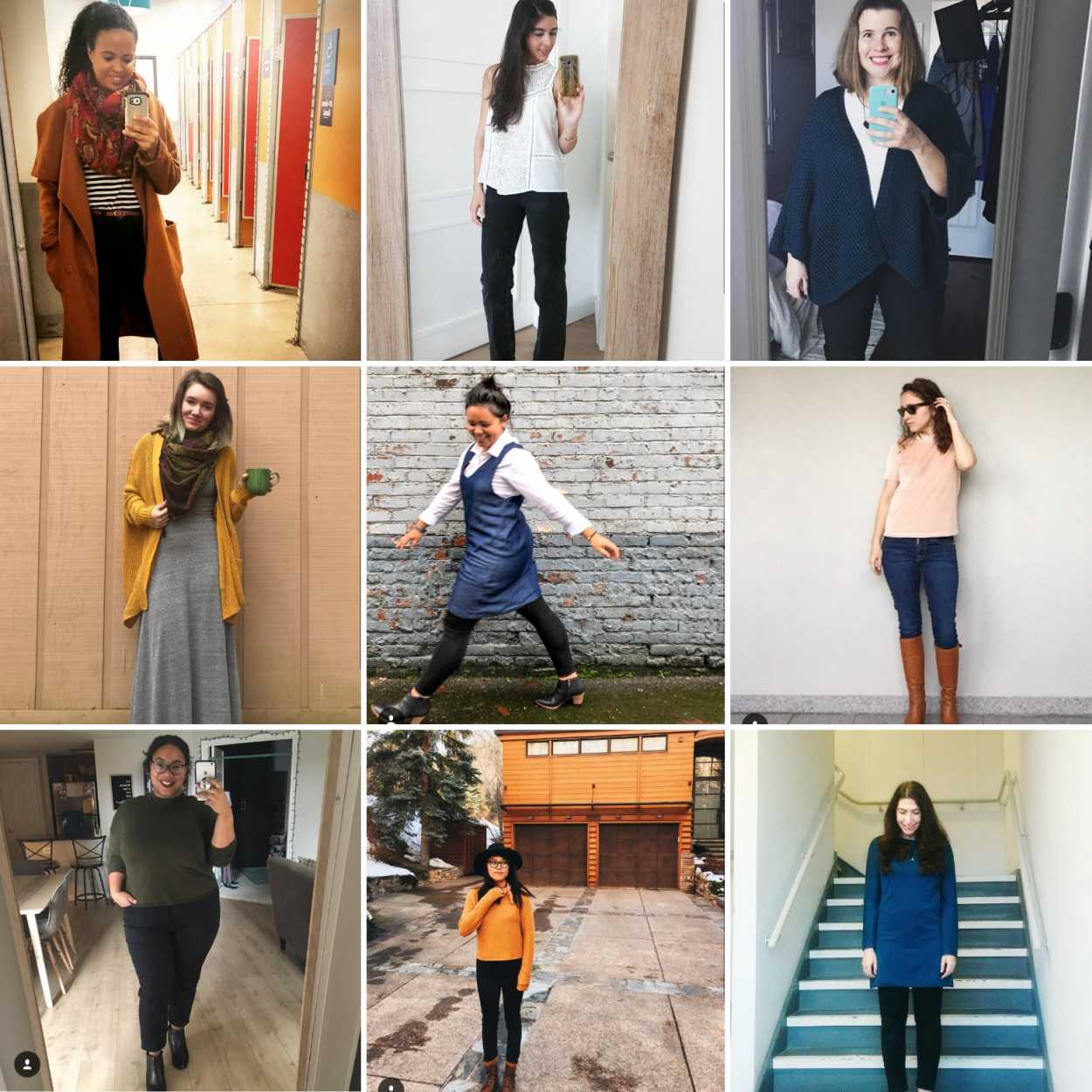 Top Row:
@academic_aesthetic
@latina.minimalista
@girl_on_the_bay
Middle Row:
@lauriewashburn
@omnommon25
@adriennehochman
Bottom Row:
@lrnsmth12
@ely.dia
@randomly_happy
---
We're almost there! Let's do a quick check-in – how are you feeling with your ten items?
I'll see you Monday for looks 7-10!